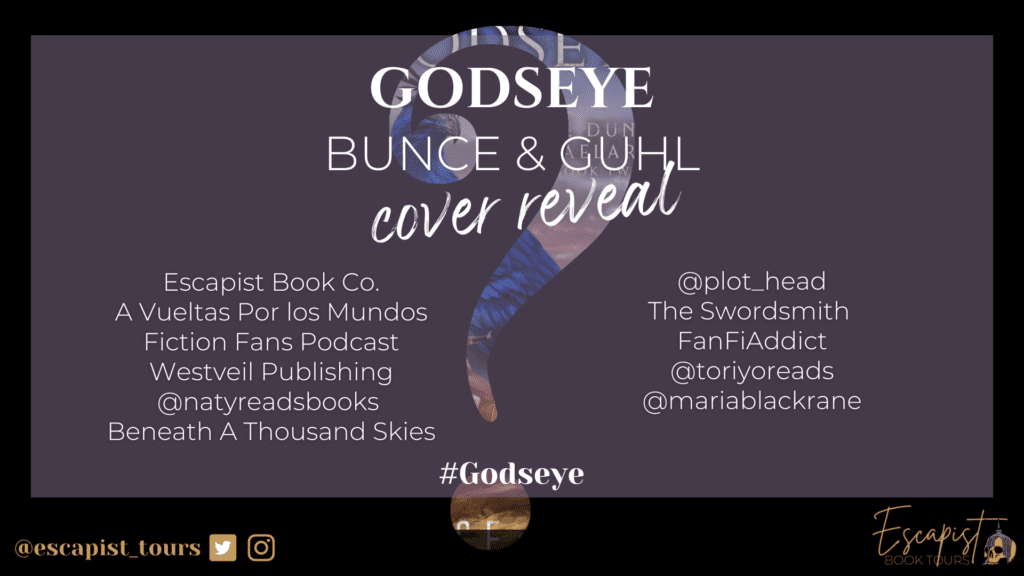 Welcome to another Cover Reveal here at FanfiAddict! This time for Godseye (The Dunes of Aelaron #2) by Christopher Guhl and Aaron Bunce. Below you will find not only the cover reveal for book 2, but also information on the book, links to buy book 1 (Wings of the Storm releases August 29th), and information about the authors. Thank you to Escapist Book Tours for putting together this tour. Enjoy!
Book Information
Godseye by Aaron Bunce and Christopher Guhl
Series: The Dunes of Aelaron #2
Genre: Fantasy
Intended Age Group: Young Adult
Pages: TBD
Publication Date: Forthcoming (Est. Nov. 22)
Publisher: Autumn Arch Publishing
Book Blurb
My name is Vayo and I am no longer a slave.
I ascended, assuming the mantle of Grae god. I wield elemental power, and with Traba, an enormous storm bird at my side, I set out to finally see my people set free.
And yet, I am not the only one wielding unnatural strength. In his desperation, Cyrus brokered a deal with the darkest of the Undergods. If I am to defeat the King and his newfound power, I must locate the other ascendants. Only with them at my side can we restore balance. To find them, I need a relic lost to both time and sand.
The Godseye is the key. But what it shows me might be the biggest surprise yet.
The All-Seeing Eye • Princess of Persia • Third Eye Blind
Book Links:
Amazon (Book 1, Wings of the Storm): https://www.amazon.com/gp/product/B0B61X39HS/
Goodreads (Book 1, Wings of the Storm): https://www.goodreads.com/book/show/61408398-wings-of-the-storm
Author Bios & Information
Around every turn, Christopher Guhl expects to be dazzled by something unexpected, amazing, and fantastical. Though still waiting for the day when a wizard shows up on his doorstep, he now creates the worlds he dreams of on his own, plucking them from his mind like seeds and allowing them to grow after proper nourishing.
He fell in love with writing while completing a creative writing emphasis track at the University of Iowa. Then took those skills and wrote his debut novel, NAEVIA-18, a young adult science fiction novel akin to The Giver and Divergent. Next, he moved to fantasy worlds with ABSOLUTE ESSENCE, a fantasy adventure with elemental monsters, strange creatures, and powerful magic. After a novella, DESCENT, set in the world of Naevia-18, Christopher is ready to tackle his next adventure, joining forces with a strange, cloaked man that showed up on his doorstep…
A devoted scribbler and award winning author, Aaron Bunce has been seeking a portal to another world since childhood. Once he finally gave up on finding a magical wardrobe or teleporting phonebooth, he decided to write about new worlds instead.
A graduate of Southern New Hampshire's English program, Aaron has been a writer, editor, publisher, and audiobook producer. His passion is stories, but more so, characters, as they drive the experience. He started writing in fantasy, bounced to science fiction horror, veered into LitRPG territory, and has touched many other genres in between.
Aaron and Christopher are excited to bring their newest offering to readers this summer, as they launch an all-new fantasy saga—The Dunes of Aelaron. Featuring wind-swept dunes, dark, meddlesome gods, and massive stormbirds, the electric first offering, Wings of the Storm, will blow readers away.
Christopher's Socials
Instagram: https://instagram.com/k_guhl
Facebook: https://facebook.com/christopherguhlauthor
TikTok: https://tiktok.com/@christopherguhlauthor
Twitter: https://twitter.com/k_guhl
Aaron's Socials
Instagram: https://instagram.com/abuncebooks
Facebook: https://facebook.com/AuthorAaronbunce
Twitter: https://twitter.com/Acovaronbunce
Without further ado, the cover reveal & the gorgeous wraparound full art! 😍
And just for fun, here is book 1's cover and wraparound as well!