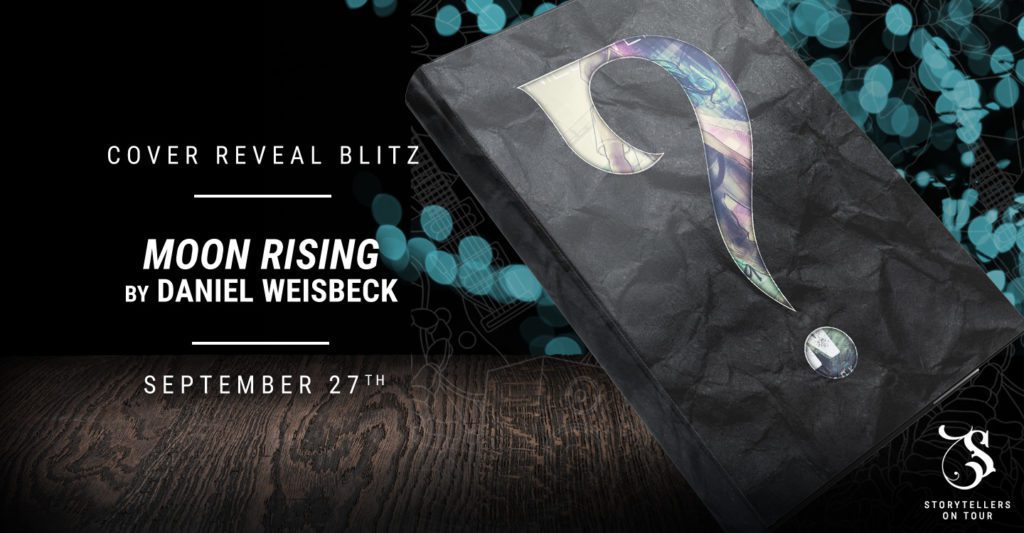 Thanks to Justine and Timy over at Storytellers on Tour for allowing us here on FanFiAddict to join the Cover Reveal Blitz for Moon Rising. Also, an enormous shoutout to Daniel on his upcoming release!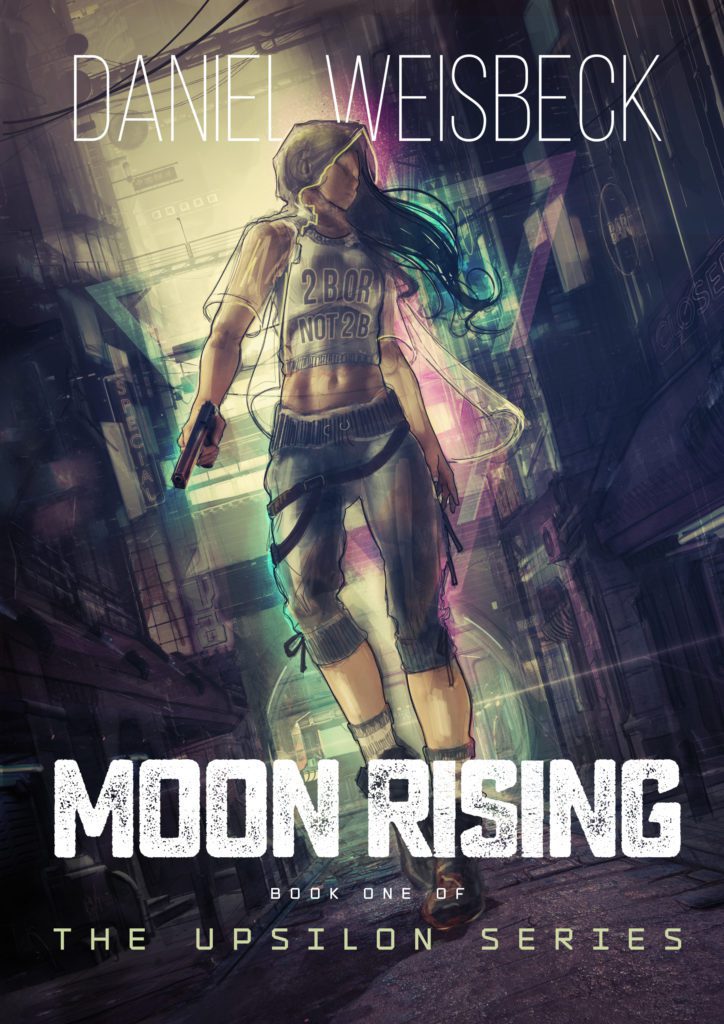 Book Information
Moon Rising by Daniel Weisbeck
Series: The Upsilon Series (#1)
Published: November 1, 2021
Genre: Sci-Fi Biopunk Thriller
Book Cover Art: Théa Magerand (https://www.artstation.com/ikaruna)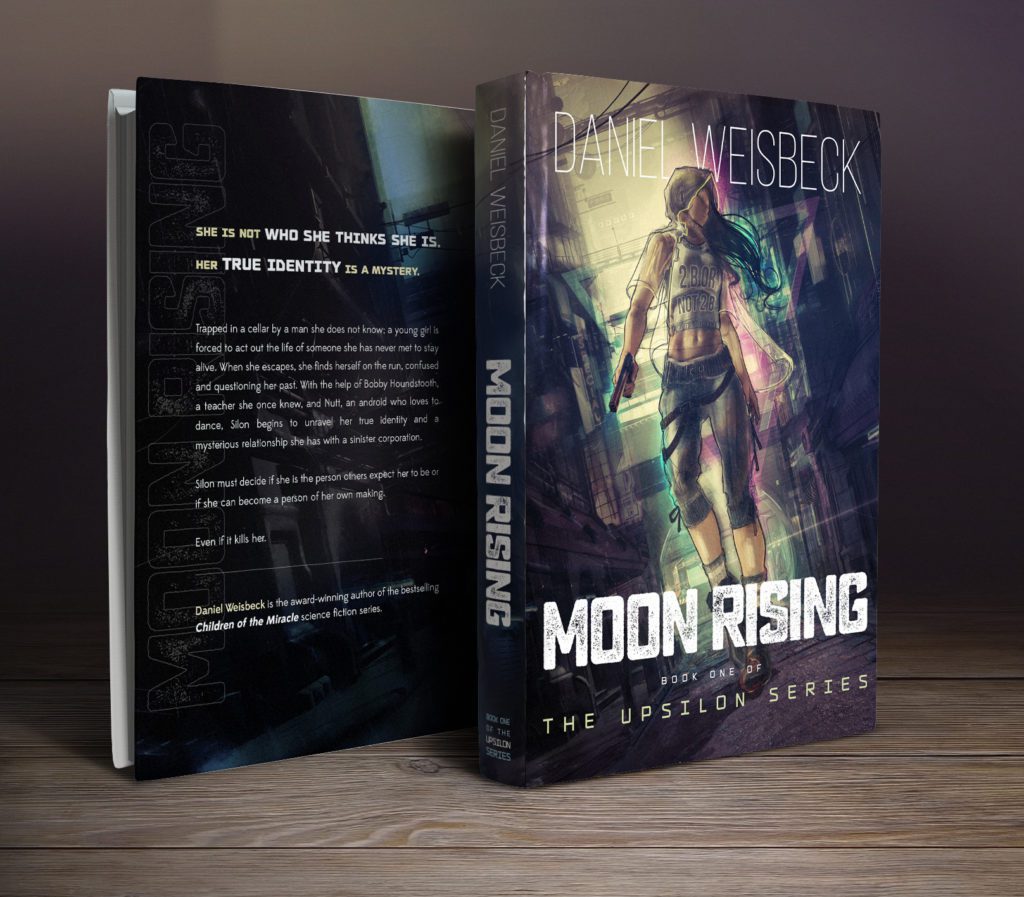 Book Blurb
She is not who she thinks she is. Her true identity is a mystery.
Trapped in a cellar by a man she does not know; a young girl is forced to act out the life of someone she has never met to stay alive. When she escapes, she finds herself on the run, confused and questioning her past. With the help of Bobby Houndstooth, a teacher she once knew, and Nutt, an android who loves to dance, Silon begins to unravel her true identity and a mysterious relationship she has with a sinister corporation.
Silon must decide if she is the person others expect her to be or if she can become a person of her own making.
Even if it kills her.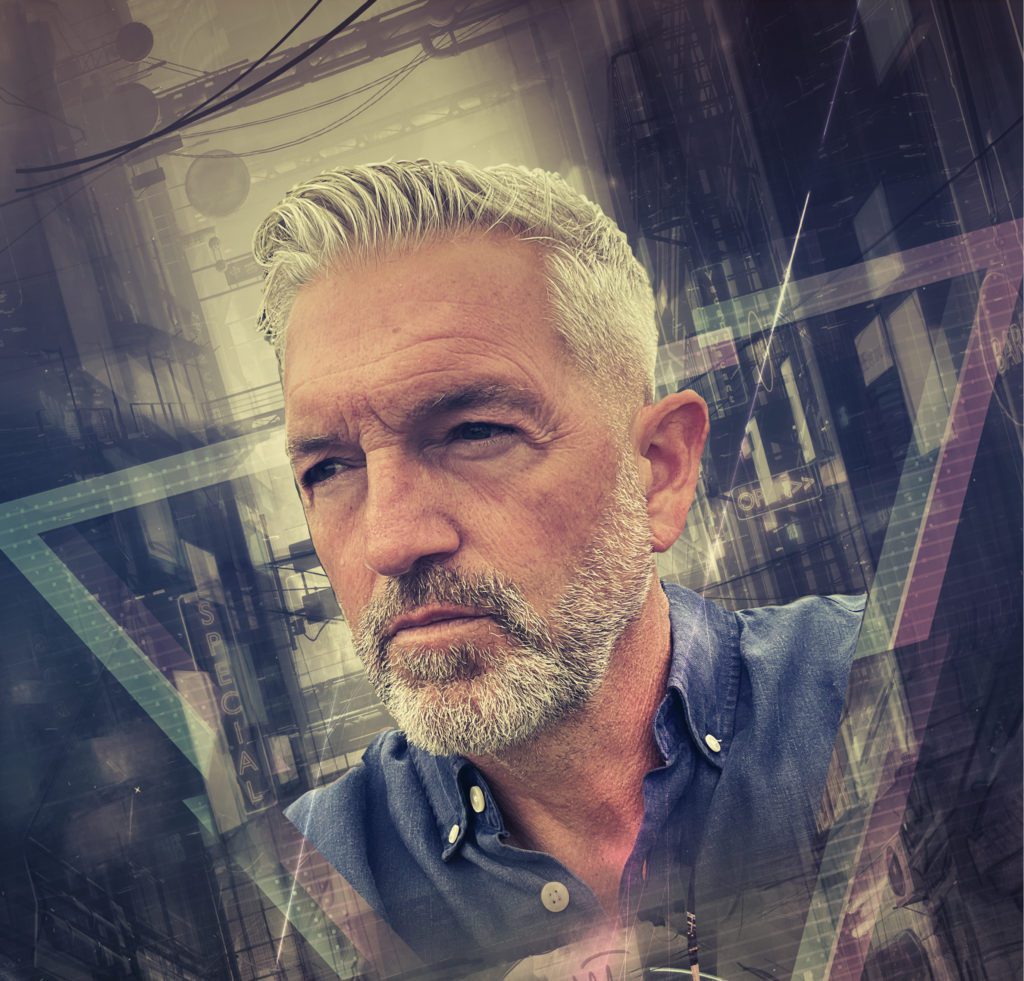 Author Information
Daniel Weisbeck is the award-winning author of the bestselling series Children of the Miracle, a dystopian adventure. Daniel is a native US citizen but has lived in the UK for over twenty years working in the technology and software fields, bringing a unique and authentic voice to his speculative science fiction. Daniel is an openly gay author who has been happily married to his partner for over twenty years. When not writing about androids and hybrid humans in the future, you will find him taking care of his three dogs, two rescue racehorses, and thirty rescue sheep who all live in the South Downs of England.
Website: http://www.danielweisbeckbooks.com/
Twitter: https://twitter.com/djwbooks
Instagram: https://www.instagram.com/children_of_the_miracle
Facebook: https://www.facebook.com/danielweisbeckauthor/
An Interview with Théa Magerand
Illustrator and cover designer for the novel Moon Rising, The Upsilon Series, by Daniel Weisbeck
1. Tell us a little about your yourself, background and how you got into book cover illustrations.
I'm a 37-year-old Romanian born illustrator, based in France, helping indie authors one book cover at a time! My background is actually a weird unlikely mix – as an artist, I am completely self-taught, in high-school I studied computer sciences and programming, I went to the University to study palaeontology (yes, I'm that kid who never got over their dinosaur love) but then worked in IT for 13 years in a very corporate environment. The corporate life was taking its toll on me though, so in 2019 I quit my job, quit the big city, and started again. I got into serious book cover illustration once Covid started a year after: having found that I had a lot of time on my hands (the projects I was working on as a freelancer came to a halt) I just started drawing a lot again, and I figured, why not do something with this?
2. Can you describe your process for conceptualising an author's story or character? Where do your ideas come from and how do you translate that into your art?
My ideas come from my extensive background in science fiction, fantasy, horror, and videogames. Ever since I was a little kid, I avidly read anything sci-fi, and I am part of the generation that was formed by cult movies like Bladerunner, Ghost in the Shell, Akira, and so on. Then came the videogames, the cyberpunk classics like Gibson's Neuromancer, the weird universe of Neon Genesis Evangelion…
Slowly I realized I have a knack for imagining what authors need because all of us who navigate these universes share a common substrate of cultural references, that influence our way of thinking. So, I like to think it's just a matter of discovering the flavour of each author's dream universe and bringing that to life!
3. Where did your idea for the cover of Moon Rising come from, what influences?
The idea was floating in my mind for some time after reading Daniel's explanations and excerpt, and I must admit it started as a feeling, rather than a concrete image or idea. The whole story gave off an impression that was hard for me to translate in words, a mix of existential angst that I have found in movies like Ex Machina or Ghost in the Shell, combined with the dread of an uncertain future and the heaviness of a life already decided, and upon which you have no control. I felt I can definitely get something from the neo-noir atmosphere of Bladerunner, I had flashes of images like Roy Batty's final dialogue on the roof in the rain, or the laughing voice of Gaff: "It's too bad she won't live. But then again, who does?".
4. What is your favourite part of the cover of Moon Rising?
I love the sad atmosphere and the stark colours of the city – it just makes me root so much for the lonely character! The whole thing just makes me feel like I managed to convey a little bit of loneliness and anguish that I feel the character must feel.

5. How much input do you need, and do you enjoy collaborating with the book author or publisher to get to the final image?
I generally like to ask a lot of questions and have some back and forth with the authors before starting, because the more I find out in the beginning, the more it helps me to envision what that author would need. Often times I also read the manuscript or big parts of it; I like to get a feel of the whole atmosphere if I can. And recently I devised some character sheets that I want to send out to authors, to help them (and me) describe their character in an easy, concise, and organized manner. I like to ask if they have ideas, or references (visual or any kind), and to see if I already can offer a few directions for the development of the whole thing.

6. What tools do you use to create your art?
I'm generally using Adobe's Photoshop, along with my Wacom Cintiq and Wacom Mobile Studio Pro tablets, but I also draw a lot by hand (albeit for my own personal pleasure lately, due to lack of time) and I use a lot of pose references, either in the form of little plastic figures that I pose and sketch, or 3D models.

7. What is your favourite kind of cover art to work on? What book genre's do you read or enjoy?
I have three favourite things to illustrate as covers – cyberpunk covers, dark fantasy and horror. I love creating weird monsters and creatures due to my having studied animal anatomy for so many years in college. And the cyberpunk illustrations are just a way for me to express my own yearnings for a world that I have loved ever since I was a kid growing up in the 90s. I love creating dark atmospheres and dark characters, horror creatures and dreadful scenes, and many people believe that's because I am a tormented artist. That's not really the case though! I just feel that darkness and light are both part of life, and shunning the dark part just because it makes us uneasy, is not wanting to live and see real life around us. It would be a great disservice to art, to look away from the monsters under our bed.
As book genres go…I admit I devour all kinds of sci-fi, but particularly cyberpunk and hard sci-fi ones, and I love a good horror story that leaves you filled with unease and dread. I still haven't found something that can quite match Lovecraft in my mind! And of course, like all Dungeons and Dragons nerds I love classic fantasy – it might seem cliché but Tolkien is, for me, unsurpassed. In the end though, all books are universes in themselves, and we can never say we have travelled enough!🙂