Welcome to another cover reveal here at Fanfiaddict! This time it is for A Fracture in the Qwisdeep, Book 2 of the Jekua series and the sequel to On Lavender Tides, a Pokemon-inspired progression fantasy. A Fracture in the Qwisdeep releases this Friday, September 16th and you can preorder at the link below!
Amazon: https://www.amazon.com/gp/product/B0BF4BTJVK/
Blurb for Book 2
There's no better place in the archipelago for a young Summoner to explore than the Volukho Wildlife Center. It's an enormous wildlife reservation that houses rare, endangered Jekuas in a jungle called the Qwisdeep. Traveling through the reserve's lush greenery and glowing flora with magical monsters in his sights is the best experience Balt could have ever dreamed of.
But Alani is growing increasingly frustrated having to remind her friend that this is not a vacation, it's her pilgrimage, and that they are here for the Church. The whole reason he's even on this journey is to aid and protect her, but he has always had a one-track mind, and nothing matters more to him than imprinting Jekuas.
While the jungle may be home to countless beautiful creatures, there are also untamed dangers lurking in its shadows, and Balt's reckless nature may very well get them stranded in the Qwisdeep.
---
Cover Reveal
And now for what you came here for. The cover reveal along with the full spread artwork! Illustrated by Baj Singh (Artstation) and designed by Deranged Doctor Design (website).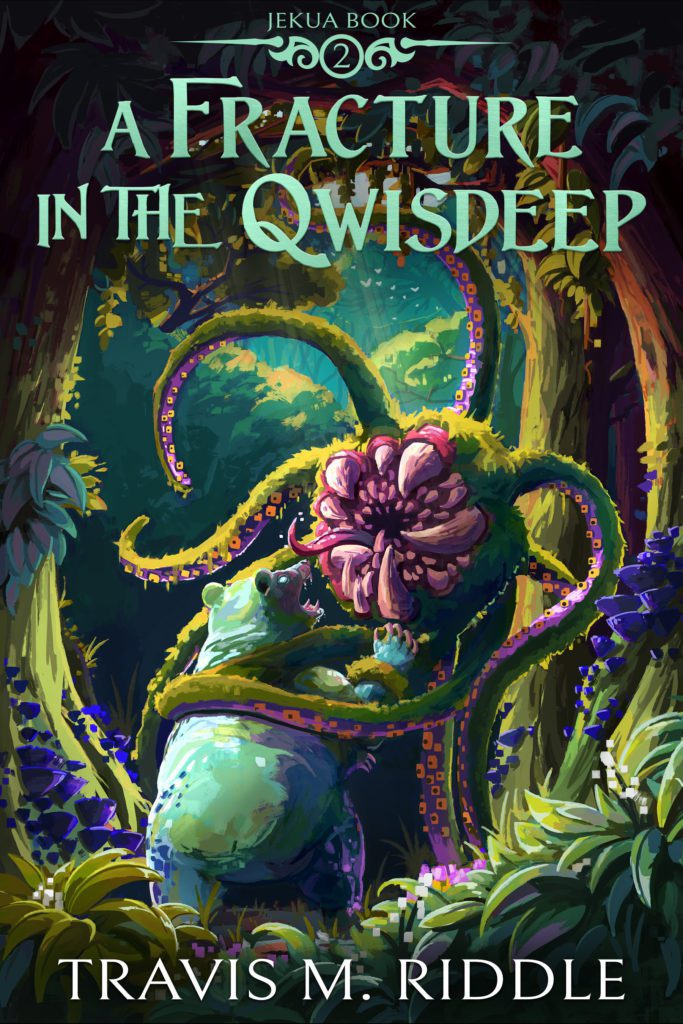 Author Bio
Travis M. Riddle lives with his girlfriend and his pooch in Austin, TX, where he earned his bachelor's degree in English Writing & Rhetoric at St. Edward's University. His work has been published in award-winning literary journal the Sorin Oak Review. His novels Flesh Eater and Spit & Song were semi-finalists in Mark Lawrence's SPFBO.
Author Website: http://www.travismriddle.com/
Twitter: https://twitter.com/traviswanteat