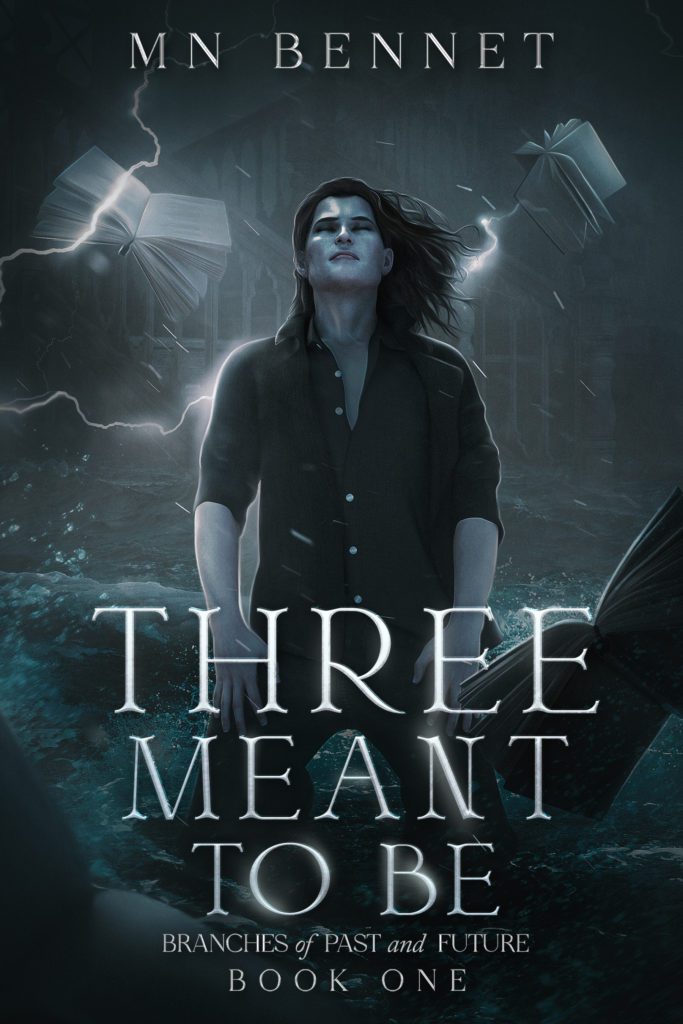 Book Information
Three Meant to Be by MN Bennet
Series: Branches Past and Future
Genre: Fantasy
Intended Age Group: Adult
Pages: 406
Published: July 10, 2023
Publisher: Self Published
Book Blurb
Telepathic high school teacher Dorian prepares teen witches for professional casting because going in unprepared is what killed one of his partners. But new state mandates on magical proficiency make it nearly impossible, and Dorian worries he can't give his students the education they really need. Seeking a distraction from work, Dorian kisses his still-living on-again off-again clairvoyant boyfriend, Milo. Instead of a distraction, Dorian glimpses Milo's vague vision involving the murder of Caleb—one of Dorian's new students.
Already devastated by the loss of his partner, Dorian refuses to stand aside and let Caleb die. He searches for clues by delving into Caleb's mind. Rooting through Caleb's memories alongside teaching classes leads Dorian to two more students: Caleb's ex-best friend turned rival and the prodigy with connections to dangerous warlocks. However, each step further into his students' minds forces Dorian to confront his deteriorating relationship with Milo.
After discovering a link involving illegal casting, Dorian resolves to work with Milo to prevent the impending vision. To succeed, Dorian will have to explore the potential of a future with Milo and find closure on their third partner, whose loss looms between them. But meddling with fate to save Caleb inadvertently draws the warlocks near, putting all his students in danger. Dorian will have to risk his life and gamble his second chance with Milo to keep his students alive.
Book Links
Amazon: https://www.amazon.com/dp/B0C3L68LDQ
Goodreads: https://www.goodreads.com/book/show/128625355-three-meant-to-be
Author Bio & Information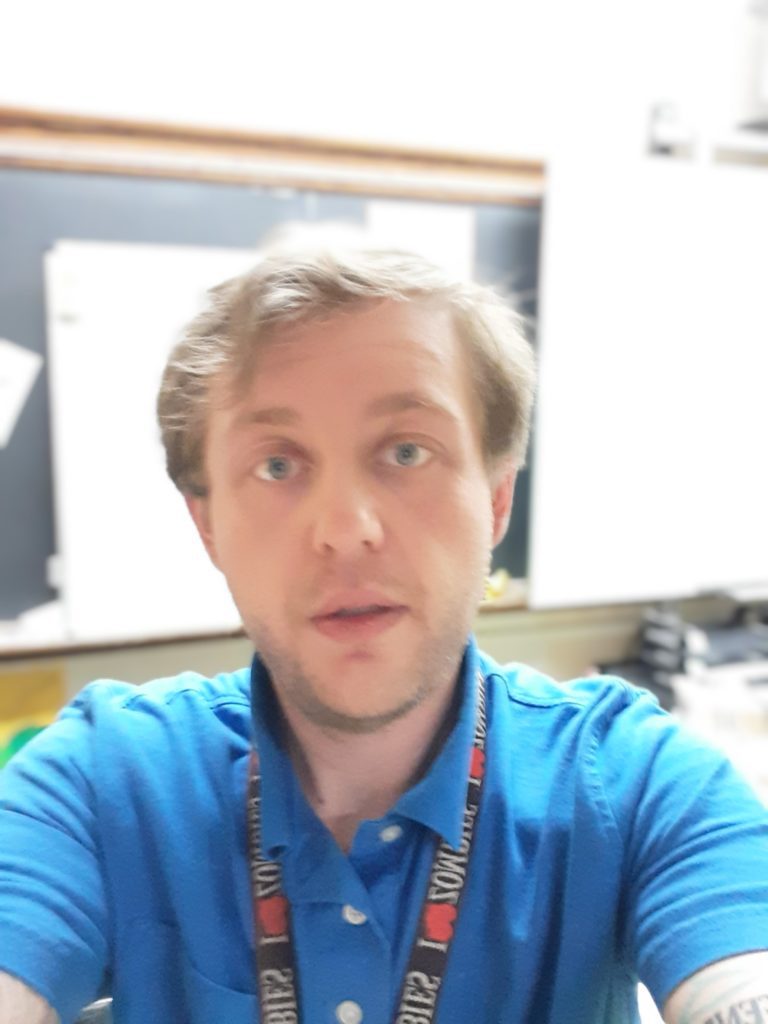 MN Bennet is a high school teacher, writer, and reader. He lives in the Midwest, still adjusting to the cold after being born and raised in the South.
He enjoys writing paranormal and fantasy stories with huge worlds (sometimes too big), loveable romances (with so much angst and banter), and Happily Ever Afters (once he's dragged his characters through some emotional turmoil).
When he's not balancing classes, writing, or reading, he can be found binge watching anime or replaying Dragon Age II for the millionth time.
Author website: https://www.mnbennet.com/
Twitter: https://twitter.com/Quirk_Zombie
Instagram: https://www.instagram.com/mnbennetauthor/
Facebook: https://www.facebook.com/mnbennet/
Excerpt
From Chapter 2:
I stood outside, under an awning with several others. Slurred, unfocused thoughts bounced about, unable to fully form. They were hammered. Rain drizzled but not so hard that I needed to stand among these chatty drunks. I exhaled and slipped between them, cutting around the side of the nearby alley with an unguarded entrance to another building and an empty awning to protect from the rain.
I'd finish this cigarette and my drink, maybe have another, and then head home.
"I knew booze would win over books," Milo said.
I jolted at his voice and turned to find him at the end of the alley where the city lights illuminated his smile. The rain did nothing to dampen his spiky, chaotic blond hair. It always looked like he'd just rolled out of bed but was perfectly gelled in place.
"Books?" Ugh. I could've totally avoided him and everyone else by hiding out at a bookstore.
"But your wallet just can't afford you adding to that massive stack of unread stories." Milo raised a finger, tapping his skull and pretending to read my thoughts. His dress shoes splashed against the puddles. Each heavy step closed the distance between us, making my skin warm. "Plus, no booze with bookstores."
He'd played me through probability. Damn clairvoyants.
Nearly every witch had a branch connected to one of twelve unique magic types that witches were born with. Milo and I both had psychic branches. But while I heard thoughts through telepathy, he played guessing games with a weighted scale on future events.
I inhaled and contemplated going back inside, but if anyone from work spotted us together, I'd never hear the end of it.
"Never." He slipped under the awning, faking a shiver from the rain.
Please. The humidity made the late August afternoon feel like a sauna. I blew smoke at Milo, forcing him to backstep and wave a hand to clear the haze. His eyes watered at the harsh exhale.
"If you knew that text would get me here versus home, why bother telling me you were going to my place?" I avoided his gaze. "Could've saved us both the hassle of getting caught in the rain."
"You know predictions are never a certainty." He huddled closer, bumping my hand with his broad bicep and knocking the cigarette loose. "Oops."
I stared at my fallen cigarette, snuffed out by the wet concrete.
"Can I finish one smoke in peace today?"
Milo raised his left arm, exposing an eight-ball tattoo he'd gotten after receiving his first magic practicing license. My chest swelled at the memory of his goofy smile the morning he walked up to me, flashing his tiny tattoo. The one-and-done effort to be edgy.
Milo shook his arm and blinked at his tattooed wrist. "Says outcome unlikely."
"Ha. How very unfunny."
"Please, that was witty." Milo adjusted his tie, and the guild enchanter emblem pinned to his jacket glimmered.
"Did you even have a case?"
"Hmm, yes and no." Milo grinned. "I did have a case—literally just finished it, in fact—but it was sort of on this side of town, opposite your place. Figured I'd save myself the drive and meet you here. Hence part of why I suggested you come."
Suggested. More like manipulated the situation. I hated his magic. Hated it so much. It made him impossible to gauge, predict, or plan for. Fuck, he was exhausting.
"You're the most irritating person I know, you know that?" My cheeks twitched, resisting a smile because whenever Milo looked at me, the weight of the world faded away.
"You like it." Milo pressed his chest close to mine, backing me against the metal door.
I held my breath as his cologne hit my nose, sending a blissful reminder of lust indulged over the summer. I did like his persistence, his unyielding care. Everything about Milo was perfection, from his sweet smile to his eternal understanding, all the way to his puppy dog eyes. Whereas I was a mess of unbridled anger, constant regrets, and looming guilt that reminded me every minute of every day that I wasn't worth his compassion. Wasn't worth his love, time, or kindness.
"If you want me to leave, I will," Milo said, backing away from the protection of the awning. "It's just…we had fun over the summer. And then Finn's birthday rolled around, and you ghosted me—which I allowed because it's Dorian fashion—but I missed you. I miss us. Sometimes I think you work up how much—"
Fuck it.
I'd already made a thousand mistakes opening the box of emotions between us. What was one more?
I yanked his tie, pulling him into a kiss.
His soft lips met mine, and his tongue eased its way into my mouth. I found myself lost in his embrace, excited and eager but reminded this happiness wasn't meant to be.
I dropped my drink, the glass clinking and cracking against the concrete. I couldn't even feign care for the lost screwdriver. I knew I shouldn't be kissing him. This would only further complicate things—for him, for me—but I didn't care. Right then, all I wanted was the sweet taste of his mouth and the firm press of his muscles as I pulled him closer.
He ran his hand through my hair, tilting my head in a passionate, all-consuming kiss. The sort of thing I couldn't handle. Surrendering myself to another person, their desires, their dreams, their life—I wasn't made for it. I wasn't meant to co-exist with another person. It involved a type of effort I'd never quite fathomed.
Yet I lost myself in the smack of his lips, the grind of his hips against mine, the lust oozing from every pore of his body filling my mind with infinite flashes of every time we'd spent together.
Milo's lips broke away from mine, and I craved their supple touch again. A breathy chuckle escaped his mouth, and he smiled. A coy smile that curled into a minxy grin. "You know, I really did come here to talk."
"What could you possibly want to talk to me about?" I asked, unable to quell the arousal filling each of our minds.
"Figured today was rough for you, back to work and all."
"It was nothing." Even the break in physical contact didn't sever my magic linking his mind to mine, and he knew it, too. Years of connection made Milo's mind the easiest to latch onto in a sea of thoughts. "And since when do you care how teaching's going?"
"To be clear, I've always cared." Milo trailed his fingertips down my arm, sending goosebumps from his sensual touch. "But I figured the big changes they're throwing your way… Maybe you weren't too happy."
"You speaking as a guild member who was informed about academy policies before the actual teachers were or as a clairvoyant who caught a sneak peek of admins' plans?"
Milo grabbed my wrist, ignoring my question. The touch strengthened the bond of our thoughts. His thoughts. I skirted through his mind toward his current passing notions, attempting to understand where this fascination or curiosity for my workday came from, yet I stood in front of him, lost in his sparkling blue eyes.
I kissed him again, this time leading with my tongue. He released my wrist and wrapped his arms around my waist. I focused on the now, keeping my mind locked here, but it didn't matter how much I tried—I became entranced with images Milo held close to the surface of his mind, flashes through his perspective from our last encounter. His hand pressed to the small of my back, arching it further and pushing my knees deeper into the mattress. His other hand wrapped around my shoulder, fingers outstretched and lightly gripping my throat. A primal urge to pull my shaggy brown hair. Then or now? Perhaps both.
I attempted to shake it off, but the sensation of his memories spiraled in the now, turning the world into a foggy mix of the rainy alley and my bedroom. His body had pulsed with ecstasy the moment he tugged my hair, and he replayed the moan I released on a loop until he silenced me by shoving his tongue into my mouth. Fiery kisses as his hips thrusted harder and faster, and electricity surged into my body.
Even now, my legs trembled, my body eager for him to take me here behind this bar the same way he had the last time we'd spoken. Images sprang to life, clouding my vision of the now. Milo had slid his tongue along my ear…
"I love you."
I shoved him away, breaking contact in the alleyway and burning his memories of us screwing out of my mind as swiftly as they'd invaded it. Droplets fell harder, and Milo stood exposed to the downpour, his smile unwavering.
He'd uttered those words like they were still so easy. Perhaps he'd only said them because of the heat of the moment. And I couldn't decide if that made it easier or more difficult to avoid him. Or whether I wanted them to be true or a lustful lie. Milo confused me too much. Not only in sex but in personality and thoughts. He was a Jack-in-the-box I didn't want to open. Ever.