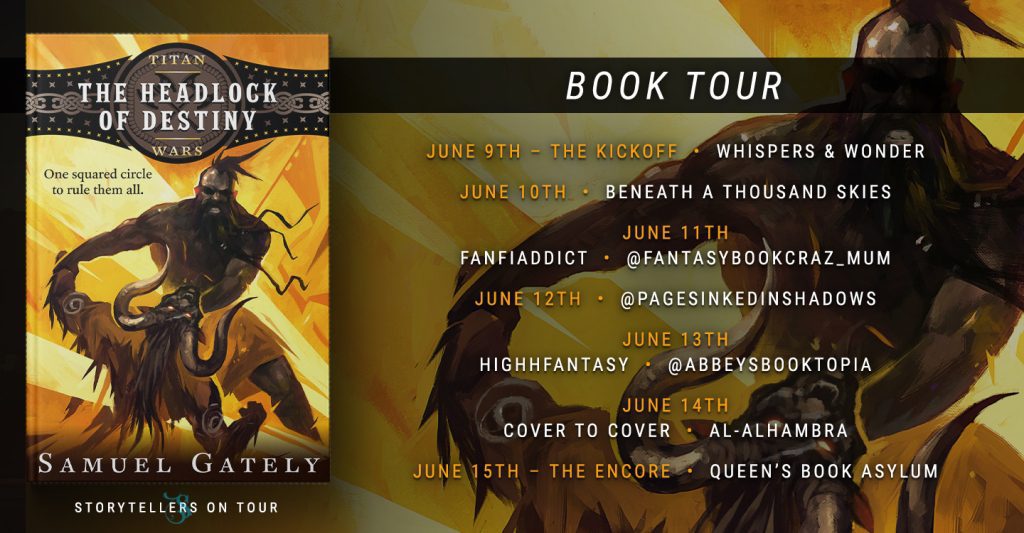 ---
Hello and welcome to FanFiAddict's stop on the book tour for Samuel Gately's The Headlock of Destiny (Titan Wars #1). I want to thank Justine & Timy @ Storytellers on Tour for letting me be involved and a big shoutout to Samuel on the release of The Headlock of Destiny!
Below, you will find information on the book and author, my review, and links so you can grab yourself a copy!
Make sure to check out the rest of the tour by hitting up the schedule link here!
---
Book Information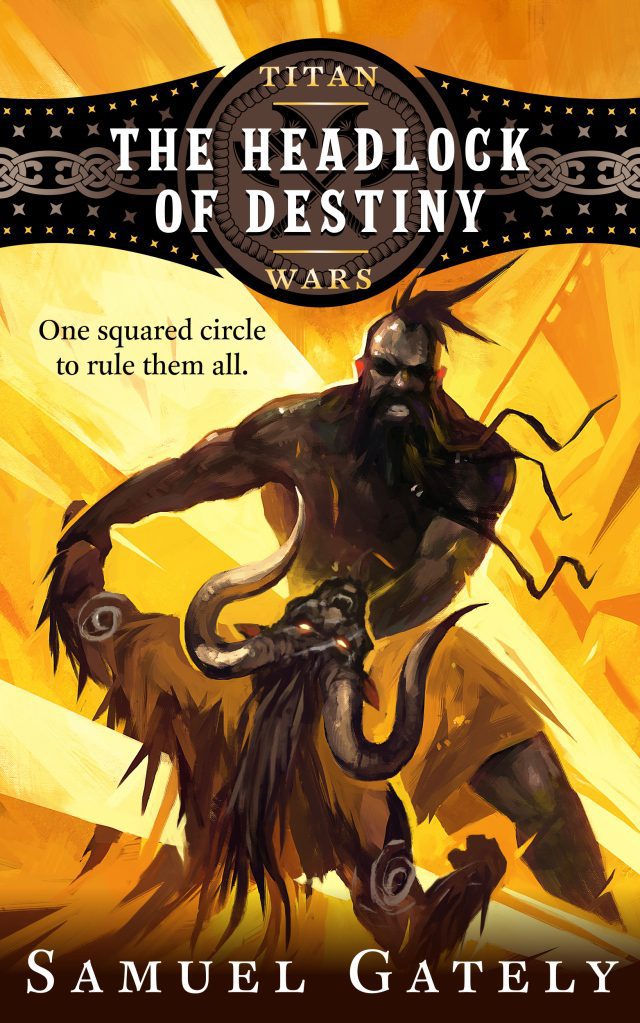 ---
The Headlock of Destiny by Samuel Gately
Series: Titan Wars (#1)
Published: March 5, 2020
Genre: Epic Fantasy
Pages: 367
CW: Alcohol, Bullying, Physical Abuse, Poisoning, Police Brutality, Racism, Violence.
---
Synopsis
Some say titans are descended from giants. Others say they are risen from men. But there's never any debate about where to find them. They will be in the center of a roaring crowd, beating the hell out of each other. From contenders like the Savage and Scott Flawless to pretenders like Richard the Living Portrait and Troll-Blooded Thom, a titan's lot in life is the same: To wrestle for dominion and glory in the squared circle.
Van, a quiet titan from the brewery town of Headwaters, wants no part in this. He'd prefer to be left alone with a beer. But destiny has him in a headlock, and it is prepared to drag him into battles that will shake the land and change his world forever.
Step into the ring with this one-of-a-kind novel, brewed special for fans of epic fantasy, fans of professional wrestling from the Golden Era and beyond, or simply fans of a good tale.
Rating: 9/10
Review
Full disclosure: I really like professional wrestling. It's like a soap opera with some fighting sprinkled in and I am all for it. Some of my fondest memories are of watching wrestling with my dad when I was a kid way back in the 90s and I carry around those silly storylines and the antics of the wrestlers to this day. I'll admit that I haven't watch WWE in a few years, though not for a lack of interest; I really just don't have the time to watch 4 or 5 hours worth of programming every week, with some weeks having an additional 3 hours or so added on top of that if there is a pay-per-view going on. So with all of that being said, I'm sure it isn't a great leap to imagine that I might have been excited to check this one out, and boy am I glad that I did!
"The core is me and Judge Cage stepping into the ring. Who is strongest at that exact moment in time in that exact space in the world? Only one winner in the squared circle. And then repeat again and again until there's only one standing. It's beautiful music, almost like the waves crashing against the sand. I love it."
The thing that initially drew me to this book (besides its amazing cover!) was the completely absurd concept. First of all, who'd have thought of combining a fantasy world with professional wrestling? And, further, who'd have guessed it could be pulled off this well? Well, that's just what Gately has done. He has married the two so well that it's almost baffling that no one else had figured it out sooner. In this world, the titans are descended from giants that once roamed the earth. As such, they are twice the height of normal humans, with increased strength and a whole host of other supernatural abilities that vary between titans. The titans are pitted against each other in unarmed combat to win glory for themselves and their homelands and this is barely scratching the surface of what Gately has managed to conjure up. There are a scant few places where certain things like the politics of the Open Nations were left a little vague and could have been explored more, however I don't think that was the focus of the story and so is a niggling complaint at most.
Even without all of the fantastic worldbuilding, The Headlock of Destiny could easily face off against even the toughest challengers. I found it to often be surprisingly full of heart. Van is the classic underdog character that everyone loves to root for. Well, except for the people in this world. Here, they are enraptured by glistening muscles and brutal technical skill in the ring, neither of which Van possesses. In fact, Van is so unlike the other titans that he is instantly likeable. He is quiet and peaceful and often filled with self-doubt and insecurity. Forced from foster home to foster home for his entire childhood and relentlessly made the object of scorn and butt of all jokes, all Van wants is someone who loves him. In a book about titans with giant personalities that fight each other in a wrestling ring, Gately injects plenty of quiet and tender moments. I went from laughing to crying to whooping far too many times in a single book.
"He needs to know he's not alone. We all suffer sometimes. Even f*cking titans."
When I finished The Headlock of Destiny I turned to my wife and told her that I couldn't think of anything that I disliked about this book and that stands true. Sure, there are a few tiny holes in the otherwise amazingly colorful worldbuilding, but this was one of the most fun books I have ever read. As a wrestling fan, I loved picking up on all of the little wrestling easter eggs sprinkled throughout the book and the callbacks to 90s-era wrestling, that shining moment in my childhood, were wonderful. It brought me back to 1997, parked on the floor in front of the tv while my dad and I cheered for our favorite wrestler. My dad is gone now and maybe that's why I loved this book so much. It brought a little piece of him back to me, even if only for a short moment in time.
---
Book Links
Goodreads: https://www.goodreads.com/book/show/50524402-the-headlock-of-destiny
Amazon: https://www.amazon.com/gp/product/B083VZT119/
Author Info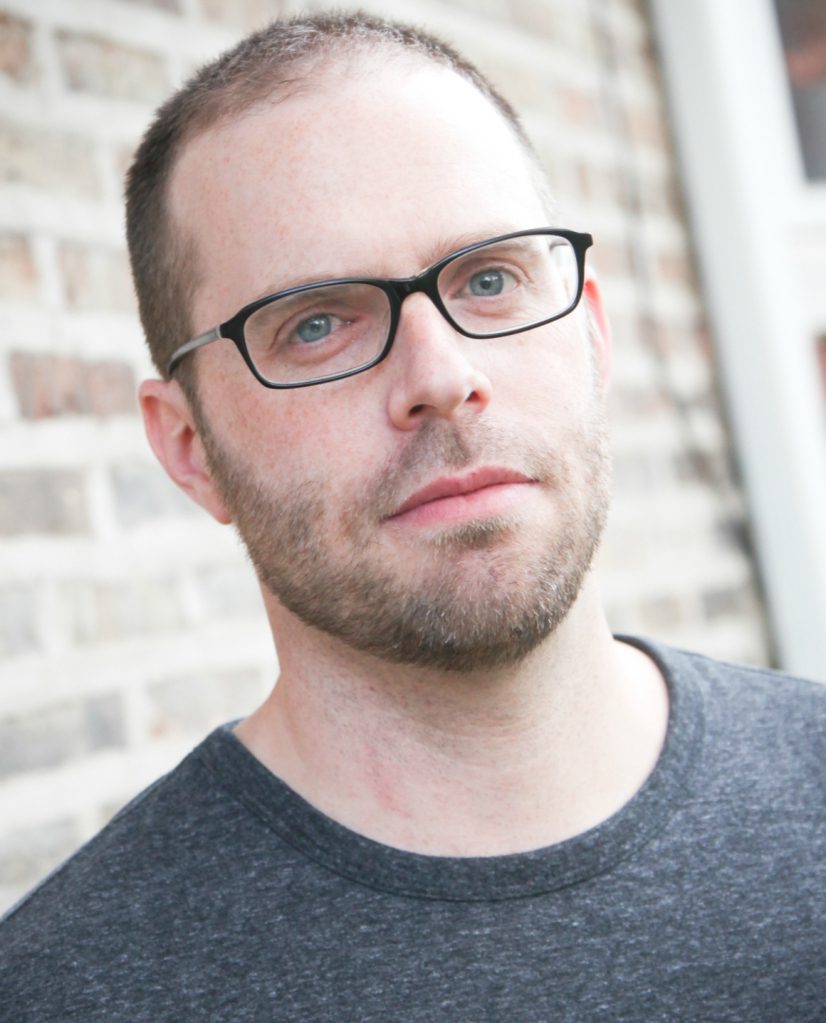 Samuel Gately is a writer of novels and short stories in the fantasy genre. Most have spies in them. Samuel lives in Oak Park just outside Chicago with his wife, daughters, and terrifyingly fluffy dogs.
Website: http://samuelgately.com/
Twitter: https://twitter.com/samuel_gately
Instagram: https://www.instagram.com/samuelgately/
Facebook: https://www.facebook.com/SamuelGately/
---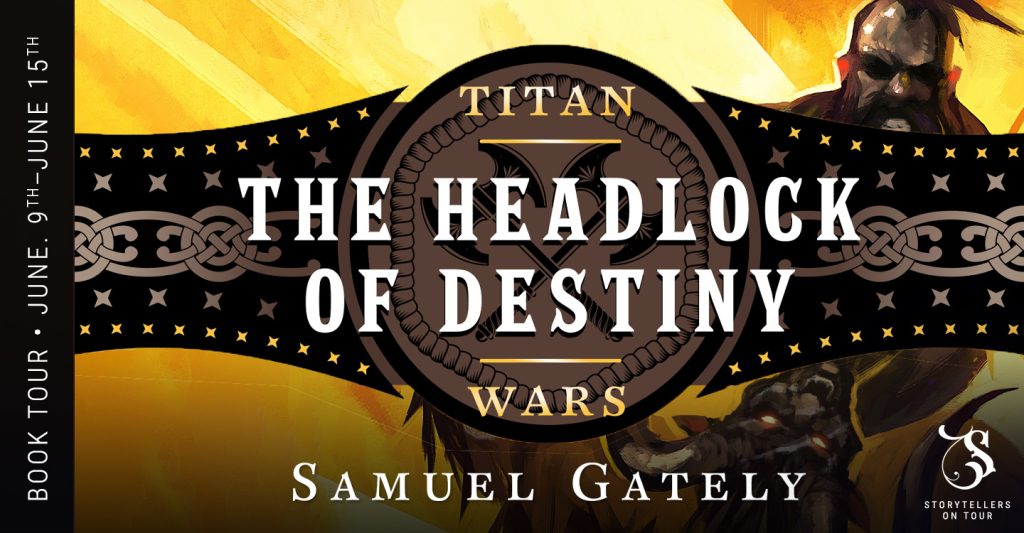 ---