Massive thank you to Escapist Book Co. and H.C. Newell for bringing me onboard the book tour for The Forbidden Realms (Fallen Light #2).
Below, you will find information on the book, the author, where you can find both the book and the author on the web, and an excerpt from The Forbidden Realms!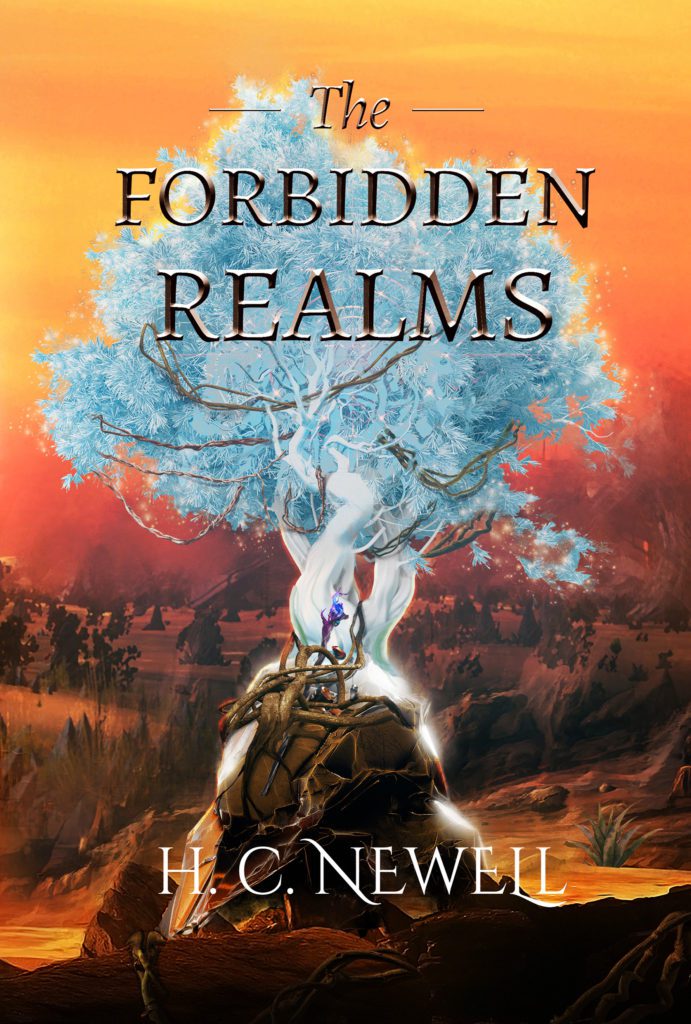 Book Information
The Forbidden Realms by H.C. Newell
Series: Fallen Light
Genre: Dark Fantasy, Grimdark
Intended Age Group: Adult
Pages: 465
Published: July 31, 2022
Publisher: Self Published
Book Blurb
Nerana is a sorceress. An exile. The Child of Skye.
And she isn't alone.
After a vicious attack against the Order of Saro, Nerana finds herself lost in the wastelands of Aragoth. Forbidden of humans or evae, the desert is a land teeming with fire and vengeance, and Nerana's only hope for survival lies in the trust of another.
Aélla, a powerful evaesh sorceress, travels the desert on a pilgrimage of sacrifice and strength. Determined to enter the Realm of Elements and see her quest complete, she must survive the hardened warriors of the desert, the vaxros, who banished her kind from their land centuries ago.
But the vaxros aren't the only threat, and the weight of such imbalance could shift the fate of the world.
Book Links
Amazon US: https://www.amazon.com/Forbidden-Realms-Fallen-Light/dp/B0B7QGX5L8/
Author Direct (signed): https://www.hcnewell.com/store  
Goodreads: https://www.goodreads.com/book/show/60490945-the-forbidden-realms
Author Bio & Information
H.C. Newell is an American author of epic fantasy. She is best known for the Fallen Light fictional universe, in which her fantasy novel Curse of the Fallen, is set.
Newell began her writing journey at a young age. In elementary school, she would often write small plays for her and her cousins to perform. In middle and high school her love of writing transformed into fiction literature, which she would write in spiral-bound notebooks. By 2015, she had written more than 5 romance and young adult novels and several short stories.
In 2014, Newell started her first novel series, Forthwind, which was a young adult trilogy. As she grew as an author, she found her niche in adult fantasy, and created the Fallen Light universe. This six-part novel series took Newell over seven years to create. She published her debut novel "Curse of the Fallen" in April 2021.
Newell's works have been compared by readers to authors such as J. R. R. Tolkien, Brandon Sanderson, Andrejz Sapkowski, and Robert Jordan among others. Newell lives in Nashville, TN with her husband.
Website: https://www.hcnewell.com/
Linktree: https://linktr.ee/hcnewell
Excerpt
CHAPTER ONE
Blood and steel
NERANA

"Give me your blessings, O God of Death, and grant me peace in the life hereafter."
– Prayer to Zynther, Divine of mortality

HER LIFE ENDED THAT DAY.
Six months past, when she embarked upon the dangerous and forbidden Trials of Blood. Now, she walked alone, tired and hungry, as she made her way to the village of Rhys deep within the heart of Ravinshire. Clutched tightly in her arms was a worn leather notebook, the pages filled with scribbled stories and songs written by the
friend she'd never see again.

Wolves howled in the distance, and the moons illuminated the dark sky. Neer wrapped her arms tighter around the notebook, vowing to protect it before herself should trouble find her. Dried blood, blackened with age, stained the edges of the crinkled pages.

After Loryk's death, she spent weeks in the crypts beneath Porsdur. The old sconces were hardly enough to keep the moist hollows illuminated, but still she sat, speaking to his grave, and reading every word of his lengthy journal. Now, she walked through his home of Ravinshire, where she planned to gift his family, though
undeserving, with his final thoughts and poems.

Neer didn't do this for them. She needed closure, a way to move past such a deep and dreadful end to what was once the most valuable friendship she ever had. She couldn't carry his writings forever, and she knew, despite their differences and beliefs, Loryk loved his family. For that, they should know the truth of his fate.

Dirt shuffled beneath her boots as she carried on down the desolate High Road. Tall yellow grass covered the empty fields surrounding the road in every direction. Heavy trails from wagons and carts rutted the packed dirt, though the sprawling road of Ravinshire didn't see much use. Each village was at least a day's walk from another, and since her entry into the region two weeks ago, she'd only passed by a handful of merchants, couriers, and bandits—none of which noticed the teal of her eyes as they walked by with pleasant smiles or attempted to steal her coin. She was lucky, for the Child of Skye was forbidden in all of Laeroth, and in a place such as Ravinshire, the Order would've been contacted immediately upon her recognition. So, she kept her eyes on the dust and pebbles at her feet as she walked through the night.

Hours passed before orange light slithered through the peaks of the Whispering Mountains and broke the heavy darkness. The endless wheat fields and creaking windmills faded into dense woods as Neer moved closer to the logging district.

She passed by a faded signpost, and the faint whine of rusted hinges caught her attention. Sun and rain had washed most of the chiseled letters away, but she could make them out enough to read Morinth. With a heavy, relieved sigh, she headed toward the small village.

Each step took her closer to civilization, and she breathed in the scent of fresh cut pine. A river, flowing through the foothills of the Whispering Mountains, carved through the thinning trees, its water lapping against the banks.

Tanning racks were set out along the streets, quickly changing the scent from fresh pine to hot leather. Doors creaked as residents ventured out of their homes. Their red hair and round waistlines were typical of Ravinshire natives. Deep wrinkles laid cracks across the faces of men far too young for such aging, their tired eyes and
calloused hands proof of the hard labor they daily provided.

Neer focused on the road and wandered through the street as the villagers whispered of a stranger's arrival. Morinth was three weeks from the border of Llyne, far enough into Ravinshire territory that the possibility of a straggler walking through was near impossible. Whoever would come this far into the southern hold had reason, and the villagers weren't eager to welcome strangers.

"Six blessin's!" a man greeted Neer with reserved disposition. Being from the South, where a man's hide is as thick as it is strong, it was clear he wasn't looking to extend an invitation. "Where's yer pa, girl?"

"He's ill," she lied. It was known that in Ravinshire women were lesser than men, and the residents had no trouble enforcing such beliefs. Had Neer explained she was traveling alone of her own volition, she would have been accused of sacrilege and publicly lashed. Even her clothes, which were tight trousers and a long-sleeve top, were considered too masculine of attire for the women of Ravinshire. Luckily, they didn't invoke such strict rules upon travelers, but she kept herself guarded all the same. "I'm to bring him wares from Dorthe."

"Dorthe, aye? Let's see what ya got there."

She sighed and turned to the sky. With a wince, she slung the bag from her shoulder and opened it for the man to see. He peered nosily into the white canvas, finding clothing, a small coin purse, and medicine. The man eyed her for a quick second and then backed away. His attention moved quickly to the weapon on her side, and he tensed.

"Women shouldn't be carryin' weapons. That an elvish blade you got? You know them're forbidden in Laeroth."

She stepped back, keeping her eyes on the ground to avoid him recognizing their color. "Yes. My father bought it off a merchant during first winter when he fell ill. Spent most of our coin on it, but he said it'd do me better than a human weapon if I'm to find myself in trouble on the road."

He eyed her suspiciously. "Well, you don't look like much trouble. Keep that thing hidden, 'less ya want to be findin' yourself in the temple dungeons."

She nodded. "I'll keep that in mind."

The man grumbled while crossing his arms. "Well, the Mansker Inn is just up the road an' to the left. Be sure to ask Mariah for a bath. You could use one."

"Thank you." Her voice was unenthused. It had become her natural tone since she returned from Nhamashel. She performed the usual bow with her hands cupped together in front of her chest. The man returned the gesture and then stepped aside.

The village had come to life within the minutes Neer had spoken to him. Chickens squawked and cows lowed while farmers tended to their daily chores. She kept her head down and made her way past the residents that walked the streets.

Upon entering the inn, she was greeted with the smell of freshly baked bread and strong mead. Her eyes averted to a man sitting by the hearth. The soft melodies of his drum mixed with the quiet conversations of the patrons. Mist filled her eyes, and she quickly wiped it away.

A young girl swept nearby, paying no mind to Neer as she carried out her duties.

The tinkling of chimes brightened the dull noises of the inn as a woman dressed in nothing but a thin skirt adorned with tiny silver bells sat across a man's lap. The innkeeper, with fiery hair and a red face to match, angrily swatted their table.

"Knock that off! This 'ere's a family place!" She nodded to the girl sweeping across the room.
The patron slowly stood and slipped into her top.

The innkeeper eyed Neer suspiciously while scrubbing a tankard with her dirty apron. "Need a room?"

Neer nodded silently, purposefully averting her eyes to better hide her identity. "And a bath."

The innkeeper turned to the sweeping girl. "Enid! Show our guest to the downstairs rooms."

The young girl went happily to Neer's side and took her hand, leading her down a narrow staircase behind the bar. They entered a small basement where deep wooden tubs sat behind long curtains. Barrels along the left wall dripped with liquid that left the place reeking of southern ale.

"You can stay 'ere." The girl opened the door to a small room. Inside was nothing but a bed and dresser. "Why're you so filthy?"

Neer glanced at her dirty garments. With a huff, she stepped into the room and sat on the flat feather mattress. "I like dirt," she said while removing her worn boots.

The girl stepped closer and touched the hilt of Neer's sword. Its glowing veins, which were hidden within the scabbard, had become dull and translucent since its time with Avelloch. "Where'd you get this?" Enid asked. "Looks real different."

"A friend."
"Women aren't supposed to be carryin' such weapons. You can get in big trouble, should the Order find out!" Neer scoffed in offense, and then watched as the girl inspected the frayed hilt. "What's your name?"

"Enid."

"I used to be a kitchen wench too. When I was about your age."

"Really? Did you like it?"

"No. Not really."

Enid shook her head. "Me either. I want to be an adventurer, like you. I'll bet you've seen all kinds of stuff." She sat on the bed and twirled her fingers. "Ma says I'm not meant for such things. Said I'd best get used to cleanin' the inn."

Neer was silent as she fell into her memories—the long nights waiting tables and cleaning the grimy, sweatstained sheets at the Sword and Sheath. How she wished she could go back and tell herself to take another path. To find a home and never let go of those she loved.

Her thoughts broke when Enid slowly stepped to the door, and Neer, though desperate to help her, was at a loss for words.

"I'll fetch you some hot water for that bath, Miss. For three bronze, we can clean your clothes."

"No thanks," Neer said.

The girl stood silently for a moment and then skipped away.

Neer closed the door and leaned onto the mattress. The road would've been comfier, and it was free, but she couldn't complain. At least the inn was safe, so long as no one suspected her of being the sorceress she was.

She sat atop the bed and pulled a weathered note from her boot, where she'd safely hidden it. It had been enchanted to withstand the elements and time, never to be destroyed or lost. Lying back, she unfolded the page. It was from Loryk's full adventure book. Of all the stories, poems, and ballads, this was the only journal entry. One she couldn't part with.

We're still in this bloody cave. Neer's unconscious from the rune, and I'm stuck in this house with Avlock Evalork Avvahl the blond one. He's okay enough. Seems to really care about Neer. He won't stop looking at her and making sure she's okay. I hope she's all right. Never been to no place like this…We may not make it out. If anyone's holding them back, it's me. I should've just stayed back home. I'm no fighter. I'm nothing, really. This place has been hell.

I don't know why I'm writing this. Feels foolish. But I guess I can feel it coming. The end, that is. We aren't all going to make it out of here, and if it's me that falls, I just hope that my stories can live on. I never had much in life, but I did have a family. The Brotherhood was always good to me, and I'll always be grateful.

Neer, if you're reading this and I'm gone, just know that I love you. Always have. You're my best friend. My family. You can do this, and you aren't alone. That evae over there cares about you. I can see it in his eyes. He's good, Neer. Plenty of
people are. Don't go getting all cynical and crazy like before. Whatever happens, we'll always be together. You'll never be alone.

Go send the High Priest and all those blasted people of the Order to the farthest reaches of the deepest hell. I'll be waiting for them.

Guess this is it. I'm getting sleepy anyhow. Not sure how to end this thing right.

Farewell.

She wiped away her tears and scanned the page multiple times, though she didn't need to. The words were engraved in her mind. She had spent days in Nhamashel, waiting for her energy to strengthen enough for her to teleport back home with his body. After a reunion with Reiman and Gil, and a beautiful ceremony for Loryk where he was laid to rest in the crypts beneath the Tree of Porsdur, she set off on her journey to Ravinshire.

Her thoughts lifted when Enid lightly tapped the door with her knuckle and announced, "Your bath's ready, Miss."

Neer placed the folded note into her boot, undressed, and stepped out of the room. Chills covered her cold, aching body as she stepped into the tub, turning the water murky from her filth. She exhaled a deep breath, and her muscles relaxed.
Her eye quickly reopened when hard footsteps raced across the ceiling.

"Mariah!" a man exclaimed. "Have you heard?"

"What is it?" the innkeeper asked, seemingly unenthused by his outburst.

"Priest Ealdir is here!"

"Truly?" She was more alert. "What could he want with a place like Morinth? We're naught but a logging village."

"Word has it, they've found a sorcerer nearby."

Neer's stomach dropped. She lifted from the water to listen closer.

"Sorcerer?" Mariah asked. "There ain't no sorcerer here."

"They got word of one living around here. Said a neighbor saw them creepin' around in the night, using their magic."

"That's enough, Roger. Fetch some water and clean the glasses. There'll be no more speak of such blasphemy."

Footsteps echoed away and then disappeared behind the creak of a heavy door. Neer slipped quickly into her clothes and gathered her things. Upstairs, she handed the innkeeper a silver coin.

The woman raised her brow. "You ain't stayin'?"

"Change of plans."

The innkeeper shoved the coin in her pocket, which Neer then apported back into her palm. She pulled up her hood and headed to the door. Outside, hundreds of soldiers sat atop their horses. They slowly stopped as residents gathered along the streets.

The innkeeper stepped outside with a mug still in hand. When the horses parted, a priest rode through the crowd. His silver cloak and golden robes revealed his position as a Priest of the Order.

Dark hair hung across his shoulders, and tan skin revealed his nationality of Llyne, where years ago he was forced out of his home when the Brotherhood took siege of the land. The people of Ravinshire, hearing of the treachery inflicted by the rebels, came together to construct him a new temple in their territory, where he now
resided.

Neer watched him with a careful eye while everyone bowed on their knees. Dust swirled beneath his robes when he leapt from his steed. He walked down the street, and two knights, wearing thick plated armor with golden scapulars, followed close behind.

"Simon," the priest said in a smooth accent.

The smith stood and bowed. "Your Grace."

"I've received word that your village is harboring a sorcerer."

"I'm sorry, Priest Ealdir, but if there was such a person here, we would never—"

"I understand." Ealdir placed a hand on Simon's shoulder. The smith's large stature shifted under the priest's touch, and Ealdir turned with a subtle nod.

The knights unsheathed their weapons, and harsh light reflected off the newly-forged steel. It glinted in Neer's face, and she covered her eyes.

The smith faltered. "These're good people. We follow the teachin's and do naught a thing out of line!"

"Simon, friend, we aren't looking to shed the blood of the innocent. A demon walks among you. Do you want your children to be influenced by a sorcerer? One with a soul so twisted and foul that only the Divine Nizotl himself could have created it?"

Simon shook his head. Ealdir nodded in approval while his men scoured the town. Neer stepped back as they walked into the inn. The stillness of morning was quickly broken by the throwing of furniture and frightened screams.

"That's 'er!" a patron shouted. "It's the innkeeper!"

Knights rushed to the porch with their weapons drawn.

"What? No! You're mistaken!" she cried.

The butcher and smith rushed to her aid, but three knights quickly blocked their path.

"Please!" the smith begged. Tears carved clean trails down his red cheeks. "It isn't true! You've got the wrong person!"

"Simon!" the innkeeper called to the smith.

"This demon is your wife!" Ealdir said. "You know the penalty for such treason!"

Enid whimpered as she was dragged to their sides. The family cried and begged while the villagers stood by mutely. Some wept and covered their faces, while others wore satisfied expressions.

Ealdir stood before the smith and his family. "Six Divines of unity and peace," the priest started, "protect these souls as they're transferred into your realm from this life. Clean their spirits so they may once again be free."

Ealdir bowed to the family, who sniffled and begged at his feet. He drew back his weapon and struck at the smith's chest.

Neer ripped her sword from its scabbard and transported instantly behind the priest, sinking her weapon deep into his back and through his chest. Blood spurted from the wound and painted the family in red. The priest gasped as she twisted the sword, feeling the rip of his organs.

Neer pulled his head back. Solid black overtook the prominent teal of her eyes. An angry, satisfied whisper left her lips as she warned, "Send the Divines my regards."

She pulled her sword from his body, and the knights charged. Her gaze moved to the family, who stared at her in horror and rage. She was crushed by their anger. The heavy clank of metal armor filled the silence as the knights drew nearer.

Neer took one last look at the family who cast hateful glares at her, and then she closed her eyes and disappeared.