Thanks to Escapist Book Tours for having me aboard the Stargun Messenger Tour, and to Darby Harn for taking the time to type out a guest post for us!
Guest Post
From Guardians of the Galaxy to Destiny and everywhere in between, what made you choose galactic swashbuckling, and what is it that makes Idari's story THE one that needs to be told?
I saw Star Wars at the SkyVue Drive-In when I was three years old. That impressed the love of all things galactic swashbuckling on me for all time. From before I can remember, I was always writing something and it very often had to do with space opera. I absorbed everything in this period. Star Trek re-runs. Buck Rogers. Battlestar Galactica. The Dark Phoenix Saga from X-Men comics. It all invested a great love for the fantastic and space opera that ultimately led to my coming up with the idea for what became Stargun Messenger in the late 90s.
The original idea owed tremendously to my childhood; it was essentially Indiana Jones in a galaxy far, far away. Many foundational elements like the living stars and the shadows that were out to kill them remained intact, but Astra Idari evolved into a Stargun Messenger. Starguns are hired guns who protect filamentium, the only element in existence which fuels starships past the speed of light. When she discovers where it comes from, she's thrown into a galactic adventure that literally rewrites the sky.
This is Idari's story for many reasons. At one point early on the book's ancient past, Gen Emera, a living star, was the focal character. It was more or less a superhero origin story as she discovered her power and potential. It worked fine, but I was too disconnected then from Emera's true identity (no spoilers) to ever truly do it justice. Idari, an android who appears human, struggled with her identity and place in the world. She struggled with what she had to do to simply survive. The story kept drifting back to her because it's a story about questioning; it's a story about discovery; it's a story about you becoming a beacon for someone else, even if they happen to be a living star.
Idari is funny, she's sexy, she's heroic. She's the perfect heroine for the story. She grows leaps and bounds over the course of the novel. She makes hard, brave decisions. She doubts herself but she finds hope. She finds value. This becomes crucial for Emera's story and her own development late in the novel. Idari and Emera motivate and inspire each other. They test each other. They protect and nurture one another in a way that goes beyond the thrill a minute swash and buckle of traditional space opera. These are complicated figures in flux and their journey illuminates them as well a galaxy cast in shadow.
Book Information
Stargun Messenger by Darby Harn
Series: Stargun Messenger
Genre: Space Opera
Intended Age Group: Adult
Pages: 368
Published: December 6, 2022
Publisher: Fair Play Books (Self Published)
Book Blurb
To save the stars, Astra Idari must outrun her own shadow.

Astra Idari is a mess.
She drinks too much, remembers too little, and barely pays for it all as a Stargun Messenger. She hunts down thieves who steal filamentium, the fuel that allows for faster-than-light travel. When Idari meets Gen Emera, she meets the girl of her dreams and the last living star. There's just one problem.
Filamentium is only found in the blood of living stars.
Everyone wields knives and justifications for butchering the living stars to get around, but once Idari knows the truth, she faces a stark choice. Either she turns Emera over to her employers who control the filamentium monopoly, or risks everything to help Emera fulfill her quest to save her people.
The choice should be simple, but it's not losing her life that terrifies Idari. It's finally living. Idari knows she's human despite outwardly appearing to be an android with a failing memory stitched together by her ship's irascible AI, CR-UX. She's been just getting by for longer than she remembers, assured in her humanity, but not enough to risk it.
Idari has lived her entire life in darkness. The dark comforts and shields. The dark preserves in its cold, and Idari may not be able to keep her star out of her shadow.
"If James Joyce had grown up reading X-Men comics and obsessively playing Destiny, he would have written this. A breathtakingly imaginative, star-spanning romp that is equal parts swashbuckling galactic adventure and lyrical introspection about love and identity."
– Wayne Santos, author of The Chimera Code
Book Links
Amazon: https://www.amazon.com/dp/B0BWWV1NTK
Goodreads: https://www.goodreads.com/book/show/75434518-stargun-messenger
Author Bio & Information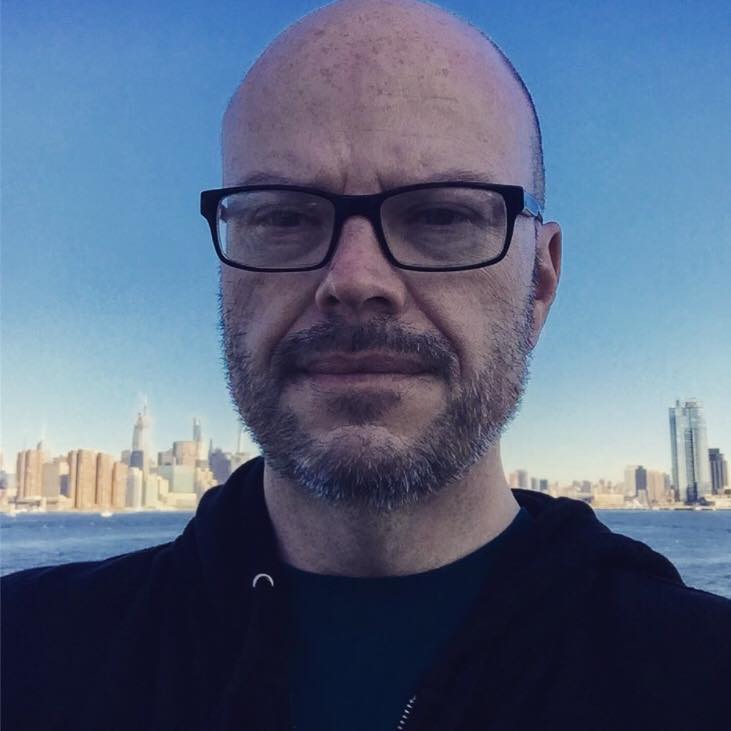 Darby Harn is the author of the SPSFC quarterfinalist Ever The Hero, which Publisher's Weekly called "an entertaining debut that uses superpowers as a metaphor to delve into class politics in an alternate America." His short fiction appears in Strange Horizons, Interzone, and other venues. Visit www.darbyharn.com for more.
Website: http://www.darbyharn.com
Twitter: http://twitter.com/DarbyHarn
FB: http://www.facebook.com/profile.php?id=100063755514517
IG: https://www.instagram.com/darbywritesbooks/
Newsletter: https://darbyharn.com/subscribe/
Excerpt
Sometimes, I wake up and forget I'm not human.
Then I get a message with a new job and within a lighthour I'm plodding through a derelict ore processing facility with a hangover of equal or greater mass than the planetary fragment I'm on. I shouldn't have had that last bottle of babyl. At least then I'd have it now.
Nickel shavings float in a nebula around me as I make my way down an endless corridor. No one so far. Varied telemetry flicks through the downlink I share with the Steel Haven, parked on a landing pad at the mining camp's edge. So far as my little starplane's sensors perceive, no one shadows me on OT-3R0. Maybe they all floated away. I'd float away too, but these hideous magnetic boots keep me secure to the asteroid's ferrous surface, one of millions littering the orbit of a broken planet. I think it's millions.
It's not like I counted.
There are 2,743,428 fragments to be precise and I don't know if that's me or CR-UX saying that. I get us confused sometimes. In my line of work, having eyes in the back of your head comes in handy. I can't say having another voice is helpful, especially when the main function of the Steel Haven's artificial intelligence is to provide a running commentary on the farce that is my life.
An electronic voice crackles in the static always bristling between my ears. I said that, darling.
Which bit? The fragments or the running commentary?
One in the same, really.
CR-UX doesn't have to tell me. Telemetry melds into a singular world of data the two of us cover as ocean and sky through the downlink. We're separate, as much as we're not. For as long as I can remember, which isn't much, he's always been there, in my head.
"I see you," I say.
Someone coalesces out of the facility's varicose lighting. A boy, I think. A girl. Hard to tell. The dust-caked breathing mask suggests they're Kasda, but the cumbersome thermal suit isn't scabbed in nickel scoria like other asteroid miners in this system.
The mask muffles their anxiety. "Are you Astra Idari?"
Total strangers in the farthest corners of the universe always have some idea of me. Better than I ever have, sometimes.
I draw my blaster. "Who wants to know?"
"Sadaous Goth."
Oh, I'm adding that to the list, CR-UX says.
I snort. "Did you just make that up?"
Goth's helmet teeters on his head. "No."
"That's a terrible name."
His arms cross and then fall. "I thought it sounded cool."
"Good thing I'm here, then."
I scan the corridor. Goth seems to be alone. A lookout, more than likely. Seems this job will pan out after all.
I prime my blaster. "Where are the others?"
Goth points down the corridor. "A left and two rights."
"You're not a very good friend, Goth."
He raises his hands. "Just doing what I'm told."
"And what were you told?"
"You're a Stargun Messenger."
My reputation is getting ahead of me. Shouldn't be surprised, really. I'm about as subtle as this Goth character when it comes to taking a job. Need protection from raiders? Pirates run off with your ship? Someone steal your starship fuel? I'll settle it, so long as you settle the bill. Out here in The Hinterlands, Stargun Messengers serve as de facto law enforcement, not on a uniform scale of justice but on a hierarchy of who pays the most. The Scath pay.
A lot.
They've got the money for it, being the sole suppliers of filamentium in the galaxy. It's the rarest element in existence, which is fine enough, but all anyone cares about is it's the only thing that makes starships go past the speed of light. Without interstellar travel, worlds starve. They freeze. They fade to the black claiming existence.
A digital tsk chops through the downlink. Idari. Get on with it.
How is it all the electromagnetic interference in this star system plays havoc with the Banbor Gang's comm systems, I say, but I can still copy all your nagging loud and clear, CR-UX?
You could ask our new friend. Or go on staring at them in awkward silence. I'm good either way.
I grip my blaster. "Who do you think I am?"
CR-UX sighs. Not what I meant, darling.
Goth's hands wilt. "I'm just the lookout."
My trigger finger curls. "Who am I?"
"The best," Goth says. "The worst, I guess. I don't know. You always get the job done. You're like a machine."
My blaster clasps to the magnetic holster fixed to the oil-slick sheen of the jumpsuit. "I'm a human being."
"Ok."
"I'm a person."
"Sure."
"Run, Goth."
His helmet wobbles on his shoulders as Goth scrambles down the corridor. I shouldn't let him go. The Scath don't pay me to let people go. Goth's just a kid trying to make a living in the dust of a gutted solar system. A single drop of filamentium can power a starplane like the Steel Haven a hundred thousand light-years. A canister of the stuff, like the four the Banbor Gang stole off a tanker one system over a few weeks back, will change your life. Or at least keep you far, far ahead of the one you're trying to escape.
Which way did he say, CR-UX?
You've forgotten already?
Just distracted.
A left and two rights, darling.
I turn down a new corridor. My helmet's starburst visor divides my view, but lucky me, I have eyes beyond my own.
CR-UX sighs. Your other left, Idari.
I go the other way. I was testing you.
Or perhaps it's the copious amount of babyl you imbibed directly before coming here to engage a well-armed gang.
Had to have one for the road.
I could have sworn it was three.
Unfortunately for the two of us, minding your own business wasn't an option among the features that came with the Steel Haven. CR-UX's frustration bristles on the downlink, where it runs into mine, and all there is between us is the garbled static of things unsaid. We hear each other's thoughts. Neither of us listens.
I listen, CR-UX says.
You judge.
I comment. Two bottles are strictly your limit, darling. Your efficiency diminishes significantly with every drop.
I stub my foot on a knob of exposed nickel. Ban Minda. I shouldn't swear. Though for the life of me, I can't recall why. The Kasda carved the processing facility from the bare iron of OT-3R0, without any mind for the people that would be haunting its halls. Scarped iron hazards the corridor ahead, like the cast-off sheets of discarded metal littering the junkyards from my nightmares.
I cycle through my sensor feeds to infrared. Filamentium whites out the dark ahead. Just like I figured, the filamentium remains largely unrefined. The only thing harder than stealing the stuff is doing anything with it. Purifying unrefined fuel is slow, dangerous work. One misstep and entire planets vanish in elemental fire. The Banbors are novices, using outdated, inadequate equipment here in the ore processing facility. I have to be careful here.
Smart.
Six distinct orange blobs move through the refinery beyond. The Banbors. Armed. Heavily armed. Considerably so, for small-time bandits like them. Someone must be bankrolling them on this job. Someone big. Probably The Bool. That means he put skin in the game for this job. He'll be furious to lose the fuel and his money.
How close do we have to be to target the canisters from space?
Don't feel like making any new friends today? CR-UX says.
Not really.
The Scath expect their merchandise returned to them, Idari.
Too bad the Scath can't be bothered to come and get their own fuel back. Lucky for me, I guess, they don't. The Scath are strictly export. Fuel. Weapons. Myths about who they are and where they come from. No one ever deals with them directly. A message comes through. Objective. Terms. File and forget.
Perhaps the Scath simply prefer solitude, CR-UX says.
What an alien concept.
I track the Banbor Gang's energy signatures through the airless dark of the ore processing facility. Under tracks sagging with empty carts. Over a sprawl of tubes. Between stacked crates that serve as seats as they pass the time refining the fuel with bottles of babyl.
"Boys," I say, and surprise flares in the muzzle flash of my blaster. I'm surprised. I always am, at how easy this is.
The last one crashes to his knees. "We did what we were told."
I point my blaster at him. "'We?'"
He dares a glance at what's left of the others. "Why…"
"You don't steal anything from the shadows but darkness."
A digital alarm blinks on the glass of his helmet. He's burning through oxygen, breathing so heavy. Why would anyone want to know the thinness of their own life? I've never understood.
"There's something else," he says.
My finger curls around the trigger. "Don't waste your time."
"Wait. Wait. You'll want to see it."
"What could be bigger than four canisters of filamentium?"
"This is huge. It can be huge for both of us."
I wouldn't mind retiring. I'm tired of this life. A human being gets tired. "That's the other thing about shadows. You never lose them."
"Wait," he says and a dull thrum sounds through the atmosphere in my helmet. No music. Noise. Every job the same. Someone steals filamentium. The Scath issue me a contract to recover it. Ten million toruls a canister. Not even one percent of their actual value. There's no reward for captured thieves. And no value in mercy.
My blaster snaps back to its holster. A sigh rattles around the inside of my helmet, routine as the mission. I resent taking lives as much as not being able to simply live my own, but these Banbor boys, their corpses floating in the weak gravity of OT-3R0, they're lucky.
They'll never be ghosts.
All four filamentium canisters remain racked together in the crib the gang stole from a tanker. None of it refined. What were they waiting for? Maybe they didn't know how. I grip the handle of the crib. Pain burns through my shoulder.
Fire.
My hand goes slack against my holster, numb like my arm. I twist around. Light fades in the barrel of the small, presumptuous blaster in Sadaous Goth's hand. Should have seen it coming. I take out the gang. Goth takes me out. He claims the bounty.
You didn't pick him up on sensors, CR-UX?
There's so much interference –
If he'd stop sighing through every single thing I think and do. If I didn't drink so much before coming here. Focus, Idari. How bad is it?
>CRITICAL INJURY
I slump against the crib. "Be smart about this, Goth."
He points the blaster at me. "I am."
"Do not shoot at the extremely volatile starship fuel, ok? Ban Minda, you'll blow up what's left of the system."
Goth's arm wilts. "Move out of the way."
I lean back against the crib. "I like it here."
"I'll take my chances, then."
I can't feel my hand. A little help here, CR-UX.
Rerouting auxiliary power.
A little faster, please.
Please refer to my earlier comments on interference.
I grip my shoulder. "I helped you."
"You're helping me now," Goth says and takes aim.
I tear off my helmet and throw it at him. The visor shatters as it rattles across the floor to Goth's feet. His amusement curdles to surprise. A fear I'm too familiar with. It clings to me just as it does others, like the escaping oxygen freezing to my face. My lips. The inside of my mouth. I remember what most people forget, and I've never known, not truly; the exercise of breathing.
The weight of air in my lungs.
Sparks spit out of the wound in my shoulder. Bio-netic fluid douses the flames burning through my synthetic skin.
Goth's helmet teeters on his head. "You're still breathing? Wait… are you a netic? A machine… are you even real?"
>AUXILIARY POWER RE-ROUTED
Power transfer complete, CR-UX says. You should have sufficient mobility in your hand to answer his question.
"I'm real," I say, and electric blue flares in Goth's helmet.
I stagger back to the crib. I drag it behind me in the meek gravity. White noise, with no melody or rhythm. The soundlessness of space is a myth. Stars hum. Black holes murmur deep in oscillations occurring once only every million years. Soundwaves generated as planets collide travel as far as dust clouds permit. That's all space is, really; hums. Drones. Oscillations. But there's no music in my life.
Only noise.
Some days I wake up and forget I'm not human. But then I remember I'm just an effigy of wire and metal kissed with enough electricity to riddle me with the confusion of consciousness.
You are human, Idari, CR-UX says.
I holster my blaster. Did a human do all this?
Humans do things they don't want to do sometimes.
I don't want to do this anymore, CR-UX. I hate this. This life.
Anxious data prickles on the downlink. Netics don't live free in the galaxy, darling. And certainly not ones with such… humanity. This life… such as it is… affords us some agency. It affords us anonymity. If we could get a little bit ahead… save some money…
What? What could we do?
You could be who you are, at least.
And who is that?
He always takes so long to say. My friend.
Pain shocks through my arm. I let go of the crib and clutch my shoulder and the canisters drift into me. Careful. One little bump and I'm atoms. This stuff is moodier than I am sitting around waiting for another job. Canisters are secure. Internal pressurization stable. Laser hole in a canister. There's a hole in one of the canisters.
Run, Idari, CR-UX says.
Wait. There's no leak. Goth hit the canister on the top right when he opened up on me from behind. This entire fragment should have went nova. The entire system. I check the canister's data screen.
There isn't any juice in here, CR-UX.
Good thing, I guess, or else it would have been curtains for your girl. Maybe the Banbors did try refining the filamentium here in the facility. Perfect. Now I'll have to scrub it out of whatever contraption they dumped it into. That will take hours. Days.
My sigh freezes on my lips. I could have sworn we picked up a thermal signature out of this canister, CR-UX.
We did, darling. In fact, I am now.
What?
I blink through my optical sensors. Infrared doesn't lie. This thing glows like it's brimming with filamentium. Ban Minda. I input the lock-release code and light explodes inside the refinery.
Beauty.
My sensors reduce the glare a little, exposing the source to be a young woman. Or a man. Somewhere in between. Ephemeral light streams off of them in licks and wisps, cerulean like the sky, just before the break of day. They're a star. A living star.
A Lumenor.
The legends are true. Living stars are real. A living star is standing before me. They were hiding inside this canister and do you see this CR-UX? They have to be worth millions of toruls. Tens of millions. I can get out of this life, once and for all.
CR-UX, do you see this? You there?
Static. Nothing on the downlink. A low-level magnetic field emanates from the Lumenor. Must be them. They're pulling on me. Not just my metal bones. My electric thoughts.
I can't move. "You're…"
Their fingers brush my cheek. "A memory."
>LOSS OF SIGNAL
>NEURAL NET REBOOTING
>SYSTEMS CHECK / NOMINAL
That was weird. CR-UX? Do you read?
Static. Ban Minda. How do I get out of here? I trace my way out of the ore processing facility and scale the blunt stump of iron serving as the landing pad outside. The Steel Haven isn't much to look at. Her reddish-brown skin has gone gunmetal gray. Two fat overlight engines bracket a forward cockpit. She's shaped a bit like a heart someone pounded into an arrowhead.
But she's home.
She has been for so long that I can't be sure of when and how I first came to the ship. CR-UX rolled out of a foundry on Shighn pre-installed in the ship sometime long before that. How did we ever find each other? How do we stay together in all this dark.
>DOWNLINK ACTIVE
Where are you going now, Idari?
On CR-UX's scopes, I appear small against the craggy peak of OT-3R0, but then I am in any case. Well. Depends on what boots I've got on. My hair isn't quite dark or long enough as I'd like though to throw a rug over this crater in my shoulder.
I lost you back there, I say. Planetary fragments tumble through the oil spill above. Must be all this electromagnetic interference.
You may be more injured than diagnostics suggest, CR-UX says. To say nothing of the fact you're running low on power.
>POWER RESERVE: FORTY-SEVEN PERCENT
Great. And I have a crib full of filamentium to cart out here.
The canisters are already in the hold, Idari.
But I left them in the facility…
Don't you remember?
I look back at the processing facility, nestled among mobile habitats on giant treads forming the itinerant mining camp. I was just…
This is why I always say to back up your memory before you launch into scrapes likes this, Idari.
But…
Your neural pathways are suffering from the power drain. If you don't recharge and soon, I'll be carrying you inside. Which will be an absolute gas given I've no arms with which to do so.
So what did I come back out here for?
CR-UX sighs. Let me check my logs. Yes, I just asked you that.
Don't you remember?
Fiddlesticks… now you're doing it to both of us.
I could have sworn there was something…
What's that, Idari?
There was someone…
The Banbors. You've forgotten.
No, I thought… I felt… I felt something. A star. A Lumenor.
A Lumenor? Goodness. Darling, you are injured.
Maybe something shorted in my neural net when what's his face shot me, but I thought the Lumenor was real. Stars walked like men once. They lived. Loved. I believe it, even if most people don't. I can almost see them. Beings of pure light. Energy. How would I ever perceive them? How does a star love? What would be love to a being of cosmic energy? What would sex be? Gender? Existence?
We should get moving, CR-UX says. Scavengers abound.
I trudge up the gantry, feeling empty despite my success. What did I gain here? Who am I, out here in the nothing? All I carry from this barren rock besides evidently the filamentium I've already loaded is confusion. This sense of possibility, like a dream you can't remember but need to. I crash into the pilot's seat.
We're heavy, I say, tapping the gauges on the console.
The canisters, Idari.
I'm reading more filamentium than we should have.
Perhaps the interference is messing with our sensors.
Data streams through my head on the downlink. Video. Sometimes it's too much. Most of the time. CR-UX processes everything. He's got a liquid drive. I don't. No barriers exist to stem the tide of constant telemetry, but the buzz babyl gives you helps.
I should go down and check, I say.
We've no idea who else lurks out here, darling.
You're saying we should get on.
We should get on.
I lean back in the seat, exhausted, but hopeful. I guess I did leave with something. I close my eyes and hope to dream of my star.