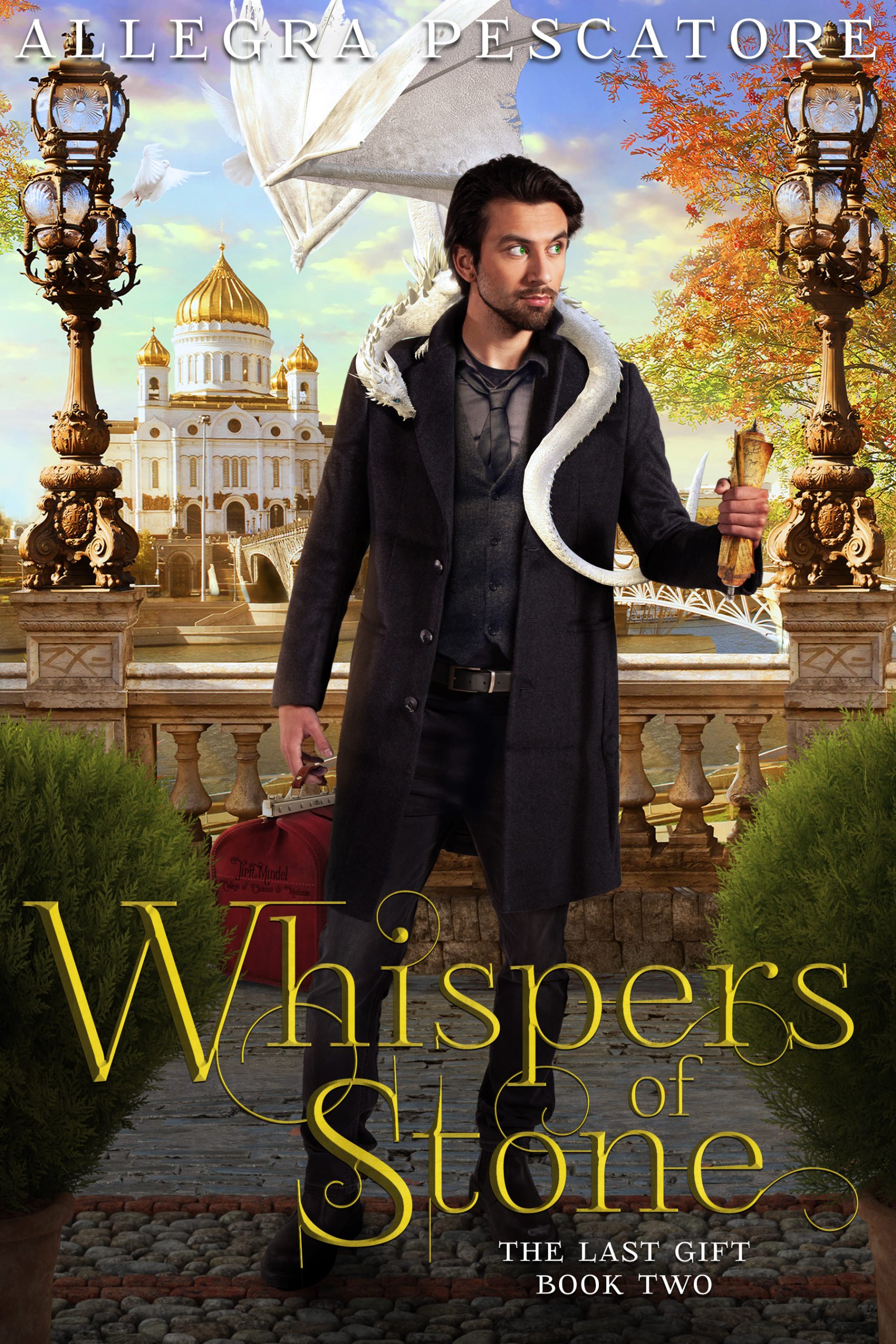 Rating: 9/10
Synopsis
A God is Dead. A Queen is Missing. Secrets are Unraveling.
On trial for the murder of the King, Elenor and Gabriel must become allies if they want to survive. His magic is spiraling out of control, awakening a mystery hidden in the very walls of the palace. She has one month to pass her Water Rite and find a way out of the marriage her parents set up. But things are about to get much more complicated.
Between sadistic family members intent on taking Elenor's throne, Tirit Mindel breathing down Gabriel's neck, and a Golden Dragon appearing in the sky above the Mondaer Desert with an ominous warning, more than the Kingdom of Lirin is at stake.
If that weren't bad enough, time is ticking down for Fedrik and Fay as well. With the desert turning against them and Daemon as a questionable new ally, figuring out how to control Fedrik's Gift has become a matter of life and death.
Picking up in the fallout of Where Shadows Lie, Whispers of Stone is the long-awaited and non-stop second installment of The Last Gift. Dive back into the world of Dracona and hold onto your hats. Things are about to get… salty.
Review
Hello everyone! Thank you to Escapist Book Tours for allowing me to join in on the book tour for Whispers of Stone, the epic fantasy by Allegra Pescatore. Welcome to my FanFiAddict stop on the book tour. I received a reading copy and this did not influence my thoughts or opinions.
Whispers of Stone fulfilled every requirement for a sequel. The world was expanded, the stakes were dramatically raised, and the character development kept advancing.
Before I get into my review, I wanted to highlight something that the author is doing that makes the series sharply different from most already. At the beginning of the book, we learn that The Last Gift is one of numerous series included in a compilation known as Project Ao. The works in this collection are written by a variety of authors and take place in different worlds and genres, yet they all share a common universe and overarching plot. I'm eager to read the books that have already been published. I'm also linking a Q & A my FanFiAddict co-blogger Tyra just did with the author that covers Project Ao.
Whispers of Stone is the first book where knowledge of the other worlds become known, so the author does encourage reading NACL: Eye of the Storm in between Where Shadows Lie (Book 1) and Whispers of Stone (Book 2). Psst… I didn't do this because I didn't know about Project Ao at the time– so I wanted to shout this out in case you want to take advantage.
Picking up immediately after the conclusion of Where Shadows Lie, Whispers of Stone is the first half of a two part story that will conclude in These Gossamer Strings (Book 3). Being that it was split into two books due to size, the end to Whispers of Stone may feel rather sudden but it does set things up for the next book. The move to break the story into two books was a great choice because These Gossamer Strings is a beast of book, sitting at 921 pages. It's just been released too.
Pescatore excels in creating a compelling world and story-line. I really love how the magic system works. The misuse of magic can have serious effects, which heightens the suspense. My favorite aspect of the series has to be the lore and plot. I'd consider this very plot driven. The sheer number of layers that have been carefully considered and developed astounds me. Pescatore expertly controls everything by gradually providing us with information. The amount of time creating the backstories must've been immense and there's nothing that I love more than when threads begin coming together. I love generational family dramas (and toss in immortal dragon gods and a few select individuals) and this is setting itself up for a big payoff. There are shorter interlude's at the end of each section featuring a look into what's brewing elsewhere.
The characters' various personalities and viewpoints continue to be uniquely different– no two characters feel the same. It is obvious that Pescatore is aware of both the positive and negative aspects of human nature. There were many times when I had to guard my heart. Elenor's family is so vicious and I feel so much for Gabriel's backstory. My favorite characters remain Gabriel, Daemon, and Fedrik. For those familiar with The Vampire Diaries, Daemon Indigo reminds me so much of Damon Salvatore from some arc similarities to personality and sense of humor to the way he frequently enters and exits the story-line. I admire Fay's inner fortitude and recognize that she guards her emotions, but I still find Fay a little too rude for my taste. I had hoped to see a little more character development with Fay, but after two novels, it feels a little static. Elenor just isn't working for me and I'm finding it hard to get into her character journey. I was thrilled to see North have a POV as he is becoming a favorite of mine. The diversity continues to be represented extraordinarily well. Elenor's physical disability is a part of who she is as is the sapphic relationship.
A compelling plot, fully formed world complete with court intrigue, plotting, and betrayals are all delivered in Whispers of Stone. I'm eager to learn how the first arc concludes.
Content/Trigger Warnings: Shown on page: Ableism, Racism, Rape (non-graphic, non-violent), Drug/alcohol use (medically necessary), Child abduction; Alluded to: Self harm, Homophobia, Child harm
I wanted to close by giving another huge thanks to Escapist Book Tours for allowing me the opportunity to join the book tour. They're doing great work for the indie book community.
Before you go, I'd like to mention that Escapist Book Tours is currently running a US giveaway in conjunction with this tour. You could win a signed paperback copy of Whispers of Stone.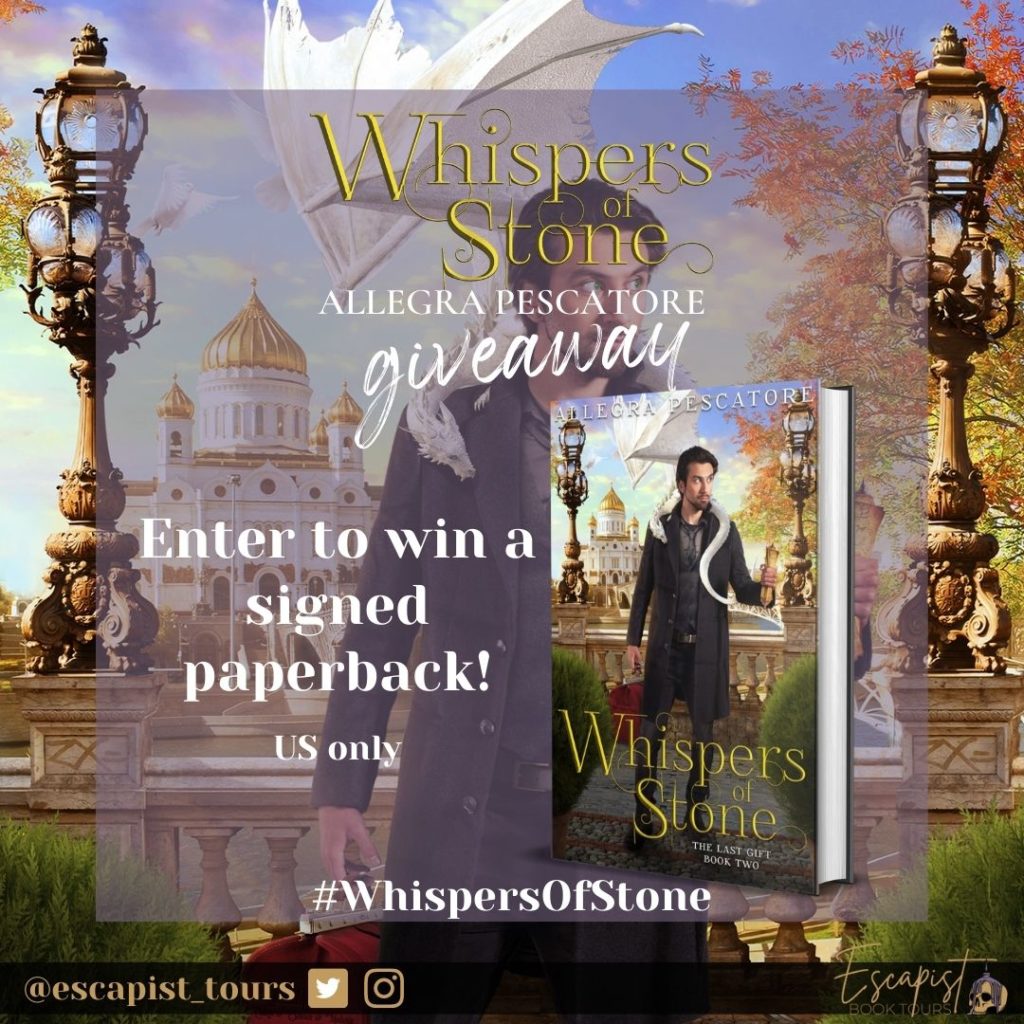 To enter, just click here. Winners will be chosen at random and the giveaway ends on Wednesday, July 13th, 2022 at 11:59pm EST.
Author Bio & Information:
Allegra grew up in a small village in northern Tuscany as the daughter of two artists. She was raised on the works of J.R.R Tolkien, C.S. Lewis, Phillip Pullman, Frank Herbert, and many others, all read aloud to her while she drew and played make-believe. She began to write at the age of eight and hasn't stopped since.
After many moves and dozens of countries visited, she now lives in a cozy cottage in Western PA. She is accompanied in her current adventures by husband Job, co-conspirator and long-time writing partner Tobias, and a small army of furry and scaly pets. When not writing or daydreaming, Allegra rules her kitchen with an iron first and feeds everyone who walks through her door. She also gardens, dabbles in various art forms, and spins stories for her tabletop gaming group.
As a disabled woman and staunch LGBTQ ally, Allegra hopes to write engaging, diverse, and representative Fantasy and Science Fiction, where people who do not often see themselves center stage get the chance to shine.
Her debut book, Where Shadows Lie, was an SPFBO Semi-Finalist and is a CIBA award finalist. It is the first book of The Last Gift series, and the first title of Project Ao, by Ao Collective Publishing. Other titles in Project Ao include NACL: Eye of the Storm (2021 SPFBO Semi-Finalist) and A Bond of Thread.
Linktree • Publisher • Twitter • Facebook • Discord • Youtube
There are still two more days left in the book tour so if you're interested in checking out the rest, be sure to check out the official tour page that is your one stop hub where all of the book information is gathered in addition to all of our tour stops and reviews.