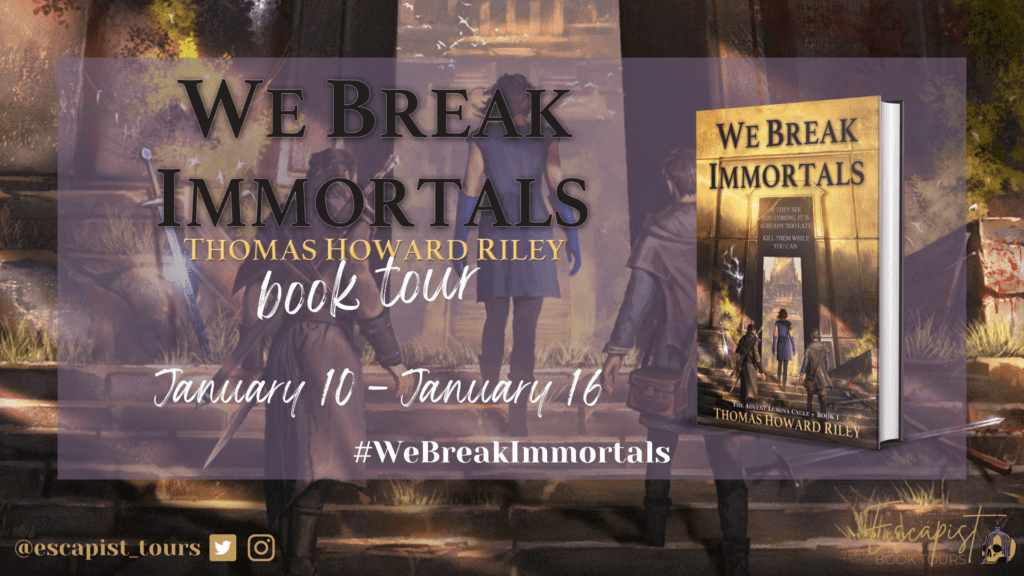 Hello! I have the distinct honor of kicking off the book tour for Thomas Howard Riley's We Break Immortals, which has been organized by Escapist Book Tours!
Below, you will find information on the book and author, my review, links so you can grab yourself a copy, and even an opportunity to win a copy with a swag pack!
Also, be sure to check out the rest of the tour by checking out the full tour schedule at the bottom of the post!
---
Book Information:
We Break Immortals by Thomas Howard Riley
Series: The Advent Lumina Cycle #1
Genre: Dark Epic Fantasy (Rated-R fantasy)
Intended Age Group: 18+
Pages: 751
Published: December 7th, 2021
Publisher: Self-Published
Content/Trigger Warnings:
Shown on Page: Graphic Violence, Graphic Sex, Fantasy drug use
Alluded To: One instance of non-skin-contact magick sexual assault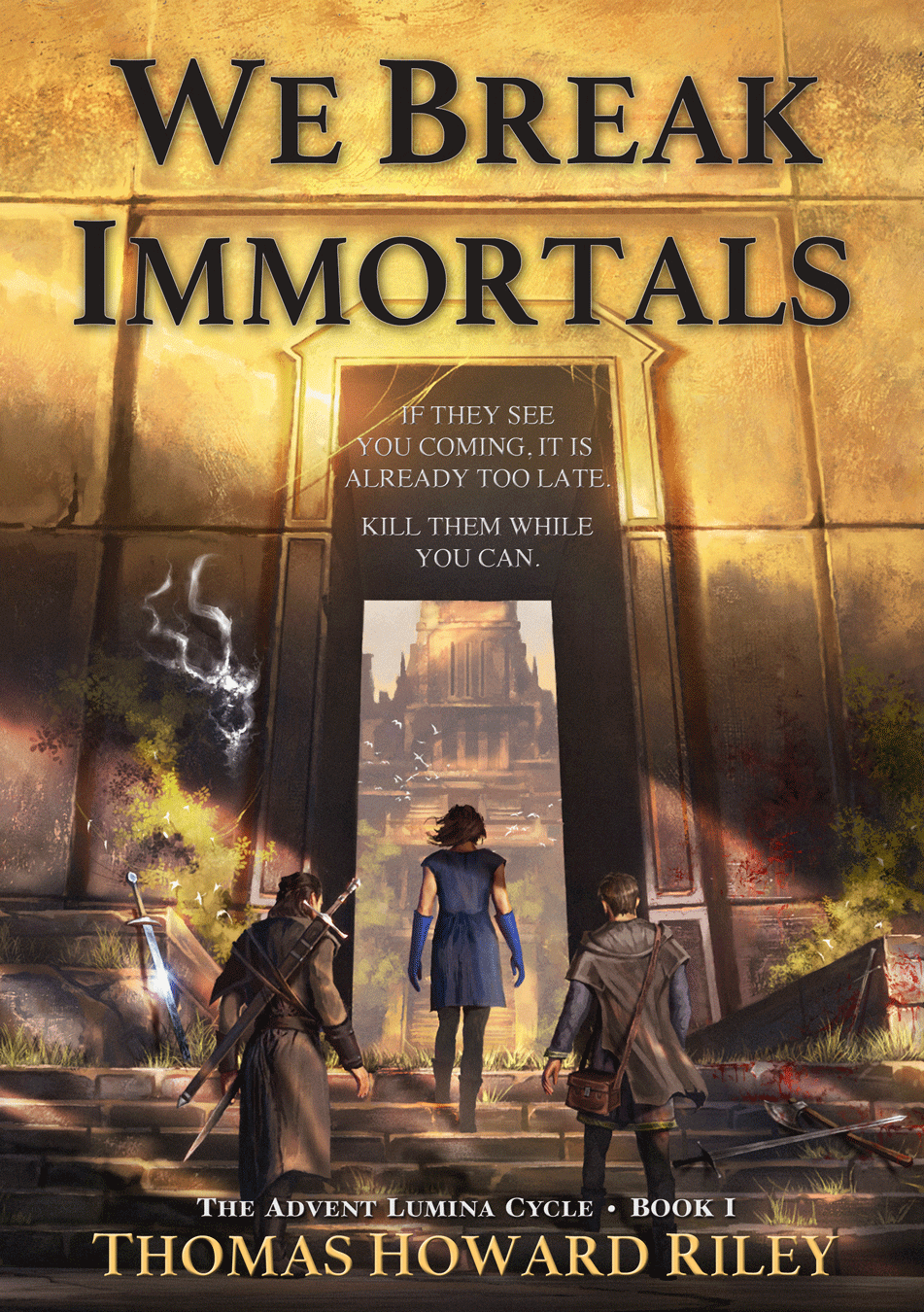 Rating: 9.0/10
Blurb
A drug addict who hunts sorcerers down by tracking their magick, the most renowned swordsman no one has ever heard of, and a thieving magick-wielding woman hellbent on revenge collide during a last ditch effort to stop an insane superhuman serial killer from making himself a god.
The Render Tracers always say magick users deserve to burn. Aren couldn't agree more, Keluwen would beg to differ, and Corrin couldn't care less either way.
In a world where most people use swords for protection, Aren uses tools that let him see what no one else can see, and he takes advantage of loopholes that can undo magick in order to stop the deadliest people in the world. He is a Render Tracer, relentlessly pursuing rogue sorcerers who bend the laws of physics to steal, assault, and kill. But his next hunt will lead him to question his entire life, plunging him into a world where he can't trust anyone, not even his own eyes.
When Keluwen finally escaped her fourthparents' home and set out on her own to become a thief, she never thought she would one day be killing her own kind. She honed her magick on the streets, haunted by her past, hunted by Render Tracers, and feared by a society that hates what she is. Now she joins a crew of outcast magicians on a path of vengeance as they race to stop an insane sorcerer who has unlocked the source of all magick and is trying to use it to make himself a god.
Corrin is a sword fighter first, a drinker second, and a…well, there must be something else he is good at. He'll think of it if you give him enough time. He is a rogue for hire, and he has no special powers of any kind. The most magick he has ever done is piss into the wind without getting any on himself. He is terrible at staying out of trouble, and someone always seems to be chasing him. When he gets caught up in a multi-kingdom manhunt, he finds himself having to care about other people for a change, and he's not happy about it.
They are about to collide on the trail of a man who is impossible to catch, who is on the verge of plunging the world into ruin, and who can turn loyal people into traitors in a single conversation. They must struggle against their own obsessions, their fears, ancient prophecies, and each other. They will each have to balance the people they love against their missions, and struggle to avoid becoming the very thing they are trying to stop.
See Also:
Magick CSIs · Medieval X-men · Superhuman Serial Killers
Review
I first learned about We Break Immortals online, as I crossed paths with and befriended the author on Twitter. Then, I was lucky enough to be given the opportunity to do a map reveal and then participate in the cover reveal over the summer. All this to say that I have been waiting to read this book for quite a while now! As you can imagine, I was so excited to have the opportunity to tour We Break Immortals because it gave me even more of an excuse to move it directly to the top of my TBR.
Aren spoke the words that had been so ingrained in him. "There are only three precepts we go by here. You are not a god. No one is immortal. And no one ever gets away."
We Break Immortals drops you right in the thick of things, proving once more that prologues are great, and it does so without holding your hand. Riley is great at leaving a trail of breadcrumbs for you to follow, never spelling things out entirely, but instead expecting you to make your own conclusions about the story that is being told. In my opinion, this is a feature not a bug! However, I know that it is a style of writing that won't be for every reader. The book is dense at times, with loads of fantastic worldbuilding scattered throughout the text. Every revelation is an opportunity to learn something new about the world and how it works and, for me, this is the perfect type of storytelling. In real life, no one sits and learns everything at once before walking through the rest of their life simply knowing things — you learn as you go and when you find something that piques your interest, you hope to learn more about it later on. We Break Immortals is exactly like that. It's the classic carrot on a string. Speaking of worldbuilding, Riley has created one of the most impressive magic(k) systems that I've ever had the pleasure of reading about. It's complex, mysterious, and sometimes downright terrifying in its potential. It's a power that is used to devastating effect, with magick users being capable of wholesale slaughter.
In order to keep the users in check, the governments of the world employ Render Tracers, an elite group of investigators who, through expensive tools and complicated equations, are able to study and catalogue traces of magick from a crime scene to put to use in hunting down rogue users and bringing them to justice. The first of our main characters, Aren, is one such "fantasy CSI", a young man who has made a speedy rise to the top of the Render Tracer Corps. He's studious, committed to his cause, obsessed with history (we get a whole lot of great worldbuilding directly from his mouth), and a drug addict. Keluwen, being a rogue magick user herself, is everything Aren hates. Yet, despite being diametrically opposed, they're ultimately working toward the same goal, to hunt and kill the bad guys. Our third MC, Corrin, is a foul-mouthed sword fighter full of braggadocio with a heart of gold. He's the swaggering, hired muscle in the corner with one too many swords strapped to his back. He thinks he the coolest in the room and, well, he usually is. All three of the main characters we follow feel like real people with pasts, flaws, and goals. Really, that even extends to the rest of the cast, which is expansive, with tons of named characters. Even a character that only appeared in the prologue was so well realized that he ended up being one of my favorites (of many). There are so many amazing characters who all have their time in the spotlight, Hayles and Fainen, Eriana, Reidos, and Orrinas to name a small few are wonderful side characters (if you can justify calling such well developed characters that).
"There is no such thing as a chosen one. You are living in a fantasy, where you use a prophecy to try to make sense of your life. I have traced madmen before. You are no different."
One of my favorite things in big, epic fantasies are convergences, that moment when all of the separate storylines meet and join into one big tapestry, and We Break Immortals has one of the most satisfying that I've read in recent memory. Riley weaved the individual threads of the story so cleverly that I only realize in hindsight that we were heading toward the conclusion all along. It's truly masterful writing on display, with things that are only vaguely mentioned becoming vastly more important later in the story. The stakes are immense, with the whole of creation being threatened, yet the story stays grounded by focusing on the actions of and the resulting emotional journeys that the characters are taken on.The only other writer that comes to mind with this sort of breadth of skill with plotting, worldbuilding, and characterization is Steven Erickson. I know it's gauche to mention Malazan these days, but it would be difficult to make any type of argument against Erickson's skill with a pen. The only real issue I can raise is the density, which is, perhaps, the greatest barrier to entry with both of these works. With a magic system as complex and a world as vast as this one is, there is a fair amount of info dumping, but it's handled brilliantly and never seems out of place. As with Malazan, some of We Break Immortals' greatest strengths are also reasons why it may not work for you.
As a side note, We Break Immortals also contains some of the most beautiful language I've ever read. I can't tell you how many times I stopped my wife in the middle of what she was doing to read her passages from the book. Truly another testament to Riley's skill with a pen. Or a keyboard, depending on his medium of choice.
We Break Immortals is the first book I have reviewed for 2022 and it has set the bar extremely high! Riley displays some of the most impressive worldbuilding and character work that I have ever seen. The amount of worldbuilding that is just casually littered throughout the book is staggering, yet it feels like there's so much more to learn. It's truly a testament to Riley's skill and it serves to make the world really feel lived in. It's not just a backdrop for the story to take place, but an active participant in the telling. The characters, in turn, come across as even more authentic because of it. They've lived and it shows. It may be a little challenging for some readers to wade through the relative density of the first bit while they're getting used to the world and its characters, but there will come a point where it gets its hooks in you and simply refuses to let go. My only advice is to sit back and enjoy the ride as you head toward an explosive conclusion at what can only be described as a breakneck speed.
"He thinks he is immortal," Aren said. "Fine. Let him think he is immortal. We break immortals. He wants to be a god? You and I, we break gods. Do you understand?"
She smiled. "We break immortals."
---
About the Author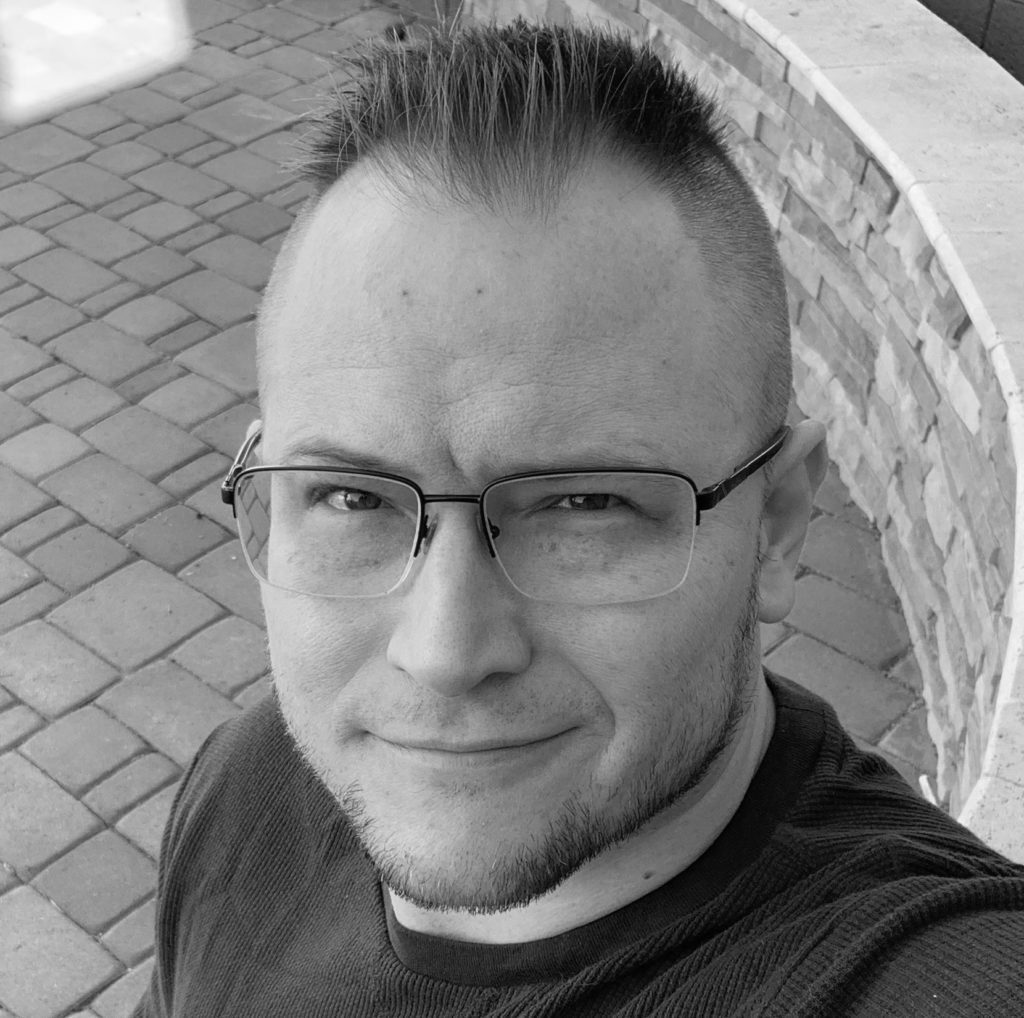 Thomas Howard Riley currently resides in a secluded grotto in the wasteland metropolis, where he reads ancient books, plays ancient games, watches ancient movies, jams on ancient guitars, and writes furiously day and night. He sometimes appears on clear nights when the moon is gibbous, and he has often been seen in the presence of cats.
He can be found digitally at THOMASHOWARDRILEY.COM
On Twitter he is @ornithopteryx, where he is sometimes funny, always clever, and never mean.
On Instagram he is ThomasHowardRiley, where you will see books, and cats, and mayhem.
Author Website: http://thomashowardriley.com
Twitter: https://twitter.com/ornithopteryx
Instagram: https://www.instagram.com/thomashowardriley/
---
Giveaway!
a Rafflecopter giveaway
---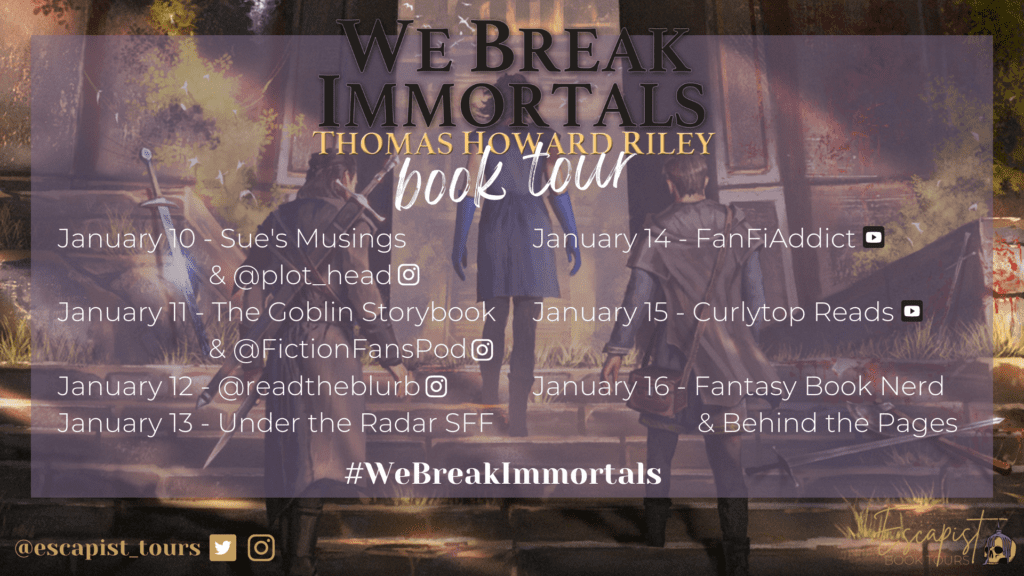 ---