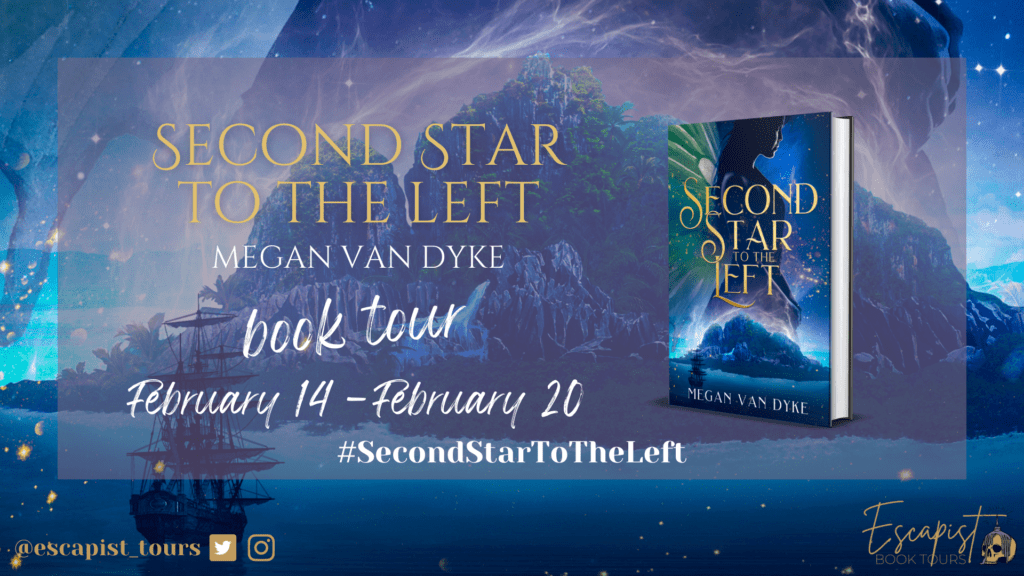 Hello and welcome to my stop on the Escapist Book Tours Hero's Journey (full tour) for Second Star to the Left by Megan Van Dyke! I am super excited to join the tour by sharing my review of the book! You'll find that down below along with details about the book and author, links to grab yourself a copy, and even an opportunity to win an ebook copy for yourself!
Also, be sure to check out the rest of the tour by following the official schedule at the bottom of the post. We've got some great hosts lined up and ready to help us roll out the "read" carpet for this excellent Romantic Fantasy novel!
---
Book Information
Second Star to the Left by Megan Van Dyke
Series: Reimagined Fairy Tales
Genre: Romantic Fantasy
Intended Age Group: Adult
Pages: 350ish
Published: February 15, 2022
Publisher: City Owl Press
---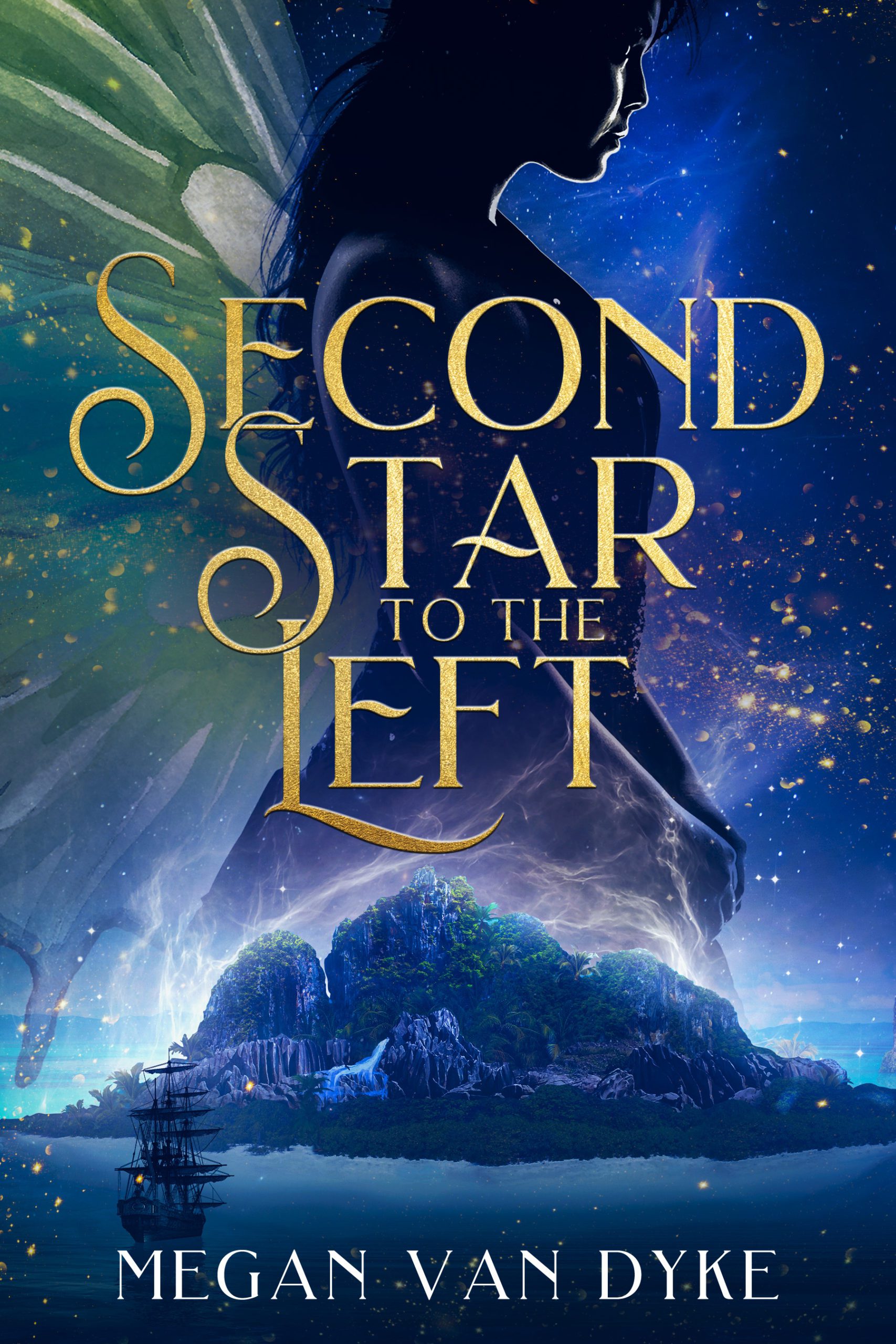 Rating: 8.5/10
Blurb
Tinker Bell, banished from her homeland for doing the unthinkable, selling the hottest drug in Neverland—pixie dust—wants absolution.
Determined to find a way home, Tink doesn't hesitate to follow the one lead she has, even if that means seducing a filthy pirate to steal precious gems out from under his…hook.
Captain Hook believes he's found a real treasure in Tink. That is, until he recovers from her pixie dust laced kiss with a curse that turns the seas against him. With his ship and reputation at the mercy of raging storms, he tracks down the little minx and demands she remove the curse. Too bad she can't.
However, the mermaid queen has a solution to both of their problems, if Tink and Hook will work together to retrieve a magical item for her.
As they venture to the mysterious Shrouded Isles to find the priceless treasure, their shared nemesis closes in. However, his wrath is nothing compared to the realization that achieving their goal may mean losing something they never expected to find—each other.
See Also:
Not Your Kid's Neverland · Two Words: Strip Dice · But Why Is the Rum Gone?
Review
"You cannot just… just steal me!"
"Pirate, remember?"
I have read two romantic fantasy books this year and I couldn't be happier! I'm so thrilled to have been introduced to this genre over the past year or so and I'm glad that I didn't let my preconceived notions of what romance in fantasy looked like keep me from experiencing it. There's just something so special about romantic fantasy books and this one is no exception. Second Star to the Left is the first in a series of fairytale reimaginings from debut author Megan Van Dyke and if the name didn't tip you off, this one tackles J. M. Barrie's beloved Peter Pan. Peter himself takes a backseat though, with Van Dyke's reimaging placing Tinker Bell and Captain Hook center stage. The finished product ended up somewhere between Peter Pan and Pirates of the Caribbean, with a massive helping of romance added in for good measure.
The relationship that develops between Tink and Hook is sublime! Honestly, it gave me all the feels and ended up being everything I wanted it to be. I think it would be easy to slip into the recent trend of villain origin stories (i.e. Cruella, Maleficent, Joker) however, Van Dyke instead changed the character of Hook completely, opting for a cleaner rogue, more Hood than Hook. I think this was the perfect choice and the dynamic between a dirtier Tink and cleaner Hook played out beautifully (be forewarned, a cold shower may be needed after reading some of their scenes). The side characters were also wonderfully written, with standouts like the Jolly Roger's First Mate Smee and the truly villainous captain of the Kraken, Blackbeard. I would also be remiss in not mentioning the wonderful world building on display here. Through the vehicle of the Jolly Roger, we explore several islands and port cities scattered across Never Land, including the familiar pirate hive, Tortuga. It gave just enough familiarity to ground the story while leaving plenty of room for the imagination.
Somehow, this pirate had managed to steal something she never planned to lose — her heart.
There's something interesting that I've noticed while reading the last few romantic fantasy novels that I've come across, including Second Star to the Left. When the tension is high and our MCs are in a dangerous spot, my mind unwittingly starts warning me that someone is going to die; this is fantasy and there has to be repercussions to make the stakes feel high, right? Not so with my last two reads, which openly guaranteed happily ever afters for their characters. It's funny, before reading these last two books, The Isle of a Thousand Worlds and Second Star to the Left, I would have thought that a guaranteed HEA would destroy the tension being built by the story. Instead, what I have found is that it actually enhances my experience because I know that nothing terrible is going to happen to these characters I have fallen in love with over the course of the book. Now, I'm not opposed to some good old-fashioned suffering, but this has proven to be a welcome reprieve from the standard doom and gloom that fantasy can sometimes dip into.
Overall, I really loved Second Star to the Left and I cannot wait for the next book in the Reimagined Fairy Tales series! The subtle ways in which the author changed the core characters to meet the narrative were the perfect choices to tell the story she wanted to tell. A beautifully written love story is at the core of this novel, but surrounding it is grand adventure, found family, and pirate ship battles. Can you think of a greater pairing?
"Home truly isn't just a place, it's a people, and I could never be truly home without you."
About the Author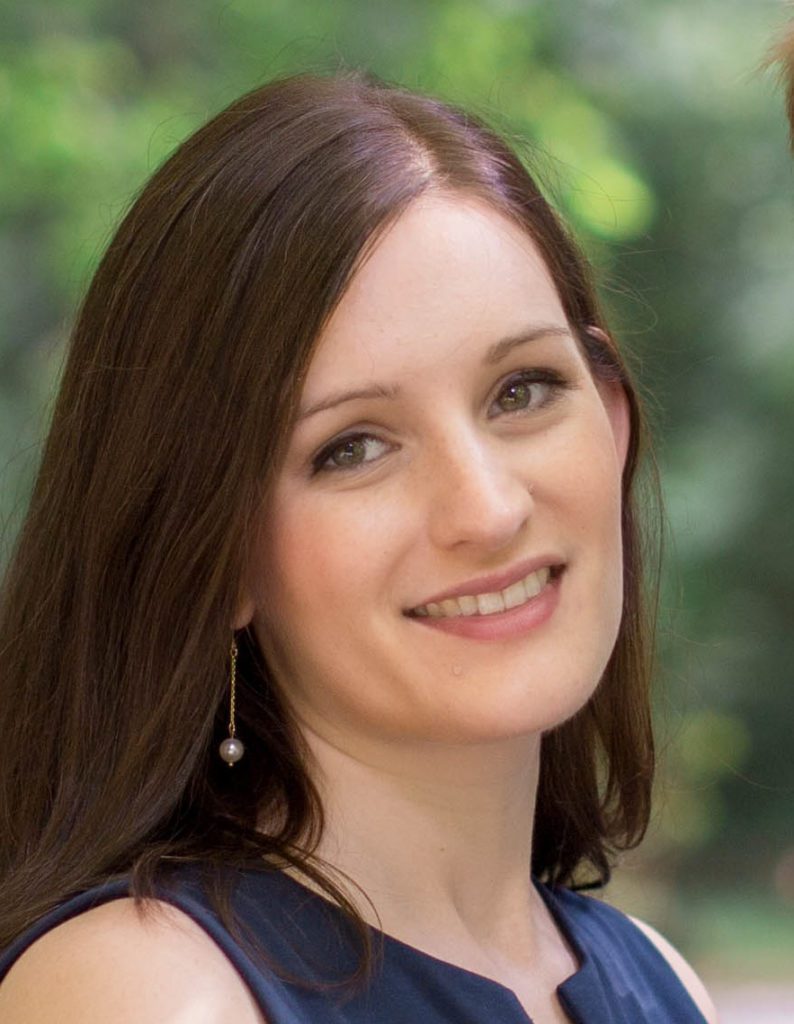 Megan Van Dyke is a fantasy romance author with a love for all things that include magic and kissing, especially fairytales and anything with a happily ever after. Many of her stories include themes of family (whether born into or found) and a sense of home and belonging, which are important aspects of her life as well. When not writing, Megan loves to cook, play video games, explore the great outdoors, and spend time with her family. A southerner by birth and at heart, Megan currently lives with her family in Colorado.
Social Links
Website: https://www.authormeganvandyke.com/
Newsletter: https://www.authormeganvandyke.com/newsletter/
Facebook: https://www.facebook.com/AuthorMeganVanDyke
Twitter: https://twitter.com/AuthorMeganVD
Instagram: https://www.instagram.com/authormeganvandyke/
Tiktok: https://www.tiktok.com/@authormeganvandyke
---
Giveaway
a Rafflecopter giveaway
---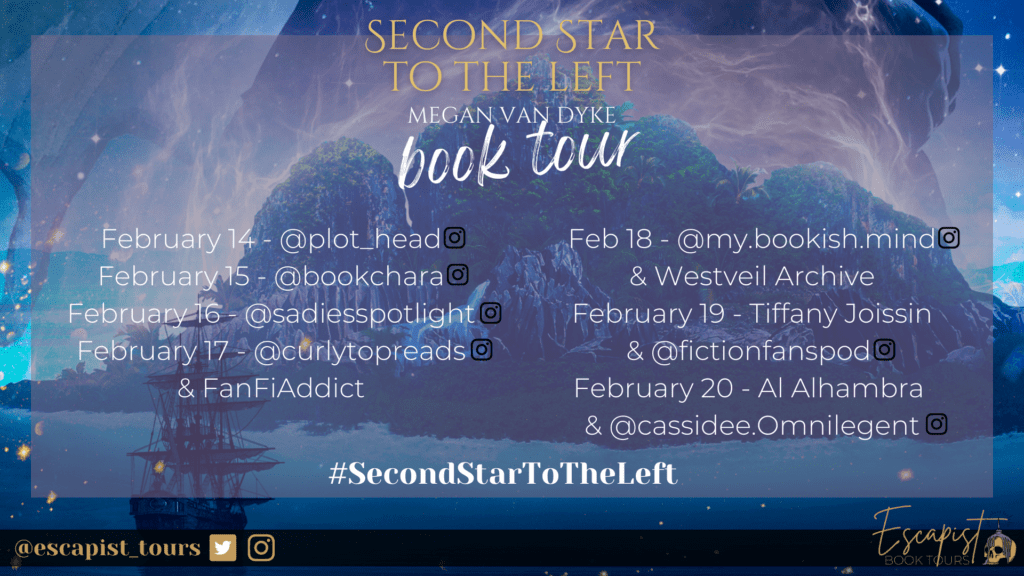 ---