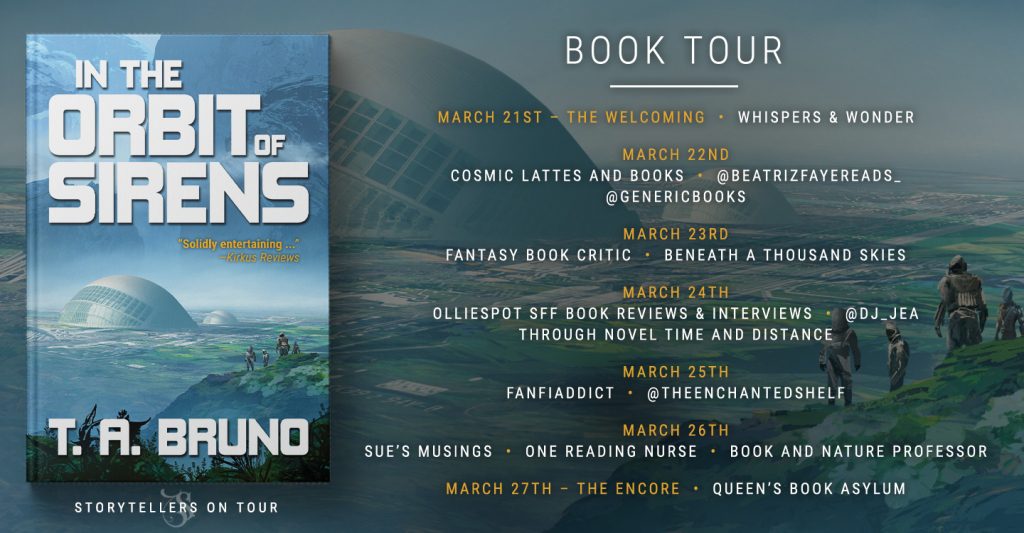 ---
Welcome to FanFiAddict's stop on the book tour for T.A. Bruno's In the Orbit of Sirens (The Song of Kamaria #1). We want to thank Justine & Timy @ Storytellers on Tour for letting us be involved and a big shoutout to T.A. on the release of his debut novel!
Below, you will find information on the book and author, my review, and links so you can grab yourself a copy!
Make sure to check out the rest of the tour by hitting up the schedule link here! Also, be sure to stick around to the bottom of the post for your chance to win your choice of a hardcover, paperback, or audiobook of In the Orbit of Sirens (US only, 5 winners).
---
Book Information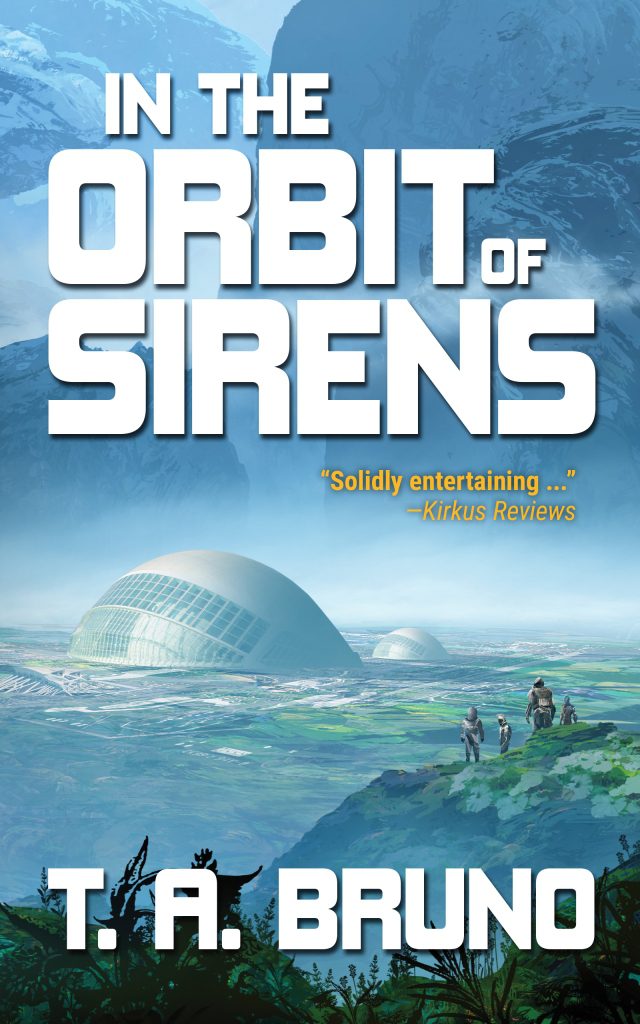 In the Orbit of Sirens by T.A. Bruno
Series: The Song of Kamaria (#1)
Published: October 4, 2020
Genre: Sci-Fi, Adventure
Pages: 502 (Print Length)
Amazon | Audible | Barnes & Noble | Goodreads
---
Book Blurb
THE LAST FRAGMENTS OF THE HUMAN RACE ARE FORCED TO ADAPT TO A DANGEROUS NEW WORLD OR FACE EXTINCTION.
When starship mechanic, Denton Castus, is caught in the destructive path of a devastating war, he abandons his home and seeks refuge on a distant planet. However, this new safe haven has undiscovered threats of its own. Eliana Veston, a scout preparing the planet for the refugees, struggles with a deadly pandemic that is killing off colonists. The hunt for a cure unleashes a new threat to humanity—the Sirens—mysterious beings with incredible powers and a deep hatred for invaders.
---
Rating: 8/10
Review
Review copy provided by the author in exchange for an honest review.
I first learned about In the Orbit of Sirens when I saw the cover floating around on social media several months ago, and what a cover it is! Something needs to be said for not only the cover, but the artwork that appears before each section of the book. The handful of black and white drawings fully realize the beautiful, yet utterly alien environment of Kamaria. They also hearken back to the early days of the book, where Bruno first developed the idea for the story as a comic book.
To Roelin, the man he'd been on mars was a stranger, the man in Odysseus Colony was a second stranger, and the man trapped in the Kamarian wilderness was a third man he didn't know.
In the Orbit of Sirens starts out with our two main POVs separated by both time and space, with Eliana having left with an advance colony ship heading for a distant planet several years prior to our other main character making that same journey. Humanity has spread out across the solar system, however they are now under threat of annihilation by a machine integrated humanoid race (think Star Trek's Borg), the Undriel. With destruction imminent, Denton and the remainder of humanity race to leave the enemy behind as they make the 300 year journey to Earth's nearest Goldilocks Planet, Kamaria, which the advance colonists are supposed to have ready for habitation. Kamaria, however, has its own set of challenges for humanity to overcome. I really enjoyed the idea of our main POVs being separated by time and space and watching their storylines eventually converge was really satisfying. Additionally, the early threat of an airborne illness threatening the colonists was a very prescient plot point and the real world parallels further increased the overall tension. The interpersonal relationships sprinkled throughout the story were handled really well. The development of Denton and Eliana's relationship was a joy to witness and I had several laugh out loud moments with Denton's family.
Where In the Orbit of Sirens really shines is in its wonderful worldbuilding. While similar enough to Earth for human habitation, Kamaria is an alien world and Bruno's imaginative worldbuilding really fleshes it out as such. Besides the purple grasses and two moons, Kamaria boasts animals and humanoid species that reflect Earth just enough to feel eerie at times. A myriad of creatures inhabit the world and each feels like an imaginative wonder. I was really intrigued by the Auk'nai, a humanoid bird race that are able to communicate telepathically. Learning about their distinct culture and way of life was a real treat, especially when it related to the overarching plot with the Sirens, although we didn't learn as much as I would have liked. The Sirens themselves were equal parts tragic and horrific. Bruno really excels at treading the line between the fantastic and the grotesque.
"The unsung song Talulo hears is sad, but sings with truth." He looked Eliana in the eye. "Friends still listen to the song, even with it is sad. It is necessary."
One place where I feel that Bruno really missed the mark was in discussing some of the more philosophical or moral issues that are brought up. Our heroes are quite literally colonizers and with our species' track record of exploitation, I would have liked to see Bruno delve into the potential morality of humanity laying claim to a planet that is already inhabited by intelligent life. At a few places in the narrative he toed the line, but I never saw him really go after the topic in a satisfying way. That being said, outside of internal monologues there are few places where this particular issue could have been addressed as the Auk'nai aren't given a lot of 'screen time'. The ending of the book left room for the issue to come up in the sequels though, as, with as few spoilers as possible, humanity and the Auk'nai are brought together by the conclusion of the story.
I have to say that overall I thoroughly enjoyed my time with In the Orbit of Sirens. While it never quite reached its full potential, it explores a lot of interesting ideas and the imaginative worldbuilding had me thirsting to know more about the wild unknown planet of Kamaria. For a book with such a respectable page count (just over 500 pages), it was a surprisingly fast read! With an edge of your seat urgency, Bruno manages to maintain a breakneck speed through to a satisfying ending that is full of foreboding for the forthcoming sequel. The sequel which I am eagerly awaiting.
---
Author Info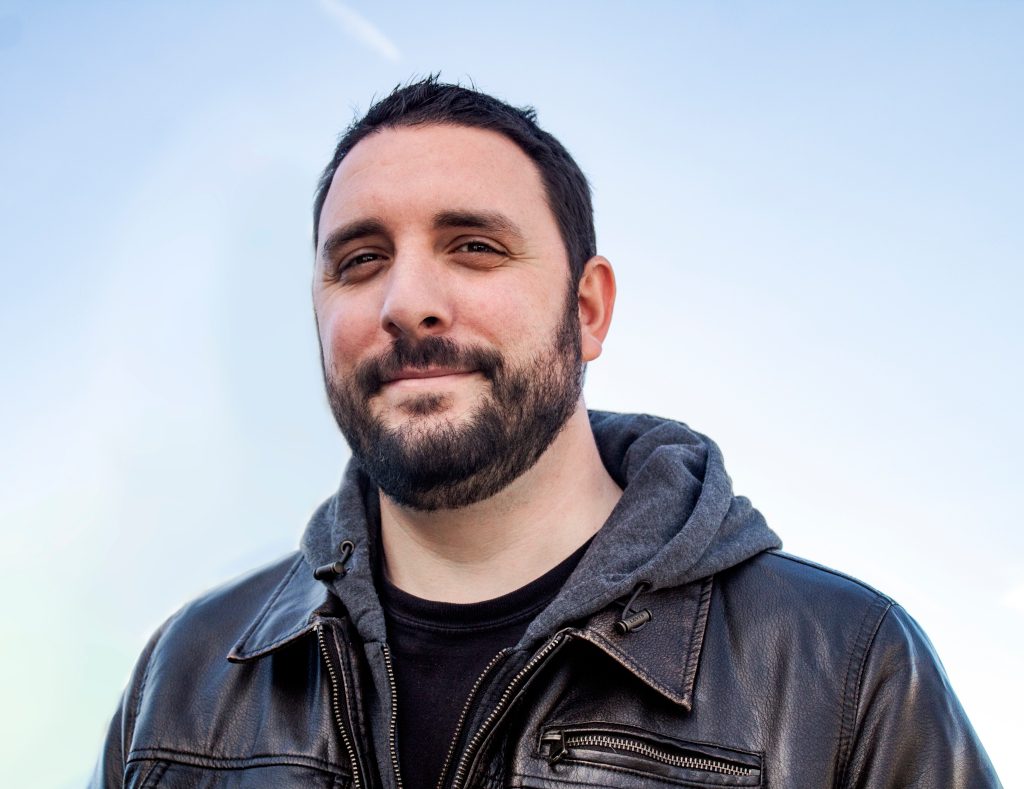 ---
T. A. BRUNO grew up in Chicago and moved to Los Angeles to pursue a career in the film industry. Since then, he has brought stories to life for over a decade as a previsualization artist. At home, he is a proud father of two boys and a husband to a wonderful wife. IN THE ORBIT OF SIRENS is his debut science fiction novel.
Website: https://tabruno.com/
Twitter: https://twitter.com/TABrunoAuthor
Instagram: https://www.instagram.com/TABrunoAuthor/
Facebook: https://www.facebook.com/TABrunoAuthor
Amazon: https://www.amazon.com/T.-A.-Bruno/e/B08FW4T3VF
Goodreads: https://www.goodreads.com/tabrunoauthor
---
Enter to win!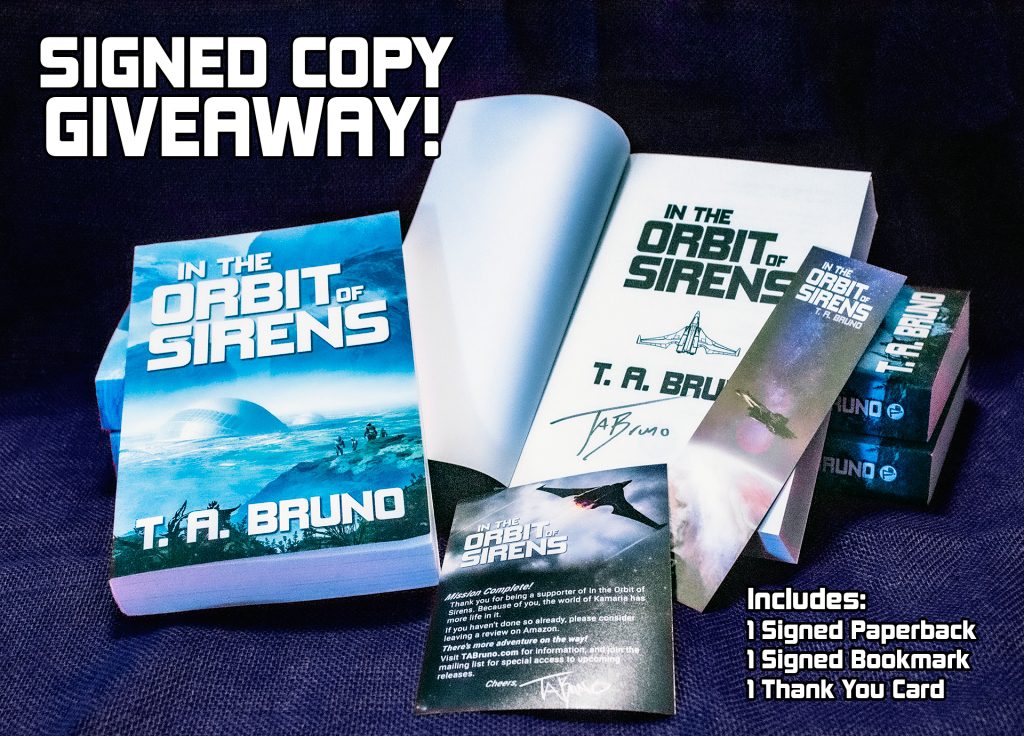 Prize: In the Orbit of Sirens by T. A. Bruno – Winners Choice: Hardcover, paperback, or audiobook– 5 winners, US Only
Starts: March 21st, 2021 at 12:00am EST
Ends: March 28th, 2021 at 11:59pm EST
Be sure to click through the link and enter the giveaway here!