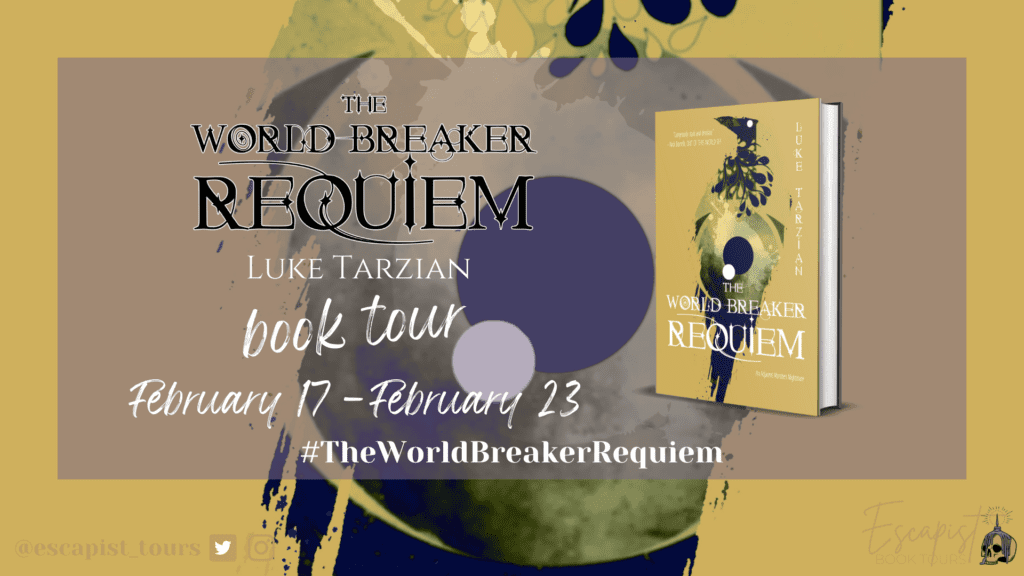 Hello and welcome to my stop on the Escapist Book Tours run of Luke Tarzian's The World Breaker Requiem! I am so excited to join the tour and help spread the hype for this amazing book! I am lucky enough to be sharing an incredibly emotional and revealing guest post from the author on how The World Breaker Requiem came to be.
Before we get to the guest post itself, there's plenty of other stuff to check out. Below you'll find information on the book and author, links so you can pick up a copy for yourself, and even an opportunity to win a copy FOR FREE!
---
Book Information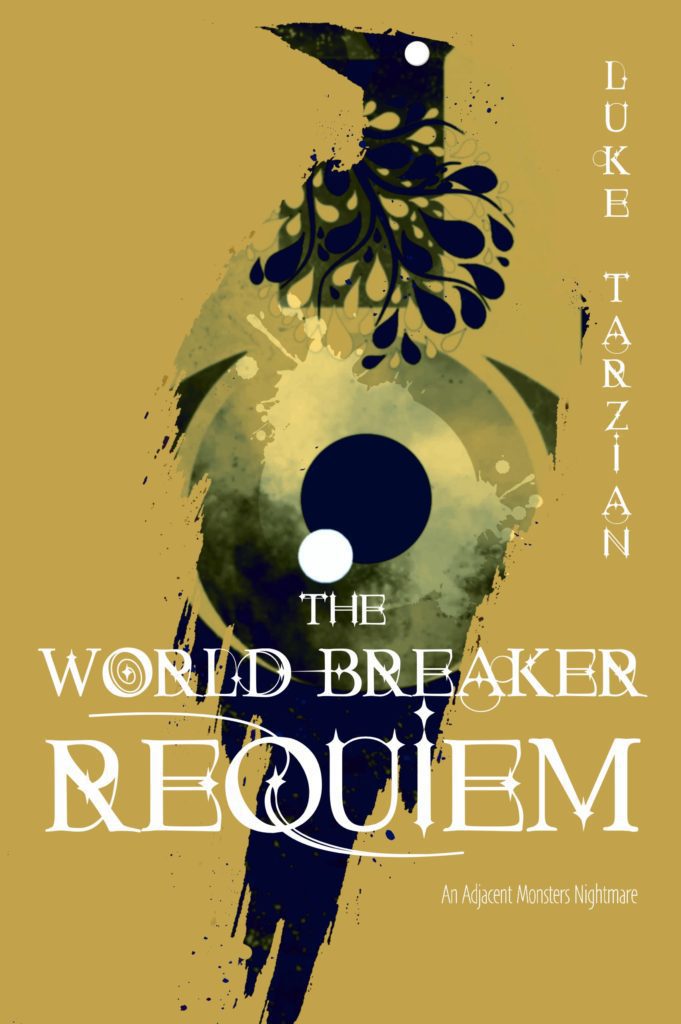 The World Breaker Requiem by Luke Tarzian
Series: Adjacent Monsters
Genre: Dark Fantasy/Psychological Fantasy
Intended Age Group: Adult
Pages: 219
Published: December 21, 2021
Publisher: LukeTarzian.com (Self Published)
Book Links:
Amazon US: https://www.amazon.com/gp/product/B09GHJNMPD
Amazon UK: https://www.amazon.co.uk/gp/product/B09GHJNMPD
Goodreads: https://www.goodreads.com/book/show/59010312-the-world-breaker-requiem
Blurb:
Prince of Woe…
Avaria Norrith is the adopted heir to the Ariathan throne. But that means little to a man who, for the better part of fifteen years, has sought and failed to earn his mother's love. Fueled by pride and envy, Avaria seeks the means to prove himself and cast away his mental chains. When he's tasked with the recreation of The Raven's Rage he sees his chance, for with the infamous blade he can rewrite history and start anew.
Daughter of the Mountain…
Erath has not felt sunlight for a century. Not since Ariath condemned her people to a life of darkness with their misuse of The Raven's Rage. But when an old friend comes seeking the remnants of the ancient sword, Erath cannot contain her curiosity and resolves to lend her aid. Is it true—can history be revised? Can her people be reclaimed?
Toll the Hounds…
They are hungry—and they are here.
See Also:
He's My Little Doggy Dude • Yes, Sometimes I Talk To Myself • Hey, Let's Get Drunk and Angry and Try to Summon Demons in the Forest
---
Channelling Trauma by Luke Tarzian
In August 2018, just four months after I had gotten married, my mother was abruptly diagnosed with leukemia.
On October 18, 2018, in the autumn dusk, she passed away, and I have carried that trauma ever since.
My mother was my biggest fan. She never got to see me become a father, and it pains me that my daughters will never know her aside from pictures and oral recollections.
By now you might be wondering how any of this is relevant. Fear not, baby goats, and buckle in for the introspective, retrospective journey that is the story of how The World Breaker Requiem came to be.
The original plan for this book was much different than the book that eventually made it to publication. Originally, it was an alternate universe recreation of my novel Vultures. Similar in some ways, but more or less an examination of how many ways the life of a man could go wrong. I planned for a November 2021 release, but as the date drew closer it was clear nothing about this endeavor was feasible—so I pulled the plug and had a long think.
As some of you might know, and as most of you undoubtedly do not (and this is not a dig at your intelligence; I just have the tendency to ramble points of conversation into fucking oblivion), I am adopted. I was born in Romania in August 1990; by January 1991 (I think) I was living with my adoptive parents in Brooklyn, New York.
"That's great, Luke, but what the hell does this have to do with your book?"
When I sat down to continue working out the massive fucking kinks in Requiem, I decided I wanted to exam the mindset of a man adopted as a boy whose relationship with his adoptive mother devolved over the years. What kind of feelings would this conjure? What kind of reactions? (Fear not, my relationship with my mother was great.) The more I thought about it, the deeper I got into my own head, and the further into writing the first act, I realized, lo and behold, the primary theme of the book.
Let me ask you a question. Would that you could, regardless of potential negative consequences a la the butterfly effect, would you go back in time to rectify a moment of pain? I thought about this a countless number of times, boozed up in a bathtub many a night with my phone as I stumbled through the story.
Each of the primary characters (all of the characters, really) are struggling with this very question as they soldier on through a bleak world made bleaker by the loss of loved ones. Secondary to this was the relationship between mother and child and the way this impacted the way the characters reacted to the world at large.
I wrote the epilogue to The World Breaker Requiem several months before I wrote the final chapter and it serves its purpose well, acting as the finish line and accompanying red ribbon to a fucking marathon of misery. I wrote this book in the midst of a pandemic, during undoubtedly the toughest year and a half of my life, and getting to read that epilogue after having written the final chapter was a fucking breath of fresh air. An exhalation of a breath I didn't know that I'd been holding. Finishing The World Breaker Requiem was the awakening I needed, that moment of catharsis and the clarity to realize that I'd not been okay for a long time.
But I'm better now as of writing this. So much better mentally, emotionally, and physically. The World Breaker Requiem is the most difficult piece of fiction I've ever written, primarily because it's not entirely fiction.
But it's also the most important.
It saved me.
About the Author
Luke Tarzian was born in Bucharest, Romania. His parents made the extremely poor choice of adopting him less than six months into his life. As such, he's resided primarily in the United States and currently lives in California with his wife and their twin daughters. Somehow, they tolerate him.
Unfortunately, he can also be found online and, to the dismay of his clients, also functions as a cover artist for independent authors.
Twitter: @luke_tarzian
Instagram: @luketarzianwrites
Website: luketarzian.com / tarzianbookdesign.com
---
Giveaway Information
a Rafflecopter giveaway
---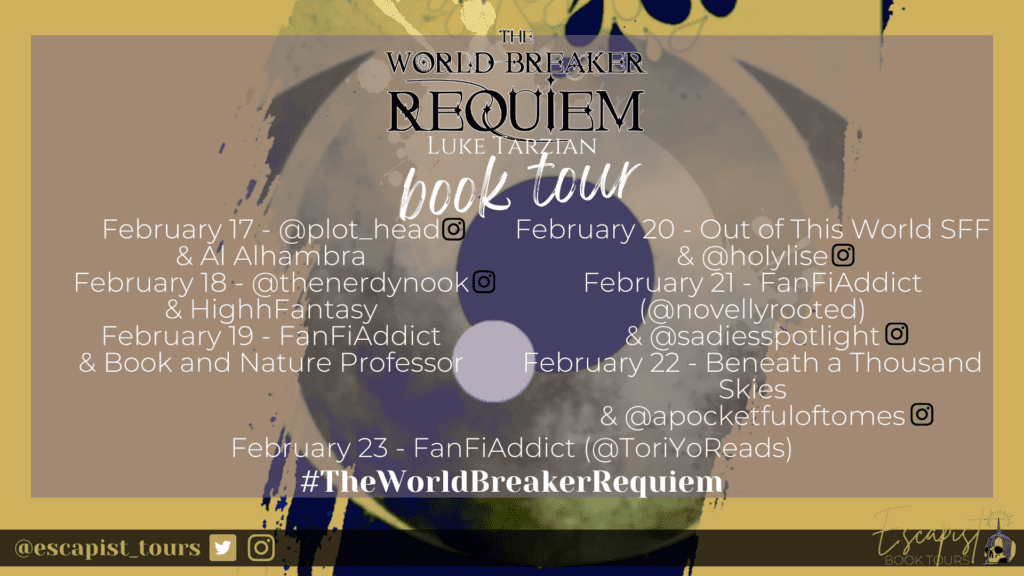 ---