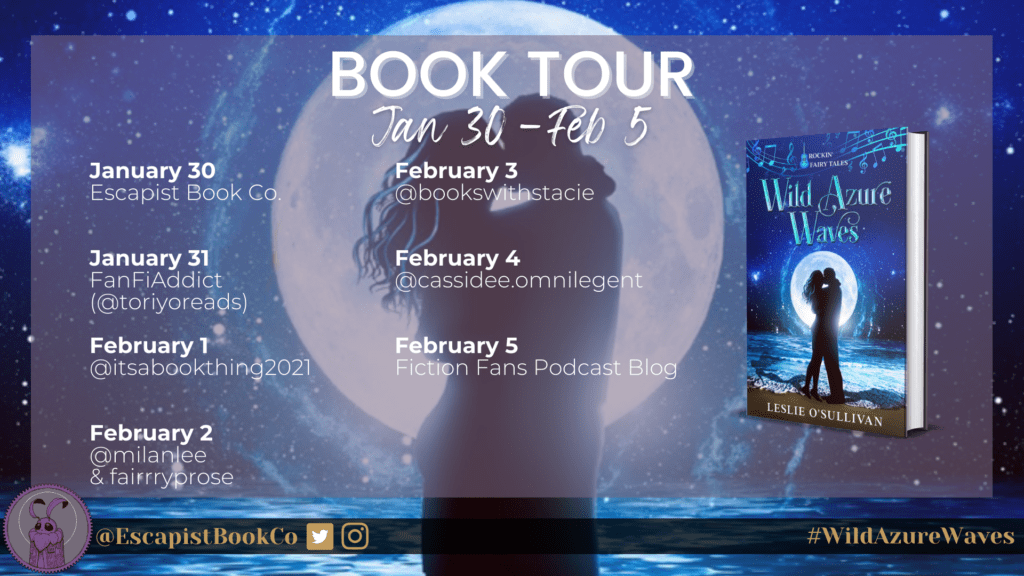 Hello, you wild romance fanatics, you! I see you there, lurking in the depths, waiting for a new story to sink your teeth into. Lucky for you, this is my stop on the Escapist Book Co. tour of Wild Azure Waves, the third installment in Leslie O'Sullivan's Rockin' Fairy Tales series that mashes up your favorite fairy tales and Shakespearean works. This time, we're looking at The Tempest meets The Little Mermaid, and what a wave of emotion (and spice) it was!
---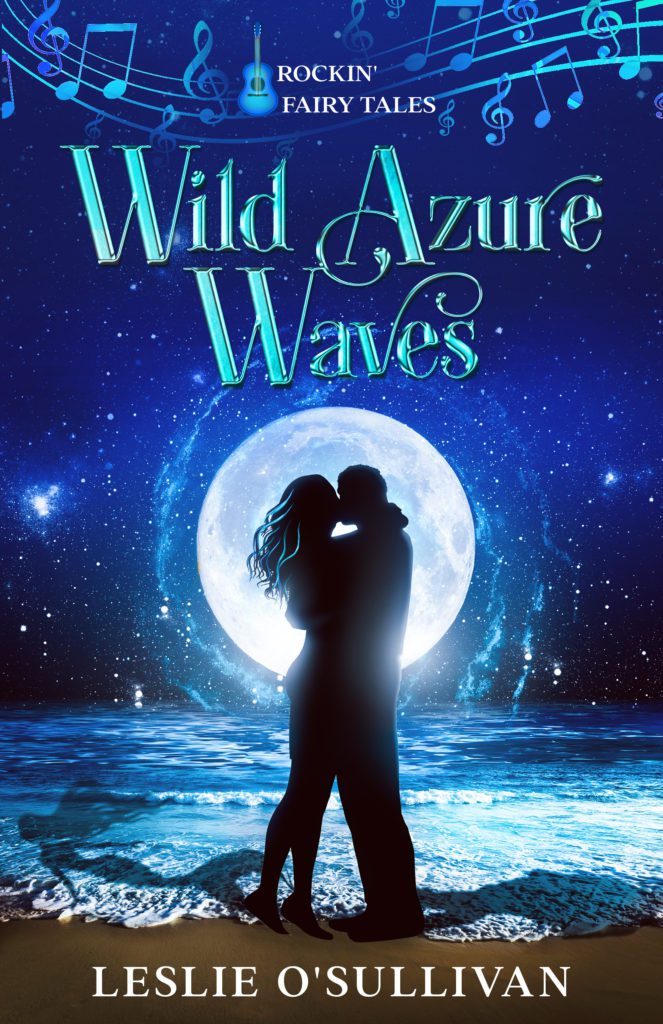 Book Information
Wild Azure Waves by Leslie O'Sullivan
Series: Rockin' Fairy Tales #3
Genre: Romantasy
Intended Age Group: Adult
Pages: 275
Published: February 9, 2023
Publisher: City Owl Press, Mystic Owl imprint
Content/Trigger Warnings
Shown on Page (things clearly told to the reader):
Supernatural captivity
Fairy tale violence
Alluded to (things only mentioned in passing or hinted at):
---
Synopsis
In book three of the Rockin' Fairy Tales series of Fairy Tale/Shakespeare mashups, The Little Mermaid meets The Tempest in a fantasy romance where fated mates, second chances, and a supernatural love triangle determine the destiny of all.
Rai Cloud, a once promising singer, faces the loss of his record company and his career until one fateful night a mystery woman saves him from a stormy sea and sings him back to life. The voice of his elusive rescuer must be the missing piece to reignite his musical gifts. If only he could find her!
Before Tani Emerson's spirit can cross over to the afterlife, the Sea Witch, Sulaa Kylock, intercedes to offer Tani a bargain to earn a way back to the living and reunite with her first true love, Rai Cloud.
Tani must now succeed in challenges set forth by the Sea Witch. In spirit form, she's charged with convincing Rai she's not merely an illusion and they will be granted a second chance at love.
Harder still is the need to sabotage the steamy romance brewing between Rai and Azure Tempesta, a sweet and sexy singer from the popular musical act, The Mermaids, who inspires Rai to make the music he thought only his mystery savior could awaken.      
---
See Also
Mermaids Are Real • Splash and Sing • Tattoos Never Lie
---
Book Links
Amazon: https://www.amazon.com/Azure-Waves-Rockin-Fairy-Tales-ebook/dp/B0BS74YYFH/
---
Rating: 9.5/10
Review
When I read the first Rockin' Fairy Tales book, Pink Guitars and Falling Stars, I was enchanted. I was on a really big fairy tale kick last year, and in a lot of ways still am, but there was just something special about the way Leslie O'Sullivan wrote the story of Rapunzel-meets-Romeo-and-Juliet. Daring rescues, princesses locked in towers, and a woman fighting to reclaim her power. Those themes really resonated with me, and I was eager to read more. Because I have the brain capacity of a goldfish, I spaced on the second book in the series (which I will be remedying) but picked it back up for one of my favorite fairy tales in the third installment. The Little Mermaid holds a special place in my heart and it was nice to see a grown-up Ariel—ahem, Azure—making grown-up choices.
Part of the allure of these books is the ever-present tone of pep that Leslie writes with it. However, this can sometimes be a bit of a stumbling block, at least for me. In scenes where characters are supposed to be feeling sad or angry, there is still an undertone of positivity. This isn't necessarily a bad thing. From everything that I've seen of Leslie, she appears to be a happy person and I'm certainly not going to fault her for having happiness. It just lent an air of disingenuousness to some of the scenes that I think were meant to be a bit heavier than they came across. I think that also, however, has a lot to do with the genre that Leslie writes in. Romance is in general a more positive read than what I typically foray into, so again, I'm not going to fault her for having positivity in her books. Lord knows the world needs more of it. Still, it did distract me a bit.
Now that the only negative thing I have to say is out there, allow me to momentarily GUSH about Azure Tempesta and Rainn Cloud. I love love. In all its forms. Cute, flirtatious, uncertain love. Passionate, hot, spicy love. And quiet love, with gentle kisses and cuddles. AND BOY DOES THIS BOOK DELIVER ALL OF THOSE THINGS. There's even lost love! All of the stuff my teenager would call gross just made me want to pull my husband in for a smooch and tell him how much he meant to me. It's all very sweet, but too, it's more than that.
As much as this is a love story, it's also a story about overcoming grief and trauma. There is a character in the story, Tani, who I resonated with on a deeper level than our main lovebirds. She is a spirit, and sometimes a jealous one. I won't give away too much, but Tani's story is just as compelling as the main romantic plot. It's central to it, even, in a way that makes it impossible to separate the three of them. As Tani grows from sorrow to hope, anger to love, and jealousy to acceptance, we follow her to the very end and come out cheering for her. She is probably the most compelling character in the story, apart from Zaddy Prospero (but you'll have to see that one for yourself). Her tale is a sad one, but it's also hopeful in ways that I think the main plot can't deliver on. We're rooting for the lovebirds, of course, but we're also rooting for Tani because, in so many ways, she is the rest of us. The ones who sat on the sidelines for too long pining for loves that we thought would never be requited.
All of this is to say that I am so glad to have stumbled upon Leslie. I can't imagine why anyone who loves fairy tales wouldn't want to read these books, and I sincerely hope that this review encourages you to pick up her books and give her a try. I don't think you'll regret it.
---
About the Author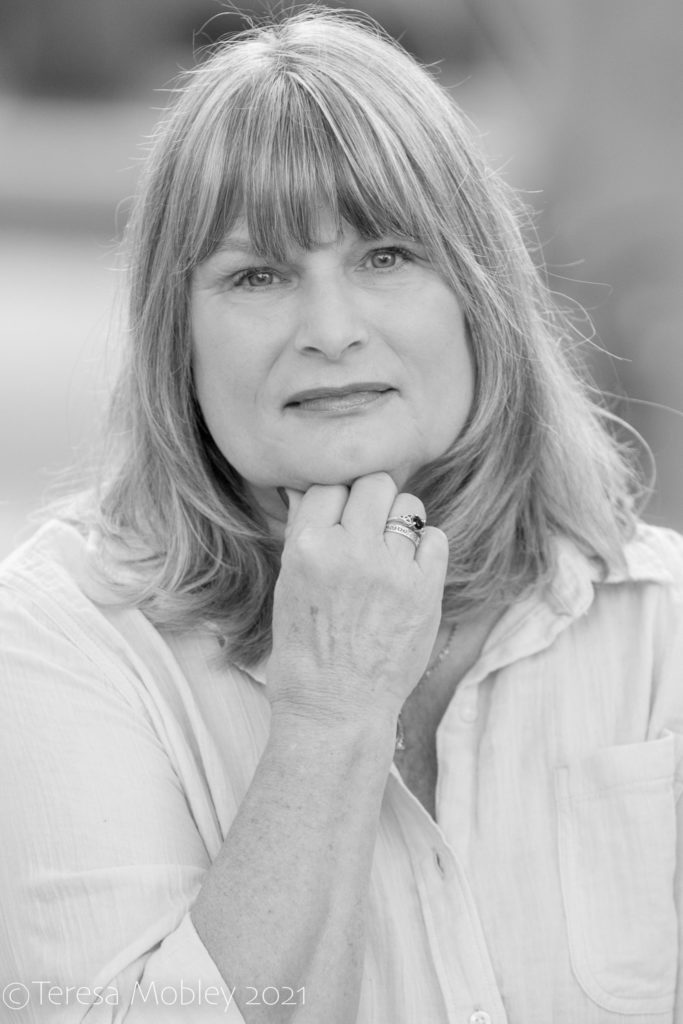 Leslie O'Sullivan is the author of Rockin' Fairy Tales, an adult romance series of Shakespeare/fairy tale mash-ups set against the backdrop of a fictional Hollywood music scene. Coming in September 2022 is her Behind the Scenes contemporary romance series that peeks into the off-camera secrets of a wildly popular television drama. She's a UCLA Bruin with a BA and MFA from their Department of Theater where she also taught for years on the design faculty. Her tenure in the world of television was as the assistant art director on "It's Garry Shandling's Show." Leslie loves to indulge her fangirl side at cons.
Linktre: https://linktr.ee/LeslieOSullivanWrites
Website: https://www.leslieosullivanwrites.com
Newsletter Sign Up: https://www.leslieosullivanwrites.com/about-5
FB Author Page: https://www.facebook.com/leslieosullivanwrites/
Instagram: https://www.instagram.com/leslieosullivanwrites/
Twitter: https://twitter.com/LeslieSulliRose
Tik Tok: https://www.tiktok.com/@leslieosullivanwrites
FB Reader Group: https://www.facebook.com/groups/acompanyofreaders
---