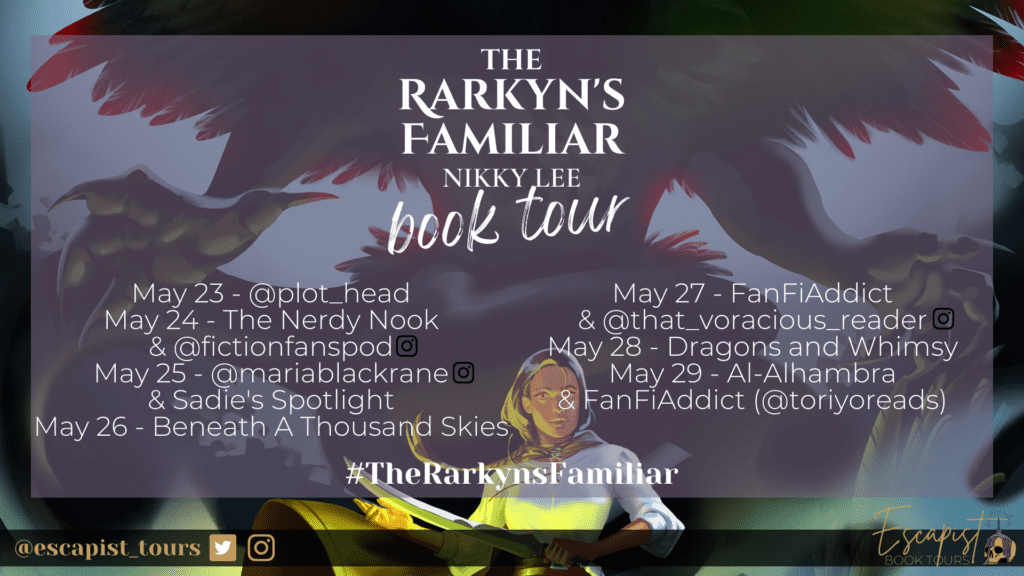 ---
Hi, all! Thanks for tuning into my stop on Escapist Books Tours' run of The Rarkyn's Familiar! This book was so much fun to read and I can't wait to share my thoughts with you.
---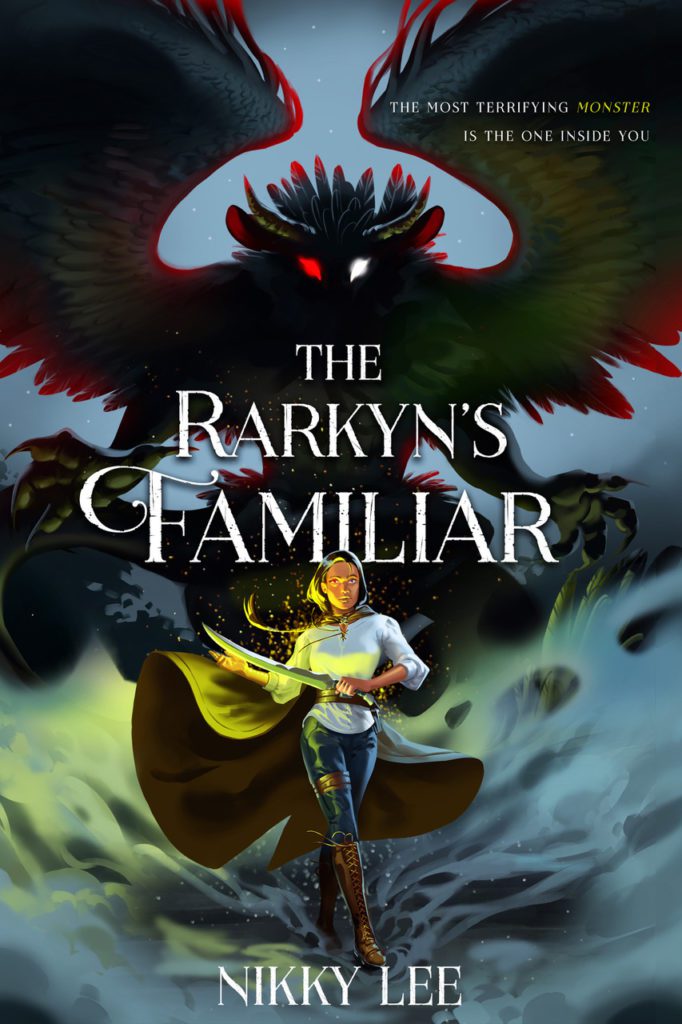 Book Information:
The Rarkyn's Familiar by Nikky Lee
Series: The Rarkyn Trilogy
Genre: Epic Fantasy
Intended Age Group: 16+
Pages: 452
Published: April 19, 2022
Publisher: Parliament House Press
Content/Trigger Warnings:
Shown on page:
Gratuitous violence
Vomiting
Gore
Child/animal harm/attempted murder (non-human character, survives)
Alluded to:
Vomiting
Bullying
Gratuitous violence
Racism
Sexual assault
Gratuitous violence
Suicide/self sacrifice
---
Synopsis
An orphan bent on revenge. A monster searching for freedom. A forbidden pact that binds their fates together.
Lyss has heard her father's screams; smelled the iron-tang of his blood. She's witnessed his execution.
And plotted her revenge.
Then a violent encounter traps Lyss in a blood-pact with a rarkyn from the otherworld and imbues her with the monster's forbidden magic. A magic that will erode her sanity. To break the pact, she and the rarkyn must journey to the heart of the Empire. All that stands in their way are the mountains and the Empire's soldiers—and each other.
But horrors await them on the road, horrors even rarkyns fear. The most terrifying monster isn't the one Lyss travels with…
It's the one that's awoken inside her.
---
See Also
Winter is Coming • Always on the Run (Lenny Kravitz) • You Shall Not Pass
---
Rating: 9/10
Review
I want to start this review off by saying that I absolutely LOVED this book. It was fast-paced, full of adventure, and constantly left me on toes, lamenting Lyss' terrible attempts at sneaking around.
Asking readers to inhabit a world filled with terrible and wonderful magical creatures is not an easy feat. To do it skillfully, even expertly, is an additional astonishment all on its own. And Lee does just that. Instead of dropping bombs of information in one paragraph after another, we are left to our own devices to explore the world through Lyss' eyes, seeing things for the first time right along with her.
It is truly astounding how well Lee weaves in all the creatures and magical abilities she created. It is almost effortless. Each time a new creature or spell is introduced, it feels as if had been there the whole time, simply lying in wait to be uncovered. Instead of telling us what they are, she shows us through little quirks they posses and flashes of knowledge through both Skarr and Lyss. But I won't ramble about the worldbuilding any longer, because there is so much more to say.
Lee's character work is a thing of envy. Each character, likable and otherwise, makes themselves known on the page. Even side characters with brief appearances have lasting effects throughout the story. And the narrators? Chef's kiss. The only one I did not like was the antagonist, as I found it very cumbersome to get through his POVs without rolling my eyes and being yanked from the momentum of the story. However, it is safe to say that all of that changes. And it'll break your heart.
Truthfully, this is one of the most well-written books I've read this year. I am honored to have been a part of this tour and can say without a doubt that anyone who loves high fantasy will eat this book up. It is the perfect mix of fairy tale and epic quest, even if our heroine can be a little brash and (I'll admit it) irritating at times. But honestly, that's what makes, and keeps, her human. As much as this is a work of fantasy, it is also an exploration of what makes us human and why our humanity is worth fighting for.
---
Book Links
Main links:
Amazon: https://www.amazon.com/Rarkyns-Familiar-Rarkyn-Trilogy-Book-ebook/dp/B08L6YK3NP
Goodreads: https://www.goodreads.com/book/show/54704737-the-rarkyn-s-familiar
Other:
BookBub: https://www.bookbub.com/books/the-rarkyn-s-familiar-the-rarkyn-trilogy-book-1-by-nikky-lee
Apple: https://books.apple.com/us/book/the-rarkyns-familiar/id1574743724
Kobo: https://www.kobo.com/us/en/ebook/the-rarkyn-s-familiar
Barnes & Noble: https://www.barnesandnoble.com/w/the-rarkyns-familiar-nikky-lee/1138770192
Angus & Robertson: https://www.angusrobertson.com.au/ebooks/the-rarkyns-familiar-nikky-lee/p/9781953539946
---
About the Author
Nikky Lee is an award-winning author who grew up as a barefoot 90s kid in Perth, Western Australia on Whadjuk Noongar Country. She now lives in Aotearoa New Zealand with a husband, a dog and a couch potato cat. In her free time she writes speculative fiction, often burning the candle at both ends to explore fantastic worlds, mine asteroids and meet wizards. She's had over two dozen stories published in magazines, anthologies and on radio. Her debut novel, The Rarkyn's Familiar—an epic tale of a girl bonded to a monster—was published with Parliament House Press in April 2022.
Website: https://www.nikkythewriter.com/
Facebook: https://www.facebook.com/nikkythewriter/
Twitter: https://twitter.com/NikkyMLee
Instagram: https://www.instagram.com/nikkymlee/
Tiktok: https://www.tiktok.com/@nikkymlee