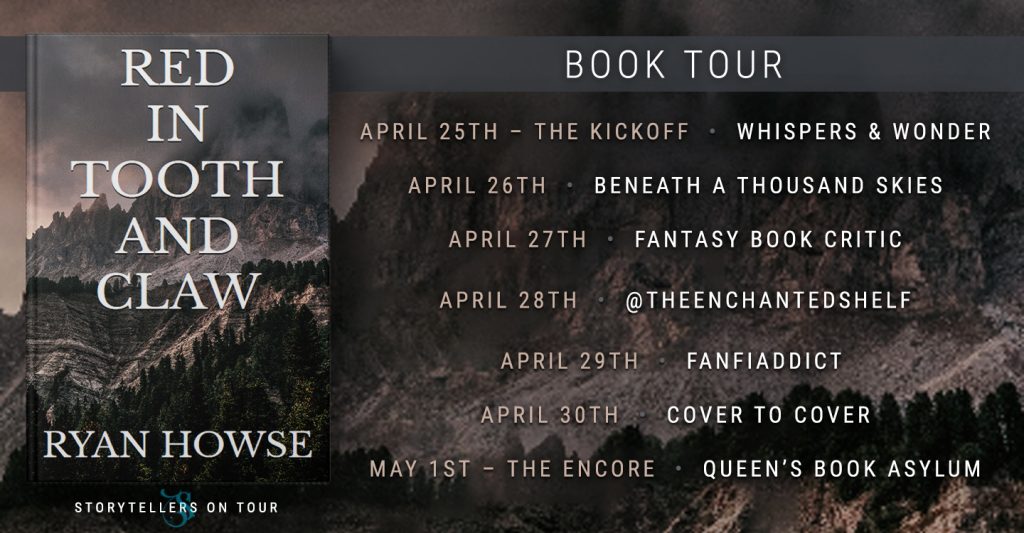 ---
I am so thrilled to present to you FanFiAddict's stop on the book tour for Red in Tooth and Claw! Special thanks to Justine & Timy over at Storytellers on Tour for letting me host and a big shoutout to Ryan on the release of his work! I cannot say enough how appreciative I am.
Below, you will find information on the book and author, my review, and links so you can get a copy for yourself!
Make sure to check out the rest of the tour by hitting up the schedule link here!
Be sure to stick around to the bottom of the article so you can enter win a signed copy of Red in Tooth and Claw for yourself.
---
Book Information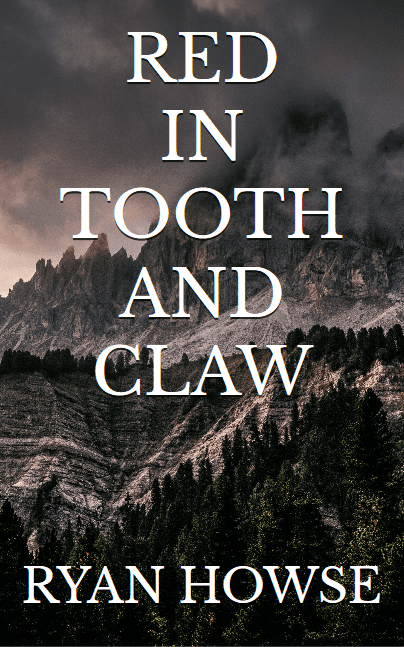 ---
Red in Tooth and Claw by Ryan Howse
Published: June 1, 2020
Genre: Horror Fantasy
Pages: 151 (Print Length)
CW: Injured and dead animals (wilderness survivalism), Disease, Claustrophobia
---
Synopsis
A brutal wilderness.
Hungry, plague-ridden animals.
A winter so cold it snaps wood.
Chemosh, a scout imprisoned by the enemy, agrees to lead the way through this wilderness for his freedom. But both his knowledge and his resilience are put to the test, not just by the wilderness, but by the chaotic, violent man he guides. A man he must rely on if they are to survive.
---
Rating: 7/10
Review
This was a RIDE. From start to finish, I was never sure as to what the next step for either of our protagonists was going to be. Red in Tooth and Claw is an expertly written, gorgeous entry into the realm of self-publishing. That being said, I did have a couple of minor issues with the piece, but nothing that would dock the score more severely than what I gave it. But I want to start off on a positive note!
Where I think Howse really shines is his prose. When you think of a horror novel, you think lots of swear words and Stephen King-type gore. Instead, readers are treated to an almost grimdark fantasy tale that leans more toward George R. R. Martin than anything King-related. His prose was something I instantly praised from the first chapter. In my area, there is a stigma around self-published authors that if you can't get sold to a publisher, then you're not good enough. I, personally, like to think authors like Howse are telling those naysayers where to shove their negative opinions. As an increase in self-published authors dominates the markets, so too will an increase in self-published readers.
Another thing I really appreciated that Howse did was combine a lot of the stereotypical survivalist elements and flip them on their heads. Instead of typical frostbite or zombie apocalypse, we were treated to what is colloquially known as "the rot." I won't give more away for fear of spoilers, but I will say that it was one of the most most interesting concepts for a transmitted disease I've ever read. However, herein does lie one of my gripes. I felt like there was so much fear surrounding the rot that we never got to truly know what it was. There was some talk about a potential source, but it was never really explained. The story is Neolithic, so there was never going to be a satisfactorily modern-day answer, but I would have at least liked to have known what caused the outbreak to begin with. I think if there had been some more background information regarding the rot and why/how it came into fruition (maybe even in just small asides) it could have been equally as effective.
What I want to cover next is the character development between the two protagonists, Chemosh and Agash. The names alone are filled with literary references. Chemosh was the name of the Moabite god and Agash in an anagram (with some of the letters removed) of the name Gilgamesh. As characters, Agash and Chemosh are very different. Agash is Ensi, a prince of a large city and Chemosh was a member of a nomadic tribe called the Yathirem. The former is plagued by what he calls "the red," an essential curse which makes him a deadly berserker consumed by rage. For story purposes, our Ensi is married to a woman named Sahana. This "red" causes him to completely lose control in battle and often when he needs to maintain it the most. Keeping it in check is a struggle for him, and I think he is supposed to be some kind of foil for Chemosh in that way. Chemosh is a very meek character and it seems to me that they are meant to be opposite faces of the same coin.
The biggest issue I had was the intimacy scene toward the end of the book. It wasn't because it was homosexual, quite the opposite. I was thrilled to see a non-heteronormative relationship in the beginning of the book, especially pre-civilization. What bothered me was that it felt forced and almost fetishized. It didn't seem intentional by any means, but it was sudden and unexpected. I supposed that was the point, given the POV we were in, but it took the gravity and tension of the scene way down for me. I think without it this would have been an 8 or 9. This isn't to say it was done in poor taste or anything, because it most certainly wasn't, but it did make me question its existence, at least in the main novel. Fanfiction? Sure, have at it, you crazy hoes. But within the main body of work it felt a little…contrite? I'm not opposed to sex in books and this wasn't particularly graphic. It just didn't seem within the boundaries of the characters.
One more teeny gripe before I close up shop. There were some cases in which I questioned the necessity of two narrators. Sometimes, the story moved at a sloth's pace. I know that not every page can be action-packed, but it felt like they wandered through the same woods over and over only to reach the same conclusion once again. Eventually, it all made sense, but I couldn't help but mentally get my red pen out and start over-enthusiastically trying to help.
All in all, Red in Tooth and Claw truly was a treat to read. I know the last few paragraphs probably make it sound like I had more complaints than praise, but that truly isn't the case. Howse writes with a bone-chilling fervor I have only encountered a few times. I look forward to more of Howse's books, and I have a good feeling that he'll be flying off the shelves in no time. He has the makings of a great writer, and I'm excited to see where his future takes him.
Once again, thank you to Storytellers on Tour for allowing me to be part of this wonderful event! Take care, everyone.
---
Book Links
Goodreads: https://www.goodreads.com/book/show/53447608-red-in-tooth-and-claw
Buy Now: https://books2read.com/u/4A7RAK
---
Author Information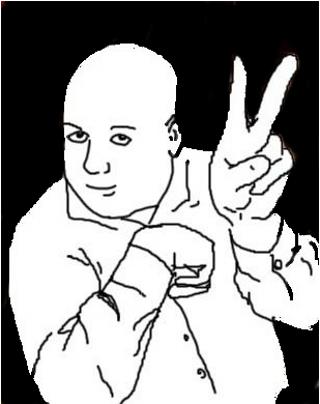 ---
Ryan Howse is the author of The Steel Discord, The Alchemy Dirge, and Red in Tooth and Claw. He lives in Saskatchewan, Canada, with his wife, children, and cats.
Before We Go Blog: http://beforewegoblog.com/
Grimdark Magazine: http://grimdarkmagazine.com/
Twitter: https://twitter.com/RyanHowse
---
Giveaway
Prize: An ebook copy of Red in Tooth and Claw by Ryan Howse –INTERNATIONAL!
Starts: April 25th, 2021 at 12:00am EST
Ends: May 2nd, 2021 at 11:59pm EST
Enter here: http://www.rafflecopter.com/rafl/display/e832e98878/?
---