Hello and welcome to my stop on the Escapist Book Tours run of Pink Guitars and Falling Stars by Leslie O'Sullivan! I thoroughly enjoyed this book, and I hope that by the end of this, you're convinced to give it a shot. Special thanks to the author for the review copy!
---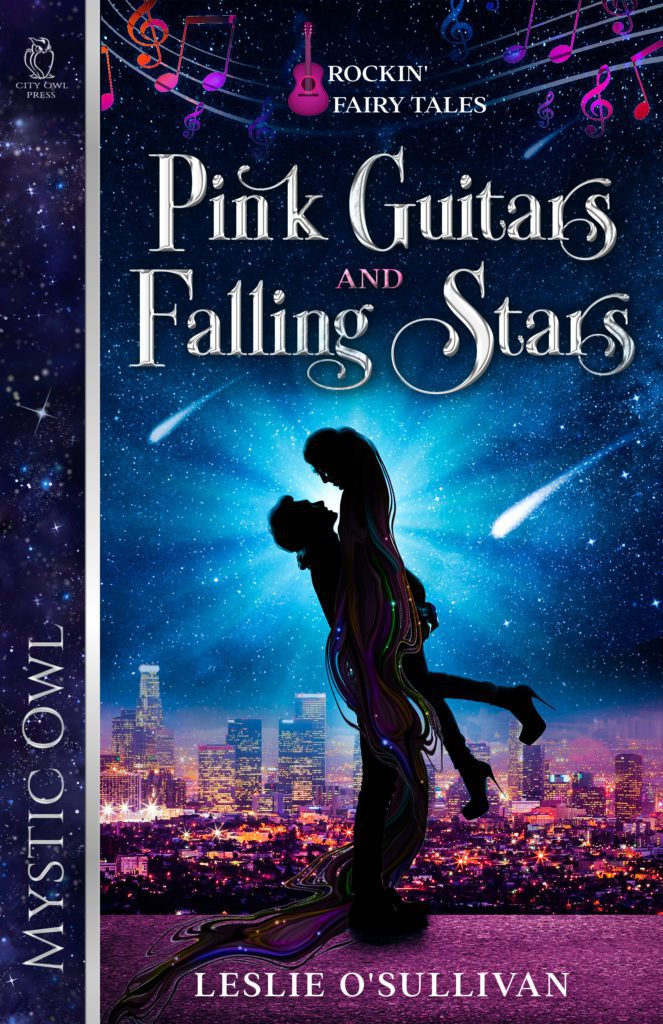 Book Information:
Pink Guitars and Falling Stars by Leslie O'Sullivan
Series: Rockin' Fairy Tales #1
Genre: Fantasy Romance
Intended Age Group: Adult
Pages: 300
Published: January 6, 2022
Publisher: City Owl Press, Mystic Owl Imprint
Content/Trigger Warnings
Shown on Page (things clearly told to the reader):
Abuse
Sexual content
Drug references
Mild violence
Alluded to (things only mentioned in passing or hinted at):
---
Synopsis
Zeli's signature pop diva sound and image are nothing short of magical—literally. Her fame comes with hidden costs, a curse that could ruin her voice forever.
Aspiring indie musician, Justin MacKenzie, is determined to kick it to the top of the Rampion Records' Summer Number One professional vs. amateur singing competition.
The favorite to beat in the annual televised contest is none other than the label's smoking hot superstar, Zeli, whose crazy extensions flow the length of a football field. Those ridiculous extensions, coupled with her bubblegum brand of pop are an affront to everything Justin loves about music, until a stolen kiss blazes into a romantic encounter.
Once inside Zeli's world, Justin discovers things are not as they seem. In their quest to allow the real Zeli to step into the spotlight, the pair must confront the mysterious force behind the dazzle of Rampion's success. If these star-crossed lovers can't rally their own magic to defeat the darkness, they will lose everything—including each other.
---
See Also
Rockstars Falling from the Sky • Bubblegum Rock Does Rock • Did You Think to Bring a Ladder?
---
Rating: 9/10
Review
When I was in college, I majored in Creative Writing. That's no big secret. However, what most people don't know is that I also minored in Theatre. Between literature and theatre classes, I have more than a plethora of experience with Shakespeare. As an avid Disney lover, I am also (marginally) familiar with fairy tales. I even proudly own a copy of Grimm's Fairy Tales. All of this is to say that when I was pitched the idea of a Romeo and Juliet-meets-Rapunzel rock-and-roll fairy tale reimagining, I was pretty much sold. And O'Sullivan didn't disappoint.
This book was one of the most original and entertaining novels I've ever read. It was a fun read from start to finish — full of mischief, love, and just the right amount of ~spice~. I truly enjoyed my time between the pages of Pink Guitars and Falling Stars because there's a certain amount of nuance that goes into a Shakespeare retelling. If you're a fan of Romeo + Juliet (and what DiCaprio fan isn't), you'll find that this book encompasses that feeling of community Romeo has with his friends in Santino and the other boulevard characters. There's the wistful longing of the Shakespearean tragedy with a touch of the magic that the story of Rapunzel gives us.
I will admit that Romeo and Juliet doesn't exactly equal the story of Rapunzel in my head, but I was utterly enamored with this reimagining. Not once did I question the validity of the mixture, as the story set against the backdrop of a corrupt Hollywood was the perfect combination of fantastical and musical. Rock-and-roll isn't what most people think of when the word "Hollywood" is tossed around, but this book absolutely captured the tumultuous nature of fame with both Justin and Zeli. Trapped by their manager, the two face down powers beyond their control to break their bonds and form their own—one of love.
I don't like to harp on the same things in every review I write, but when I latch on to characters, I LATCH. And boy, did Justin Time win my heart. From angry, brooding thief to hopeless romantic, his journey was one of redemption and forgiveness, both for himself and the people who wronged him. 16th century Romeo could never.
The only thing that prevented this story from being a solid 10 was, for me, some of the cliche phrasing in the writing itself. It wasn't bad by any means, but some of it sold as plastic rather than genuine. And that absolutely could be intentional. In fact, there were several instances when I was almost certain that Shakespeare's words had been woven into the story. Unfortunately, though, the several instances where the words didn't sell did bring the book down a notch for me.
Negative Nancy-ing aside, this book was excellently written. The ending was perfect and I truly cannot wait to read the rest of the series. I have found a new love for fantasy romance, and I'm kicking myself for not diving into this genre sooner. Thank you, CityOwl and its imprint, for bringing authors like Leslie O'Sullivan onto my radar.
---
Book Links
Amazon: https://www.amazon.com/Guitars-Falling-Stars-Rockin-Fairy-ebook/dp/B09N6KRQ15/
Publisher Direct: https://cityowlpress.com/product/pink-guitars/
Goodreads: https://www.goodreads.com/book/show/59760181-pink-guitars-and-falling-stars
---
About the Author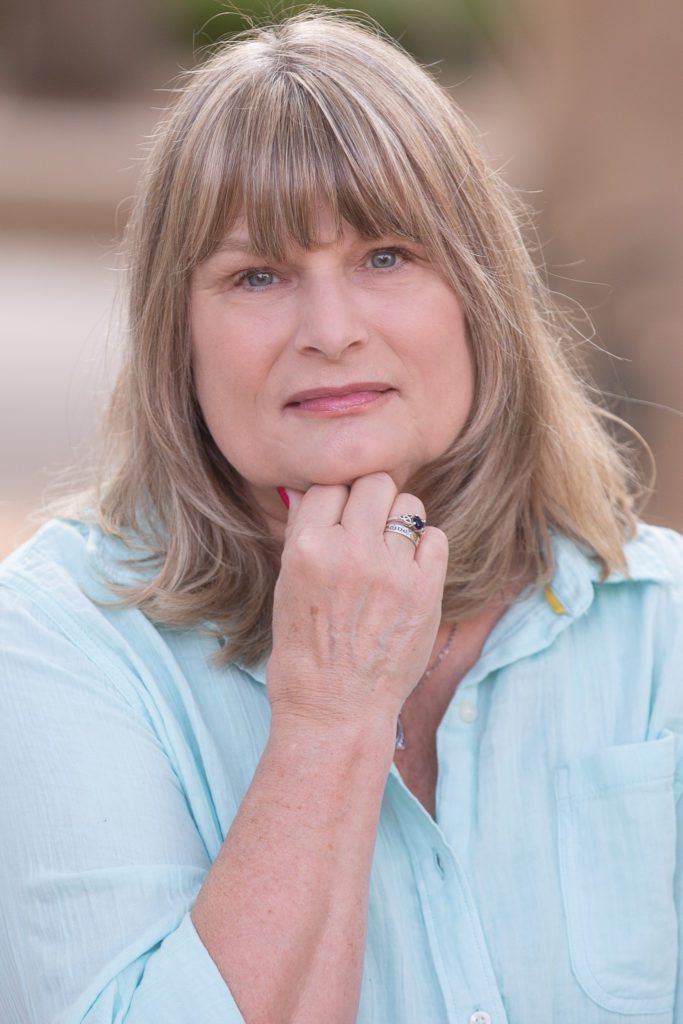 Leslie O'Sullivan is the author of Rockin' Fairy Tales, an adult romance series of Shakespeare/fairy tale mash-ups set against the backdrop of a fictional Hollywood music scene. Coming in September 2022 is her Behind the Scenes contemporary romance series that peeks into the off-camera secrets of a wildly popular television drama. She's a UCLA Bruin with a BA and MFA from their Department of Theater where she also taught for years on the design faculty. Her tenure in the world of television was as the assistant art director on "It's Garry Shandling's Show." Leslie loves to indulge her fangirl side at cons.
Linktre: https://linktr.ee/LeslieOSullivanWrites
Website: https://www.leslieosullivanwrites.com
Newsletter Sign Up: https://www.leslieosullivanwrites.com/about-5
FB Author Page: https://www.facebook.com/leslieosullivanwrites/
Instagram: https://www.instagram.com/leslieosullivanwrites/
Twitter: https://twitter.com/LeslieSulliRose
Tik Tok: https://www.tiktok.com/@leslieosullivanwrites
FB Reader Group: https://www.facebook.com/groups/acompanyofreaders
---