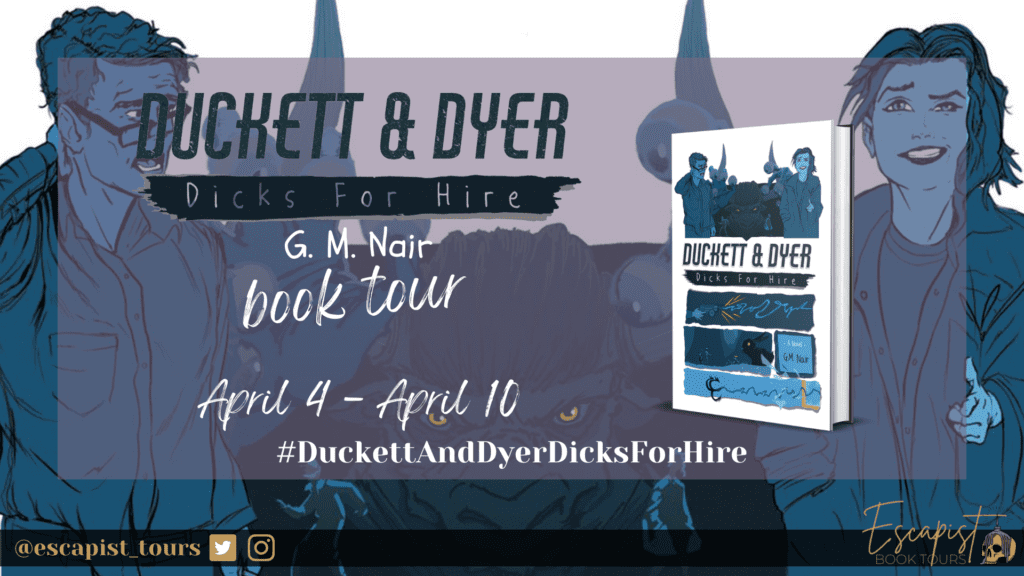 Hello and welcome to my (second) stop on on the Escapist Book Tours book tour for Duckett & Dyer: Dicks For Hire by G.M. Nair! I've already kicked off the tour by sharing a spotlight and mini-review over on my IG account yesterday, but I wanted to follow that up with a full review of this excellent novel! If you wanna see the pretty photo I worked too hard on (for it to be so lackluster), you can do so here!
Below, you'll find all the details about the book and author, including links to buy yourself a copy, my full review, and even an opportunity to possibly win a copy by entering our tourwide giveaway! Also, be sure to take a look at the tour schedule at the very bottom of the post because we have a full week of content coming from some of the best hosts in the SFF community!
---
Book Information:
Duckett & Dyer: Dicks For Hire by G.M. Nair
Series: Duckett & Dyer: Dicks For Hire
Genre: Sci-Fi/Mystery/Comedy
Intended Age Group: Adult
Pages: 302
Published: 2019
Publisher: dS-dF (Self-Published)
---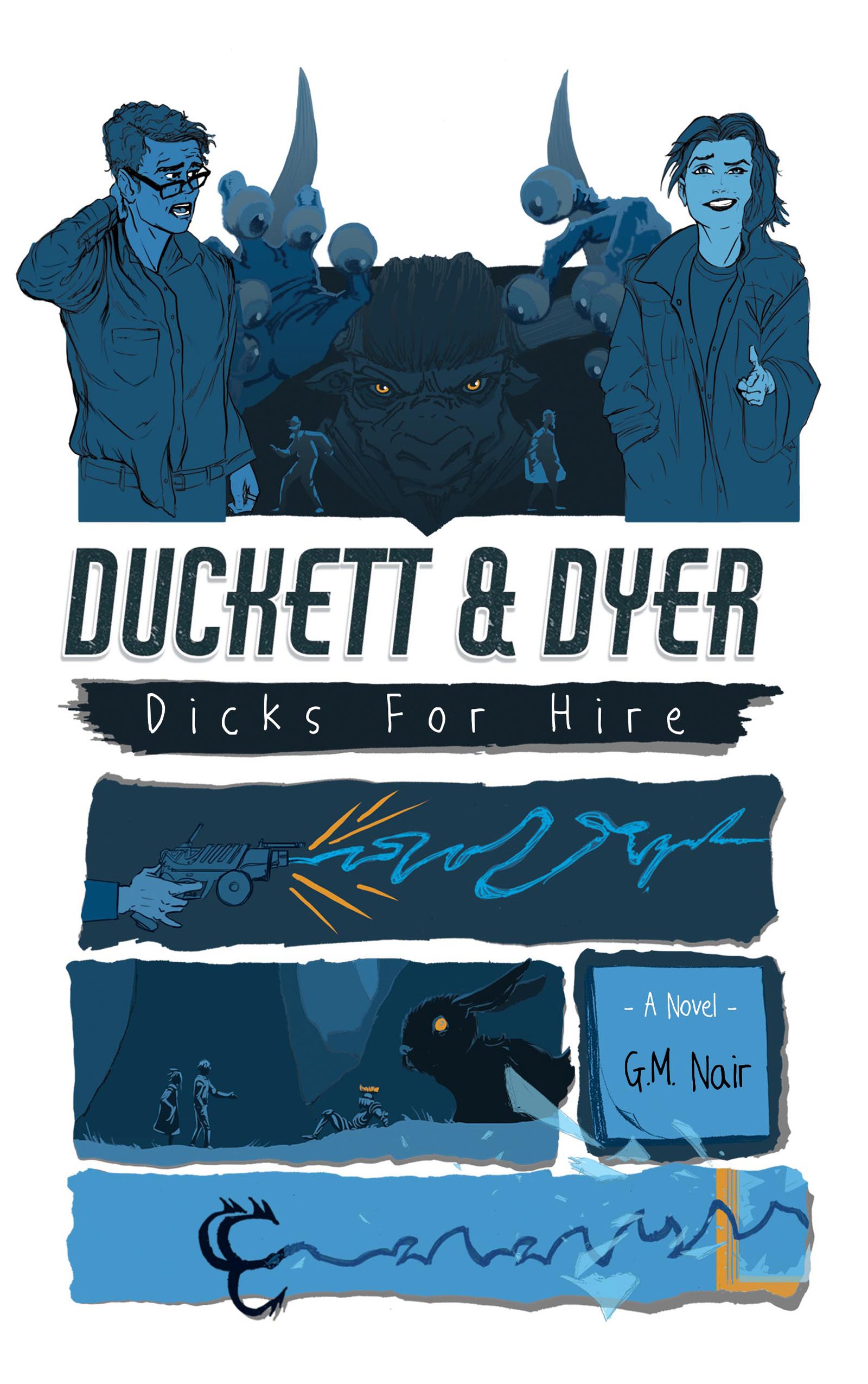 Rating: 7.5/10
Blurb:
Michael Duckett is fed up with his life. His job is a drag, and his roommate and best friend of fifteen years, Stephanie Dyer, is only making him more anxious with her lazy irresponsibility. Things continue to escalate when they face the threat of imminent eviction from their palatial 5th floor walk-up and find that someone has been plastering ads all over the city for their Detective Agency.
The only problem is: they don't have one of those.
Despite their baffling levels of incompetence, Stephanie eagerly pursues this crazy scheme and drags Michael, kicking and screaming, into the fray. Stumbling upon a web of missing people curiously linked by a sexually audacious theoretical physicist and his experiments with the fabric of space-time, the two of them find that they are way out of their depth. But unless Michael and Stephanie can put their personal issues aside and patch up the hole they tore in the multi-verse, the concept of existence itself may, ironically, cease to exist.
See Also:
Doctor Who • Here it Goes Again • Psych
Review:
I have to admit, I've had Duckett & Dyer on my TBR for quite awhile, so I was so excited when the opportunity to take it on tour came my way because it gave me the best excuse to read it!
Duckett & Dyer stars the eponymous Michael Duckett and Stephanie Dyer, friends who have been inseparable since childhood and now roommates. Duckett is the Greg to Stephanie's Dharma. Is that still a relevant pop culture reference? What I mean is that Duckett is extremely straight-laced, works in a cubicle, is responsible, and anxiety-ridden. Dyer, on the other hand, is a lazy, irresponsible, hanger-on with a devil-may-care attitude. In other words, the complete opposite of Duckett. The duality of the characters leads to a lot of great moments, with both acting as a foil for each other. And, the fact that their friendship never strayed into the realm of romance was wonderful! More friends BFFs in SFF please! Rounding out the cast is Rex Calhoun, a hardboiled (how do you hardboil a person?) detective who ends up entangled in Duckett and Dyer's multiverse hopping when an ongoing investigation is waylaid by a mysterious, sticky note wielding… vigilante… wizard? You'll have to read to find out more because I don't want to spoil anything for you!
Humor in fiction doesn't often land for me, for some reason. And, even when it does, it rarely elicits more than a passing, "Oh, that was funny." Nair somehow stumbled upon the perfect storm of wit and sarcasm that had me chuckling out loud or snorting at several points throughout the book. The humor is written so cleverly, but at the same time you also happen upon gems like an alternate universe where Beyonce is white.
There's only a few issues that I really have with the book overall and they're really kind of nitpicky to begin with. The pacing kind of falls off a little over halfway through, when Duckett and Dyer start their dimension hopping. While I enjoyed seeing the wackiness of the multiverse, ultimately it felt like it was a lot of 'go here, see this crazy world, jump through another portal', rinse and repeat. I also felt like the plot gets a little lost in the weeks for a bit and I really wish there was more of the ending, but all throughout the book, if that makes sense.
Overall, I really enjoyed Duckett & Dyer: Dicks For Hire! It's a weird amalgamation of genres; it's a sci-fi novel about multiverse theory, it's a comedic buddy cop novel, there's a little bit of absurdism in there, etc. Although the pacing lags a bit in the middle and the plot gets a little lost in the weeds, Nair really hits it out of the park with bringing the disparate threads together and weaving a fantastically chaotic, witty tale about friendship and meaning when the universes are both infinite and uncaring. This is like the lovechild of Quantum Leap and Psych, with a dash of Doctor Who thrown in for good measure. Brilliant!
About the Author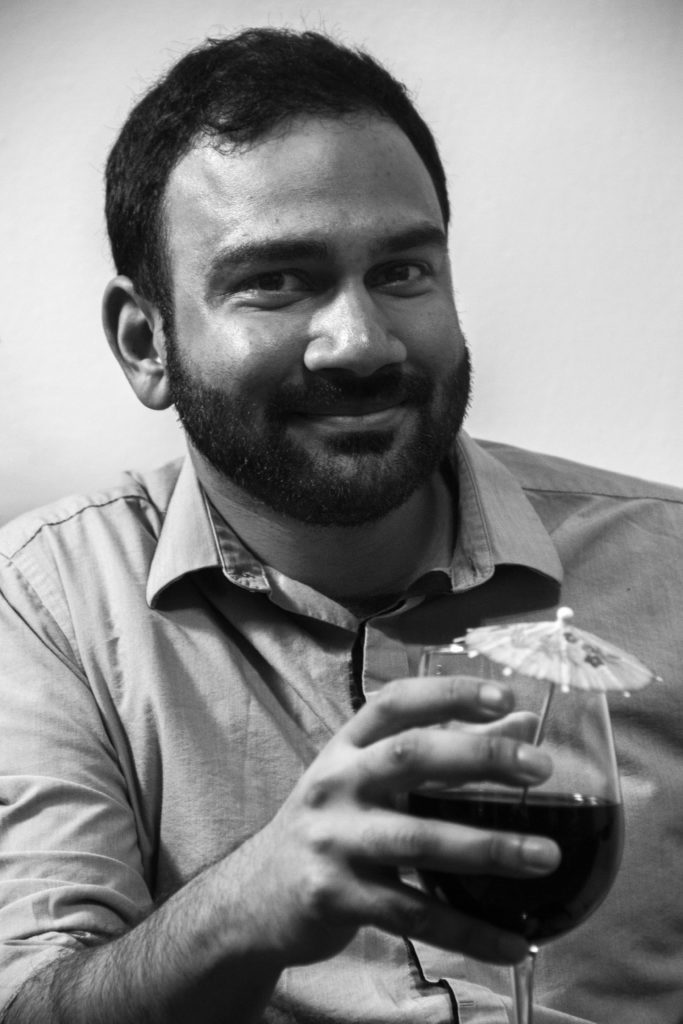 G.M. Nair is a crazy person who should never be taken seriously. Despite possessing both a Bachelor's and Master's Degree in Aerospace Engineering and a job as an Aviation and Aerospace Consultant, he writes comedy for the stage and screen, and maintains the blog MakeMomMarvel.Com. Now he is making the leap into the highly un-lucrative field of independent book publishing.
Duckett & Dyer: Dicks For Hire is his first novel, and in a world with a fair and loving god, it would be his last. Alas, he tends to continue.
G.M. Nair lives in New York City and in a constant state of delusion.
Twitter: @GaneshNair
Instagram: @NairforceOne
Giveaway
a Rafflecopter giveaway
---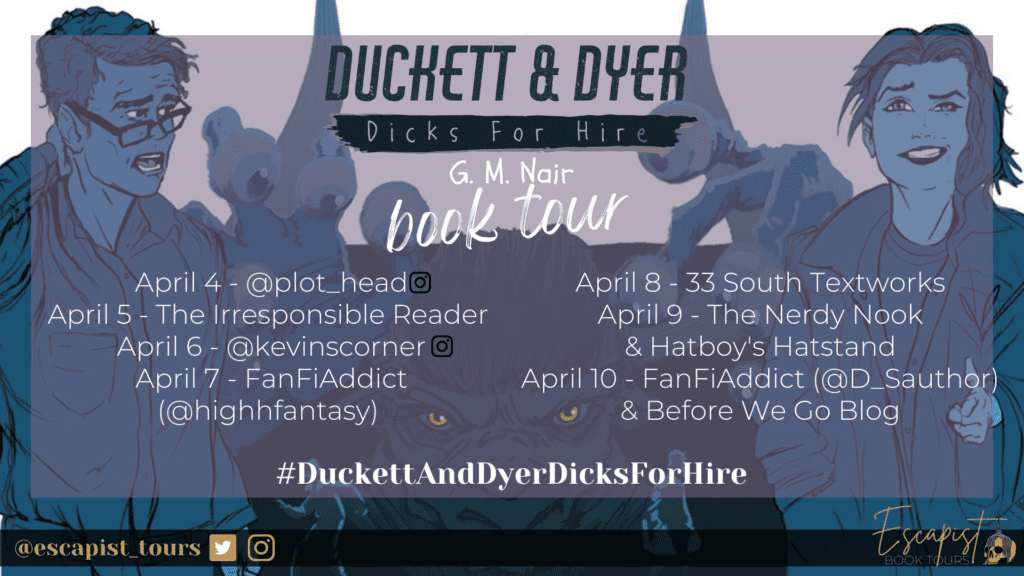 ---