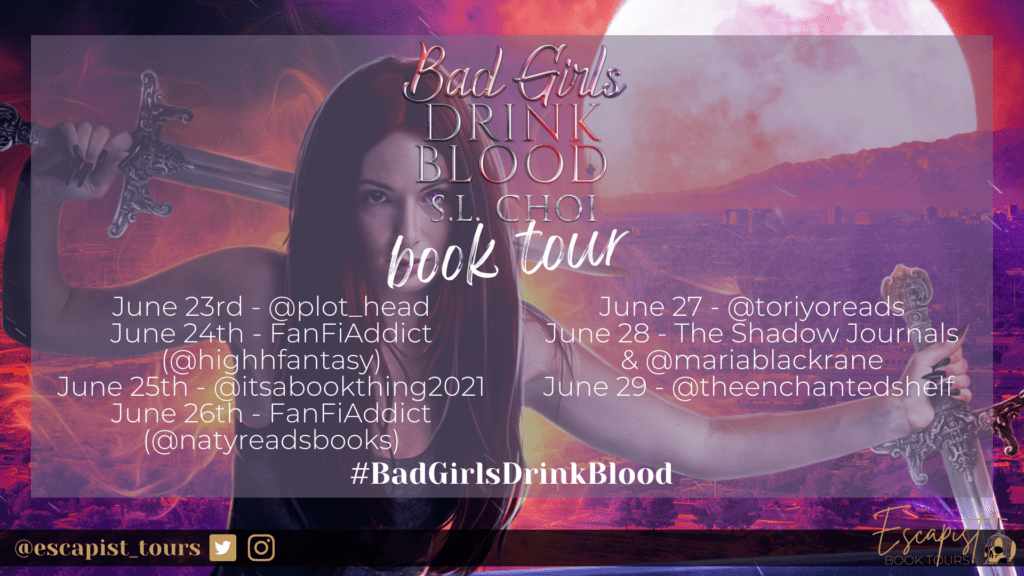 Hey, everyone! Welcome to my stop in the Escapist Book Tours run of Bad Girls Drink Blood. Unfortunately, it did take me quite a bit to get my post out (bad time management on my part), but this is my official review. I hope you find it enlightening and I hope it encourages you to read this fantastic book!
---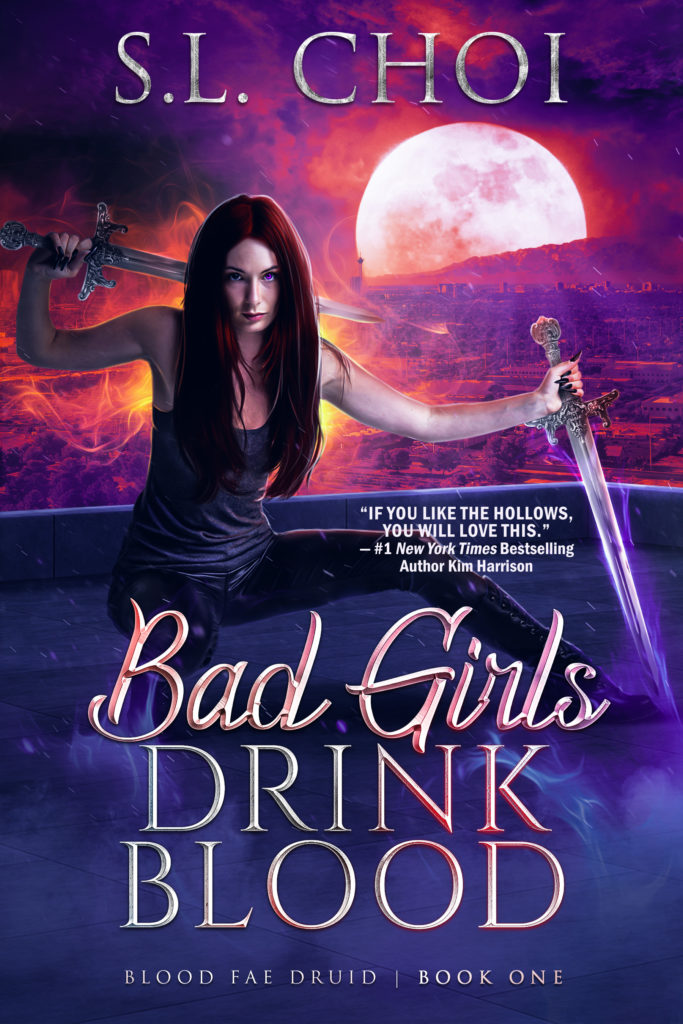 Book Information:
Bad Girls Drink Blood by S.L. Choi
Series: Blood Fae Druid
Genre: Urban Fantasy
Intended Age Group: Adult
Pages: 436
Published: May 17, 2022
Publisher: City Owl Press
Content/Trigger Warnings
Shown on page:
Explicit language
Gratuitous violence (Marvel style – over the top, often with humor)
Adult situations – aka steamy romantic stuff (no on page sex)
Alcohol
Alluded to:
---
Synopsis
Part sun fae, part blood fae, all abomination.
After a life spent dodging slurs, threats, and assassination attempts, Lane gave her past the one finger salute and ditched her former fae home for good. The detective agency she and her sisters run on the edge of Las Vegas continues to limp along, with Lane doing more debt collecting and intimidating than investigating, but anything to pay the bills. Between working for low-lifes to bring down even lower-lifes, eating cheesy poofs by the bucket, and flirting with the criminally attractive bartender where she conducts business, life is good.
That ends when a routine job goes sideways, leaving Lane with a sack full of stolen sun shards—the source of sun fae power. Without the shards, the sun fae face giving up their magic completely, or risk death if they use their power. Considering they would rather see her dead, good riddance, as far as Lane's concerned—except her father and adopted sister are sun fae. Lane must choose—return home to save the fae bastards that almost killed her, or let them burn.
---
See Also
Show Me the Money! • What Happens in Vegas… • Sisterhood of the Traveling (Blades)
---
Rating: 9/10
Review
This book was so much FUN! Rarely do I come across a fantasy book that doesn't have an agenda (not that agendas are bad things). With the state of American politics, it was nice to have a book that just simply wanted to be. No strings attached. But that wasn't what made this book such a joy to read.
Imagine if Underworld and True Blood had a baby. Then make that baby a kickass bloodfae with a weakness for a certain bartender with puppy dog eyes. In comes Laney Callaghan, a bloodfae PI that puts Sherlock Holmes to shame. At least, that's how I felt about her. She is everything I didn't know I needed in a hero: sarcastic, whip-smart, and deeply (deeply) traumatized.
To say that the characters in this book are well-written is an understatement. As much as I love Laney, each character shines from the moment they enter the stage. Even unlikable characters have their moment in the sun…fae. Sorry, bad joke. Anyway, picking a favorite from this incredible cast is impossible and it's hard to come up with enough good things to say about them. Learning about them happens gradually, as it should, and it is so rewarding when the final piece of each person's puzzle is clicked into place. What makes a character tick, what their motivations are, and why they believe the way they do play huge parts in the development of each individual. Truly great character work on Choi's part.
I could go on and on about the characters, but another fantastic part of this book is the worldbuilding. Choi seamlessly blends three (maybe four?) separate universes together to create a massive world where magical creatures mingle with the human race (albeit briefly). If I had to give a complaint in this department, it would be that I wanted more exploration of the realms' populations and how those coincide with the Earth we know.
Truly, I do not have enough good things to say about Bad Girls Drink Blood. It was a wild ride and there were so many brilliant twists and turns (even though one of my ships was BLOWN APART early on–but I forgive you, S.L. Choi) to keep you turning page after page. I highly recommend this book for all you Twihard grownups who wanted Bella to be a badass.
---
Book Links
Universal Link: https://books2read.com/Blood1UBL
Goodreads: https://www.goodreads.com/book/show/58817749-bad-girls-drink-blood
---
About the Author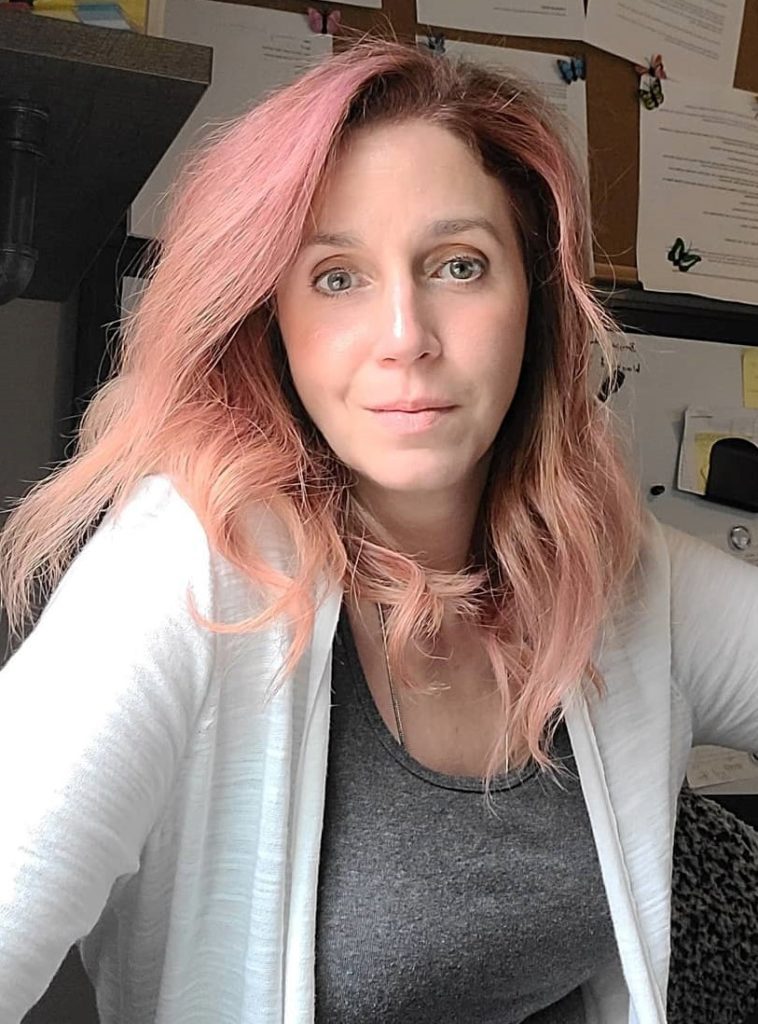 S.L. Choi is an urban fantasy author with a deep love for humor, fast-paced action, and hit-you-in-the-heart feels. She grew up imagining goblins living in the rocks outside her bedroom window, while fairies flew through the flowers. Now she puts those stories to paper. When not writing, she is either photographing the beautiful New England area, hiking, gaming with her equally nerdy husband, or attending to the small furry overlord who rules them both.
Author Website: https://slchoi.com/
BookBub: https://www.bookbub.com/authors/s-l-choi
Instagram: https://www.instagram.com/slchoi_author/
Tiktok: https://www.tiktok.com/@slchoi_author
Facebook: https://www.facebook.com/AuthorSLChoi
Twitter: https://twitter.com/sl_choi
Goodreads: https://www.goodreads.com/author/show/21751903.S_L_Choi
---