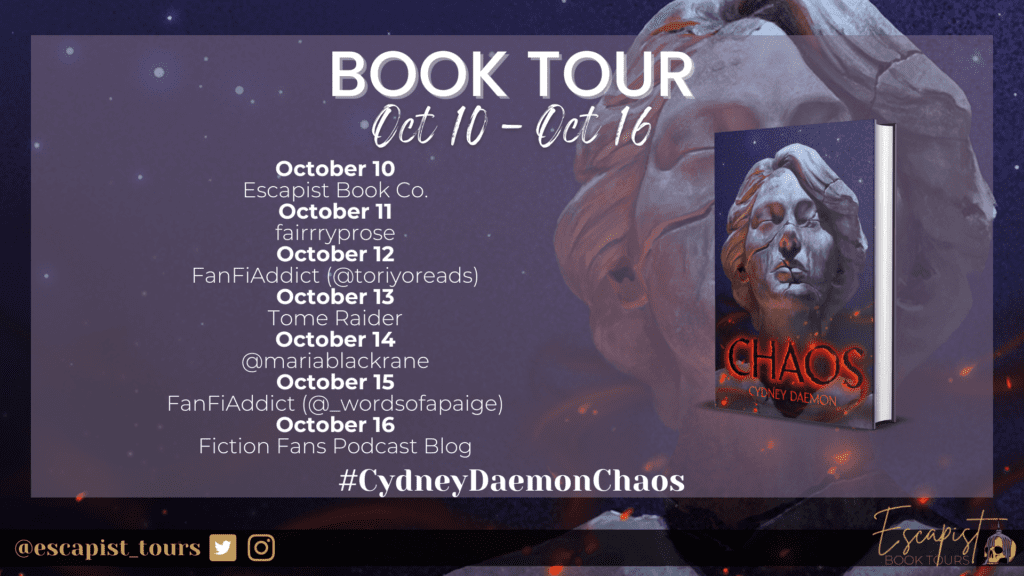 Hello and welcome to my stop on the Escapist Book Tours run of Chaos by Cydney Daemon! This time around, I've got an incredible guest post by the author about the importance of writing for teenagers, and why YA as representation is crucial.
Enough from me, I'll let the author tell it. Stick around for your chance to snag a copy of Chaos.
---
Book Information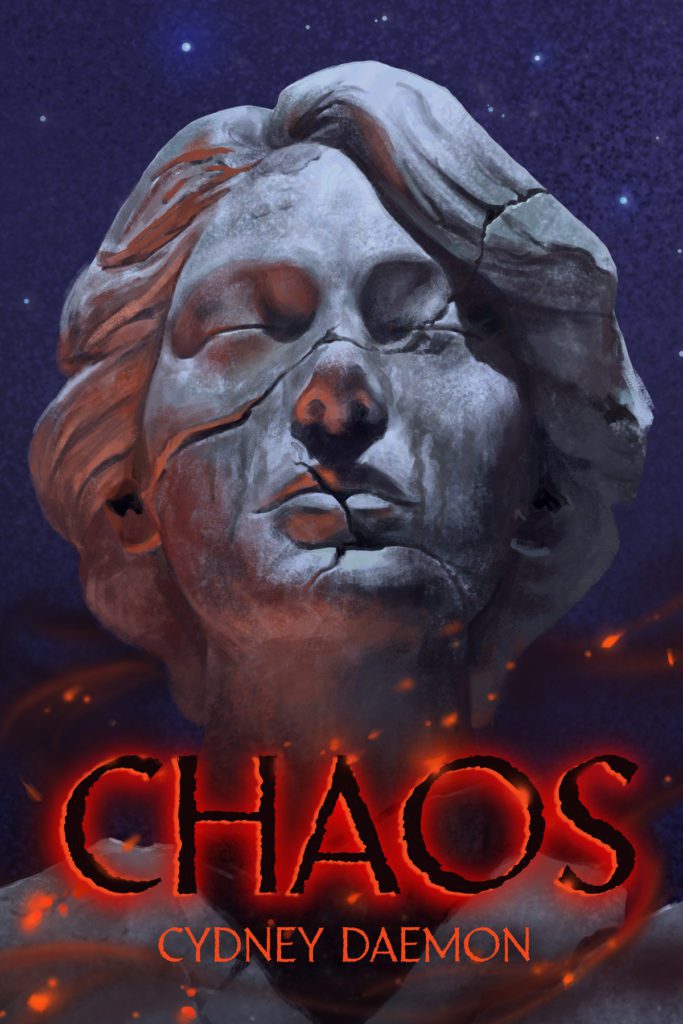 Chaos by Cydney Daemon
Series: Chaos #1
Genre: Post-Apocalyptic Fantasy
Intended Age Group: Upper YA – Adult
Pages: 452
Published: September 1, 2022
Publisher: Self Published
---
Book Links
Amazon: https://www.amazon.com/dp/B0B8P6YZTY
Goodreads: https://www.goodreads.com/book/show/61862462-chaos
---
About the Book
All things are not as they seem . . .
After nearly everyone with special abilities abandoned the world, Hallenwood is one of the few cities to remain standing.
Kade Reed has been doing his best to survive the city and raise his younger siblings. When Kade is murdered, four students must decide whether to let the world burn or to fight to keep hope alive. Elsey Hallen is an angry loner who has to deal with more scars than most. Henry Adamson is an addict trying desperately to keep his monsters buried. Charlotte Marion is a determined athlete tired of living in a world running on fear and despair. Wesley Reed is just trying to raise his younger sister and build a future for himself while mourning the loss of his brother.
As they come together, they start to recognize there may be more to all the darkness and desperation haunting the city. Uncovering secrets involving evil cults and the ancient mythology behind their special abilities, they find themselves faced with an enemy hellbent on their destruction.
---
Content/Trigger Warnings
Shown on Page (things clearly told to the reader):
Self-harm
Suicidal ideation
Gratuitous violence
Gore
Sizeism
Ableism
Child abuse (physical, mental, and emotional directed toward a teenager, shown for a moment in one scene)
Drug and alcohol abuse (frequently, not glamorized, shows the realities and the ugly sides of it)
Vomiting
Infidelity
Domestic violence (not shown, but overheard)
Bullying (relates to above mention of ableism and sizeism)
Alluded to (things only mentioned in passing or hinted at):
Rape (including incest) & sexual assault (Nothing is shown. It is heavily implied and alluded to, but absolutely nothing is shown. It also deals with addressing what people often wrongly assume are "gray areas" like statuatory rape, but again it is not shown, and nothing is glorified or romanticized.)
Self-harm
Suicidal ideation
Suicide attempts (both accidental and purposeful)
Homophobia/Panphobia (It's implied that a character makes jokes and inappropriate remarks, and the character is called out for it. It's also directly mentioned and heavily implied that another character is extremely homophobic/panphobic but no slurs are ever used, and it's made clear that this is wrong and not okay and causes harm.)
Child abuse (physical, mental, emotional, and sexual heavily implied. The sexual abuse is not shown and never will be shown.)
Infidelity
Possible torture
Bullying
---
Guest Post by Cydney Daemon
Growing up in an unforgiving world means navigating a world laid out with landmines of potential trauma.
Sometimes, you take a wrong step, and your entire world incinerates around you. Other times, you're shoved, and you must find some way to put all your pieces back together when you may be missing some essentials.
It's even more difficult when you have the deck stacked against you. While you're scrambling to put yourself back together, there are people waiting in the wings to take all your fragments and scatter them further or to shatter them beyond repair.
You hear voices of those around you telling you're not trying hard enough.
Just work harder. Push yourself further. Focus more. Do better. You're failing. You'll never amount to anything. We expect more of you. You let us all down. Do as I say, not as I do.
An endless barrage of expectations, rules, and insults.
A whiplash of contradictions.
"It's okay to make mistakes," to, "How dare you step out of line!" in a moment's breath.
"Back in my day …" to, "The youth will save us," in matter of seconds.
Teenagers are in a precarious position. Caught between problems most people want to pretend are not important or real because you're not a full adult yet and clawing to cling to the sliver of hope you have left that your heart won't just shrivel up and die once the clock turns and leaves your childhood as a bitter ache in your soul. Too many times when they ask for help or voice a concern, they're ignored because they're either or too old or too young to speak up.
You're either lying for attention because you're an immature child, or you should've spoken up sooner and it's your fault for waiting so long.
One of the compliments I receive frequently about CHAOS is my ability to capture teenage angst. My response to that is, "Thanks, it was my teenage angst." But, in truth, that angst never died. It evolved. Just like me.
I grew.
I learned.
I realized that my angst wasn't angst, it was depression. It was anxiety. It was trauma from abuse, neglect, being bullied, being disconnected from part of my culture, feeling lost, hiding away parts of myself I felt I could never share, and on and on and on.
So many adults around me had been in positions to do something and instead left me to bleed out. If it hadn't been for me finding the strength in myself to keep going, to claw my way out of the hell I had been experiencing, I would've never made it out.
I would've been a statistic and a name on a headstone.
That stays with me. Every day, I wake up remembering the trauma I experienced. I'll be reminded about it throughout the day. A sound, a smell, a touch will bring a memory that I try to bury. I have no choice but to find a way to move through it and keep going.
Countless adults live like this now, and all those adults were once teenagers just like I was. We had voices. We screamed, cried, and begged for help. Sometimes not in the most obvious ways. Sometimes, we made a random comment that should've been taken more seriously. A request to speak to a therapist, a joke about a parent hating us, a comment about not having friends, and so many other things that could hint to even heavier implications. We weren't voiceless. We used our voices however we knew how, but instead we were ignored and brushed off.
Being a teenager, or even a child, often means not being treated like a human being. Your thoughts and feelings are invalidated. Your hopes and dreams are treated as childish delusions. Your enjoyment is treated like annoying foolishness. And your cries for help are neglected.
Society treats respect, empathy, and understanding like a gift only fit to be bestowed on someone once they hit a certain age marker. That makes it easier to continue as things are. It means you don't have to put in the hard work to break cycles or implement change. It means teenagers are often left to figure out things on their own, and when they slip up or when their future plans don't pan out, they're the ones taking the blame when things were never built in a way for them to succeed.
If we were listened to as children and teenagers, maybe navigating life in every facet of human life as an adult wouldn't be such a risk. Instead, we're left cleaning up the messes other people made of us.
Sometimes, we may be lucky enough to have made friends along the way who can support and aid us, but they're often going through their own battles. We're often only given a small glimpse into the battles of other people, even our closest friends, so our thoughts, feelings, and views become skewed by the vantage point we have.
That's hard enough to grapple with and dismantle as an adult, but as teenagers your world is wholly built by the adults around you. Their opinions, thoughts, and views are handed down to you and affect how you see yourself and every other person you encounter. Unraveling it all is a near impossible feat, especially when you have to rely on those adults for support and to live. Those same adults who treat your voice as a nuisance.
In the end, no matter how many friends you have, as a teenager, you can feel alone and isolated, and any trauma you may be experiencing is amplified.
It's important for teenagers to feel heard and to feel like they matter. To feel like they're not wasting space. Not to feel like the world would be better off without them.
As someone who grew up feeling small and like I didn't matter, someone who had to rebuild myself from a million shattered pieces, someone who tried to give up countless times only for her rage to keep her fighting, I want everyone to know that they're not alone. I want everyone to know their voices are important. They matter. The fact that they live and are taking up space is important to me.
I write for myself and for the other people who feel like they need an escape. I write for the people who were never heard and for the people who were heard too late and already had to bury part of themselves in order to find some way to move on. I write for the people who need something, anything at all, to give them a reason to hold on so their hope doesn't burn out.
I don't want anyone to feel alone, and I don't want anyone to feel even a fraction of what I feel.
We're all just trying to rebuild ourselves around one another in a world that was never built for us.
---
About the Author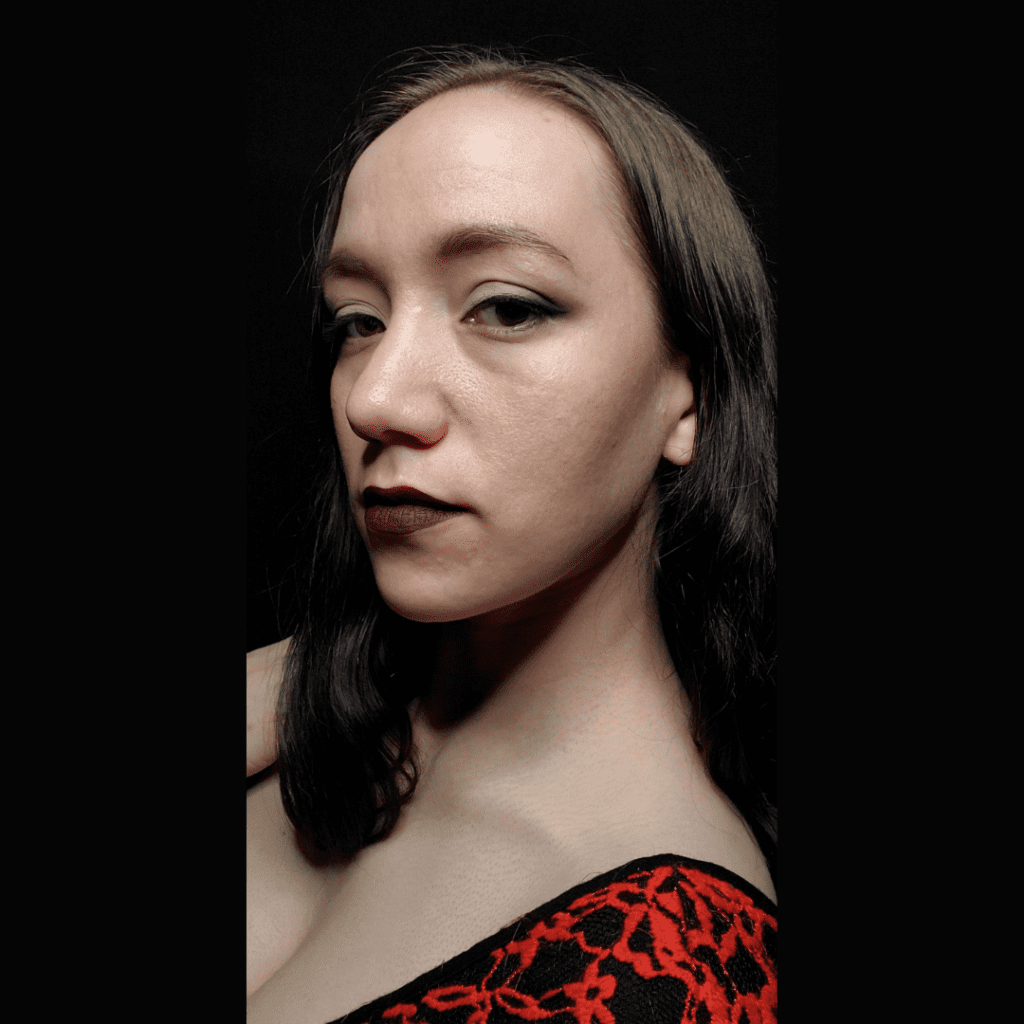 Cydney Daemon, first and foremost, is a human being. She is definitely not a demon of chaos taking human form in order to collect as many books, black cats, and items of gothy wonder as possible. When she is not hyperfixated on writing whatever has possessed her brain, Cydney can be found arguing with her dog, playing referee to her two house panthers, consuming media things meant to scare her for fun, and testing the limits of Dr Pepper consumption on the human body. Alternatively, if spotted in the wild instead of in her cave of darkness, she may be seen rambling to herself about anything from book ideas to how many times she had to walk down that aisle before remembering to grab the damn chips she came here for. Prior to becoming a published author, she worked in customer service—which was a grave mistake on everyone's part. She currently, also, works as a freelance writer, writing the session notes for mental health professionals. With an origin story that includes poverty and severe childhood trauma, mental health and empowerment for everyone has always been extremely important to her. Cydney seeks to write books that have their own heart and soul and that can help those in the way books helped her growing up, whether that be by providing an escape or an inspiration.
Twitter: https://twitter.com/CydneyDaemon
Instagram: https://www.instagram.com/cydneydaemon/
Website: www.cydneydaemon.com
Goodreads: https://www.goodreads.com/author/show/22648751.Cydney_Daemon
Amazon Author Page: https://www.amazon.com/author/cydneydaemon
---
Giveaway
a Rafflecopter giveaway
---