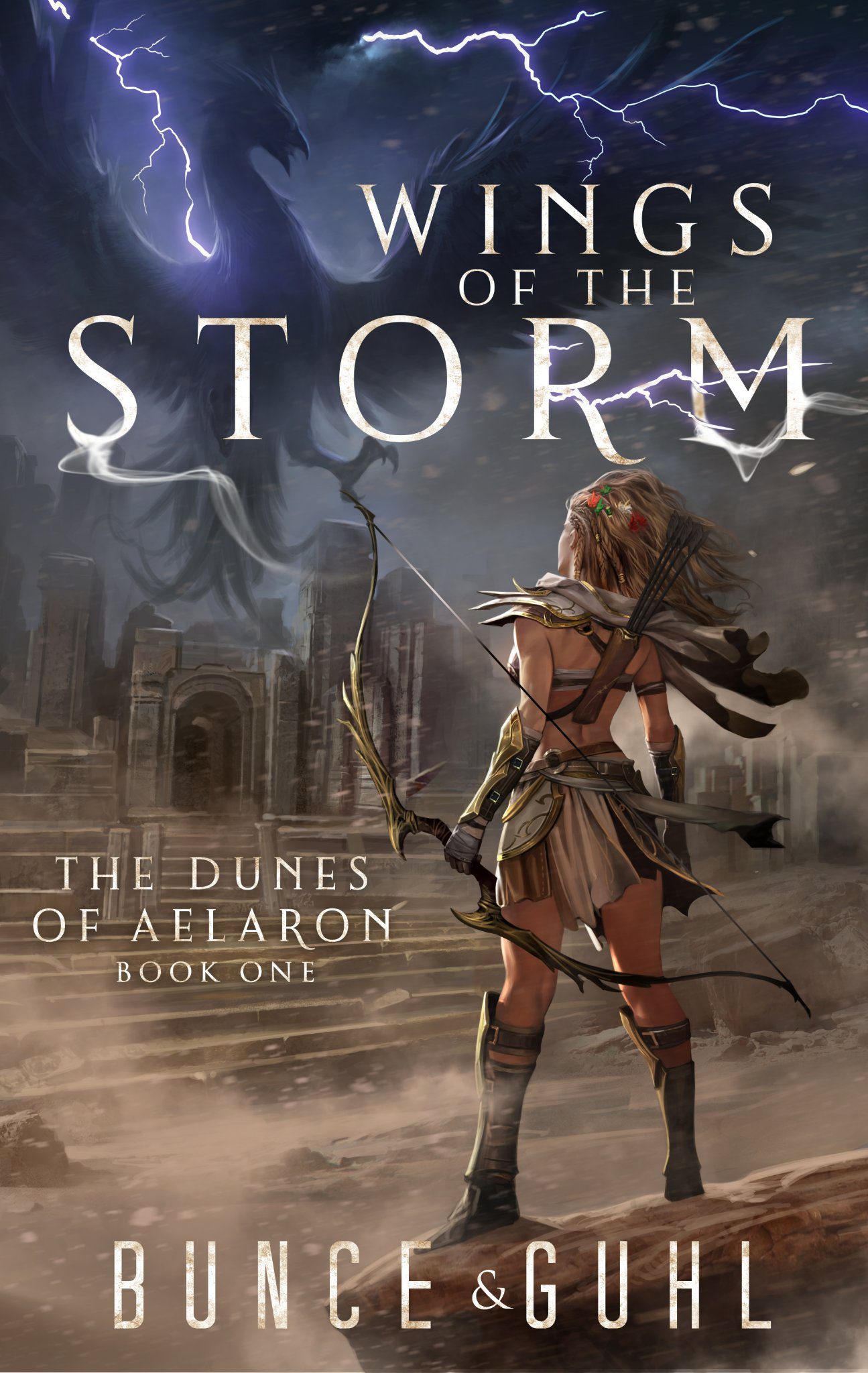 Rating: 9/10
Synopsis
My name is Vayo, and I am a slave.
My people lived in Argia, the City of Light, before Nabonidus the Defiler swept across the land. He conquered, murdering and enslaving the other tribes. I was born after the fall, in a crumbling pit of despair and sadness.
Nabonidus crowned himself ruler of the land, building his new kingdom from the rubble of our fallen world. I live and serve them now, my head bowed, and my eyes down. That is, until a master servant chose me.
My new duty? Attending the King himself, serving the man that ruined my people. Desperate for blessings, I placed an offering to the Mother Goddess on my roof. Afterwards, I fell into a strange dream. One where I soared over the dunes on wings of radiant feathers. Shouts and screams startled me awake, and I watched as the King's men carried my friend away. I followed, deep into dark tunnels beneath my fallen city.
Fleeing the horrors I witnessed below, I hid in the one place they would not think to look. Inside that forbidden temple and buried beneath the rubble of our broken past I stumbled upon a peculiar sight. A beautiful warrior, with her arms wrapped around a shimmering, blue egg.
Life as I know it will never be the same.
Review
Wings of the Storm is like looking through the eyes of a slave and truly picturing the horrors they might have gone through. While many books hint at these things when the protagnist is a slave, I really felt like this book upped the ante of how bad that life would be like with constant abuse, no human rights, constant fear, and a deep desire for relief and freedom. All that to say, I really enjoyed this book! It was an immersive experience where I found myself desperate to know the protagonist's next move. While the story focuses on two specific locations and only one point of view, the way that Bunce and Guhl wrote this novel allows for an ever present understanding that this world is not safe and anything could happen next.
When it comes to the world building of WOTS, I found it well done for a desert setting that focuses on two locations, the palace and the slums where the slaves live. Thanks to the prologue of the story (MAKE SURE TO ALWAYS READ THE PROLOGUE YOU HEATHANS), the history and significance of the protagonist's station in life are clear from the beginning. I found there to be an occasional lack of detail in some situations or at least something felt missing in my mind to picture those moments. Overall, the world building was nice and not overwhelming while reading.
As for the main character of this novel, Vayo the slave, I absolutely loved her. I'm still not completely sure how old she actually is (I might have just missed that or forgotten it as I kept reading), however, I picture her around sixteen and an orphan who has to fend for herself. Thanks to her deceased mother she is able to serve a life indoors at the palace and away from the terrors of working on the wall or the mud pits with the rest of her people. This of course causes bitter feelings from those who do work there but the bond of servitude still ties them all together. I found Vayo's personality different from the common tough girl trope so that made her more interesting. My biggest complaint about her though is that she take's a long time to make decisions and while I don't believe her character to be flat, her character arc is a little less than what I'm used to in character driven stories. A brief note about the other characters, I really enjoyed getting to know so many of them and wish some had had a little more "screen time" than they were given to give them a little more depth.
The plot of this story was fairly straight forward. Not to say it wasn't enjoyable! It just came across as more young adult fantasy rather than adult fantasy (which might have been the intention anyways!). There are lots of fun surprised sprinkled throughout and I found the conclusion the perfect setup for book 2 which I'm excited for now! I will give some content warnings for those who are interested. If you don't like to read violence against the innocent, talk of rape and murder, slavery, or religious undertones then you may not want to read this novel. However, all these elements are condemned or used in a way that is not pushy.
Time for my favorite part of a review! Let's talk about the major themes of Wings of the Storm. You've probably already guessed at this first one. Slavery and bondage of the lower class to upper class is certainly the main theme. The slavers treat Vayo and her people far worse than necessary just because they can. Yet, the slaves do nothing about it for fear of death. Another theme is questioning the morality of a slave. What morals should they have? Or should they do anything they can to survive just a little longer? Other themes include: Is it possible to make amends for atrocious and morally evil acts? Does kindness demand trust? Does silence and divine hiddenness mean no one is listening? Your station in life doesn't automatically mean you believe one particular way. I think you will enjoy reading this book and thinking about these themes while you do!
Guhl and Bunce have given us a captivating first installment of this new fantasy adventure. I highly recommend this book for those who want an immersive story that thrives on "what's going to happen around the next corner?" Hope this helps! Go give Wings of the Storm a read!
A big thank you to Escapist Book Tours for allowing me to participate in this book tour! I really enjoyed this book and am glad to have the chance to share it with others!