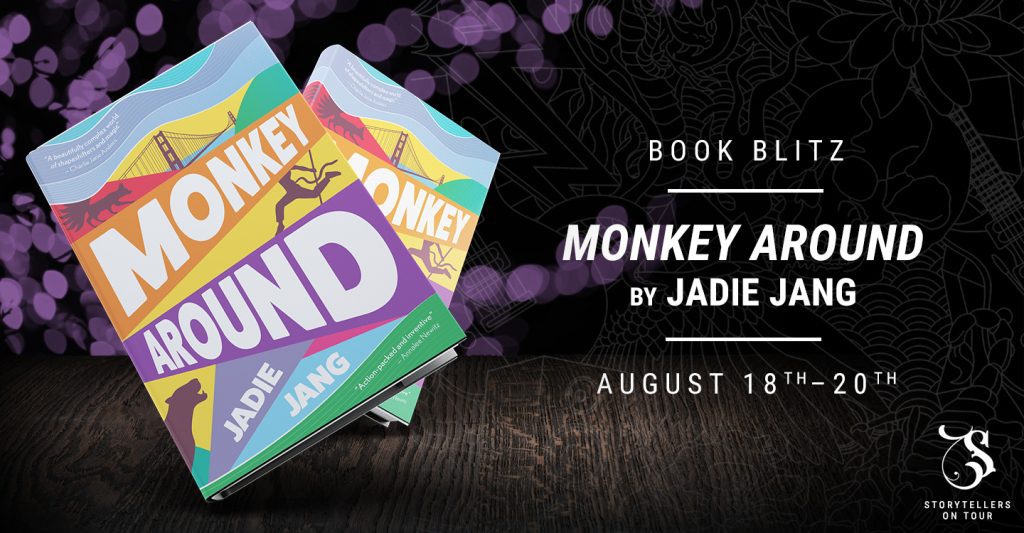 ---
Hello and welcome to FanFiAddict's stop on the book blitz for Jadie Jang's Monkey Around. I want to thank Justine & Timy @ Storytellers on Tour for letting us be involved, and a big shoutout to Jadie on this fantastic Urban Fantasy!
Below, you will find information on the book and author, my reivew, links so you can grab yourself a copy, and the chance to win a copy through a giveaway!
Make sure to check out the rest of the blitz by hitting up the landing page at SoT here!
---
Book Information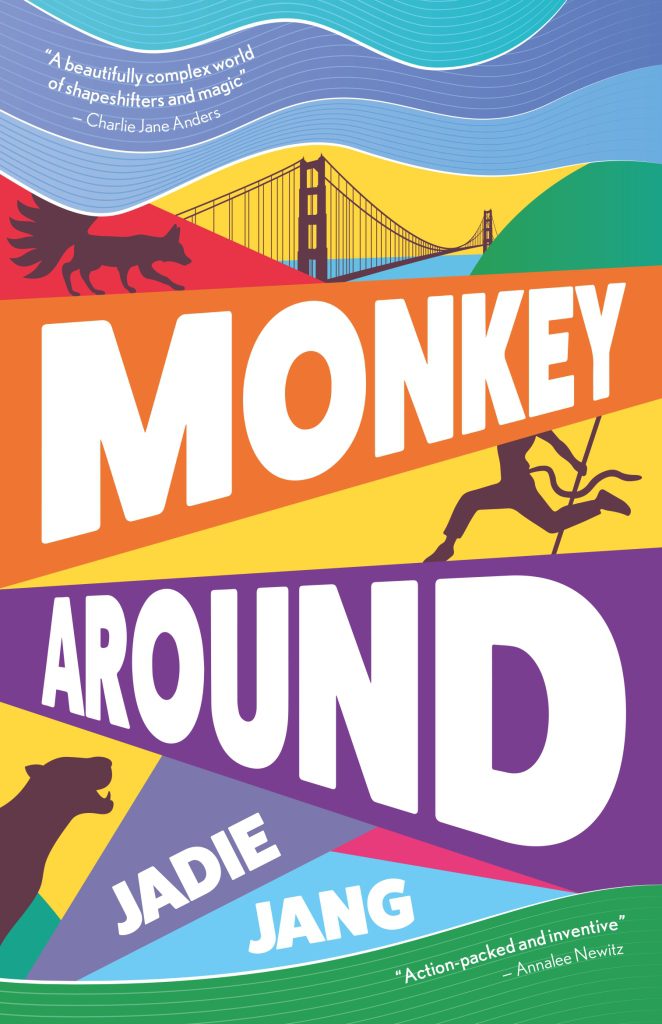 ---
About the Book
Monkey Around by Jadie Jang
Published: August 3, 2021
Series: –
Genre: Urban Fantasy
Pages: 432
CW: Murder
---
Synopsis
San Francisco has a Monkey King – and she's kinda freaked out.
Barista, activist, and were-monkey Maya McQueen was well on her way to figuring herself out. Well, part of the way. 25% of the way. If you squint.
But now the Bay Area is being shaken up. Occupy Wall Street has come home to roost; and on the supernatural side there's disappearances, shapeshifter murders, and the city's spirit trying to find its guardian.
Maya doesn't have a lot of time before chaos turns up at her door, and she needs to solve all of her problems. Well, most of them. The urgent ones, anyhow.
Rating: 9.0/10
Review
I have loved the legendary Monkey King for as long as I can remember. From his historical origins in the Chinese epic Journey to the West, to being the inspiration for Son Goku in the anime Dragonball Z, the character of the Monkey King has always been one that I loved. So, when I saw that an Urban Fantasy retelling of the legendary character was coming out, I knew that I had to jump on the opportunity to check it out! And, I am so glad that I did.
'My rational brain was telling me to flee. But I also have a monkey brain, and Monkey loved to fight. And Monkey currently had the upper paw.'
Monkey Around is set in modern day San Francisco, California. Well, it's actually set in the Fall of 2011. If, like me, your memory is generally trash AND you have such a deep-seated hatred of numbers that it even extends to dates, you might not remember that as being smack dab in the middle of when the Occupy Wall Street movement was happening. The time frame isn't so much central to the plot as it is a necessary vehicle for highlighting many of the topics that Jang explores. Themes of identity, community, and responsibility for others, to name a few. The part of the worldbuilding that stood out the most to me and takes, quite literally in some cases, center stage are the various supernaturals that inhabit Monkey Around's version of the Bay Area. People from all over the world have made their home in San Francisco and with them they brought their cultures, traditions and mythologies. Rather than the typical Euro-centric supernaturals you generally find in Urban Fantasy, Monkey Around features many from Southeast Asia, such as the Filipino Aswang or the Indian Vanara, or the more well-known Japanese Kitsune. I found this to be a nice breath of fresh air and I had a lot of fun flipping back to the "bestiary" in the back of the book to learn a bit about these unfamiliar creatures.
The story is told through the first person perspective of Maya McQueen, a 20-something part-time barista, part-time activist, and full-time… well, Maya isn't exactly sure what she is. The "mystery" surrounding her and where she comes from is central to Maya's character and even though the reader knows what she is from the start, it was fun watching her try to find those last pieces of her puzzle. She can shapeshift into anything, animal or object, is supernaturally strong and fast, can turn invisible, oh, and can call down a cloud to fly through the sky. No big deal. Despite being able to shapeshift into literally anything, Maya's default form is that of a rhesus macaque and she often has to deal the Monkey part of her nature trying to take over and generally wreak havoc. It's a good thing she has her job that allows her to blow off some steam! No, not the barista job! Her other job, the one she does for Ayo, a human that runs SF's sanctuary, a type of magically protected safe spot for supernaturals to congregate. You know, the one that sees her trying to solve a missing Aswang case at the start of the book. It's through this job that she meets Tez, an Aztec Nagual who wishes he hadn't been burdened by the responsibilities that comes the passing of his mother or that of his heritage.
"I'm part art historian, part folklorist, part curator, part travel agent, part administrator, part forensic accountant, part private eye, part hacker…and that doesn't even cover all of it."
Having been orphaned as a baby, Maya's an outsider even within her own culture and yearns to have a connection to something, anything. I connected with Maya because I know what it feels like to yearn for that sense of cultural belonging, a feeling a being home, among my people. And, then to see people throw away the heritage I would die to embrace is a special kind of hurt. Outside of all of the flashy shape-shifting and martial arts, this is the core of conflict. Maya wants community and desperately tries to make one for herself, while Tez was born into it and wants nothing to do with it. There's also this theme of living in two worlds that runs throughout the whole book and it's not something that I had ever considered before, but ethnic minorities often have to do this, living in their culture at home and stripping that away to something more sanitized anytime they have to go outside of their communities. Showing these Asian American characters struggling with balancing their supernatural and human lives, while keeping them strictly separate, is a really smart way of exploring this topic.
I really loved Monkey Around! In turns, it was delightfully fun, poignant, and thrilling. All of the characters shine, but the central three characters of Maya, Tez, and Todd were clear standouts. Jang's incredibly smart storytelling makes it easy to explore topics such identity, diaspora, and cultural heritage. Add to that great social commentary, queer representation, and super fun murder mystery, and you have a winner in my books. Suffused with Southeast Asian influences and armed with a fresh look at the legendary Monkey King, Monkey Around has reinvigorated the Urban Fantasy genre.
It seemed like the whole world was wearing mourning colors. Even the sky was… I looked up, but the sky was clear and we were headed for our usual pink/golden sunset.
Book Links
Paperback: https://rebellionpublishing.com/product/monkey_around-2/
Ebook: https://rebellionpublishing.com/product/monkey_around/
Amazon: https://www.amazon.com/dp/B094NV3VB2/ref=cm_sw_r_tw_dp_K9JQ2G038JW4D6GSNGY2
Audible: https://www.audible.com/pd/Monkey-Around-Audiobook/178618365X
bookshop.org US: https://bookshop.org/books/monkey-around/9781781089200
Goodreads: https://www.goodreads.com/book/show/55711296-monkey-around
---
About the Author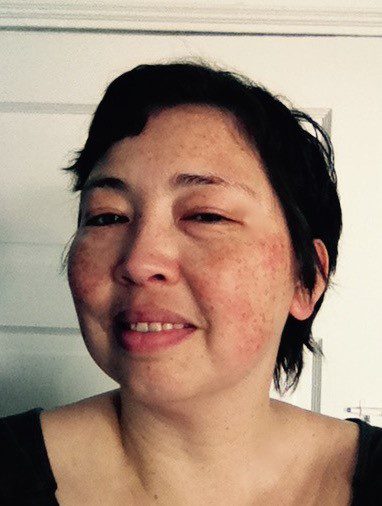 ---
Claire Light (writing as Jadie Jang) is almost as organizy as her characters. She started a magazine (Hyphen) and an arts festival (APAture) with a cast of Asian Pacific Americans even more magical, if less supernatural, than the ones she writes about. She also got an MFA, went to Clarion West, and compromised between the two by publishing a collection of "literary" sci-fi short stories (Slightly Behind and to the Left) that maybe 100 people read. After wrangling arts and social justice non-profits for 17 years, her already autoimmune-disease-addled body threw a seven-year-long tantrum, leading our then-house-bound heroine into an urban fantasy addiction.
A few years, and a dozen Euro-centric-mythology-dominated urban fantasy series later, Claire sat up and said "I can do this!" and Jadie Jang, the part of her brain that writes snarky-fun genre romps, was born. She posts about monkeys every Monday under @seelight on Twitter.
Website: https://www.clairelight.org/
Twitter: https://twitter.com/seelight
Instagram: https://www.instagram.com/seelight44/
Facebook:https://www.facebook.com/claire.light.7
---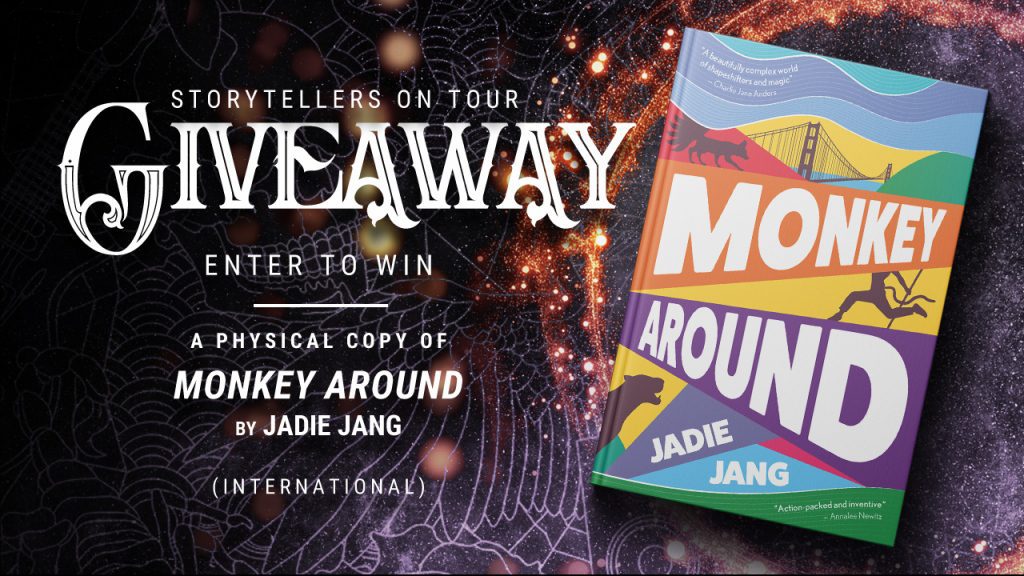 ---
Prize: One physical copy of Monkey Around by Jadie Jang – International
Starts: August 18th, 2021 at 12:00am EST
Ends: August 23rd, 2021 at 11:59pm EST
Enter for your chance to win here!
---