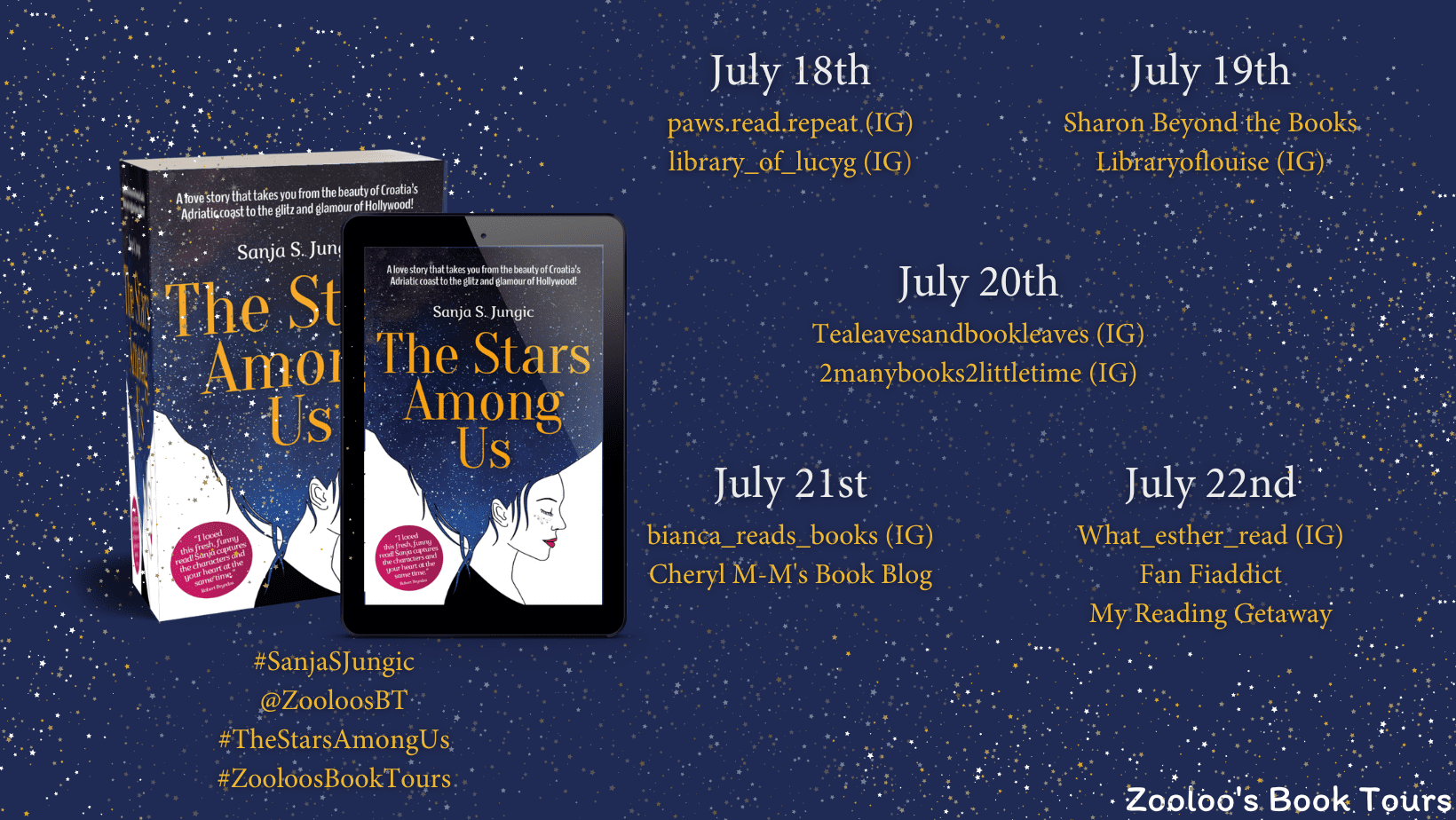 Rating: 6.75/10
It's blog tour day with Zooloo's Book Tours for The Stars Among Us by Sanja S. Jungic.
Sanja S. Jungic's bestselling debut novel, Zvijezde medu nama (The Stars Among Us) was published in Croatian in 2019. The novel was inspired by Sanja's real life experience on the set of mega-popular show Game of Thrones, gaining a lot of press interest.
This is her bestselling novel in English for the first time.
Synopsis:
Nora is as shocked as her friends and family when she quits a perfectly good job to become an extra in a Hollywood movie being filmed in Dubrovnik. She hopes it will help her move on from a painful break-up and give her breathing space to find out what she wants to do with her life.
To Nora's delight she discovers that she loves every minute in her new "temporary" career. It doesn't hurt either that the handsome assistant director, Ivor, takes more than a passing interest in her. But then events take a dramatic and unforeseen turn when Lucas Winter, world-famous actor and Nora's teenage heartthrob, unexpectedly arrives on set…
The Stars Among Us is inspired by the author's real-life experience of being an extra on the set of HBO's Game of Thrones. Perfect for fans of Sophie Kinsella, Lindsey Kelk and Susan Elizabeth Phillips.
Review:
The Stars Among Us definitely has a fun setting. Partly in Croatia and partly in California, we are at no loss for scenery and atmosphere. I haven't read many books set in Croatia, so it was a lovely change.
The novel started slowly for me and took a few chapters to hook me. After that, it was very easy to read and fly through. By the time I was turning the last pages, I was surprised to be finished with it already.
Nora's life is definitely a bit messy, but what rom-com character's life isn't? I found that I didn't fully connect with her that much and it was hard for me to fully get behind her relationships. I also felt like things kept changing much too quickly and I got a bit of whiplash from keeping up with her.
To be honest though, the way that people got hurt in this book wasn't unrealistic. I do feel like most people have hurt someone romantically that didn't deserve it on the path to finding their way in their own love life. Jungic knows how to portray the emotional casualties that may happen when people are in the midst of finding themselves.
I know this book is certain to satisfy many romance and rom-com readers out there. Thanks so much to the author and to Zooloo's Book Tours for having me!