I want to thank Titan Books for allowing me the opportunity to have a Q+A with Josh, and a massive thanks to Josh for putting up with my inane questioning like a champ.
I've been hearing non-stop, amazing things about The Shadow Glass and it sounds like the perfect nostalgic read for those who enjoyed the Henson Company puppet classics Labyrinth and The Dark Crystal, and The NeverEnding Story.
But don't take my word for it, check out info on the book and my Q+A with the author below!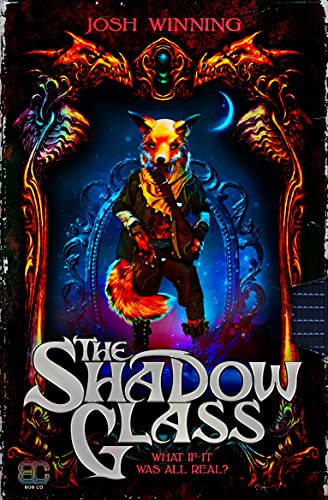 Blurb
A thrilling race against the clock to save the world from fantasy creatures from a cult 80s film. Perfect for fans of Henson Company puppet classics such as Labyrinth, Dark Crystal and The Never-Ending Story.
Jack Corman is failing at life.

Jobless, jaded and on the "wrong" side of thirty, he's facing the threat of eviction from his London flat while reeling from the sudden death of his father, one-time film director Bob Corman. Back in the eighties, Bob poured his heart and soul into the creation of his 1986 puppet fantasy The Shadow Glass, a film Jack loved as a child, idolising its fox-like hero Dune.

But The Shadow Glass flopped on release, deemed too scary for kids and too weird for adults, and Bob became a laughing stock, losing himself to booze and self-pity. Now, the film represents everything Jack hated about his father, and he lives with the fear that he'll end up a failure just like him.

In the wake of Bob's death, Jack returns to his decaying home, a place creaking with movie memorabilia and painful memories. Then, during a freak thunderstorm, the puppets in the attic start talking. Tipped into a desperate real-world quest to save London from the more nefarious of his father's creations, Jack teams up with excitable fanboy Toby and spiky studio executive Amelia to navigate the labyrinth of his father's legacy while conjuring the hero within––and igniting a Shadow Glass resurgence that could, finally, do his father proud.
Q+A
1. Tell us a bit about yourself.
I'm a movie-loving, book-devouring, 80s fantasy obsessive who somehow managed to make a career out of writing. Also, I love cats. For the past decade or so, I've worked in London as a film journalist for magazines like Total Film, SFX and Radio Times—I once shook Dwayne 'The Rock' Johnson's hand!—and I'm the author of The Shadow Glass, published by Titan Books.
2. Who are some of your biggest writing influences?
There are so many! Robin Jarvis was a big moment in my young life—I still have all my childhood copies of his books, which are in as near-perfect condition as I've been able to keep them through a lot of house moves. He writes atmospheric fantasy mysteries that are like really satisfying jigsaw puzzles, I love the way everything ties together at the end—my favorite is The Whitby Witches. Other author influences include Sally Green, Grady Hendrix, and Riley Sager.
3. When did you decide to start taking writing seriously?
I have a vivid memory of being 27 and looking at my half-finished manuscript, which I'd been working on for easily a decade, and thinking, "I REALLY need to finish that thing." So I decided to spend an hour a day on it, writing, rewriting, re-reading until I could practically recite it blindfolded. I decided I really did want to fulfill this dream of writing books, so I made room for it in my life. When I had a finished manuscript—a BOOK!—I finally felt like I might be able to make it as an author.
4.When you hear or say the word nostalgia, what comes to mind? This can be as literal or vague as you want it to be
The first thing that comes to mind is watching VHS tapes on the tiny square TV I had at the end of my bed as a teenager. I had an enormous video collection that mostly consisted of films and TV shows I recorded off TV and meticulously labelled. I had everything from The Addams Family Values, Splash and Masters of the Universe to Buffy the Vampire Slayer and The X-Files. Of course, when DVDs came on the scene, I was so enamored by the amazing picture quality (in widescreen!) that I gradually fazed out my videos. It's a shame because I really miss my Labyrinth VHS!
5. When thinking about the past, what are some of the big nostalgic pieces of film, TV, fiction or pop culture that define you today?
The 1980s fantasy films of Jim Henson are key to my identity and survival in this world! I discovered Labyrinth and The Dark Crystal when I was very young in my local video shop, and they became firm favorites. More than that, they tapped into this part of me that needed to escape the real world every once in a while, and they provided characters to both love and fear.
In terms of fiction, I was hugely into Point Horror and RL Stine, and then Christopher Pike—I loved losing myself in those glamorous American lives. Nineties family films continue to provide a safe space for me to retreat to whenever I need them—I constantly rewatch films like Sister Act, Don't Tell Mom the Babysitter's Dead, Mrs Doubtfire and The Mask. I still remember when the first Toy Story came out, and being blown away by the animation. Yes, I'm that old.
a. Is there one that stands out above the rest?
It's so difficult to decide on a favorite as they're all great in their own ways, but lately The NeverEnding Story has become my go-to. It does some truly awe-inspiring things with storytelling. I love the way it looks at the power of stories, and the way it invites the viewer to be part of Bastian's journey. I get chills just thinking about it.
6. Tell us a bit about your writing process. What worked? What didn't work?
I'm constantly learning and relearning how to write! That's partly because every project demands something different, and partly because I like testing out new approaches that I've read about—I love reading books about the craft of writing, such as Will Storr's The Science of Storytelling and Stephen King's On Writing. Often, my process boils down to three key elements: the setting, the main character, and the threat. If I can define those things as specifically and as colorfully as possible, I can build a story around them.
7. Can you tell us what The Shadow Glass is about?
It's about the son of a movie director who goes on a real-world quest with the puppets from his father's 1980s fantasy film. It's a big love letter to all the 80s films I mentioned earlier, plus a heartfelt look at fandom and family.
8. Was Jim Henson a big inspiration for this novel?
It's impossible to overstate just how important Jim Henson was to the creation of The Shadow Glass. The book simply wouldn't exist without him. I've always loved his films, but it was actually the stories about his behind-the-scenes struggles to get movies made that really inspired The Shadow Glass. The fact that Labyrinth was deemed a commercial "failure" really lit a spark in me, prompting me to write this book to explore how this idea of failure might manifest—and of course I just wanted more stories like the ones Henson produced, so I decided to write my own!
9. Do you plan to write more in this world?
For now, no. From the start, I conceived The Shadow Glass as a standalone novel, with no real plan for a sequel. But I do have a couple of ideas floating around that may one day coalesce into something I want to write. Until then, I hope people enjoy reading and rereading The Shadow Glass, and finding all the little Easter eggs and in-jokes I've hidden amid the puppet chaos—there are A LOT!
10. What are you working on now?
I have a couple of projects on the boil. I've already written my next adult book, which is sort of like a dark reflection of The Shadow Glass (watch this space!), and I'm about to start writing something else completely new. We'll see what happens!
11. Do you have any reading recommendations?
So many! All the White Spaces by Ally Wilkes is an excellent, marrow-chilling horror novel about an arctic expedition. Clown in a Cornfield by Adam Cesare is an ingenious slasher-movie-as-novel. We Begin at the End by Chris Whitaker is as close to a Stephen King novel not written by Stephen King as I've read in YEARS. And if you want something utterly unique and beguiling, check out Glitterati by Oliver K Langmead, a fashion-industry dystopian satire that is brilliantly its own thing.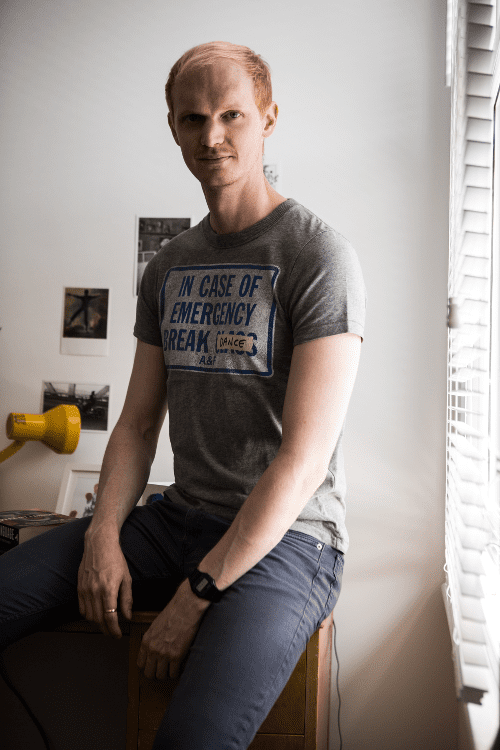 About the Author
Josh Winning is a nostalgia nut, book/film lover and author of The Shadow Glass, which is perfect for fans of Henson Company puppet classics Labyrinth and The Dark Crystal, and The NeverEnding Story.
He is senior film writer at Radio Times, contributing editor at Total Film magazine, writer at SFX and Den of Geek, and the co-host of movie podcast Torn Stubs. He has been on set with Kermit the Frog (and Miss Piggy), devoured breakfast with zombies on The Walking Dead, and sat on the Iron Throne on the Dublin set of Game of Thrones.
Josh lives in London with his cat Penny and dreams of one day convincing Sigourney Weaver to yell "Goddammit!" at him.