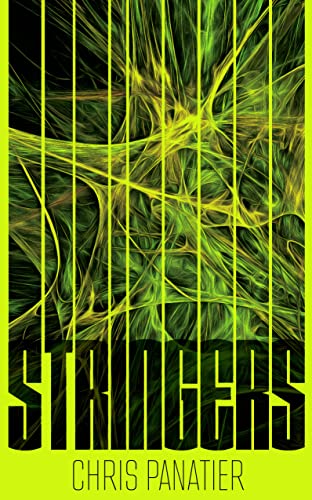 Rating: 7.75/10
Synopsis:
A genius is abducted by an alien bounty-hunter for the location of a powerful inter-dimensional object. Trouble is, he can't remember a thing.
Ben isn't exactly a genius, but he has an immense breadth of knowledge. Whether it's natural science (specifically the intricacies of bug sex), or vintage timepieces, he can spout facts and information with the best of experts. He just can't explain why he knows any of it. Another thing he knows is the location of the Chime. What it is or why it's important, he can't say.
But this knowledge is about to get him in a whole heap of trouble, as a trash-talking, flesh construct bounty hunter is on his tail and looking to sell him to the highest bidder. And being able to describe the mating habits of Brazilian bark lice won't be enough to get him out of it.
Review:
Bug sex, bounty-hunting aliens, and pickles.
It's blog tour day with Angry Robot and Chris Panatier is back again with an absolutely original novel! If you've been following me for a bit, you might remember I'm heavily into fantasy but have a harder time getting into spacey science fiction. That being said, even though I'm not the world's hugest SF fan, this was a really fun novel.
Panatier brings the humor in Stringers. I mean, who else can make a jar of pickles the star of the show? If you read any review, you WILL see mention of the pickles. Such a little thing that became such an amusing thread throughout the book. I spent a good amount of the novel laughing out loud. I especially loved the banter between Ben and Patton. Their friendship was wholesome, yet went through some trials in this novel.
There was also a streak of seriousness within the novel, especially as Ben is introduced to an addictive substance. We see him go through a shift as he becomes more dependent on it and it takes the book to a new level.
There's a lot of info about bug sex in this book. A lot. I can just imagine Panatier researching this and it makes me laugh even more.
This book features footnotes, which, I think writers are aware that readers often love or hate footnotes. I'm not usually the biggest fan, but I didn't mind them here. It added to the mysterious narrative in Ben's head of bugs and watches.
Stringers is unique, witty, fast-paced, and humorous. Panatier's books will slap you awake and keep you entertained until the end. I enjoyed it very much and can say that if you're a big science fiction fan, this book is likely to be one of your favorite books this year!