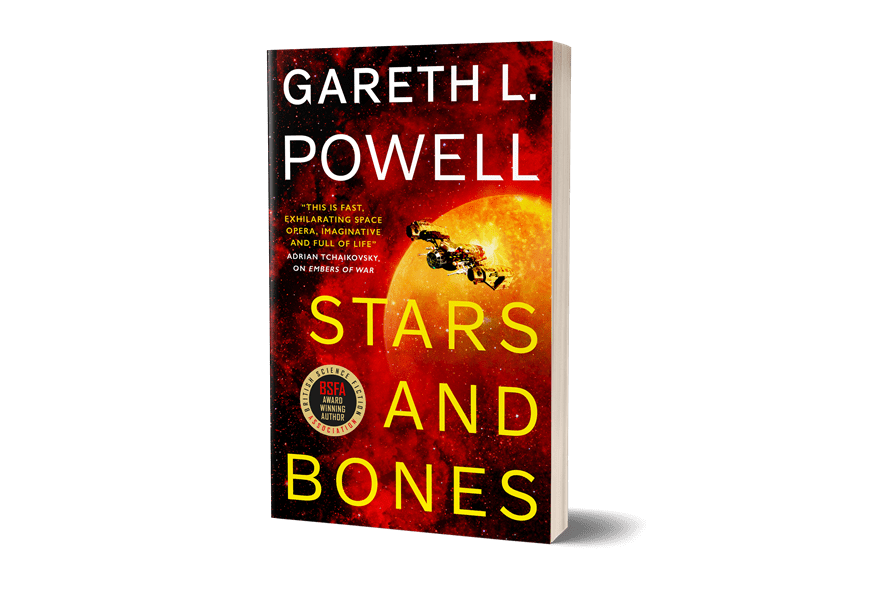 "Powell's writing is fast-paced and fun and full of adventure. He's on my must-read list."
Ann Leckie, on Embers of War
STARS AND BONES
GARETH L POWELL
A new adventure begins…
From the multi BSFA award-winner of the critically acclaimed Embers of War trilogy comes a stunningly inventive, action-packed science-fiction epic adventure. This is the start of a brand-new series that will delight fans of Becky Chambers, Ann Leckie and Adrian Tchaikovsky.
Seventy-five years from today, the human race has been cast from a dying Earth to wander the stars in a vast fleet of arks—each shaped by its inhabitants into a diverse and fascinating new environment, with its own rules and eccentricities.
When her sister disappears while responding to a mysterious alien distress call, Eryn insists on being part of the crew sent to look for her. What she discovers on Candidate-623 is both terrifying and deadly. When the threat follows her back to the fleet and people start dying, she is tasked with seeking out a legendary recluse who may just hold the key to humanity's survival.
Star and Bones is the first book in a new space opera series.
Amazon US
Audible
Barnes & Noble
Goodreads
Q&A w/ Gareth
1. Tell me a little bit about yourself
I'm a full-time novelist based in the UK. I write science fiction about extraordinary characters wrestling with the question of what it means to be human, and I have won and been shortlisted for several major awards, including the BSFA, Locus, BFA, and Seiun. I have two teenage children and am engaged to the American author J. Dianne Dotson.
2. When did you start writing? When did you start writing seriously?
I have written fiction for as long as I can remember, but I never expected to be able to make a career out of it. It was only at the turn of the millennium that I decided to get serious and finish my first novel.
3. Did you read a lot growing up? Who were some of your go-to authors?
My parents were both teachers, so I learned to read before I started school. My mother would take my siblings and I to the local library once a week, where we could borrow four or five books—and it was in that library that I discovered written science fiction, starting with books such as Brian Earnshaw's Dragonfall 5 series, and then moving on to Clarke, Niven, and Heinlein.
4. Of those authors, who would you say are some of your biggest influences?
Larry Niven was a big influence for a while. I loved The Ringworld Engineers as a teenager. But our politics and styles diverged as I got older. I discovered William Gibson's 'Sprawl' series in my twenties, and that had a profound effect on some of my early published short stories. I think you can clearly see the influences of Philip K. Dick and Michael Moorcock in my Ack-Ack Macaque novels, too.
5. Can you talk about your writing process, and how it has either stayed the same or changed over the years?
My writing process now is the same as it was when I wrote my first novel. I will start with an idea or a character, and then gradually add more ideas, situations and characters until the whole thing achieves a kind of creative critical mass, and I know I'm going to be writing a novel. After that, I tend to write several two-or-three page outlines, working out the general shape of the plot. I don't like to over-plan, however, as I find that kills the joy of creating the story on the page.
6. Your novel, Embers of War, is being adapted as a TV series. How much involvement do you have or plan to have, or would you rather hand over creative control?
The simple fact is, I have absolutely zero control. TV is an entirely different medium, and so the studio has very sensibly employed a professional screenwriter and an experienced director in order to translate the story from book to screen. They have asked my opinion on a few things, but all the final artistic decisions will be theirs. And I really look forward to seeing how they have interpreted my original vision.
7. Can you talk a little bit about your newest novel, Stars and Bones?
Stars and Bones is the first in a new series, but it is also a standalone. The story is self-contained, so you don't have to worry about waiting for sequels. All the books in this series will be standalones and feature different characters, with the idea that they can be picked up and read in any order, much like Iain M. Banks' 'Culture' novels.
In Stars and Bones, the human race has been banished from the Earth and set adrift in a fleet of massive arks—only to discover that the cosmos is weirder and more dangerous than they could have possibly foreseen.
8. What are some things you hope readers will take away from this novel?
Obviously, I hope they'll enjoy it as an adventure. It's exciting, scary and entertaining. But on a deeper level, perhaps it might make them think about some of the assumptions that as a society, we take for granted. Things don't always have to be the way they are today; change is possible.
9. You released a non-fiction book called About Writing back in 2019 where you share insights and tips from the world of fiction. What is a big piece of advice you would give to aspiring writers today?
Gollancz will be publishing a revised and much-expanded version of About Writing this summer, covering everything from finding an initial idea to marketing your book online. But if I had to choose one piece of advice for a fledgeling author, it would be to read. Read good books and bad books. Work out what makes the good books good and the bad books bad. See how authors create effects with their prose. How they communicate ideas. Look at what they don't say as much as what they do.
10. Have you read anything recently that you would recommend?
Far too many to list, but I'd definitely recommend recent works by Adrian Tchaikovsky, John Scalzi, Elizabeth Bear, Aliette de Bodard, Paul Cornell, Becky Chambers, Nnedi Okarafor, and Tade Thompson.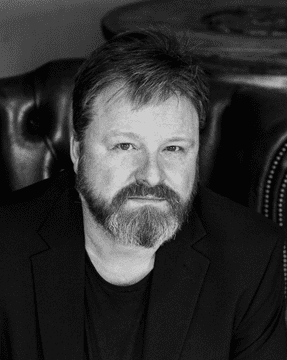 About the Author
Gareth L. Powell was born and raised in Bristol, and his early mentors included Diana Wynne Jones and Helen Dunmore. His novels have twice won the BSFA Award, and been finalists for both the Locus Award in the US and the Seiun Award in Japan. He is probably best known for his acclaimed Embers of War space opera series, which includes the novels Embers of War, Fleet of Knives, and Light of Impossible Stars. He is a popular guest and speaker at conventions and literary events, and can often be found on Twitter @garethlpowell giving free advice to aspiring authors.
PRAISE FOR THE EMBERS OF WAR SERIES
"This is fast, exhilarating space opera, imaginative and full of life."
Adrian Tchaikovsky
"Embers of War has everything you would want in a space opera and more."
Tade Thompson
"A big, proper, old fashioned space opera."
Philip Reeve
"Powerful, classy and mind-expanding SF, in the tradition of Ann Leckie and Iain M. Banks."
Paul Cornell
"A compelling and satisfying whole."
Guardian
"Thoughtful, creative and lively, with a definite whiff of Graham Greene during his poking-fun-at-colonialism phase, this is top-class space fiction."
Morning Star
"A great sci-fi series, one likely to delight fans of Peter F Hamilton and Iain M Banks. Great stuff."
Starburst Magazine
"Will appeal to fans of Leckie, Iain Banks, and Anne McCaffrey."
Booklist
"An explosive finale with strong series potential."
Publishers Weekly
"Embers of War is very definitely space opera – one might even say defiantly so."
Locus