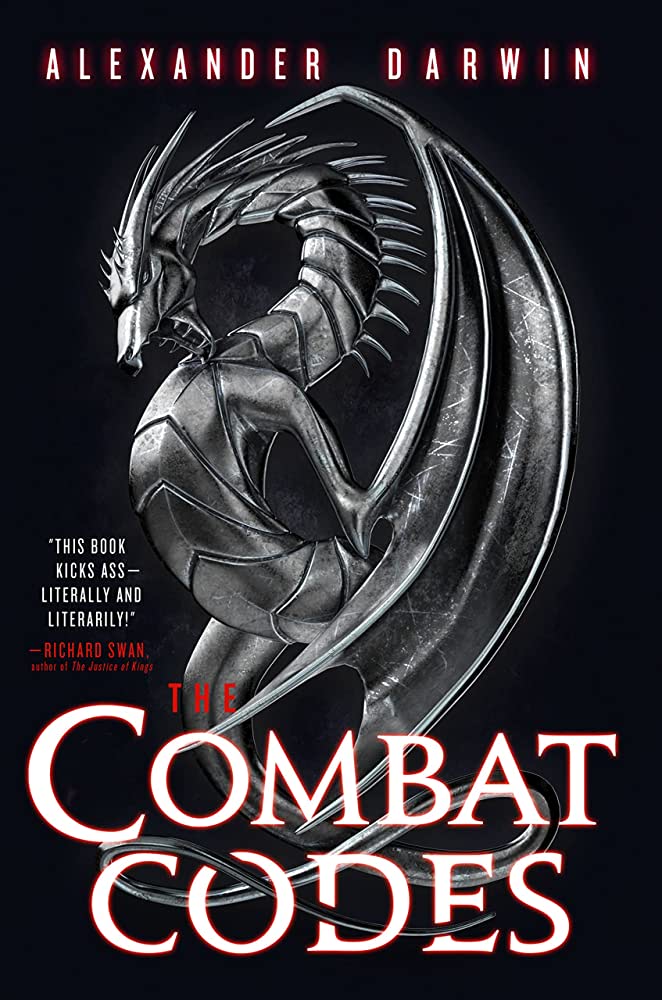 Rating: 8.75/10
Synopsis:
In a world where battle-hardened warriors determine the fate of empires, war-ravaged nations seek out a new champion in the first book of a thrilling science fantasy trilogy: "that rare book that fully satisfies me as an action fan" (Fonda Lee, author of Jade City).
In a world long ago ravaged by war, the nations have sworn an armistice never to use weapons of mass destruction again. Instead, highly-skilled warriors known as Grievar Knights represent their nations' interests in brutal hand-to-hand combat.
Murray Pearson was once a famed Knight until he suffered a loss that crippled his homeland — but now he's on the hunt to discover the next champion.
In underground and ruthless combat rings, an orphaned boy called Cego is making a name for himself. Murray believes Cego has what it takes to thrive in the world's most prestigious combat academy – but first, Cego must prove himself in the vicious arenas of the underworld. And survival isn't guaranteed.  

The Combat Codes will be published traditionally via Orbit on June 13 2023. It was previously self-published and a finalist for SPFBO.
Review:
The Combat Codes was a fantastic novel! I cannot wait to get to the next one. I found myself fully immersed from the beginning. I have had a tough time with fantasy reads this year because I think I overdid it in the past few years. My brain has been rebelling! So when I started reading The Combat Codes and didn't want to stop, I was thrilled. I began with an ebook copy gifted to me via Orbit and then I actually reached out to Hachette Audio to see if they had an audio code, as I didn't want to stop my journey within this novel. I was able to completely get lost into all this book had to offer without interruption between the two.
I found both experiences absolutely lovely. The audio was helpful for name pronunciations and the ebook allowed me to highlight and really get the subtle qualities down. The Combat Codes was enthralling and the audio production was paired perfection.
As for the writing, you can tell that Alexander Darwin is extremely passionate about martial arts and the people who practice it. He writes the fight scenes with expertise and I found these scenes to be very engaging. Through Murray and Cego, we see compassion for others, rage against injustice, and a will to change the world. The prose was straightforward and light. I think this was exactly the novel I needed at this time. Though serious things are happening, it was fun and easy to read.
I think we got to know Cego and Murray pretty well. I think some of the sides characters, we could stand to learn a bit more about and hopefully will do so in the next book.
We are left with a bit of a cliffhanging revelation, yet the novel tidied up nicely at the end otherwise. The ending promises a building of these characters and their journeys. I'm eager to see where Darwin takes us in the next book.
Thanks again to Mihir from Fantasy Book Critic and the author, Alexander Darwin, for having me on the blog tour. Also, to Orbit and Hachette Audio for the gifted copies.
About the Author:
Alexander Darwin is an author living near Boston with his wife and three daughters. Outside of writing, he teaches and trains martial arts (Brazilian Jiu Jitsu). He's inspired by old-school Hong Kong action flicks, jRPGs, underdog stories and bibimbap bowls.
Outside of writing fiction, Alexander has written for publications such as Rolling Stone Magazine, Jiu Jitsu Style and SF Signal. His latest piece, The Lost Diary of Anthony Bourdain, was a featured piece in Rolling Stone's January 2022 Issue.
Author Links:
Website – http://www.combatcodes.com/
Where to buy TCC from – USA & UK
Alexander on Goodreads – https://www.goodreads.com/author/show/14664130.Alexander_Darwin
Alexander on Twitter – https://twitter.com/combatcodes
Alexander on Instagram – https://www.instagram.com/combatcodes/
Alexander on Facebook – https://www.facebook.com/CombatCodes/
Alexander on TikTok – https://www.tiktok.com/@combatcodes
Blog Tour Participants:
June 6th (Tuesday) – Queen's Book Asylum
June 7th (Wednesday) – Space and Sorcery (Adventures in Speculative Fiction)
June 8th (Thursday) – Out of This World SFF
June 9th (Friday) – Bookwyrms Den
June 10th (Saturday) – Under the Radar SFF Books
June 11th (Sunday) – Grimdark Magazine & FanFiAddict
June 12th (Monday) – Fantasy Book Critic
June 13th (Tuesday) – WeatherWax Report & Jessie Mae Books