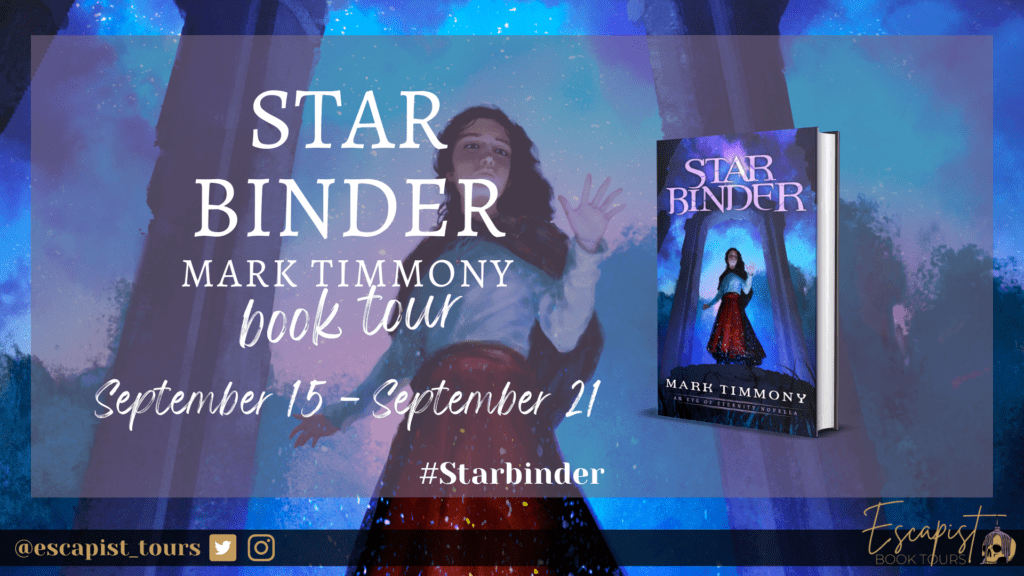 Synopsis
Forged in betrayal. Tempered by the stellar winds. Chosen by the stars.
For five hundred years since the Sundering, the order of the Shaluay Starbinders has been dwindling. With their Starwells lying dormant, key artefacts of their order lost and their seers driven mad by the powers that broke the world, only one hope remains to the man who leads them; a fifteen year old girl.
Born to a clan of Wanderers, Reiana has been raised by a harsh grandmother who blames her for the death of her daughter, Reiana's own mother. When bandits attack the clan's camp, Reiana leaves the safety of the caravans to pursue the abductor of her younger cousin, heedless of the dangers.
But when a creature of the Void takes notice can Reiana's own untapped abilities save her, or will the truth of a betrayal see her lost forever?
Starbinder is an action-packed prequel novella to The Blood of the Spear. If you like flawed heroes, fast-paced storytelling, and intricate world-building, then you'll Love Mark Timmony's character-driven introduction to the epic fantasy series, The Eye of Eternity.
---
With thanks to Escapist Book Tours & Mark Timmony for allowing me to be part of this tour for this wonderful book!
I had the pleasure of reading Starbinder, the prequel novella to the Eye of Eternity series by Mark Timmony, earlier this month and wow! This tale was so good! I loved the characters, the magic, the imagery, but most striking of all to me was the fantastically rich world that Mark creates in just a short span pages. I became enamoured by it, and when I signed onto this tour, I just knew I had to talk to Mark about Worldbuilding.
So, please check out my Q&A on Worldbuilding with Mark Timmony below. And once you read this, be sure to grab a copy of this brilliant novella (links at the bottom of this post). Enjoy!
---
1) Thank you for agreeing to do this Q&A on Worldbuilding, Mark! I'm very excited to pick your brains, especially after experiencing the mind-boggling magic & sheer vastness and depth of the world that is presented to us in Starbinder (and presumably only grows in The Blood of the Spear). With regards to both magic & worldbuilding, do you believe that these two aspects of fantasy storytelling are inextricably linked, and how does one feed into the other?
Hi Harry, thank you for having me, and thank you for your kind words.
Yes, I do think magic and worldbuilding are linked; to my mind they are like the threads that go into the weaving of a tapestry, pull one and the whole thing can unravel. The world is the stage the writer sets their story on, so magic – if it's part of the world that the writer has created – is a much a part of that setting as the sun and moon(s), as the weather that effects the characters. It's all part of the same tapestry for me.
2 ) Watching a previous interview you did with FanFiAddict, you mention that you have been reading & writing fantasy all your life. What are some of your inspirations in terms of world & setting from your early years that still act as a foundation to your writing now?
That's a tough question because I get inspired by every author I read – the ones who become my favourites anyway – but from my early years it would be the world of Dragonlance as presented by Margaret Weis and Tracy Hickman, Midkemia (and Kelewan) by Raymond E. Feist, all the works of Janny Wurts (although more for lore rather than locale) and of course the world of The Wheel of Time by Robert Jordan. I carry aspects of the worlds of these writers with me all the time, they are the seed from which my world of Sobia has grown.
3) Whilst we are on the topic of fantasy inspirations, what are some of your favourite examples of worldbuilding from modern fantasy and what makes you enjoy them so much?
Hmmm, I always go blank when I am asked questions like this lol. I really enjoy Melissa McPhail's world of Alorin (in the Patterns of Shadow and Light series). Her worldbuilding in terms of magic system, history and lore is just phenomenal, multiple worlds and dimensional travel as well as six distinct types of magic – it's astounding. Another absolute favourite is the worldbuilding of Mark T. Barnes, an Aussie author and good mate. He is relentlessly inventive and goes to great lengths to make sure that nothing in his work is 'standard' fantasy fare. He sinks the well deep with lore, history and culture, and it permeates his story (can you see a theme here in what moves me with worldbuilding lol).
4) The glimpse of the cosmic infused world of Athmay that we get in Starbinder is truly jaw-dropping in terms of its scope and vastness. What made you focus on the astrological magic of this world for the novella, and how did you come up with something so intricate?
All magic in my world comes from the Eye of Eternity – the centre of the universe and a nebula that can been seen in the sky from the world of Sobia – the Light that this 'eye' sheds is called Asai, and any character that uses magic in my story is using that energy in one form or another.
As the focus of the story in terms of world factions is on the Shaluay Starbinders, it's their system of magic that is referenced in the text (although we also see a glimpse of the magic of Des'maadr, the Light of the Void, the antithesis of Asai).
Humans aren't native to the world of Sobia, they come from a far-future society and all the ideas of technology that type of setting would entail – not that the general populace knows that! Arriving on Sobia some men and women discovered the power of Asai and built a civilization undreamt of by their star-faring forefathers on the back of it. The Shaluay are a remnant of that distant past, in both philosophy, history and outlook. Traditionally they have played the role of lore keepers, advisors and healers on this world, and their own magic grew out of the melding of Asai and their knowledge of quantum mechanics, which makes it very different to the magic systems of the Summoners, the Ciralys or the native races of Sobia.
Why the stars? Well, when I was fleshing it out, I needed it to be distinctly different to the other systems of magic – yet also aligned. So, I looked more closely at what the background of the Shaluay actually was, and what did they bring with them to this new world? The source code for their system became the older human traditions of divination – the Futhark, I-Ching, and Astrology – so it was a natural progression to link that to a technologically advanced knowledge of spatial navigation, and from that to the stars themselves and the powers aligned with those heavenly bodies. Which is also fitting because the Shaluay try to 'guide' humanity and are often looked upon suspiciously for it.
5) I love high fantasy worlds that have an incredible sense of depth and history like your world does. As someone who is writing their first novel, however, worldbuilding for me has always been the most difficult part (as I tend to just want to get back to the plot and characters as opposed to constructing these rich worlds that I adore and aspire to create). What tips would you have for fledgling writers such as myself?
I think as writers we need to remember that the world our characters are living in, and whose cities and realms the story is playing out in, is a character also.
Giving your world 'personality' – be it unique physical features, deep lore and history, vibrant and individual cultures and customs – is really important.
It's definitely a balancing act, but I think it's a mistake to just leave the details light or any afterthought. And I think it's lazy to rely on our own world, cultures, and customs – and the audiences inherent understanding of them – to dress our stage or to explain away our characters responses and actions.
It's what gives a tired old trope new life – IMO.
6) And how do you personally build your settings and worlds/universes? Do you keep a world-bible; are there aspects you focus on; do you make it up as the story naturally progresses etc.?
I start with a map.
Then I name the places and start building out the position of states/realms/kingdoms. I think about the feel of the various places and then work through the cultures, customs and a light/flexible timeline – any place that is directly relevant to the story I tend to flesh out a lot more.
I do use a world bible (it's a google spreadsheet with lots of tabs) and I keep a style sheet for when I am writing.
Somethings grow with the telling of the story that I had no idea about before I started writing, and these are things I look for because it means my subconscious is working on the worldbuilding for me in the background lol
But I try not to go into too much detail or spend more time worldbuilding than I do writing. The goal is to write and often being overly focused on worldbuilding can be a form of procrastination.
7) What are your favourite pieces of worldbuilding that you have created for the Eye of Eternity series? If your answer is spoilerific, then just smile and wave!
Oh gosh, that's like asking a parent who their favourite child is! Um, well I like things like the Eye of Eternity nebula, the effects of the Sundering on the continent of Athmay and the history of the War of the Summoners.
Recently I have been fleshing out the history of Quedra, an independent island state off the east coast of Alania for book two. It's ruled by the Margraves of four houses, and I am very excited about it. Quedra wasn't like this when I first built the world, it was a bit of an afterthought actually, but now it's become its own thing and is really cool – I love it!
8) And finally (time for the silly question), if you could visit one fantasy world for a week, where would you go and why?
I used to dream about going to the world of The Wheel of Time, but now I just want to go to Sobia, my own world. And I don't think I'd come back lol.
---
If you liked this post, be sure to check out a load more that have been posted as part of the tour by clicking this link: https://escapistbookcompany.com/2022/09/14/the-heros-journey-starbinder-by-mark-timmony/
CHECK OUT & BUY STARBINDER HERE:
Amazon: https://www.amazon.co.uk/Starbinder-Eye-Eternity-Novella/dp/0645096555/ref=sr_1_6?crid=3R3JMXSY7OO41&keywords=starbinder&qid=1663594943&sprefix=starbinder%2Caps%2C63&sr=8-6
The Broken Binding: https://www.thebrokenbinding.co.uk/product-page/starbinder-hb-mark-timmony
Goodreads: https://www.goodreads.com/en/book/show/61090820