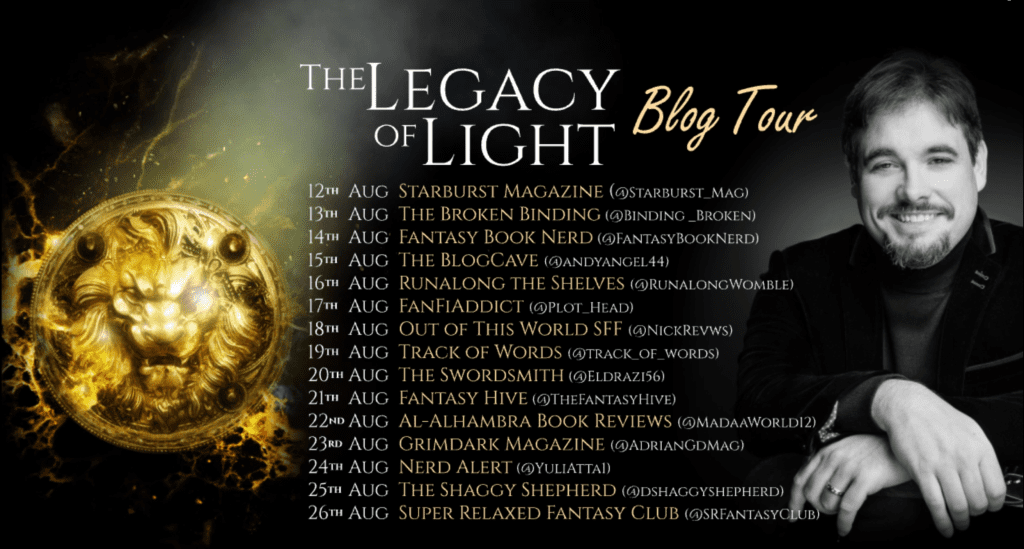 ---
Hello all and welcome to my stop on the blog tour for Matthew Ward's Legacy of Light! Many, many thanks go out to both Matthew and his publisher, Orbit, for graciously allowing me to participate in this tour. I am really excited to share with you guys what I have for you today; Matthew has written a fantastic guest post all about the idea of redemption as a character arc!
Check it out below, and if you haven't yet, be sure to check out our other stops on the tour! Jason (Traveling Cloak) has provided a review and Dan sat down for a Q&A with the man of the hour himself, Matthew Ward. You can read Jason's review here and Dan's interview with the author here.
---
---
Memorable characters are defined by so many traits. Love, duty, honour, desire, greed, fear, friendship … the list goes on and on. These traits spur heroes and villains alike into fulfilling their destiny, transforming patchwork constructs of verbs and adjectives into living, breathing individuals you can picture chatting to over a glass of something delectable (or else someone you really don't want to meet in a dark alleyway).
But for me, one particular trait outshines all others: redemption. The assassin who dies defending an innocent imperilled by his own bloody deeds. The scientist who sacrifices themself to put paid to their own dreadful creation. The crooked cop who brings down the gang leader she once grifted for, etc. The reverse heel turn where the black hat becomes white – or at least, thinks they do – if only for a moment. Some horror in the past – real or imagined (it only has to be real to the character, not the audience) – that defines the present. A sin that must be atoned for by word or deed, and underpins ever action the character takes.
Redemption's wonderful because it's so empathic. We all regret something we've said or done, even if that thing is objectively insignificant. We've all revisited those moments in the still watches of the night, and fantasised as to how things could have – should have? – played out differently. So it's easy to transpose that itchy feeling to the character we're following through a story. Sure, you've not actually killed the wrong man in cold blood, but you dodged the fine on that overdue library book the one time, and it's an eerily similar feeling. I'm told. I mean…
Wait. Never mind.
Pretty much every character in my Legacy Trilogy is on a redemptive arc, to a lesser or greater degree. They've all made mistakes – some are still making them, even though they're desperately trying to put those of the past far behind. Of course, not everyone gets the redemption they're seeking … because where's the fun in that? But these quests for atonement bind friendships, drive enemies further apart and propel the story onward through intrigue, heartbreak and carnage.
I should be careful, however, not to confuse redemption with absolution. We're talking about counterbalancing a particular deed (or deeds), rather than having all blame struck from the record. Genuine absolution – at least on some level – requires the character to put all the toys back in the box at the end of playtime. They can't simply atone for their mistake – they have to unmake it in the eyes of everyone. Absent of magical shenanigans or time travel (or both), this is beyond the reach of most redemption seekers. Consequences linger, if only in memory.
You see, the delightful, contrary joy at the heart of any redemptive struggle is that – deep down – it's a selfish, rather than selfless motive. Sure, the character might want to see a better version of themself reflected in someone else's eyes, but it's still the desire to see that reflection driving them forward. It's the ultimate 'ends justifies the means' pursuit. Even in what might be their finest hour, the redemptive character is awash in grey – their grand work corrupted from the start.
So what makes for a good bit of redemption?
First up, you have to care about the character who's seeking redemption. I know, I know. You should care about most (if not all) of the characters in a story. But with a redemption-seeker, it's vital. If you can't empathise with them, then their struggles simply won't matter.
How you do this is up to you. It helps if they're engaging in and of themselves, of course, but sometimes it's enough to care about what the redemption-seeker is doing. Some of the great redemption stories centre around monosyllabic or otherwise unsympathetic characters because we're invested in their purpose.
Beyond that, good redemption stories always foreshadow that the turnabout is going to happen. However, they're crafted in such a way that they leave you desperate – feverish that the dreadful writer isn't going to let you have that cathartic moment you could swear you've been promised for at least 300 pages.
As the writer, that means getting out the literary thumbscrews and tormenting the reader. Waft the 'road not taken' in front of your audience every so often – a chance for your redemption-seeker to do the right thing – and make sure it remains untrodden. Your audience will hate you, but it'll make the final act of redemption all the more cathartic because you've made them long for it.
Finally, tragedy is key to a great redemption story. Redemption has to hurt, and that hurt is only necessary because the character had the chance to do the right thing earlier, and didn't. Why didn't they listen to the better angels of their nature? Maybe there was no reward for doing so. Maybe there was a price they weren't prepared to accept … and with every page that ticks past, the steeper the consequences become. Yon consequences, of course, often end in death, but not always. It can be the loss of valued material possessions, or something intangible, like status or key relationships. The main thing is that your audience is empathic (see, there's that word again) with the redemption-seeker's loss. That's why death is so often the payoff – it's easy to buy into as a meaningful consequence. It also skips the question marks over the possibility of absolution. Sure, Darth Vader threw Palpatine down a reactor shaft, saving Luke and the Rebellion, but he wasn't exactly going to be getting 'Galaxy's Best Dad' mug or 'Hero of the Rebellion' T-shirt any time soon, was he?
---
About the Author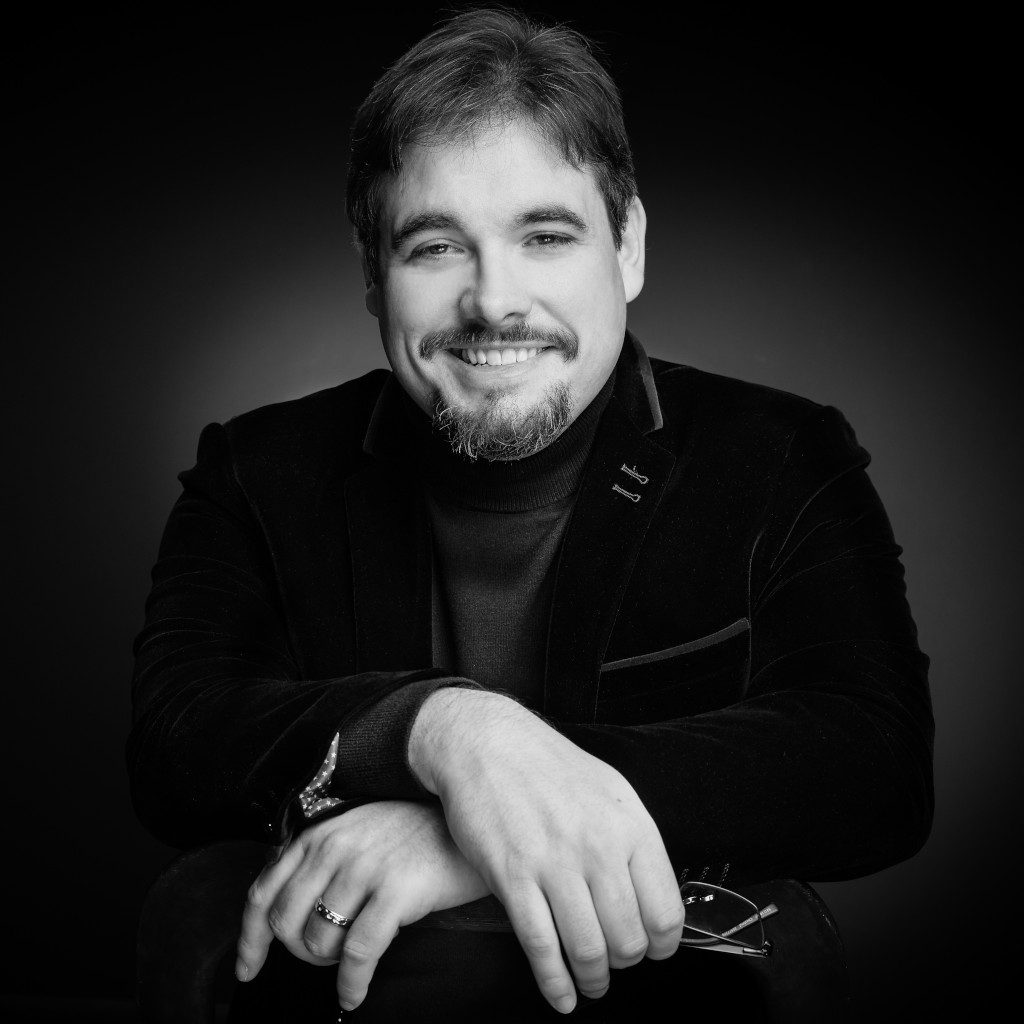 Cat-servant and owner of more musical instruments than he can actually play (and considerably more than he can play well), Matthew Ward is also the author of the Legacy Trilogy and a roaming Creative Consultant in video game land, titles such as Vermintide 2, [Redacted] and [Redacted] (pesky NDAs).
He's afflicted with an obsession for old places – castles, historic cities and the London Underground chief amongst them – and should probably cultivate more interests to help expand out his author biography.
After a decade serving as a principal architect for Games Workshop's Warhammer and Warhammer 40,000 properties, Matthew embarked on an adventure to tell stories set in worlds of his own design. He lives near Nottingham with his extremely patient wife – as well as a pride of attention-seeking cats – and writes to entertain anyone who feels there's not enough magic in the world.
Author Website: www.thetowerofstars.com
Twitter: @thetowerofstars
---