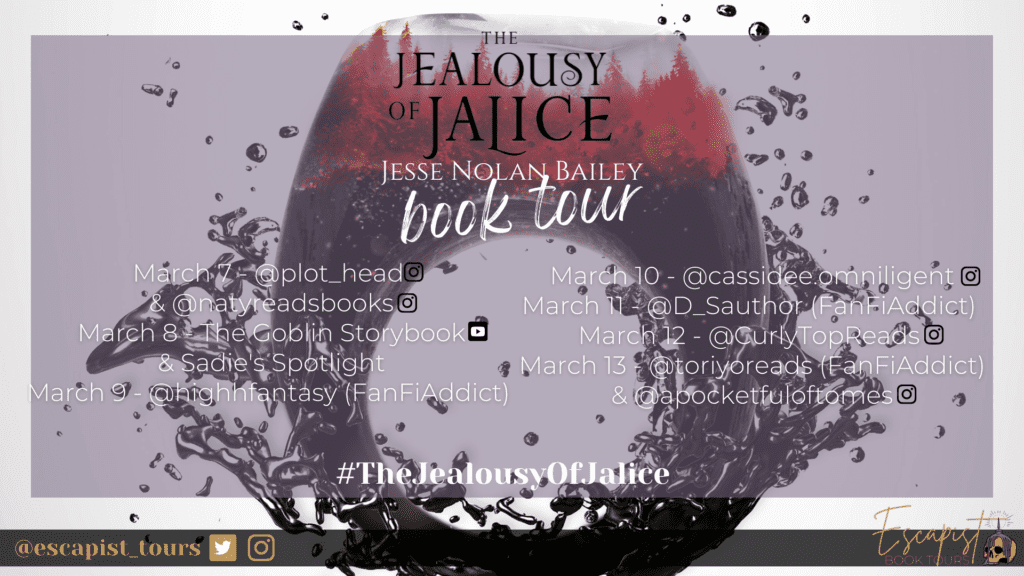 Jealousy of Jalice Synopsis:
The land and its people are corrupted. The Sachem, chief of the Unified Tribes, is to blame.
It is this conviction that drives Annilasia and Delilee to risk their lives. Afraid of the aether magic he wields, they enact a subtler scheme: kidnap his wife. In her place, Delilee will pretend to be the chieftess and spy on the Sachem.
Unaware of this plot against her husband, Jalice is whisked away by Annilasia. Pleading with her captor proves futile, and she rejects Annilasia's delusional accusations against the chief. After all, the Sachem has brought peace to the land.
Yet a dangerous truth hides in Jalice's past. As she and Annilasia flee through a forest of insidious threats, they must confront the evil plaguing the tribes and the events that unleashed it.
Content Warnings:
Violence
Gore
Drug-use
Manipulative relationships (romantic and platonic)
Body horror
Death/dying
Demonic possession
Kidnapping (adult)
Poisoning
Skeletons
Disturbing imagery/monsters
Smoking
Vomit
Warfare
Weapons
Slavery
To celebrate The Jealousy of Jalice, I did a rapid-fire Q & A with the author, Jesse Nolan Bailey. We hope you enjoy!
Q. How would you describe your book in ten words or less?
A. A chieftess confronts the consequences of betraying her brother.
Q. If you were a character in a fantasy book, what would be your weapon of choice?
A. Bow and arrow. Legolas understands.
Q. Desert island book?
A. Gotta be a standalone, so maybe Jurassic Park? It's both practical (about surviving on an island) AND fictional fun (it's dinos on an island after all).
Q. Kindle, physical, or audiobooks?
A. Physical all the way. I don't really encounter the circumstances to utilize audiobooks, and screens bother me for reading purposes.
Q. Favorite character in your books?
A. Annilasia. She encounters some creepy stuff, which is fun to write about. Plus she's gritty and tough—doesn't ever back down.
Q. Do you base any of your characters off people you know?
A. Not really. I might base them on fictional characters from other shows or stories, but not real people.
Q. Favorite character in someone else's books?
A. Perrin in The Wheel of Time series. He's the type of character I identify with the most.
Q. World-building, plot, character development: what's your perfect ratio of while writing or reading a book?
A. Worldbuilding is great, but plot and character development take precedence. You can even get away with a mediocre plot if the characters are written great, but usually readers (myself included) want a compelling plot to couple with those interesting characters. Worldbuilding, in my opinion, is just the flavor added to the recipe of a good story.
Q. Dogs or cats?
A. Cats mostly. I enjoy dogs, but they're a fulltime job—need constant attention, need to be walked, need to be let outside. Plus I think my personality aligns more with how cats carry themselves—aloof and constantly judging the world around them as less than.
Q. Coke or Pepsi?
A. No specific allegiance here. I don't drink a ton of soda, usually only at the movie theater.
Q. Tea or coffee?
A. Coffee all the way. I've only recently started trying tea, and so far, I much prefer to taste of coffee over that.
Q. Wine, beer, or liquor?
A. Wine = it all pretty much tastes the same to me, and the taste isn't great. Beer = only certain flavors. Specifically pumpkin ale, which is usually seasonal around Halloween season. Otherwise, beer is far too bitter. Liquor depends as well—it has to be mixed well, and it must certainly be sweet.
Q. Dream vacation?
A. Cliché fantasy writer dream vacation would be New Zealand. Lord of the Rings cosplay anyone? But seriously, I've heard that place has some incredible scenery and it's an added bonus that my favorite movie franchise was filmed there.
Q. Favorite quote?
A. "Man is a little germ that lives on an unimportant rock ball that revolves about a small star at the outskirts of an ordinary galaxy…I am absolutely amazed to discover myself on this rock ball rotating around a spherical fire. It's a very odd situation. And the more I look at things I cannot get rid of the feeling that existence is quite weird." – Alan Watts
Q. Favorite snack?
A. Anything chocolate. Especially cookies. Can't go wrong with chocolate chip cookies.
Q. Favorite show?
A. The one that probably had the biggest impact on me was LOST. At the time, it was most certainly my favorite show. I'm not sure I have a 'favorite show' of all time though. My recent favorites would be The Outsider on HBO (based on Stephen King novel), Archive 81 on Netflix, and Midnight Mass on Netflix.
Q. Favorite movie?
A. Again, not sure if I have an all-time favorite movie. The Lord of the Rings trilogy had a huge impact on my love and obsession for the fantasy genre. But of late, I've dived into horror, and for that genre, my favorite would probably be Hereditary.
Q. If you could choose your last meal, what would it be?
A. French Toast. It's breakfast and desert all in one go, my two favorite meals.
Q. Lastly, what's something you hope your readers get out of your book?
A. I hope that readers can connect with my characters, even if it's just in awe at how selfish and desperate my character's choices can be. Watching a crapshow can be just as entertaining as watching characters constantly making noble choices. I also hope readers enjoy the synthesis between fantasy and horror that this particular series brings—two genres that are dear to me.