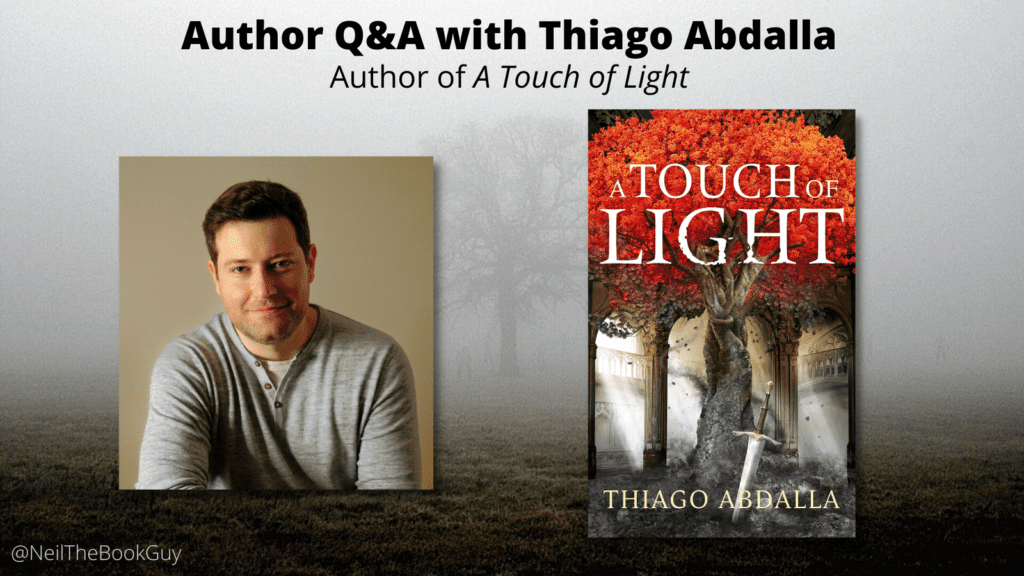 Hey friend! Welcome to my first ever author Q&A for FanFiAddict! My first interview is with an author whom I'm newly aquatinted with but fell in love with their debut novel, A Touch of Light, book 1 of the The Ashes of Avarin series. His name is Thiago Abdalla and I think you'll enjoying hearing what he has to say about who he is and his journey as a writer.
Author Bio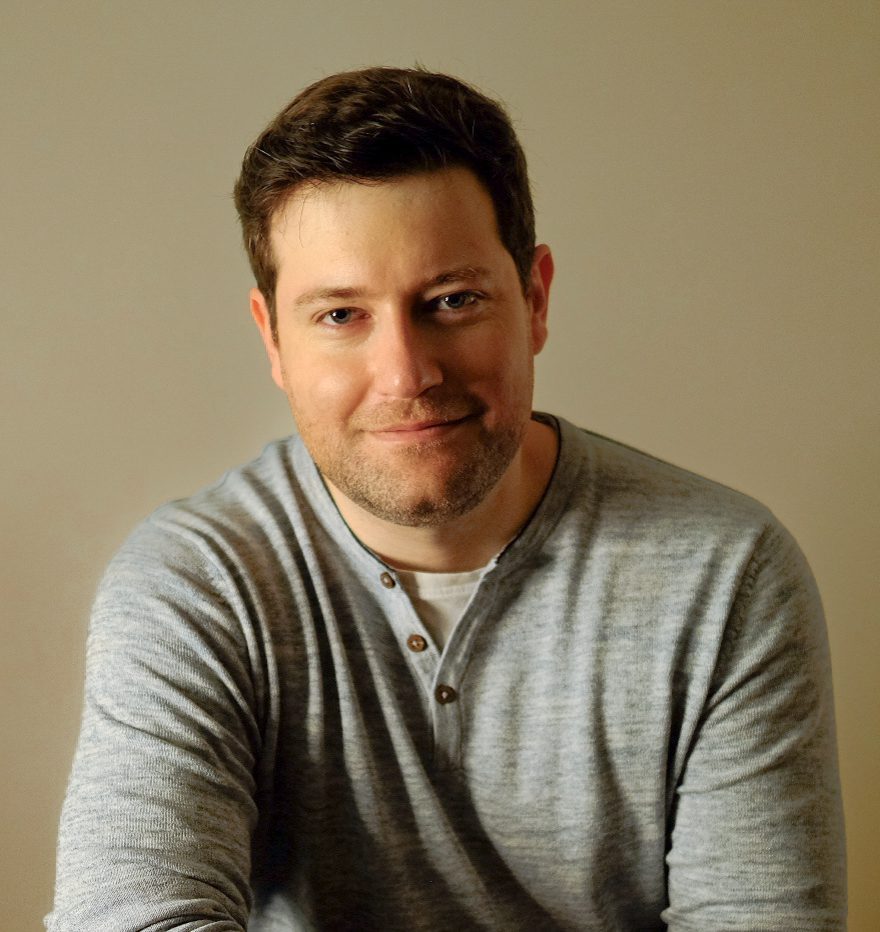 Thiago was born in Brazil but grew up in the fantasy worlds from the stories he kept in his mind. He has inhabited everywhere from Middle-earth and Azeroth to the planes of Dominaria, Ravnica and Tarkir. No matter the medium, what kept him coming back was always his love for story.
He could never wait for the next world to dive into, so, after being (indirectly) urged on by the (printed) words of Joe Abercrombie, Mark Lawrence, Patrick Rothfuss, N. K. Jemisin and many, many others, decided to create his own.
Q&A
Hey Thiago! Thanks so much for taking time to do a quick interview. Let's start with the basics: How long have you wanted to be a writer? Or when did you discover your passion for writing?
I'm not one of those writers who's had a story in mind all their lives. I've always been into fantasy. I've read, played video games, RPGs and especially Magic: the Gathering since I was a kid, but it took me a while to notice what always kept drawing me back was the story. Eventually, the idea just popped up. I'm not sure where it came from to be honest. I think the thought process was that I enjoyed these stories so much, I wanted to be a part of them, so I set out to create my own. I left the idea at the back of my mind for maybe ten years, however. It was only when my wife got pregnant that I decided I really wanted to take a shot at this.
Wow! That's amazing. Hard to believe you took that leap right when your life was about to turn upside down with a kid in the house! Speaking of family, what does your family think of you being a writer? Was that difficult for them to accept?
They are fully supportive! It's harder for them to read something in English, but I've been translating what I can.
That makes sense. I can't image having to translate an entire book after just having written it. How do you balance all those things? Family, work, writing, etc. And does it include a lot of coffee?!
I have a full-time job that is from 9AM to 6PM and a small child with another on the way. Writing time can get cramped in between all of this, so I try to create a slot of what I call 'sacred writing time' where nothing will pull me away. For this to work, I need to have everything set up. For me, this means an outline and all the information I intend to put into a chapter already laid out before I start. That way, I can jump right in whenever I have the time because I've already set-up a guide to lead me through the writing session.
And yes. I love coffee, Nespresso especially. My old machine works at least three times a day and I've gotten so used to it, coffee barely works to keep me awake anymore. It's almost the opposite, a nice warm drink to lull you to sleep.
Ah, so you're an outlining guy. I can imagine that would definitely be necessary with a book like A Touch of Light and having three different point of views! What made you decide to have 3 POVs? Was that always the plan?
It was always the plan. Each one has a specific role in the series, a reason why they exist and something important to accomplish. Their arcs will lead them to important things that I can't reveal right now, but the idea was always to have 4 in the series. I started with these three and there is a fourth coming in the next book.
Four?! That sounds amazing! I can't even imagine what type of new MC you would add in but I'm also just excited to hear you talk about book two. How long do you anticipate this story line going?
There will be four books in total. There is also a novella coming soon, probably early May, and there may be more novellas after that. This is a big world and I intend to use it, so maybe even more series can be set in it in the future.
Dang! I love it when authors write as much as they can out of their worlds. It really makes my reader self happy having some novellas to turn to after I finish the novels. Speaking of novellas do you have any recommendations of other novellas that fantasy lovers would enjoy?
I'm trying to add more novellas to my TBR. The most recent one I read is Ryan Cahill's The Fall, and it is excellent classic fantasy!
I've heard so many great things about Cahill's works. I've almost bought them from the Broken Binding but haven't taken the leap yet. What about books? Any book recommendations?
I don't manage to read a ton when writing, but I've read some really cool indies and am excited for more. My most recent read is Cold from the North by D.W. Ross. I've also delved into the first few pages of The Seventh Cadence by Jim Wilbourne and I was very impressed by his writing style. I'm excited to read more of that one soon.
Great recommendations. Who would you say has been the most influential writer in your life?
Mark Lawrence and Joe Abercrombie have influenced me greatly. I love everything about their work, and I've been fortunate enough to participate in Mark's discord. He's an incredible guy. I really like how Patrick Rothfuss leaves little details in his world building that are hidden in plain sight, so that was a big influence as well, and I also think many parts of this book were influenced by N. K. Jemisin's The Fifth Season. That book is a masterpiece.
So based on those names and how they influenced you, do you prefer world building or character driven stories better?
I just see both as things that are essential to the process, so I'm not sure I have a favorite. I love losing myself in the world, but it starts to become dull if you don't have cool characters to follow. Kind of a non-answer, I know, but I really like both.
Same. It really is hard to not love both as a fantasy fan. What do you think about the current state of fantasy and where it is going? Being a fantasy author yourself you must have some thoughts on it.
I love where fantasy is going and I especially love how many good self-pub books there are out there. The popularity of the Game of Thrones TV series paved the way for grimdark, but we've recently seen books like Travis Baldree's Legends & Lattes do really well. I love how open the genre is.
That's great. I know I already brought up your three POVs and we got a little sidetracked from there. I would love to hear more about your book, A Touch of Light. How would you describe it in ten words or less?
I don't know. That's three words. Wait, I can't use that? Ok. Maybe: religion, politics, madness, eternal life, fear of death and griffins.
Awesome haha I love griffins! I'm also big into the deeper themes of books. Things like what is love, political topics, why are we here or what is the purpose of life type of stuff. Did you think about these things while writing? Were there ideas or world views you wanted to write into your story or were you mostly focused on your plot and the themes just appeared?
Theme was one of the pillars I focused on. I think it is an essential part of every story to give it depth and subtext. I had a few I wanted to explore since the beginning—like people's fear of death and the lengths they go through to avoid it and how it can warp their lives and beliefs—as well as others that appeared as I made my way through the writing itself. I like to leave myself relatively open to these things so that I don't miss some cool opportunities.
Okay, I vibe with that. What is something you hope readers get out of ATOL?
I hope they first and foremost get a unique experience. I want them to be immersed in the world, live alongside the characters and experience the world in a visceral way.
Which I personally experienced! So I think others will definitely see that as well. Since I have you here though let's encourage readers some more. Why should they want to read A Touch of Light?
Because it will probably be different from most fantasy you've read, will surprise you with its plot twist, and will give you characters to root for and some really cool "Hollywood-esque" battle moments.
Again, yes! They were so good. Especially with the madmen. What inspired those by the way?
I'm not sure there was a specific inspiration. What I wanted was an embodiment to Lynn's doubt about her sanity, so a "madness" kind of sprang from that. The idea clicked, and I expanded it to encompass everything in the world. That I wrote this during a pandemic might have influenced as well. The madness is very close to a disease and people just want to stay away from it.
So this definitely isn't an important question but if you had to choose whether to fight a madman or a vampire which would you pick?
I'd die either way, but I know more about the madmen, so let's go with them.
Nice. So other than my own thoughts about ATOL, what has been your favorite response from a reader so far?
There was one reviewer who messaged me saying how dare I do that to a character (for reference it's chapter 19). It was meant in a totally friendly way and I really enjoy that people can get so involved with what I've created.
I don't blame them! I should have done the same thing. So what inspired those characters? They definitely felt like real people to me.
They are not based off people I know. Most of the inspiration either comes from a general concept or inspired by pieces of characters in every type of media I've come across. Sometimes I don't even know where I got those pieces from and it can take quite some time to put everything together, but once everything fell into place, I was really pleased at how the characters in A Touch of Light came out.
I know parents aren't suppose to have favorites but which character is yours??
Lynn. I just love the concept of the voices in her mind. They are really fun to write.
I think we bonded over her when I wrote my review. Okay, well I know this has gone on for awhile now so I'll wrap it up with just a few more questions for the aspiring authors out there. First, what is one piece of advice you've received or heard that made a difference in your life?
Don't let people tell you you can't do something. You can learn anything, skill does not require talent.
What is 1 piece of advice that you would like to give an aspiring author?
Writing is not some divine talent bestowed upon you at birth. You can learn everything. And please, if there is a single thing you should pay for. It is editing.
If someone wants to become a writer where should they start?
Writing is a very personal journey, but I'd start studying craft. Find what works for you. It can be books, YouTube videos, whatever, just find the pillars of what you need to learn (dialogue, pacing, plot, structure, world-building, voice, characters, etc.) and study them.
If someone has written a book and decides they want to publish it, do you recommend them trying the traditional publishing route?
I think both routes have pros and cons, and it really depends on what each person expects. I can talk about my experience. I chose self-publishing because I thought I could handle the business side, produce a book on the same level of quality as a trad book, but at a much, much faster rate. That was the main draw to self-pub for me, but I think both will coexist in the future.
Thiago, thanks again for your time. I know I enjoyed our discussion and I'm sure many others will enjoy your journey and responses as well. Hopefully they'll give your book a shot! I know I definitely don't regret it. Any final words?
I would like to thank everyone who's read A Touch of Light or is interested enough to consider reading it. I could never have expected such a positive response and I am incredibly grateful to everyone that has given it a shot. A prequel novella, A Prelude to Ashes, is coming very soon and will be free for newsletter subscribers. Also, I love talking about books and my story, so if there is anything people would like to talk to me about, I'm always available!
A Touch of Light Review