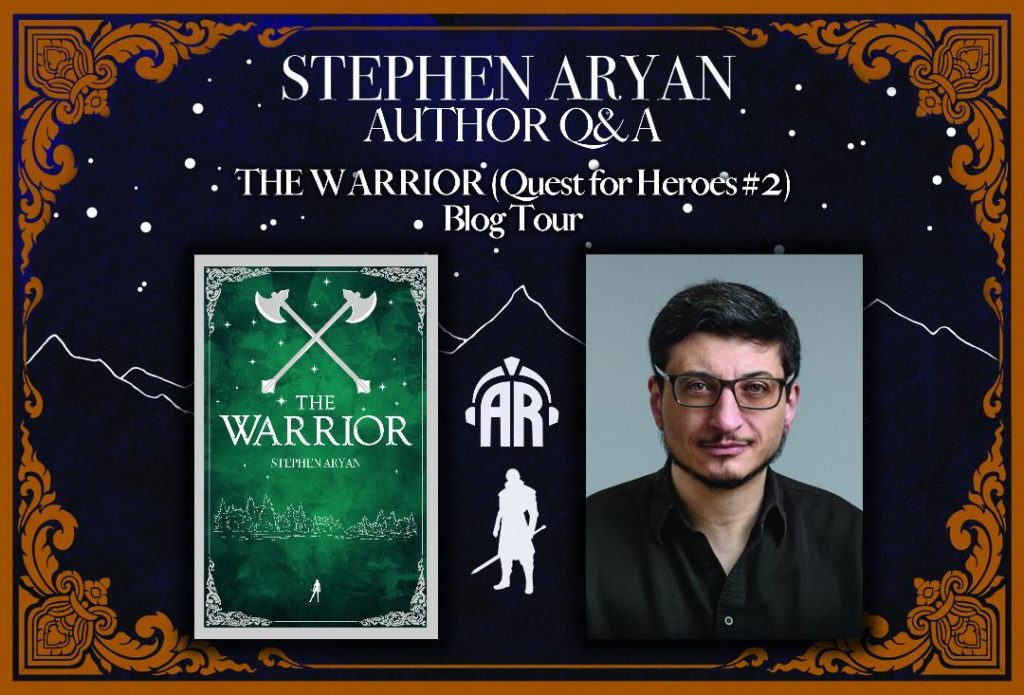 No doubt you saw Stephen Aryan's 'THE COWARD' take the book world by storm last year. There were rave reviews all around and the sequel is garnering just as much excitement. In honor of the publication of 'THE WARRIOR', I have an author interview with our lovely author. Much thanks to fellow FFA member Adrian for setting up this interview and preparing this gorgeous header for the post. Also, a big thank you to the always gracious Caroline from Angry Robot for adding us to the Blog Tour!
FFA: Thanks so much for taking the time out of your schedule to do a little Q&A for FanFiAddict! To start out, tell us a bit about yourself!
SA: I'm a lifelong fan of fantasy and science fiction. I've been watching it and reading it for most of my life. I live in a small town in England with my partner, two cats and a ridiculous TBR pile of books that never seems to get any smaller.
FFA: Did you always know you wanted to be a writer and when did you first try to publish one of your works? Was it successful or was it one of your later works that got the attention of a publisher?
SA: I told my dad when I was young that I wanted to be a writer and he smiled and nodded, as you do with small children. My path to publication is a very long and winding road. The full story is on my website, and it's a long read in 2 parts. The super short version is I queried many books, for over a decade, starting in 2000 and I was picked up by my agent in 2013. The book that attracted her attention, Battlemage, was my ninth or tenth book, and it went on to be my debut novel from Orbit books.


FFA: When you started writing The Coward, did you already know where The Warrior would end or did the progression come naturally to you as you wrote?
SA: I'm a planner. I've tried to write by the seat of my pants and it was a disaster, so never again. So I knew how the Warrior would end, but not all of the specifics, or all the bends in the road on the way to that final destination. For me, part of the joy of writing is the discovery. There are often creative and unexpected leaps between the milestones in my plan. Sometimes they don't work out and end up getting cut, but sometimes those sparks end up being some of the most interesting ideas, because they were so unexpected and different. Once I start working on an idea, and you really get into it, more ideas surface which didn't occur to me at the start. So the ending never changed, but some of the details certainly did.
FFA: I think people get excited about duologies these days, as a trilogy can be daunting to wait on or read, and singular novels always seem to keep us wanting more. Were you always set on this being a duology?

SA: Originally when I spoke to my agent about it, this series was a trilogy. However, at that point, the core underlying idea was different. It was while we were having that initial discussion that it became apparent I had a picked a trilogy because it was default mind set. As I talked it through with her, I realised the series was actually two very distinct but connected stories, so it became a duology.
FFA: Following the success of The Coward, which kind of took social media by storm when it was published, did you feel nervous about writing and publishing a sequel? Or were you more excited than anything else?
SA: Yes and no about being nervous, because by the time The Coward was published, I'd already finished writing The Warrior and it was in the editing stages with my publisher. Whenever I am working on a new book, all of my energy and focus is being poured into that, so I am always anxious about the work in progress. I always want to improve on the last story and never want to write the same book twice. I think that the fear stops me from becoming too arrogant or complacent. It keeps me hungry, makes me challenge myself and work hard every time.

FFA: Kell definitely fits the trope of reluctant hero in The Coward, which is one of my favorite tropes, by the way. The synopsis of book two shows us that Kell may be moving away from that characterization; if anything, he's longing for the action that he once shied away from. Did you feel that there was a theme that needed to be explored there? Perhaps, the inability to live a stationary life once you've experienced what the world has to offer? Any insight on this character progression, in general?
SA: Kell still isn't longing for action but he's in a different place, mentally, at the start of The Warrior. One of the themes explored in the first book was about putting his demons to rest and uncovering the real truth about what happened. He'll never completely heal from what he experienced when he was seventeen, and it was important for me to highlight that, as he is essentially suffering from PTSD. Like many men and women who return from war, they are left with scars that will be with them for the rest of their life. Kell is no different. So although he's moved on to a new phase, he still doesn't look forward to a fight. In The Warrior has responsibilities, but he still isn't happy with his life. So when an opportunity comes up for him to help a friend, he jumps at the chance, not appreciating what he already has at home.
FFA: Do you read reviews or do you prefer for reviews to be left to the reader?
SA: I don't read reviews. They're not written for me and will not benefit me. Too many good news and I'd become an egomaniac. Too many bad ones and I'd never get out of bed. I only read ones sent to me by my publisher from industry press.
FFA: To give the readers a sneak peek, what's one of your favorite quotes from The Warrior?
SA: The two most significant quotes from the books are related. In the Coward in chapter 1, someone asked "When were you most afraid?" and a favourite quote from The Warrior is "Every living creature knows fear."
FFA: You didn't shy away from killing off crowd favorites in The Coward, and I'm nervous to see how everyone fares in The Warrior. Do you go into a book knowing who you want to die, or do characters tend to see themselves off the page as you write?
SA: Yes, I always know who is going to live and who is going to die. Even so, that doesn't make it any easier to kill off a character because as a reader, you've been living with them for hours, but as the author, it's been months or even years.
FFA: I've seen it mentioned that there are more POV characters in The Warrior than in The Coward. Did you always intend to give voice to a wider range of characters within the second novel or did certain characters call for their voices to be heard?
SA: It was always my intention because the story has three very distinct voices with different stories to tell, but there are also some other POVs that we need to touch on from time to time.
FFA: Where do worldbuilding, characterization, and plot fall in order of importance to you?
SA: They're all incredibly critical and I wouldn't know how to put them into the order of most to least important. The world needs to feel real enough that it has depth for the reader, but not too dense that they're bogged down and drowning in detail. I always want my characters to feel like people the reader knows, or they recognise familiar elements, or they could meet in real life. I definitely spend a lot of time on characters and plot. I honestly can't separate them.
FFA: When you write, do you prefer silence or do you like music or some other type of noise in the background? Has your writing process changed over time?
SA: I always write with music, but only ever listen to soundtracks as I find that lyrics are distracting. Sometimes I need to generate a certain mood, or I want something fast paced to help me get into a particular headspace, and I have a shortlist of tracks which do that. Every now and then I will write in silence, but it is uncommon.
FFA: Do you think your characters are a reflection of yourself or people in your life? Are there any of your characters that you relate to more than others?
SA: Not really. They're not me or people in my life and they don't have my voice. Perhaps, when I first started writing, the connection between us was more noticeable, but now I've written so many it's not there anymore, and I think that's a good thing. You shouldn't be able to hear the author expressing their views, politics and opinions. I relate to characters that are determined and never give up, because that's a trait I share.
FFA:Thanks again for your time! I always like to finish interviews with a rapid fire Q&A to get to know our author!
Favorite book (all-time): Dune by Frank Herbert
Favorite book read this year: The Justice of Kings by Richard Swan
Favorite show and/or movie: Babylon 5
Coke or Pepsi: Pepsi
Wine, liquor, or beer: Beer
Tea or coffee: Coffee
Sword or bow & arrow: Sword
Would you be a mage, king, or knight: Knight
Favorite Hobby: Reading
Dream vacation: New Zealand
Favorite animal: Cat
Favorite musical artist: The Boss
ABOUT THE WARRIOR
The story of Kell Kressia continues in Book II of the gripping fantasy duology. Kell, two time saviour of the Five Kingdoms, is now the King of Algany. He has fame, power, respect, and has never been more miserable…

Bound, by duty and responsibility, Kell is King only in name. Trapped in a loveless marriage, he leaves affairs of state to his wife, Sigrid. When his old friend, Willow, turns up asking him to go on a journey to her homeland he can't wait to leave.

The Malice, a malevolent poison that alters everything it infects, runs rampant across Willow's homeland. Desperate to find a cure her cousin, Ravvi, is willing to try a dark ritual which could damn her people forever. Journeying to a distant land, Kell and his companions must stop Ravvi before it's too late.While Kell is away Reverend Mother Britak's plans come to a head. Queen Sigrid must find a way to protect her family and her nation, but against such a ruthless opponent, something has to give…
Publishing on August 23, 2022 – ANGRY ROBOT BOOKS