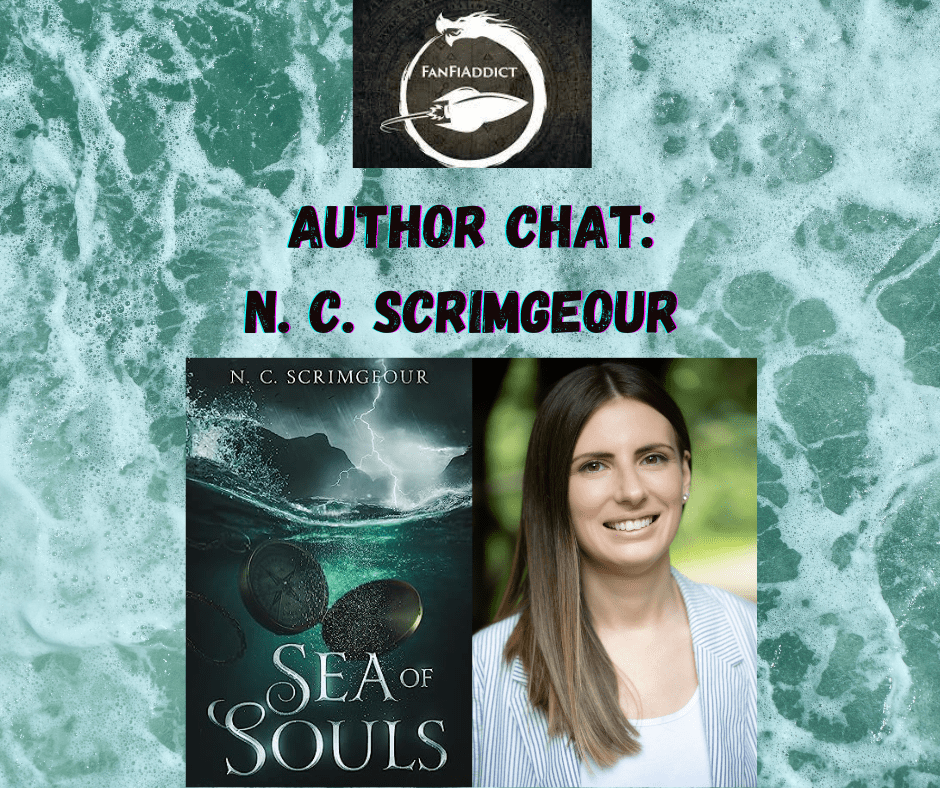 N. C. Scrimgeour is a science fiction and fantasy author whose books focus on character-driven stories in vibrant worlds, from folklore fantasy to space opera.
After completing her Masters in English Literature, she went on to work in journalism and marketing and communications while pursuing her passion in writing.
Her first series, the Waystations Trilogy, is an epic space opera filled with exploration and ancient alien mysteries. She is currently working on the Sea of Souls Saga, a Scottish-inspired dark fantasy trilogy.
When she's not writing, she enjoys playing story-driven RPGs, watching and reading all things science fiction and fantasy, and getting outdoors with the dog for a good walk!
You can find a synopsis of Sea of Souls and my (10/10) review of it here. You can read an excerpt of the novel for free here.
Q1) Thanks for taking the time to chat with me, especially on release week. Your fourth published novel and first fantasy novel, the dark folklore fantasy Sea of Souls, is out this week – what's it about, and why should people read it?
Sea of Souls is a Scottish-inspired dark fantasy filled with magic, folklore, and high seas adventure. It follows runaway noble Isla Blackwood, who returns home after seven years at sea only to find tragedy and loss waiting for her. Before she has time to grieve what has happened to her, she finds her path crossed with a selkie in exile searching for a lost pelt that might be the key to stopping the eerie mists and treacherous spirits plaguing the island…
If you like books about broken families, strained relationships and conflicted loyalties, set against a world of stormy seas, rugged landscapes and really REALLY bad weather, you might find something to enjoy in Sea of Souls! It's a book with characters at its heart in a world full of Scottish-inspired mythology and legend.
Q2) Everything about Sea of Souls is impressive – the incredible worldbuilding, the prose, the plot – but one thing that really stands out is the strong, frequently heartbreaking character building and tense, dynamic relationships between Isla and her brother, her potential lover and her Selkie enemy-turned-ally. Why is such character-driven fantasy important to you?
Characters are always the main things that draw me into fiction—regardless of whether it's a book, TV show, video game and so on. I love secondary worlds with lots of exciting and vivid places to explore, but it's the characters that really give you the emotional connection. With Sea of Souls, I knew I wanted to go in heavy on the worldbuilding, but I wanted to root that worldbuilding in their characters and their places in the world—some of which are more complex than others! I think it makes you care more, and you experience the world alongside them.
Q3) This is a world heavily based on Scottish folklore, and your fantasy country is basically a fantasy 18th century Scotland but if it ruled the seas and had no pesky England south of its border. What is it about Scotland and its history that made it so perfect for your new series?
I'm Scottish myself, and I wanted to write something that drew upon the mythology of my home. It's very much set in a secondary world, so I don't draw on real-life history so much as the folklore and legend aspect of it. I wanted it to feel Scottish at its heart, but I also wanted the freedom to make things new and magical and open up this exciting fantasy world where the mythical creatures from Scottish stories are undoubtedly real.
Q4) Selkies are quite a popular fantasy species at the moment, but your imagining is one of the best I've ever seen. Without giving anything away, you do something very special with the concept of their pelt that creates a whole new mythos for them. Why did you choose selkies, and what makes them so special?
Selkies don't have anywhere near the kind of fantasy recognition as your standard elves/dwarves/dragons etc., so for me it was a chance to explore and build on a lesser-known myth and find a way to make it my own. The traditional myth usually follows a selkie who loses their pelt and cannot return to the water, though in most cases they eventually recover it from the person who stole it and leave them behind to return to the sea. It's often bittersweet and tragic, and I think it offers so many ways to explore themes of loss, identity and belonging.
In Sea of Souls, I tried to take the core of that original myth and expand on it to give the selkies a complex, tragic history and introduce chilling stakes and consequences for them losing a pelt. At the same time, I wanted to reposition the selkies from being purely victims—they have a bit of a darker twist here which I think makes their relationship with humans even more precarious.
Q5) I'm addicted to sea monsters in fantasy, and by the looks of social media I'm not alone. What is it about them, and the sea setting itself, that is so alluring and addictive, do you think?
It has to be the sense of the unknown! For me, it's got the same kind of allure as space—so much of it is off-limits to us and there's so much of the depths we haven't explored. That lends itself perfectly to wondering what might be down there. Also, like space, water is something so far out of our comfort zones as humans—we can't survive there, so the sea as a setting just brings with it a sense of untamed wildness and danger, which I absolutely love.
Q6) This is your fifth published novel but the previous four are all sci-fi. What made you want to move into fantasy?
Funnily enough, it's actually the other way around! The concept of Sea of Souls first came into being back in 2016 as a novel called Rising Tides. The story then was very different to what it is now, but the core idea around the selkies and their souls was what the book was centred around. I got an agent shortly after and went on submission with that book and a few others, but ultimately nothing came of it.
Then in 2021, I decided I wanted to try and make things happen for myself and turned to self-publishing instead. By that time, I'd almost completed a sci-fi trilogy so decided to lead with that as my debut and come back to Sea of Souls later. I'm really glad I did, because I think I've improved so much as a writer over these last few years, and that allowed me to rewrite Sea of Souls from the bottom up—and I believe it's a much better book because of it!
Q7) You recently came runner up in the second annual Self-Published Sci-fi Competition (or SPSFC) for your sci-fi novel Those Left Behind, the first book in The Waystations Trilogy. What's it like to be given such an accolade for your writing fairly early in your career?
I honestly can't express how much I appreciate being part of that competition—it was an amazing experience. I never took anything for granted and was grateful just to move on to each stage—first the quarter finals, then the semis, then the finals. So to be named runner-up amongst such strong competition was something I never imagined when I first entered, and I'm hugely thankful to everyone who supported Those Left Behind!
Q8) Tell us a little bit about your writing background… how did you get to be a self published SFF author? 
As I mentioned above, I first went down the trad pub route and got an agent fairly quickly after querying—I think it was only around 6 months or so! I was quite naïve about the whole thing back then and thought after getting an agent, it was only a matter of time before I got published. I had no idea how long and lonely going on submission would be once—never mind three times!
It was a path that didn't work out for me, but ultimately I don't regret making the choice to pursue self-publishing instead. I made the decision during the pandemic as I really wanted to take control over my writing and try to make something happen for myself instead of waiting for it to happen to me. It has let me pursue what I've always wanted to do, and somehow I've found a bunch of readers that seem to enjoy what I'm putting out there!
Q9) It's not easy being self-published (or any published, in the current state of publishing). Do you have a career plan in this most fickle of careers, and what advice would you give to prospective self-pubbers? 
I'm just taking it one book at a time (ish). Sea of Souls is a planned trilogy, but I've not yet decided what I might move onto afterwards. I'm fortunate enough to be in a position that I'm just about breaking even on my books now, so the goal is just to keep writing as long as I'm still enjoying it and hope people like my books enough to keep reading them!
In terms of advice, I would say research is key. There are so many fantastic resources available to self-published authors, so make sure you inform yourself as much as possible so you can go in prepared and able to put out the best product you can.
Q10) Finally, what more can you tell us about the Sea of Souls saga going forward – do we get to see more of the wider sea-faring world? And are you fantasy for the time being, or will you be alternating between fantasy and sci-fi?
I'm definitely sticking with fantasy for the time being—Sea of Souls is planned to be a trilogy, so I'll be in Silvish waters for a while yet! In terms of what to expect, I really want to expand the world further over the next couple of books, so you'll see a lot more selkie lore and culture, and maybe some more mythical creatures too…
You can buy Sea of Souls at Amazon here, Barnes and Noble here and Waterstones here.
Join N. C. Scrimgeour's mailing list here