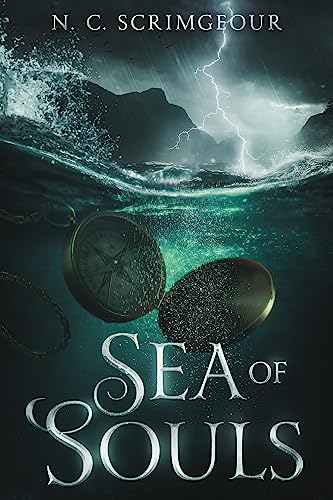 Rating: 10/10
Creatures that will chill your soul and characters that will break your heart. The fantasy read of the summer is here.
Synopsis
Dark be the water, and darker still the creatures that lurk within…

Free-spirited Isla Blackwood has never accepted the shackles of her family's nobility. Instead, she sails the open waters, searching for belonging on the waves.

But when tragedy calls Isla home, she realises she can no longer escape the duty she's been running from. Selkie raiders have been terrorising the island's coasts, and when they strike at Blackwood Estate, Isla is forced to flee with her hot-headed brother and brooding swordmaster.

To avenge her family and reclaim her home, Isla will have to set aside old grudges and join forces with an exiled selkie searching for a lost pelt. The heirloom might be the key to stopping the bloody conflict—but only if they can steal it from the island's most notorious selkie hunter, the Grand Admiral himself.

Caught between a promise to the brother she once left behind and an unlikely friendship with the selkie who should have been her enemy, Isla soon realises the open seas aren't the only treacherous waters she'll need to navigate.

As enemies close in on all sides, she must decide once and for all where her loyalties lie if she wants to save what's left of her family—and find the belonging she's been searching for.
Review
One of the great pleasures about reading – aside from the smell of a new book, obviously – is discovering an author you've never heard of and immediately falling in love with their work. Two weeks ago, the name N C Scrimgeour was unknown to me. This is possibly my fault – the first book of her sci-fi series The Waystations Trilogy recently came runner-up in the second annual Self-Published Sci-fi Competition, so she's hardly a complete newbie. But when I saw her book Sea of Souls advertised, all I saw was a mention of sea monsters, and I knew I had to try it, because I will walk over hot coals mixed with used needles to read any fantasy that features scary creatures of the sea. It's a thing.
What I found, though, was far from a quick hit of sea scaries. Sea of Souls is a dark, folklore sea-faring fantasy, and it is astonishing. Plot, worldbuilding, prose and characters – Scrimgeour hits every mark like an android Hawkeye.
The story takes place in a fantasy version of an 18th century Scotland, except one that rules the seas with its fleet of fearsome admiralty ships and doesn't have a pesky England south of its borders to steal its thunder. If you're Scottish, you can already tell this is more required reading than a Rabbie Burns biography. This is also a world full of sea monsters and folklore, so we have selkies – that species common to recent fantasy – and kelpies (ghost sea horses) not to mention talk of sea serpents and sirens and the like, as well as Sentinels, sea magicians with powerful magic blood.
Into this flintlock folklore fantasy meld comes Isla Blackwood, a young sea navigator who is forced to leave her ship and return to her highland castle home she fled years ago when she receives word her mother is dying and has a secret to tell her before she passes. Waiting for her at home is her brother, bitter at her leaving her family destiny all those years ago, and her family's guard and her old sparring partner Darce, who offers a romantic potential but also something much deeper.
Soon, however, the selkies who terrorise the coastlines of Silveckan will come for her family, and in the fallout she will be forced to work with her enemy, a selkie called Eimhir who has the only solution to end the war between Selkies and humans, even though working might tear her family apart.
What you might have gleaned from the above is that for all the brilliant worldbuilding and folklore (which we will come to soon), this is strong, character-driven fantasy, done so well that it's a template for how to make characters you care for and then place them in heart-breaking situations where they are forced to make impossible choices. It's clear from the off that this is going to be a book about difficult choices:
"Are you staying?" Lachlan pulled back, fixing her with a pointed look she remembered all to well.

It was the worst thing he could have asked. A thousand excuses and explanations dried up on Isla's tongue, leaving her with no words to offer. She didn't know the answer. All she had was a scrunched piece of parchment that had called her back when nothing else could.

(…) Lachlan looked away. The corner of his mouth pulled into a strained smile, and he placed a gentle kiss on the top of her forehead. "Forget I asked. It doesn't matter. I'm just glad you're home, Isla."

"Me too," she managed, the lie burning her throat on the way out.

After all, if this was home, why had it always felt so wrong to be here?
All the classic dilemmas are here: the character forced to choose between freedom and home, the dilemma of whether to trust the enemy to save the land, the bitterness between a brother and sister who care for each other but can't see eye to eye. But in Scrimgeour's hands, these classic character arcs become weaponised to their greatest potential; every emotion, every terrible choice is wringed out till by the end, you are left a broken mess. In between, she builds closeness and warmth between them in tender moments, making the brutal plot developments all the more hard to bear. This is a literal how-to guide on how you write character-driven fantasy.
But there is more to this book than just the characters. The world Scrimgeour has built is as imaginative as it is terrifying. Ruthless hunters take the selkies' pelts from them, leaving them to waste away as salt scars them to death. Terrifying ghost selkies ride from the waves atop ghost horses of the sea, brandishing spectral blades. Magic-users called Sentinels prowl the seas with old magic in their blood, using the spectres of the sea to keep their crew safe. Sea serpents prowl the waters, and spirits haunt the woods. It's an astonishing mix of old folklore with new ideas, and it makes this dark seafaring world come alive.
In particular, Scrimgeour has done something with the idea of selkies and their pelts that is one of the most original takes I've seen of them. Selkies have had a great run in recent fantasy. J E Hannaford's Black Hind's Wake Duology is a great example of the potential they have. But the deep mythology building Scrimgeour does with them here catapults them to the fantasy forefront, along with elves, vampires, dwarfs, and the rest.
It's also worth saying something about the prose. This is brilliantly written, dripping with dark and terror and brutality. Scrimgeour does not hold back on the horror or the death, and some of the scenes will chill you in the best way. Remember the chill you got in those Game of Throne episodes when the Night King was on his way and the ground began to freeze? Wait till you meet the gun-anam, the spirits of dead selkies:
A flash of lightning lit the sky in a pale white sheet, turning the storm clouds into angry silhouettes.

            Then Isla noticed the rider.

            Another wraith. It was formed of the same silvery mist as the creature that attacked Lachlan. It wore armour of blackened bone that glistened in the rain. Its face – if it had one – was half obscured behind a skeleton jaw, the mandible long and protruding.

A sea skull, Isla realised with a shudder. Behind it, the wraith wore no expression. Isla could see nothing of its features apart from its grotesque mask and a pair of fathomless, empty sockets where she might have imagined its eyes.
Oh, and the plot. The first two-thirds piles mystery upon mystery, and the final act is awash with twists, double-crossings, and revelations that have been carefully seeded throughout the book, and its breath-taking bravura ending had me genuinely opened-mouthed for a hundred pages. Some of the choices Scrimgeour makes will leave you more of a slathering mess than a selkie without its pelt, desperate to read the next in the series.
Overall, I cannot emphasise enough how much fun I had with this. Every chapter was a joy, to be carefully parcelled out like the last packet of Maltesers on Earth. With characters you will get obsessed over and a world you will never want to leave, Sea of Souls is the pinnacle of fantasy, and if there's any justice on the cruel tides, then NC Scrimgeour will be massive. This might well be my fantasy of the year so far.