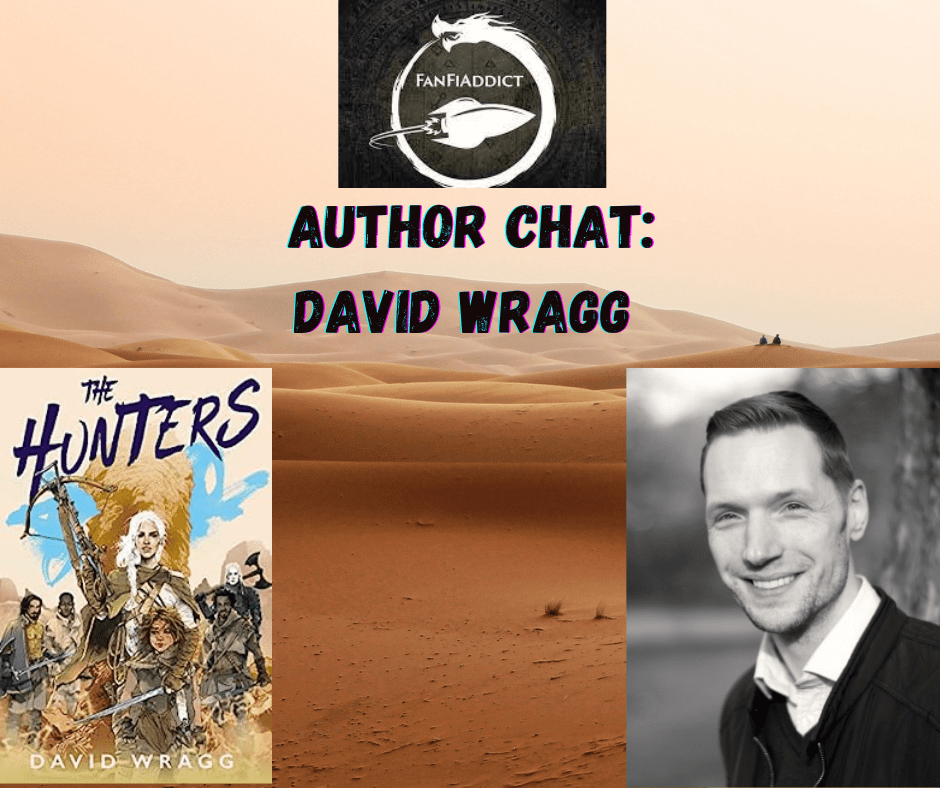 David Wragg is the author of the Articles of Faith fantasy duology and the Tales of the Plains trilogy, the first book of which, The Hunters, is on sale July 20th. He lives in Hertfordshire, UK, with his family and an increasing number of animals. You can find a synopsis and review of the Hunters here.
Hi Dave, thanks for chatting! Before we get stuck into The Hunters, I'm interested in what launch week is like for an author. At the time of this interview, you're a couple of days out from launch – are you frantically multitasking like an over-caffeinated octopus, or are you just gliding serenely like a swan sipping camomile? Other similes are acceptable.
Good question (and alluring imagery); oddly it's a bit of both – frenzied bursts of activity followed by bouts of not a lot – which is a bit on the nose for publishing. A lot of launch week activity is in fact set up weeks (or for some writers – other, better writers – months) in advance, then released in a carefully coordinated publicity airstrike. Or in my case, thrown haphazardly at a wall. I've certainly been busy, but there's always the feeling I could/should be doing more.
Now for a nice easy question I'm sure you're well rehearsed at by now (no pressure). What is The Hunters about, and why should we read it?
I'm glad you asked! I've been asking myself the same thing for a while now, and I've finally settled on the following: "The Hunters is your basic low fantasy western about strained family dynamics in times of mortal peril. Think a sort of Terminator 2 meets Fury Road in an analogue of 13th century Persian plains, featuring crossbows, explosions and a middle-aged protagonist who's had it up to here." If you're a fan of simmering family tensions, frank exchanges of views at the worst possible moment and ludicrous stunt-work, it might be right up your alley.
You had me at ludicrous stunt-work. What really struck me about The Hunters, aside from its magnificence, is that a lot of the politics and wider themes from your previous work have been put to the side (to some extent) in favour of a real focus on characterisation and themes of found family, in particular, the relationship between Ree and Javani [main characters of The Hunters – an aunt and niece on the run in the desert]. Do you think this is a fair comment, and if so why did you decide to do so?
It's absolutely fair, and indeed a deliberate choice. A lot of what made Articles of Faith the way it was was a reaction to my very first attempt at writing, a cod-MG light fantasy jaunt that was never fit for publication. With The Black Hawks, I set out to write the opposite of that – hence the subversive politics, absence of moral clarity and frequent swearing.
The Hunters is, if you like, a reaction to Articles of Faith: I wanted to write at a smaller scale, with stakes that are no less real but don't bump up against what you might call Fantasy's Prince Problem* – the fact that in most "traditional" fantasy works, once characters start acting at a level of significance they come into contact with kings, queens, nobles etc, and then it all turns into sweeping battles with casts of thousands. It's certainly what happened with Articles of Faith.
As well as leaving the politics and point-scoring to one side, I wanted something with a little more of that moral clarity, with distinct goodies and baddies and a narrative that didn't require tracking a dozen factions at once or referring continually back to a map of the continent. Not that I had maps in my books, but you get the idea.
*I'm aware that despite my bold claims, The Hunters features a prince, but it's OK, he's on holiday
There are maps on your website though. I suggest readers check them out. Anyway, despite what I've just said about all the amazing character moments here, this is one of the most fast-paced, action-packed fantasy reads all year. The plot is literally stand-off, wagon chase, stand-off, wagon chase, stand-off (but much much better than that sounds, obviously). Was this on purpose?
It's all about maintaining tension, innit? But tension comes in different forms – the obvious "are my favourite characters about to be exsanguinated" variety being at the forefront, but also the tension of untold secrets and character relationships, most of which can be more readily explored once the threat of said exsanguination has, for the time being, abated. Like the characters, we need a rest as readers from non-stop adrenalicious lunacy, but that doesn't mean you don't start turning other screws to keep people on edge.
Beyond that, it's no secret that there are nods to Fury Road in the story (my description above is a clue), and in terms of keeping the narrative easy to follow, you can't get much more straightforward than a chase. Especially when the defining characteristic of your primary protagonist is that she's been running from her problems for half her life…
This trilogy is set in the same world as your previous Articles of Faith duology, but a reader can still come to it fresh as the other books are set in a different area of the world. But there's still a lot of easter eggs for your previous readers. How did you get this balance right? It sounds harder than a gangster cement mixer.
Ha! It's certainly a fine line between being oblique and opaque, or ending up drowning new readers in meaningless fanservice at the other end of the scale. The first draft was definitely written for me – I put in all kinds of things, odd connections and references to things that weren't even in the final version of The Righteous (quite a lot of stuff was edited out of that book on its way to publication, but I still maintain it all happened, we just didn't get to see it). After that, I raked over it a bit, knocked off the more tenuous stuff, added a line here or there to clarify things for people who hadn't read the books, and made sure that nothing crucial relied on prior knowledge. My editor for this series hasn't read the first books which is extremely handy for keeping me honest – if she was in on all my little giggly nods, we'd be in danger of amusing nobody but ourselves, and there's a word for that. One day I'll stick up a full checklist of all the connections between the books (assuming I can remember them all) on the website and you can cross off how many you got.
That sounds like a challenge, I accept good sir. The Hunters feels to me like an author who has grown in confidence and is getting ambitious with your pacing and characterisation and plotting. The Articles of Faith duology is amazing (reader, pick it up now if you haven't) but this feels like you've levelled up a bit, to borrow gamer talk. Do you think that's fair?
I'd certainly hope so! Articles of Faith was drafted back to back, from 2015 to 2016, and it was the second (and third) thing I'd ever tried to write. While the books went through various tortured alterations on their way to eventual publication (in 2019 and 2021 respectively), there were decisions I made in the story's genesis that haunted me throughout. This is, if anything, a warning against having a book in your head for too long, and becoming adamant about certain things needing to be in it (or not in it). Being flexible about key points of a story during its development, and working out what best serves your goal over the "moments" you're fixed on (knowing what this goal is is also important), will generally lead to a better outcome, even if the book you finish with isn't the book you had in your head at the start.
Also just wait for book 2 of Tales of the Plains, I'm pretty sure it's another level up (but then I would say that eh).
Every single author ever says that, but I also believe you… This next question is a bit personal, so feel free to metaphorically give a scowl to your PR rep and storm out of the studio, but what is it like to not be a shiny new debut author anymore? It's no secret that building a long term author career is tough, especially in a world where it feels like the traditionally published sector is like a bunch of people standing around a house fire tweeting about it … how are you finding it?
Honestly, it feels like a very long time since I was shiny or new (in any sense, cough). My debut was 4 years ago, and my second book came out in the middle of the Covid fog years after finally escaping the nebulous mire of Publishing Timelines. The drop-off in attention from book 1 to book 2 was pretty stark, and to be honest that's more or less where I am to this day – low-rent midlist, just trying to let people know my books exist. Publishing as both an industry and a collective consciousness does tend to lose its mind over the new while letting the old pass it by, but there are obvious exceptions here and there. My goal, I suppose, is to do my best to become one of those exceptions.
If this book is anything to go by, you will… You are one of the funniest fantasy authors out there (you're British so I know you have to deny this, but it's true). How do you write humour in fantasy? Do you put effort into your jokes like a stand-up, or are you just annoyingly effortless when writing dialogue?
Damn you. Well, naturally, I'm an exceptionally funny and charismatic person, not crippled by self-doubt and terrible around people in the slightest. BUT SERIOUSLY, ED, most of the jokes, such as they are, spring from the dialogue, which is largely a result of me trying to make myself laugh. It's a construction where the setup can come from one character and the punchline from another, usually at the first character's expense, which means you generally need characters who are a) a bit funny or clever and b) slightly mean.
Humour is an important, nay, vital tool in characterisation (as well as telling a good story), and even humourless characters can be a source of tremendous amusement. The one thing that exasperates me is humourless stories, though – life is full of gags and giggles, especially in times of great stress and peril, and if a story is po-faced and leaden with grand themes and portent, it chafes my wossnames no end.
This is a trilogy, so what can you tell us about the next two books? The ending of this one leaves the reader practically and possibly literally gagging for more.
Well, I did demand we stick "Ree and Javani will return" on the end page just to reassure people there would be more to come. And what's coming is, in my view at least, going to be fantastic. We're going to see a bit more of the world, a bit more of our character's histories, a bit more of who they're going to be, and we're going to tackle some big themes on the function of states, the nature of justice in a lawless world, and the limits of pacifism. We're also going to blow a LOT of things up.
Book 2 should be with us this time next year, and book 3 the year after. I'm incredibly proud of the series (some of which is admittedly advanced pride which I reserve the right to withdraw if it all goes wrong), and can't wait for you all to read the rest. Once I've written it.
Are you working on anything else besides the Tales of the Plains trilogy at the moment? I demand juicy details.
Sadly, I still have a full-time job and a full-time family, so there's little time for much beyond Tales of the Plains (in its various stages) for the next 12 months. However, once book 3 is drafted, I have a whole raft of new adventures planned – watch this space (or my website, or sign up to my mailing list)!
Finally, how will you be celebrating your book launch? As far as I know this isn't a family website, so you can be honest.
In the most mundane fashion. We're off on a family holiday the following day, so there will be a lot of packing and washing and sorting out the cat feeding rota and other rock & roll things. I might have a small* glass** of wine*** to celebrate in the evening though.
*large
**bottle
***gin
You can buy The Hunters at Amazon here, Barnes and Noble here and Waterstones here.
Sign up for Dave's mailing list here