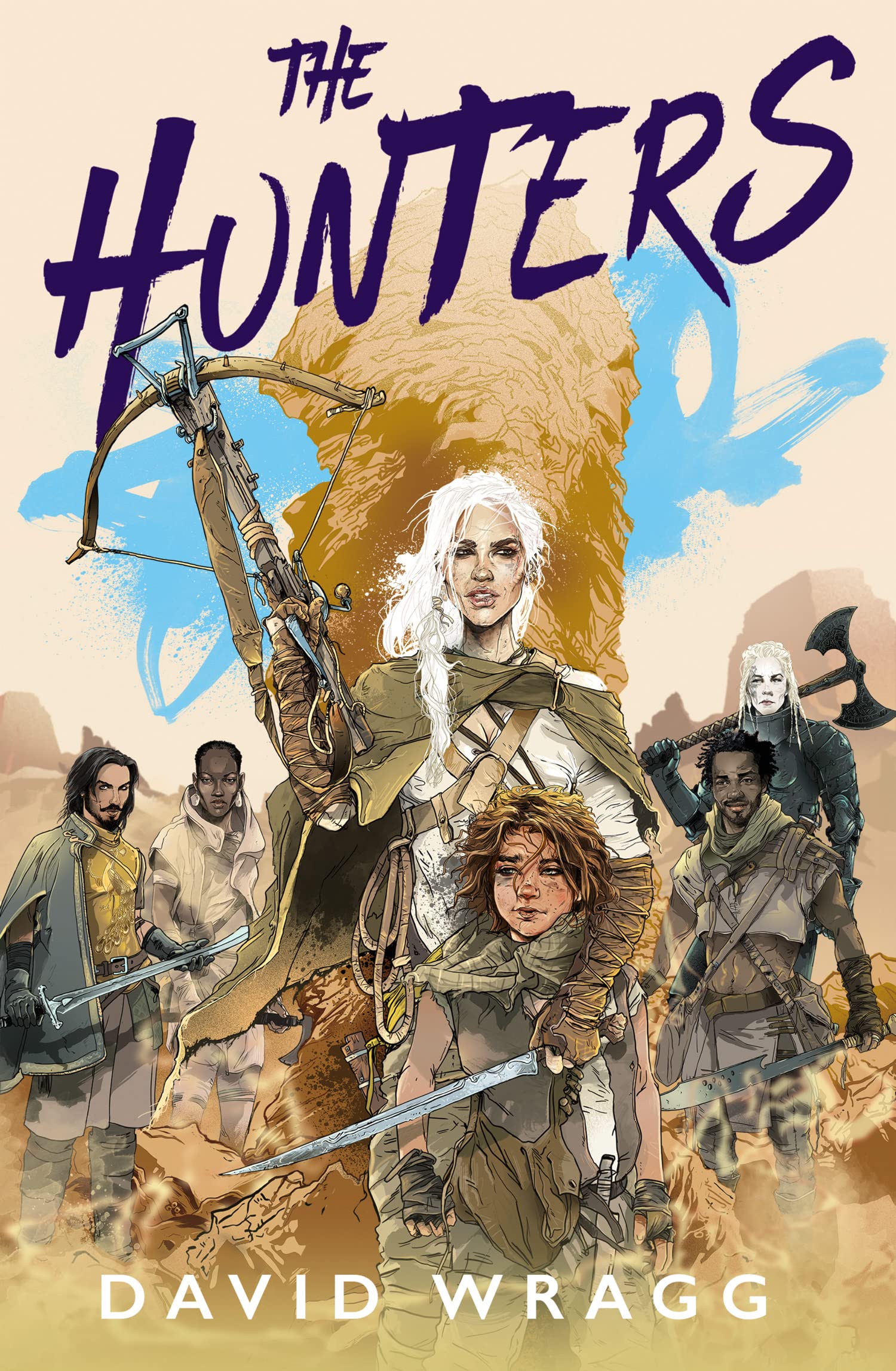 Rating: 10/10
The author of the Articles of Faith duology returns with the fantasy read of the summer
Synopsis
Ree is a woman with a violent past – a past she is eager to put behind her. After years of wandering, she and her niece, Javani, have built a small farm in mining country, at the edge of the known world, and Ree is keeping her head down.
But one day two groups of professional killers arrive in town, looking for a young girl and an older woman. A deadly chase through deserts, mountains, and mines begins. And Ree will have to discover her former self if she is to keep them both alive.
Review
There's a moment in David Wragg's The Hunters, the first book of a new trilogy, where I had a sudden realisation that, to borrow from gamer lingo, Wragg has levelled up as an author. We're about a quarter of the way in. A bunch of shady characters have arrived at a desert town. It's a bit chaotic; we're still trying to guess at their identity and motivations (and keep track of them). Then, with the backdrop of an exciting prison showdown, all the characters meet and the pieces become clearer; a sudden revealing of the narrative waters. We are now fully on board. It sounds like a simple thing, but I've read enough fantasies to know how hard this is. The tightness of the execution here tells me something. With his second series, Wragg is here to make a statement.
And what a statement it is. This is an on-the-run action-packed fantasy with wild west vibes – other labels might apply, we're all friends here – that focuses on a scarred, white-haired, 40ish woman called Ree who lives with her niece Javani in the aforesaid desert town. When their desert plains existence is disturbed by the arrival of some hired killers, Javani will learn the truth about her parents and be forced to flee with her aunt, on the run from a prince from a faraway kingdom, his creepy assassin and a whole lot of mercenaries. Ree and Javani are joined by an eccentric crew that includes a squabbling brother and sister duo seeking the truth about their family and a hulking female mercenary known as the White Spear who may be friend or foe but you definitely don't want to be mugging in a dark alley or, in fact, any alley.
The remarkable thing about The Hunters is its duality. On the one hand, it is full of action – chock a block with it. In fact, there is a glorious symmetry about it. There's a stand off… followed by a chase. A stand off… followed by a chase… a stand off… you get the idea. It has a strong Mad Max Fury Road vibe about it (a film reference mentioned by Wragg himself in my interview with him, which is incredibly annoying because I'd already thought of it and now no-one will believe me.) These actions scenes are full of fun and executed with joyful aplomb: explosions, deadly assassins, horse-mounted fighting, more explosions, spear combat, diversions, cavefalls, the lot.
But, on the other hand, we see Wragg focus on characters' relationships more than before. Wragg's previous fantasy duology, The Articles of Faith, was the classic "mercenaries with heart" story, equally combining roguish found family with continent-wide political and religious shenanigans – and very good it was too. But here, although there is some interesting talk about guilds and miners' rights and some discussion of faraway politics, Wragg is in the main laser-focused on the relationship between Ree and Javani. The focus of the world has narrowed to a couple of relationships at the most, and the result is an authorial maturity that raises Wragg's work to new levels:
'You always say "she's not mine",' Javani snapped, her voice rising. 'As fast as you can, just in case people for an instant get the wrong idea. Gods forgive anyone should think we're related.'

Ree was back on her feet. 'I wasn't denying responsibility for you, you goose, I was denying ownership!'

Javani's mouth was half open. 'Come again?'

'People talk about children as if they're possessions. I know a little bit about what it's like to be treated as one.' Ree was breathing hard, her chest rising and falling in the firelight, beads of sweat clear on her brow. 'I never wanted that for you. You've been yours since you could walk, since you could speak. You've always been yours. I was only ever a custodian.'

Javani stood for a moment, watching the other woman breathing, feeling her own breath, hot in her throat and chest. 'Well . . . that's . . . In that case, it's time to start treating me like that, and not just saying it.'
The way that Wragg mixes action and blinding pace (this is the most fast-paced fantasy you will read all year) while giving us deeply explored themes of parental duty, found family, family trauma and the power of a personal story, is remarkable. This mix of deep character moments – one at the end will suck the tears out of you like an emotional Dyson – with action is more fun than a champagne mouthwash.
Oh and did I mention it's funny? This won't be a surprise to previous Wragg fans, but his brand of Pratchett-esque annoying character traits and snappy, witty banter continues apace here. Of particular joy is Aki, the brother in the sibling duo who accompany Ree and Javani, who has a habit of unnecessary verbiage:
"Aki, indulge me. Tell me more of this agency you worked for.'

He turned to face her, legs and one side of his body crusted with blown sand. 'It was a small thing, a curio, a trifle, but independent of spirit and endeavour, possessed of a zeal for—'

'Aki, listen to me. There exist people who are charmed by gran­diloquence and sesquipedalianism. I am not one of them. When I ask you a question, I expect an answer that is both short and to the point. Delivering otherwise risks incurring my wrath, which is already wild and abroad this evening. Do you understand me?'

'Yes,' he replied with a brilliant smile.

Ree found herself half-smiling in return, shaking her head at the insanity of it all. 'You may be the most annoying person I've ever met,' she said, 'and I've met some types.'

'My thanks,' he said, still smiling. 'It is flattering to be recognised for one's talents.'
Wragg has a penchant for making minor characters have a day in their sun, too, and along with the POVs of our erstwhile heroes we get a motley crew of mercenaries and criminals following in the wake of our heroes. The star of this show is the White Spear, a massive mercenary who shrugs off arrows and pretty much everything else thrown at her in her quest to fulfill her contract. Every scene she is in she steals the show. But others have their time, too. My favourite was a seemingly insignificant criminal who gets his own backstory and ends up having his own hero moment. It's this attention to minor characters that tells me I'm reading confidently-written fantasy.
There's that word again. Confident. You see, with The Hunters, Wragg has ascended to top-tier fantasy status. He's not afraid to have it all: the relentlessly fast-paced action and the deep character beats. With this trilogy, Wragg is taking his fantasy writing to new heights, and if you're any kind of fantasy fan, you can't afford to not be on the road with him.