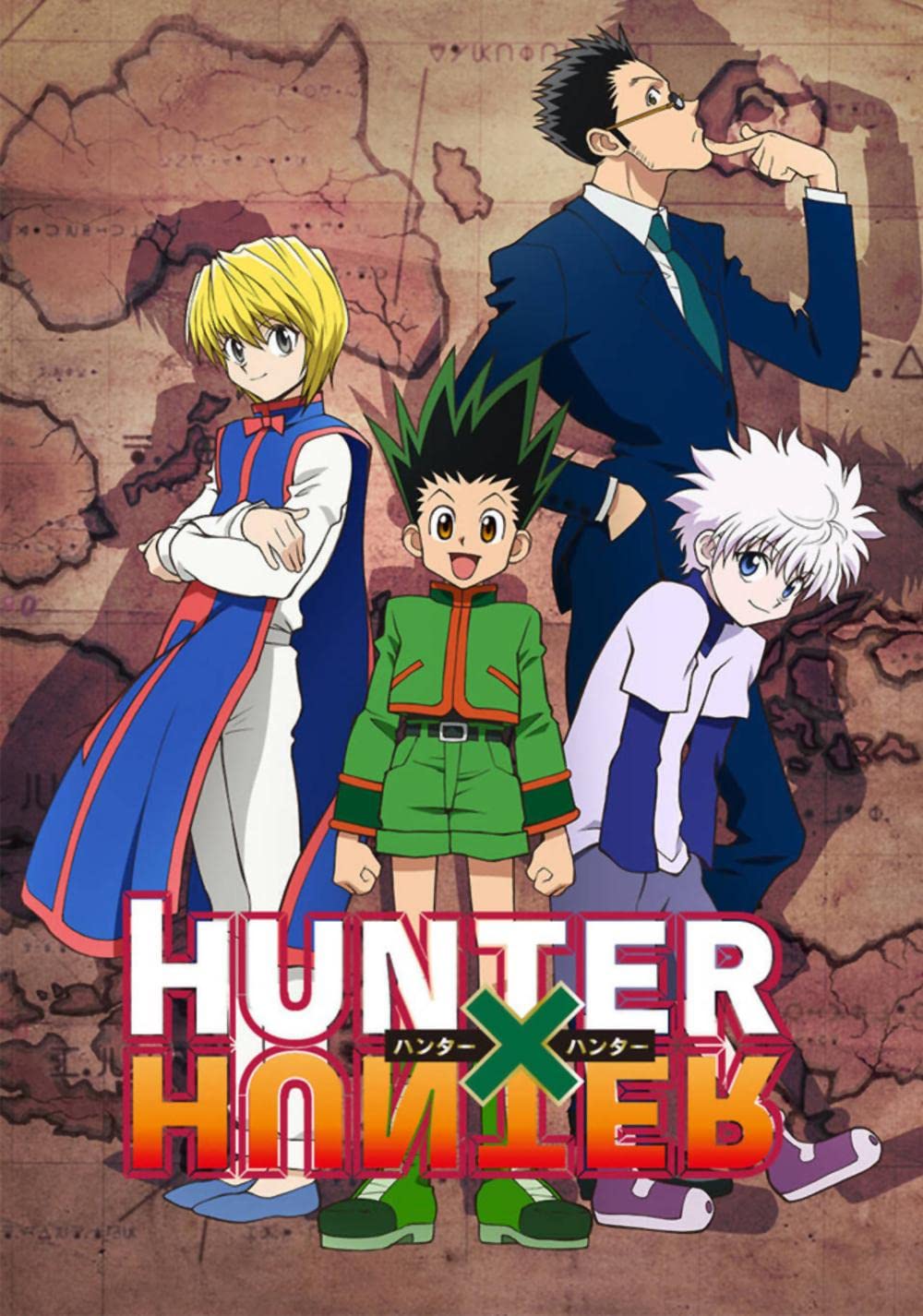 Rating: 9.5/10
Synopsis
The Hunter Exam arc is the first story arc of the series and follows Gon on his journey to become a Hunter and find his father. After becoming friends with Kurapika, Leorio, and Killua, Gon must endure the Hunter Exam's deadly phases to obtain an all-important Hunter License.
Review
This is the start of a review and discussion series as I make my way through my first rewatch of the available episodes of the Hunter X Hunter anime.
The Hunter Exam, the first story arc of the Hunter x Hunter series, is one that I enjoyed quite a lot. There were several things that were done incredibly well during this part of the story and I am going to highlight them in a non-spoiler way here. I will follow that with a spoiler filled discussion at the end! That will be the format for both this and all posts in this series moving forward.
In my opinion, the strength of Hunter Exam arc lies in the strong introduction of the series' main characters. Gon, Killua, Kurapika, and Leorio, the 4 pictured in the above show poster, are almost instantly likable. The great thing about that is, not all of their personality traits are likable. Gon may seem naive and overly enthusiastic at first. Leorio can be a bit overbearing and excitable to the point of hysterics. Kurapika can come off to the casual observer as a bit pretentious, rude, or aloof. While Killua, well honestly I can't think of anything during my first impression that I noticed was truly unlikable about Killua except maybe the fact that he doesn't value life as much as I personally would.
Despite these few somewhat unfavorable traits, there is a genuine spirit about each of these characters that drew me to them immediately. This arc did its job so well in that is got me personally invested in each of these characters using not only the sympathetic back stories that many anime employ, but also by showing who these characters are now through their actions in the Hunter Exam. These four characters are just so easy to root for. Even if I want to smack Leorio across the head once per episode, I still want him to succeed just like the rest.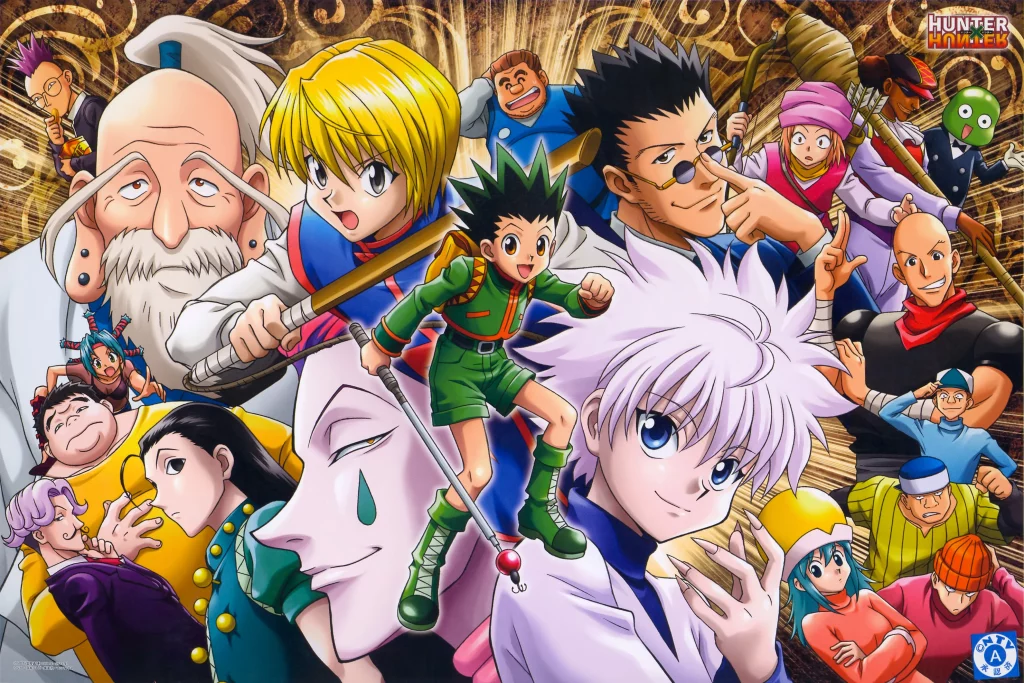 I also love that this anime immediately starts out with a tournament format for the arc. I don't think many anime could pull this off, but Hunter x Hunter does it seamlessly. This format set a fantastic pace for the story with some great action sequences along the way. It was also used to introduce many characters that felt unique and interesting. The best of the best side characters for me were Hisoka, Chairman Netero, Gittarackur, Examiner Satotz, and Hanzo, but there were also many more that were interesting. These characters added a depth and intrigue to the story that would have been lessened otherwise.
The tournament format also did a lot for worldbuilding. It enabled the story to introduce cultures, governmental systems, a few different locales, societal values, and more with a lot less info dumping than many other anime employ.
In this arc you get a glimpse of the themes that will be important in this story. A strong sense of loyalty among friends is one of them and is a common and well loved theme in anime. I really enjoyed how this particular theme never felt childish or overdone like in some anime. In particular, Gon is uncompromising in this theme. If Gon decides that you are his friend there is nothing you can do to stop him from trying to care for and protect you, even at great cost to himself if needed. Another theme that is hit on in this arc a bit is the value of selflessness, of putting others before yourself. It can often be closely tied to loyalty and friendship, but it is not always so simple as that.
Overall, I found this first arc in the Hunter x Hunter series to be an almost perfect introduction to the series. My only gripe being that they added in a filler episode at about the halfway mark that goes over the events of the arc so far in detail and adds basically nothing new. For that I felt the need to take .5 off my rating, but this first arc gets a rating of 9.5/10 from me. An amazing, perfectly paced start to the series.
SPOILER-filled Discussion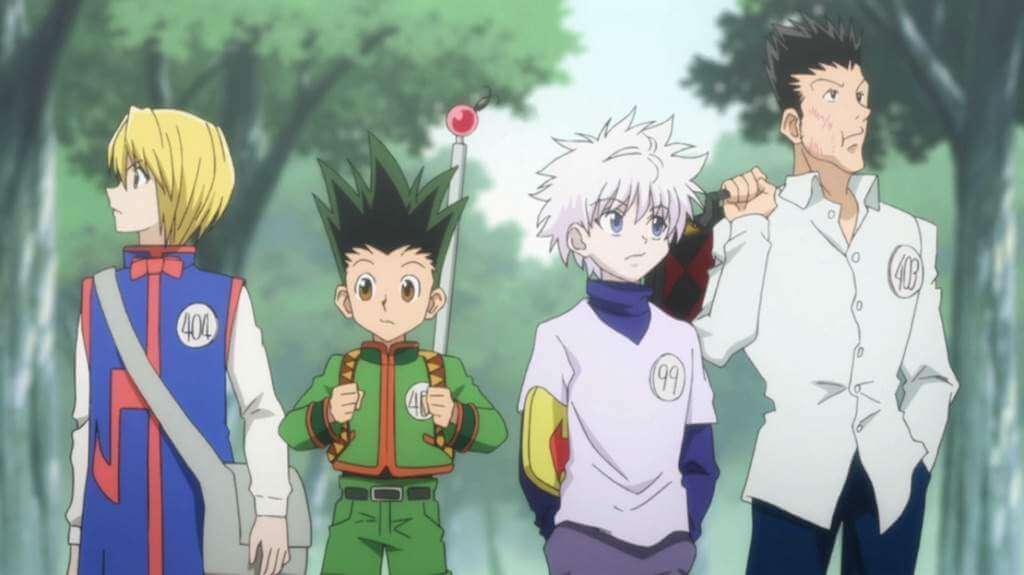 This anime starts out so fun and carefree that in the first few episodes you expect it to be just that throughout the series. Just a fun adventure with friends. It is certainly that, but it was when several Hunter Exam participants were killed by falling into a pit of spikes that I realized that this wasn't going to be the happy go lucky journey that I thought.
Starting out we have Gon leaving his Aunt Mito, who raised him since his dad is a piece of crap who left him to do his own thing as a hunter (more on that later). I love that you can immediately see who Gon is in this first episode. He is kind, almost innocent, caring, passionate, and extremely driven. He is determined to leave all that he has ever known to go become a Hunter like his father in order to attempt to understand why his father left him for that life. In Gon's own words, "I want to find out why it was so important to my dad. That's why I gotta do it!"
Because of this setup, Gon was a sympathetic character from the start. We also get to see his love of adventure as he goes on the voyage to get to the Hunter Exam amidst an intense storm and just has a blast the entire way.
On this voyage he meets Kurapika and Leorio. Both of their introductions were so well done and again showed so much of their individual characteristics in such a short time. Kurapika is guarding a deep pain that we soon learn is due to his entire clan being slaughtered by a mysterious group called The Phantom Troupe because of the beauty of their eyes and their value on the black market. This was the first inkling that this story wouldn't be just a jolly adventure.
Leorio at first tries to pretend he is shallow and all about the money that he can get from being employed as a Hunter, but I love that the truth is quickly revealed and that we are able to see the deep hurt that he has experience in the loss of his dear friend's life that drives him to become a Hunter and doctor.
It is immediately evident that these three are going to be friends, however reluctant Kurapika and Leorio act towards each other at the beginning. Their loss and their drive binds them quickly. I think that's why it is so believable later on when they are showing that they care deeply about one another through their actions in the Hunter Exam. The similar grief shared in their past experiences along with the shared danger and goal of passing the Hunter Exam bring them close much faster than any normal friendship would form.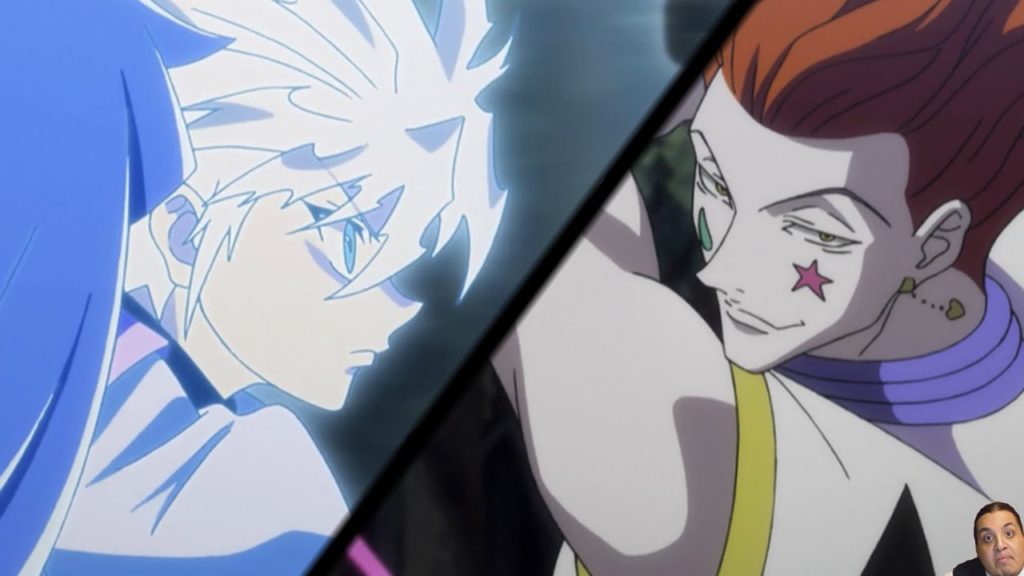 Once the Hunter Exam begins we get glimpses of so many other characters, but Killua and Hisoka immediately stand out among the crowd. Hisoka instills fear into the other applicants with what they know about the last year where he was expelled because he almost killed an examiner. He immediately kills someone just for bumping into him which I thought was a perfect way to introduce his character. He's so intriguing, mysterious, and so strong!
Killua strides around by himself until Tonpa the self proclaimed "Rookie crusher" offers him a drink that is laced with intense laxatives to make it so he can't compete in the exam. Killua drinks the whole can without a second thought and then smirks at Tonpa, telling him he is immune to most poisons and he is gonna have to try a lot harder than that if he wants to take him out.
These two characters give the show a sense of mystery and intrigue. We don't really know too much about who they are and we only discover their motivations later on. This made me feel all the more engaged in the story as I had to continue it to find out just what the heck they were up to.
I think my favorite phase of the Hunter Exam was probably the 3rd phase. It felt it was the most creative and really differentiated itself from the rest. The only other phase that was a contender for best was the 4th phase where they have to steal other people's badges by any means necessary. However, I think the 3rd phase takes the crown for me with its high stakes, daunting tasks, and like I said the overall creativity of the challenges the examinees had to face.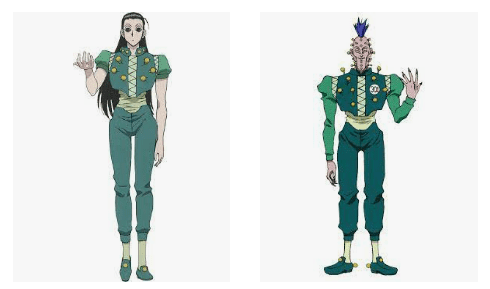 I really like how the main group of Gon, Killua, Kurapika, and Leorio didn't all succeed. Killua losing in the last phase because he may or may not have been mind controlled by one of the other examinees who it turns out is his brother was excellent storytelling. Allowing Killua to fail the Hunter Exam showed that this show is willing to let its protagonists be imperfect. It is so important for a story to make their MCs not feel like prodigious Gary Stu characters that will win no matter what and Hunter x Hunter sets the tone early here.
This was an excellent arc with quite a few surprising and memorable moments, particularly the reveal of Illumi (Gittarackur for most of the arc) and how he affects Killua. An introductory arc that sets up the characters, world, and story wonderfully. I am excited to get into my rewatch of the next arc, the Zoldyck Family arc!