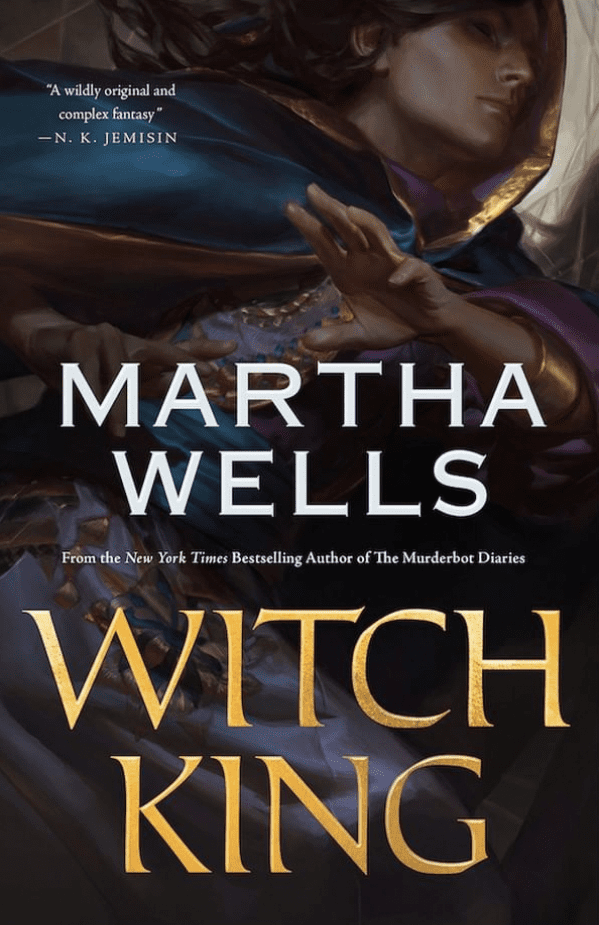 Rating: 9.5/10
Synopsis
From the breakout SFF superstar author of Murderbot comes a remarkable story of power and friendship, of trust and betrayal, and of the families we choose.

"I didn't know you were a… demon."
"You idiot. I'm the demon."
Kai's having a long day in Martha Wells' WITCH KING….

After being murdered, his consciousness dormant and unaware of the passing of time while confined in an elaborate water trap, Kai wakes to find a lesser mage attempting to harness Kai's magic to his own advantage. That was never going to go well.

But why was Kai imprisoned in the first place? What has changed in the world since his assassination? And why does the Rising World Coalition appear to be growing in influence?

Kai will need to pull his allies close and draw on all his pain magic if he is to answer even the least of these questions.

He's not going to like the answers.
Review
In this book we are taken to a world where demons live in a sort of underworld but can inhabit the bodies of humans under certain circumstances, usually dead ones. We follow a demon called Kai, as he wakes up not knowing where he is or what has happened to him. He has been attacked and taken prisoner, and we follow him as he tries to suss out what the heck is going and as he tries to find his friends.
This book is one that drops you right in the middle of things from page one. An immediate sense of mystery is created as you try to piece not only the story and characters together, but the world itself and how things work. This style of storytelling has the potential to be confusing, on top of the normal level of confusion fantasy books have when readers start a new series for the first time. However, I found the author handled it expertly well and I found it really wonderful to read along with Kai and piece things together as I went. Wells leaves a wonderful trail of breadcrumbs and tidbits for you to build the world in your mind as you go, alongside some really fun characters. You do have to pay attention and the book doesn't necessarily hold your hand, but I found the balance between mystery and slowly revealing the details to be really well done.
This book is a slowburn fantasy story where there is action from time to time but it's pretty minimal. I found the pacing to be on the slow side but not in a negative way at all. It perfectly matches the story Wells is telling and the characters, plot and world building were more than enough to carry this book for me as a reader. The world building can be a bit complicated but I never found it too hard to follow. The history is given a lot of time, which makes sense given the age of Kai and co (they are pretty old!). The concept of demons inhabiting the bodies of humans and things like the heart pearls (I think that's what they are called…) were a lot of fun to read about.
The book is told in two parts; one in the present as they mystery is solved and one in the past as we learn who Kai is, where he is from, who his friends are and where they all met. The two intertwining narratives were both equally compelling, which is rare for me in such books. I was eager to find out what happened and whenever the story switched I couldn't wait to get back to the other one again.
The characters we meet along the way are all wonderful. There is a strong found family theme and I loved the way Wells wrote the relationships in this book. I could really feel the depth of connection between Kai, Zeide, Tahren and the rest of the crew. Kai is a fun protagonist. He is dark and ruthless, but you still can't help but love him.
Witch King is a great example of everything I love to see in a fantasy novel. It is very different to Wells' other well-known series Murderbot but you can see the same skill and care with the writing and the characters. There are moments where the humour is similar and those really made me smile. Other than that this story is very, very different to Murderbot, and it would be a shame for readers to compare the two too closely as it's like comparing apples and eggs.
My only improvement would be that I wanted to see more of certain relationships and characters, but that's more that I couldn't get enough rather than that anything fell short, which it certainly didn't.
Highly recommended from me! This book is released on May 30th. Thanks to Tor and to Netgalley for the ARC copy.