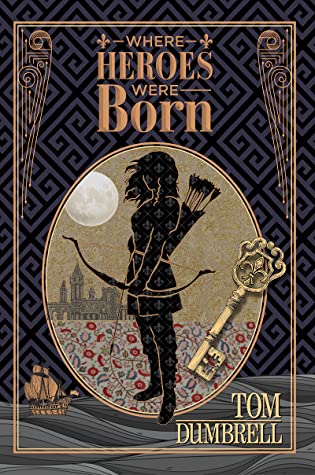 Rating: 8.5/10
Synopsis
Ten years have passed since the Battle of Highcastle.

As Peacehaven's new king takes the country from strength to strength, Fran strikes out on her own in neighbouring Cornesse, where she is the chosen shield to the venerated queen, Mathilde.

It seems Mathilde has everything under control—except her own future. Concerns for Cornesse's royal succession send Fran on a journey she never expected to undertake and certainly didn't know she needed.

Meanwhile in Highcastle, an inexperienced prison master is given responsibility over a notorious brigand. As the son of a decorated war hero, Locke must learn the job quickly, setting aside his demons in order to establish a name of his own in a place where no one knows who he is.

Will Fran's journey on behalf of a queen teach her something about herself instead?

Will Locke falter under the weight of his father's expectations?

Will the king and queen of Peacehaven find their happily ever after?

Peace is a romantic notion, but someone has to fight for it.
Review
Where Heroes Were Born is the epic conclusion to Tom Dumbrell's Pillars of Peace trilogy.
Set 10 years after the events of the previous book, it mostly follows Francine, now grown up and the sworn sword of Queen Mathilda. The land is finally at peace, or at least seems to be. It quickly becomes obvious that the events of the previous books have shaped Francine's character, making for some fantastic plot revolving around her. The book opens up with Queen Mathilda being pressured to get married and produce an heir, eventually sending Francine away to meet her potential husband to be. On the other side of the pond, Locke, our second protagonist deals with in surmounting pressure from a ruthless father, while being dissatisfied with life and trying to figure out his place in the world.
Things quickly spiral out of control, leading both characters down very different paths. Francine, while appearing confident, battled with inner turmoil of being far from her family, while wanting to prove herself to her queen and others around her. Safe to say she proved herself many times and was easily my favourite character, not just because she was a bad-ass, but also because she felt multi dimensional while being genuinely like-able. I wasn't sure at first how she would tie into the rest of the plot, but thought it was fantastically done by the end and loved her partnership with Locke.
Locke, was the other protagonist, and while I also enjoyed reading him, I did find him a bit whiny at times and found myself wanting to skip ahead to Francine's chapters. Things definitely go from bad to really bad for him, yet I loved how he eventually overcame these obstacles, so eventually I did find myself rooting for him, especially as he had such a satisfying redemption arc.
I was slightly sad that Cyrus, who was the previous protagonist of the first two books and also my favourite character had almost no part in this novel. It wasn't a needed addition to have his POV, however I would have liked to see a bit more and to see how far he had come as a king.
Other than that there was a fantastic supporting cast of characters who added some swashbuckling adventures and some high action scenes. Patch was one of these, who also starred as Francine's romantic interest. Taiwo, who was expected to marry Mathilda, was someone I expected to be really dislike-able, but formed a fantastic trio with Francine and Patch.
I expect, that if you've gotten this far, you'll most likely end up reading this and if for some reason you're 'umming' and 'ahhing' then grab this one and find out the epic conclusion to The Pillars of Peace.