I have decided, since the people over at Image Comics and Oni Press seem to like me and send me ARCs of all their releases, I will begin sharing what I read throughout the week (in case you are into comics and graphic novels). I'll also share any that I have purchased.
While it can oft times be difficult to write a full review about a 30ish page issue of a series, I'll give the synopsis, my rating, and any comments I make about what I've read and why you should give it a shot. Maybe it'll be enough to persuade you to check it out? If not, at least you can enjoy the beautiful artwork.
*Click covers for individual links to Amazon*
–Reviews by David
Descender #28
Synopsis:
"OLD WORLDS," Part Two
The origins of the Harvesters are finally revealed as we jump back thousands of years to see the dawn of the robotkind and the the secrets of the Ancient Robot and how it connects to Tim-21 in the present. Secrets that have been building since issue one are finally revealed in this shocking new story arc. Each issue in this arc will feature "Little Descender" variant covers by DUSTIN NGUYEN in his "Little Robot" style.
Verdict: 
5/5 Stars. In this issue, the truth behind the invasion is finally revealed. I was pleasantly surprised to see how the events unfolded and how we got to this barren wasteland of today. The artwork continues to be exquisite and the driving force behind this comic being so astounding.

Rick and Morty #35
Synopsis:
Rick, Morty, and Summer journey to a prehistoric land full of DINOSAURS! Thankfully, Rick has it all under control. That is, until he's suddenly out of commission, and it's up to Summer and Morty to get them home. Plus, the conclusion of "The Rick Identity!"
Verdict:
4/5 Stars. Enjoy Rick & Morty? Want even more ridiculousness and laughs? Pick up these comics. In this issue, think Jurassic Park with a Rick-spin. Because in these stories, nothing is ever as it appears.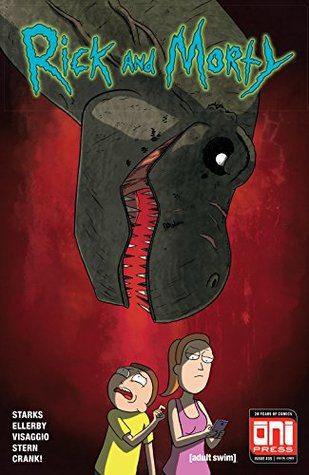 Hit-Girl #1
Synopsis:
HIT-GIRL IS BACK! The pint-sized Punisher-meets-Polly-Pocket has left America behind and set off to serve justice around the world. First stop: Colombia. A mother seeking vengeance for the murder of her child enlists Hit-Girl to destroy his killer, but Mindy has bigger plans for Colombia's most feared hitman. MARK MILLAR and RICARDO LOPEZ ORTIZ join forces for the first chapter of Hit-Girl's world tour in this new, ongoing monthly series.
Verdict:
4/5 Stars. If you have ever read the Kick-Ass comics or watched the movies, you know all to well who Hit-Girl is. Foul-mouthed, pint-sized, and a weapon of mass destruction, she serves justice across the globe. In this revamp, Millar starts Hit-Girl on her world tour, beginning in Colombia.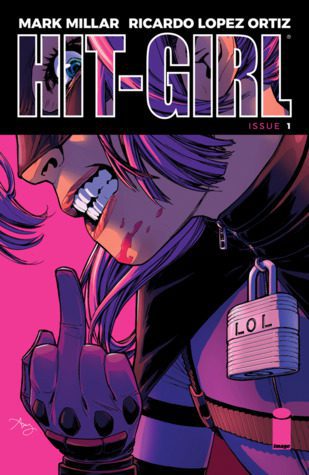 Outcast, Vol. 2: A Vast and Unending Ruin
Outcast, Vol. 3: This Little Light
Outcast, Vol. 4: Under Devil's Wing
Synopsis:
Vol. 2

– Kyle Barnes has been plagued by demonic possession all his life. In light of recent revelations, he finally feels like he's starting to piece together the answers he's looking for. But while he feels a new sense of purpose… is Reverend Anderson's life falling apart?

Collects Outcast by Kirkman & Azaceta #7-12.
Vol. 3

– Kyle is faced with the most emotional exorcism he's performed yet… as he begins to learn more about his abilities and what's really happening around him. Secrets are revealed that will change everything.

Collects OUTCAST #13-18
Vol. 4

– Answers are given and secrets are revealed as Kyle Barnes and Sidney have a conversation that will change EVERYTHING. Kyle has never been in more danger.
THE WALKING DEAD creator ROBERT KIRKMAN'S latest horror hit is now a Cinemax TV show.
Collects OUTCAST BY KIRKMAN & AZACETA #19-24.

Verdict:
4/5 Stars apiece. These consecutive volumes continue to be a treat to the eye. Though answers to what is really going on continue to be cloudy with a chance of meatballs, we do start to understand more about Kyle's haunted past and what exactly Sidney is up to. Chalk these up to being typical Kirkman where the storyline never really ties itself up in a nice, neat little bow and gifts itself to you. The artwork is still fantastic, and the characters are creepy enough to invade your nightmares.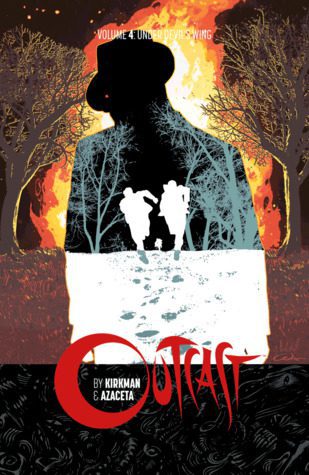 The Walking Dead: Here's Negan!
Synopsis:
Who is Negan? Since his debut in THE WALKING DEAD #100, the charismatic psychopath has antagonized Rick Grimes, murdered his friend with a baseball bat wrapped in barb wire (which he calls "Lucille"), and led the Saviors into war against Alexandria and the neighboring communities. But who was he before society broke down? That question will be answered here, collecting the "HERE'S NEGAN!" story originally serialized in IMAGE+ magazine.
Verdict:
3/5 Stars. Much like Negan himself, this serialized story is sort of all over the place. If you are a fan of The Walking Dead, you know who Negan is: the foul-mouthed, ask no questions, leather jacketed a**hole who wields a wooden bat covered in barbed wire which he dubs 'Lucille'. In this story, we see where Negan began the long road to where he is today and just who Lucille was to him in his 'before' life. Needless to say, he was just as a big a douche back then as he is now. While it was an enjoyable little romp, I feel like the story was too rushed and could've really been expanded upon. 72 pages is pretty short for a backstory, especially when 30-40% of the panels were just illustrations.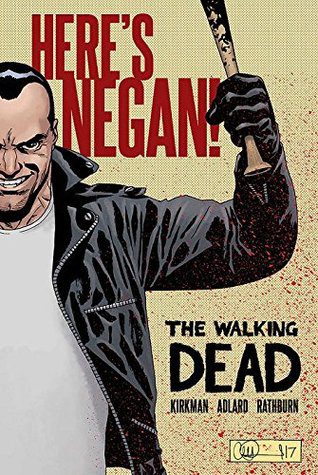 The Walking Dead, Vol. 29: Lines We Cross
Synopsis:
Recent events have thrown Alexandria into turmoil, and now Rick, Dwight, Eugene and Negan all have something to prove.
Collects THE WALKING DEAD #169-174.
Verdict:
5/5 Stars. Though the plot doesn't really further itself in this volume, the action scenes give it the boost it needs to make it an enjoyable read. I also really enjoyed the addition of 'Princess' and the ending scene with Negan makes me want to pick up the next Volume as soon as it comes out. I would say next issue, but I sorta like getting the whole story arc in one volume.
Injection, Vol. 2
Synopsis:
Consulting detective Vivek Headland tackles a case involving a stolen ghost, but when human deli meat causes him to call for help the details of his investigation reveal a new battleground between humanity and The Injection.
Collect: Injection 6-10
Verdict:
5/5 Stars. I definitely enjoyed this volume more than the first, mostly because the end of Vol. 1 explained a good bit of what was going on and I had an idea of what to expect going forward. This arc follows Vivek Headland, a Logician and Ethicist with an interest in security (basically a Sherlock Holmes knock-off) as he investigates a new case dealing with the Injection. There is plenty of scratch–your-head moments, along with humor, curiosity, and fantastic artwork.