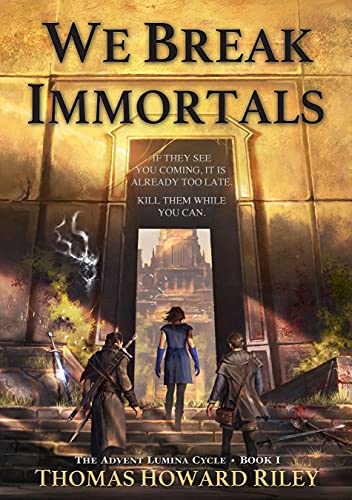 Rating: 9/10
Synopsis
A drug addict who hunts sorcerers down by tracking their magick, the most renowned swordsman no one has ever heard of, and a thieving magick-wielding woman hellbent on revenge collide during a last ditch effort to stop an insane superhuman serial killer from making himself a god.

The Render Tracers always say magick users deserve to burn. Aren couldn't agree more, Keluwen would beg to differ, and Corrin couldn't care less either way.

In a world where most people use swords for protection, Aren uses tools that let him see what no one else can see, and he takes advantage of loopholes that can undo magick in order to stop the deadliest people in the world. He is a Render Tracer, relentlessly pursuing rogue sorcerers who bend the laws of physics to steal, assault, and kill. But his next hunt will lead him to question his entire life, plunging him into a world where he can't trust anyone, not even his own eyes.

When Keluwen finally escaped her fourthparents' home and set out on her own to become a thief, she never thought she would one day be killing her own kind. She honed her magick on the streets, haunted by her past, hunted by Render Tracers, and feared by a society that hates what she is. Now she joins a crew of outcast magicians on a path of vengeance as they race to stop an insane sorcerer who has unlocked the source of all magick and is trying to use it to make himself a god.

Corrin is a sword fighter first, a drinker second, and a…well, there must be something else he is good at. He'll think of it if you give him enough time. He is a rogue for hire, and he has no special powers of any kind. The most magick he has ever done is piss into the wind without getting any on himself. He is terrible at staying out of trouble, and someone always seems to be chasing him. When he gets caught up in a multi-kingdom manhunt, he finds himself having to care about other people for a change, and he's not happy about it.

They are about to collide on the trail of a man who is impossible to catch, who is on the verge of plunging the world into ruin, and who can turn loyal people into traitors in a single conversation. They must struggle against their own obsessions, their fears, ancient prophecies, and each other. They will each have to balance the people they love against their missions, and struggle to avoid becoming the very thing they are trying to stop.
Review
A huge thank you to Thomas Howard Riley for sending me a digital ARC of We Break Immortals. As usual this review is completely my own opinion and not at all influenced by this.
We Break Immortals is the first book in a dark fantasy series with a huge cast of characters and a unique magic system – think CSI Miami, mixed with some Sanderson and lots of gritty grimdark violence all converging on a memorable set of characters.
The world-building in We Break Immortals is absolutely mind blowing, which is already made obvious by the hugely detailed map at the beginning; a map so beautiful and well detailed that I found myself referring to it way to often, just so I could track the characters progress. Riley introduces us to a vast world filled with danger, strive and magick alongside a rich culture, history and political tensions. Riley definitely doesn't hold our hand with the world building, so that we as the reader are thrown into the deep end, which at times was a bit daunting, but nevertheless fully immersive. At times it did feel like a slow burn, but once I felt comfortable and was able to focus more on the plot the book really picked up the pace for me.
Riley had a fantastic way of creating suspense, partially through events and partially because I ended up rooting for so many of the characters. Alas, he was also not shy in killing them off! This suspense eventually culminated in multiple brutally satisfying and visceral battles, pitying some of my favourite characters against magick users, monsters and even each other; I almost felt like I'd entered some grimdark fantasy bar brawl and barely survived by the end.
A special mention really needs to be made to the unique magic or magick system, which at first had me scratching my head, but eventually had me re-reading entire passages to take in every part. Magick is used by near god individuals who are help bent on creating as much destruction as possible and achieving full godhood. Unfortunately not everyone is able to see this magick, so "Glasseyes or Render Tracers" are employed to track down and capture these individuals using a crack team of hunters, their guile and experience in hunting down the deadliest or societies creations. In this case these kind of people are more important than usual in hunting down a particularly bad individual with a knack for the most twisted kind of violence.
This is where Aren, who is one of these Glasseyes, arrives on the scene through his employment by The Lord Protector a a notorious magick user threatening the existence of the world. Aren had a flawed depth and complexity to him that I have rarely seen in fiction. He isn't your usual good guy, which was obvious through his over reliance on drugs, weakness for women and need to prove himself as being the best Glasseye, which in a way he does through his relentless hunting and deep knowledge of magick users. Aren to me felt like that anti-hero that is most needed for cleaning up the kind of mess that an "honest" person wouldn't want to clean up themselves. Aren may have been feeling a bit used at times, but I loved his breakout scene when he eventually and quite naturally takes complete charge and becoming somewhat of gravity well in bringing loyal friends to his side.
The second character that really stood out for me was Corrin, a rascal of swordsman, who might be the type of character one would miss in a book filled with magick, effectively contrasted so many aspects of We Break Immortals. In a world of magick, Corrin is a deadly swordsman with a witty sense of humour and a natural ability to lead. The overall tone of the book was of a dark and grim dark nature, so that the odd break from Corrin's wittiness really made an impression on me. Corrin was, in my eyes, the loyal yet realistic rogue of a hero every good fantasy story needs.
Lastly we have Keluwen, a magick user who hates Glasseyes, hellbent on revenge and on the hunt for the same rogue magick user as Aren. She was unfortunately my least favourite character as at times I found her a bit on the whiney side. Nevertheless, her motivations and no-bullshit approach to things really made an impression. I did really enjoy her relationship with her her crew and her husband, who she refused to let him call her his wife. It's was also clear that she commanded a loyal, yet deadly crew on the hunt for even deadlier people.
It does need to also be mentioned that there are of course many more unique characters in We Break Immortals, such as Eriana whose addition created some lovely sexual tension between her and Aren. I won't say more of course. Alongside this are both Aren and Keluwan's misfit crew's that felt like that family we both love and hate at times. I will however warn readers to try to not get too close to some of these characters…
The writing, while at times a bit long-winded was excellent. It felt like the kind of descriptive writing that pulls you in and fully immerses you into the world. What particularly stood out for me was the descriptions of some of the cities, especially Medion, with its huge towers and spires, contrasting the forests pulled down to build the city. As mentioned above, Riley has an uncanny ability to create tension and suspense, which is also partly because of his writing.
If you're thinking of starting a new fantasy series that has fantastic world-building, a unique magic system, grimdark action and violence, sex, drugs and a huge array of fantastic characters then this is your place to start!