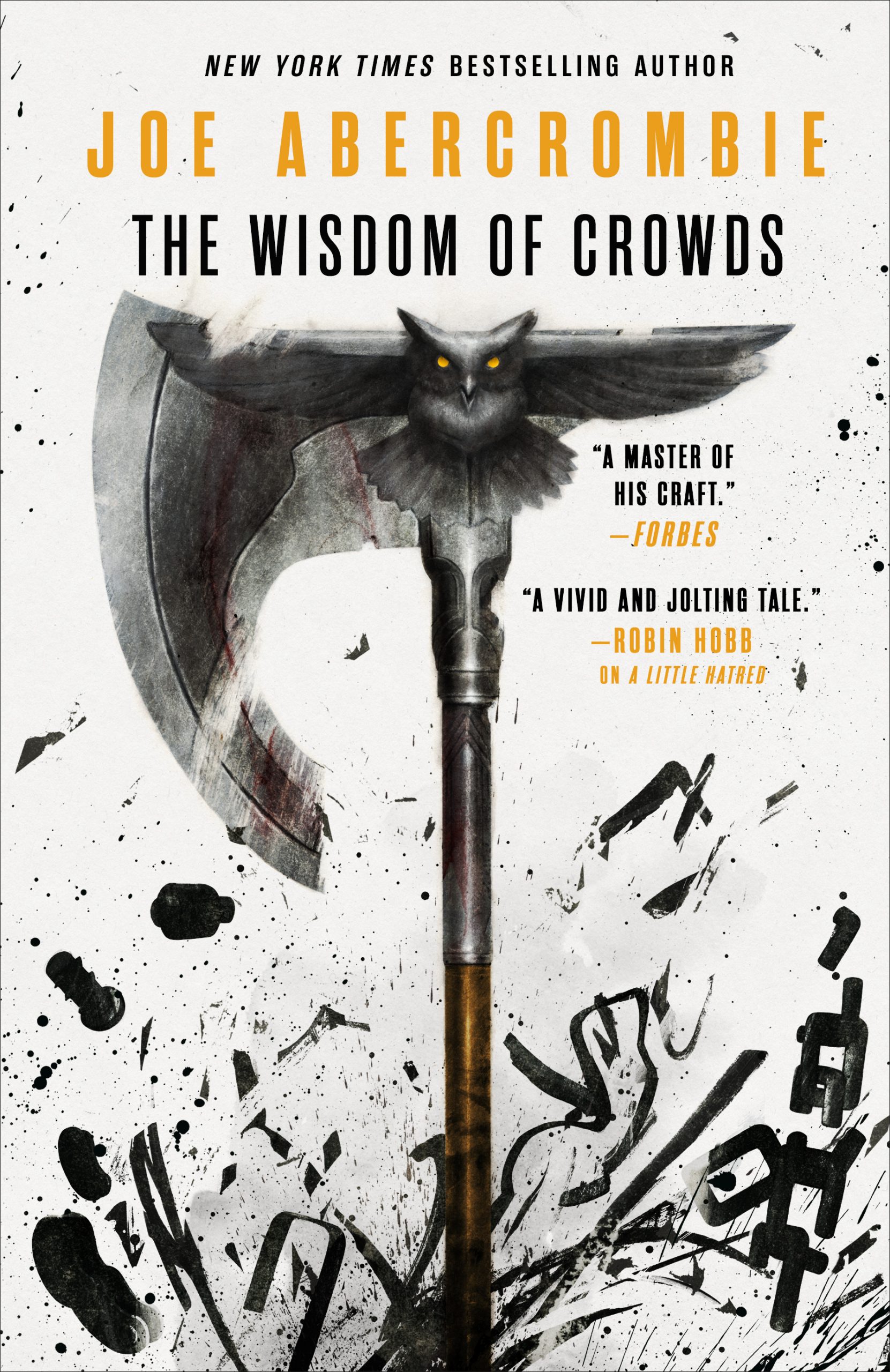 Rating: 10/10
Synopsis
Chaos. Fury. Destruction.
The Great Change is upon us….
Some say that to change the world you must first burn it down. Now that belief will be tested in the crucible of revolution: The Breakers and Burners have seized the levers of power, the smoke of riots has replaced the smog of industry, and all must submit to the wisdom of crowds.
With nothing left to lose, Citizen Brock is determined to become a new hero for the new age, while Citizeness Savine must turn her talents from profit to survival before she can claw her way to redemption. Orso will find that when the world is turned upside down, no one is lower than a monarch. And in the bloody North, Rikke and her fragile Protectorate are running out of allies…while Black Calder gathers his forces and plots his vengeance.
The banks have fallen, the sun of the Union has been torn down, and in the darkness behind the scenes, the threads of the Weaver's ruthless plan are slowly being drawn together…
Review (spoiler free)
"Thought we were meant to be free!" he whined, a string of drool hanging from his lip.
"Turns out liberty needs boundaries."
Here we are, at the stunning conclusion of The Age of Madness trilogy. This trilogy absolutely solidified Abercrombie in my top five favorite authors of all time. It is some of my favorite work. I often call myself a book masochist; as much as I despair at my favorite characters being put THROUGH it, I greedily inhale more. A talented author can make the emotional pain hurt so good! Being an Abercrombie fan takes book masochism to a new level. It's like being in an endless boxing match and eagerly getting up for another punch to the face. Or rather, it's like being in one of Abercrombie's infamous Circles, knowing that you're going to end it with a sword to the heart, but letting the adrenaline carry you to the end.
The Wisdom of Crowds started off at such a heightened state of terror that it caused my neck to prickle with anxiety from the beginning. This novel takes off at breakneck speed and does not let up. It might be one of the most brutal Abercrombie books that I've read. Honestly, this whole trilogy took off into a level of brutality that is a completely new flavor than the previous novels. That's saying something— Abercrombie is well known for his unbridled savagery in his writing. It was chaotic, messy, heartbreaking, and a hell of a ride. There are some moments that we see coming, because we know that Joe isn't going to spare our hearts, but they are always expertly done.
"He was dragged up again by the elbow. A strange gang. Like the people you might see at one of the cheap markets. Only furious. And [redacted] realised that ordinary people can be utterly terrifying."
The aspect of the common people rioting and starting a revolution was a very natural progression throughout his First Law world. It has been a long time coming, but that doesn't mean I worried over some of our characters any less. I have grown fond of some of these extremely flawed people. I maintain that Orso is one of the best characters that Abercrombie has written, and I mean that in the most literal sense. Orso has an insight to himself that is needed by a leader and also actually cares about the people he's supposed to be ruling over. I've said it before, but if Orso had been allowed to rule the way he wanted to at the beginning, a lot of the destruction could have been avoided. This is Abercrombie's world though, and there are reasons why that couldn't happen. Also, I truly LIKE Orso. He's witty and is constantly making me laugh. He's much braver than he seems on the surface. I really enjoy a lot of First Law Characters and count them along my favorites; the Bloody Nine, Glokta, Savine, and Shivers, to name a few. We know that they are morally grey, though. Orso is actually endearing and almost uncorrupted—just so dang likable! This is a miracle in this world.
Per usual, Abercrombie treats us to the duality of humanity; good people turn cruel, and cruel people become the saviors. The Wisdom of Crowds is a timely installment, at a point in our world where people around the globe are demanding more of the powerful people leading. Voices are being heard, insightful and ignorant alike. The common people of Abercrombie's world are realizing how effective they can be as a cohesive unit, as well.
It's also timely in its observation of the limitations of freedom. There's a certain level of belief in unbridled personal freedom that leads to foolishness. With this Great Change ushered in by the people, along comes gross miscalculations, destruction, and the sacrifice of innocents. Abercrombie makes us wonder: can we ever truly do something for the greater good without causing harm? At what point do we choose remaining stagnant as a society versus accepting the alarming costs of a revolution? Is there a leader out there capable of carrying out their good intentions without abusing their power or marginalizing others? Why do we succumb to the mentality of the mob? And finally, just because the voice of the 'Crowd' rises to the top, does that always mean they are right or know best?
Ah, but that's what I love about Abercrombie. He writes these gloriously merciless novels that are simultaneously bursting with wisdom and a sardonic view of humanity's ability to NEVER learn from the past. I could have quoted no less than twenty highlighted moments from my kindle version that were so eloquently put and deserved to be heard, but that would have been overkill. He writes about the dangers of leaderships and the dangers of anarchy. He writes bone-chilling moments of people savagely fighting for their life; these fantastic portrayals of blood and death that are enough to make us squeamish with their honesty. Good people die, bad people live. Sometimes people get their revenge, other times they are at the mercy of another's revenge plot. Sometimes the free people really want to be told what to do (albeit, nicely). The wheel of power keeps shifting. And as always, that damn Bayaz hangs on like a cockroach in an apocalypse .
"The voice of the people… is just noise. It is the blather of the lunatics in the madhouse. It is the squeal of the pigs in the slaughterhouse. it is a choir of morons. Most of them don't even know what they want, let alone how to get it. They need someone to tell them what to do."
All hail Lord Grimdark! I'll be anxiously waiting in the Circle for the next knife to the heart.
Thank you to Angela and Orbit books for graciously sending me a gifted finished copy of The Wisdom of Crowds. It will undoubtably rank as one of my favorite books this year, if not my favorite of all. You can grab a copy of this novel on September 14th, 2021
---
The Broken Binding and FanFiAddict are partnered, so you can get 5% off when ordering from them using the code FanFi at check out. At the time of this post, they have The Wisdom of Crowds here.