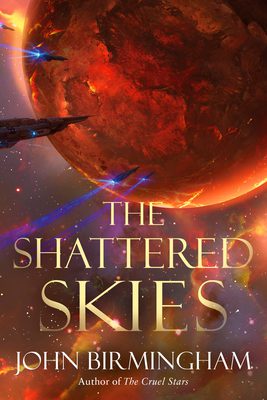 Rating: 9/10
Synopsis
A group of intrepid heroes must rebuild and protect civilization after a long dormant enemy shattered their once-peaceful empire in this thrilling sequel to The Cruel Stars.
The Sturm, a group of "species purists" intent on destroying any human with genetic or cybernetic enhancements, returned from the far reaches of Dark Space to strike a devastating blow against humanity. Though their victory seemed inevitable, a small group of reluctant heroes managed to beat back the invading force. Now left with the remains of a crippled civilization, they must work together to rebuild–and to stand guard, in case those weren't the only enemies hiding in the dark…
Review
The Sturm have been pushed back, but not defeated, their larger forces still roam the Volume; despite the efforts of McLellan and Herodotus and the rest of our cast, their threat isn't gone – and this sequel treats us to a whole lot more of what the first did. If epic space battles and advanced tech are your thing, or you've read the Expanse and want more spaceships and AI, this is a series that should shoot to the top of your TBR.
We're treated to new characters in form of sub-commandant Surprato, who we come to love, and Captain Revell, investigating officer of the enterprise, a Republic vessel, who we will never love … that's for sure. Not least because of the regime he supports. I'm glad to see the POVs grow, but it certainly adds to the tension, because some of them, from the Sturm's point of view, only carry bad news.
Birmingham really finds new ways to keep the plot fresh and explore different, strange scenarios despite the crew being on a ship in the void that is space. One of these intriguing points is a mad, insane Intellect on a space station like a savaged morgue. We've a lot more to sift through in this one. Like zombies in space, I loved this part. It really was a break from the first book, added a lot of different danger and an entirely different feel. Birmingham really displays versatility and creativity in writing here. It's an endless show of how he can turn up the pressure, how can this book or scene be different from the last, and this proves it.
A lot more politicking in the form of the Pac Yulin, Yulin-Irrawaddy Combine and the Javans. We focus more on the Corporate Worlds here. Where last time they were names and a few minor characters, this time they were a major problem. The Sturm were an enemy, but an almost mindless enemy as our characters had to kind of take care of a problem closer to home. 
I loved it all the same, but it didn't quite have enough Hero! No one truly let that Intellect off his leash or gave him a ship. I was very sad. Can someone please let him out from under the thumb Lucy has pressed on him? Let him sort this! He is an Armada-class Intellect after all, hadn't you heard? He could take care of this for you … but nope, the Armadalens like to do things organically.
Booker and his Cupertino rig … now, I thought I recognised the name Cupertino, but I really didn't think we'd see super-advanced bio-organic military grade rigs made by the fruit company in this. But, Birmingham did create Frazer McClellan, so he does have a twisted sense of humour and I'm glad it came to the fore here.
As in the last book, my favourite thing were all the fireworks, the sentient missile swarms, spaceships folded into the heart of other spaceships, so they go boom, it's all here again.
Overall, this series is utterly fantastic. It has very quickly become one of my favourite series ever. If you're looking for a sci-fi read or are here reading this review for some strange reason without intending to read sci-fi, then I implore you to start here. Well, start with book 1, but you know what I mean.