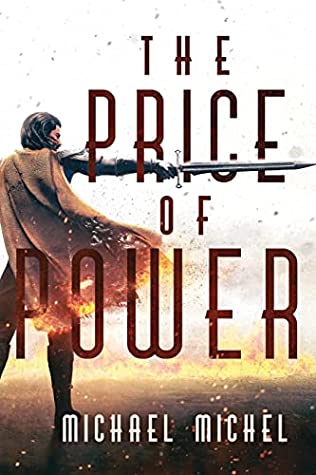 Rating: 9/10
Synopsis
Prince Barodane could not hold back the darkness. Not even in himself. He laid an innocent city in its grave and then died a hero.
In his absence, war whispers across the land.
Power-hungry highborn dispatch spies and assassins to the shadows as they maneuver for the throne, while an even greater threat rises in the South. Monsters and cultists flock to the banners of a mad prophet determined to control reality…and then shatter it.
Destiny stalks three to the brink of oblivion.
A dead prince that isn't actually dead. Barodane buried his shameful past in a stupor of drugs, drink, and crime, and now, he'd rather watch the world fall apart than wear a crown again.
An orphan with hero's blood who is forced to make a harrowing choice: betray her country or sacrifice her first love.
And a powerful seer who has no choice at all–her grandson must die.
If any of them fails to pay the price…
The cost will be the world's complete annihilation.
---
Review
The Price of Power is Michael Michels debut novel, beginning an epic new grimdark series, that hits all the right fantasy notes, while adding a beautiful sprinkle of grimdarkness. It follows multiple characters and address's themes of war, magic, power and the struggle for survival that leaves behind a satisfying taste of a great read.
The Price of Power begins explosively with one of the best prologues I have read, marking the beginning of the kingdom of Namarr. However, things just aren't that easy and the fairly new kingdom quickly falls into turmoil, civil war and petty arguments after the decimation of its monarchy not many years later. At the same time, there looms the constant shadow of Scothea with their barbaric customs and an even darker shadow yet to be revealed.
The book follows four main characters and a very strong supporting cast. The characters felt well-fleshed out and morally grey, while also being likable.
The first being Barodane Ironlight, the disgraced former King of Namarr, now thought to be dead. After sacrificing himself to save the country he has his head stuck in alcohol, drugs and…women. Things look pretty hopeless for him and running the country definitely isn't on the table.
Ishoa Ironlight was definitely my main interest in the book. Being an orphaned 14-year-old and having the weight of an entire kingdom on her shoulders, while preparing for a trial that may or may not kill her, while enemies swarm you from all sides makes for some very interesting reading! Hint, she's a badass.
Thephos, a priest with nothing to live for finds himself in somewhat…grim circumstances, meeting some pretty grim folk. Unfortunately, he was probably the only character I didn't connect with on any level. I wasn't entirely sure how he fit with the plot, but assume more will be revealed eventually.
The final main character is an all-powerful and mysterious seer grandmother, who at first seems like the kind of grandmother no one wishes for, but quickly shows to reveal a rather interesting background and motivation.
Not bad right?
Doesn't end there. What really made this book stand out for me were the supporting characters, including Garlenna, the only one able to bring Barodane out of his stupor, Wolst the most badass kind of knight and a few other fantastic ones I won't mention!
Towards the middle of the book there was a bit of a drop in plot for me, but that quickly changed after two thirds in when the plot exploded with pace, and intrigue, grasping me like a vice and not letting go until the end. Also that ending, phew, now that was an ending to make even Michael Bay proud. 
I'd like to highlight the beautiful way this book was written, which I cannot stress enough, was absolutely phenomenal. It's rare that writing alone makes me feel so immersed, but it really did. The words felt like they flew of the page and grasped me, pulling me into the world Michel's created.
I hope it's obvious but now, but if it isn't then do yourself a favour and grab this book. If the super awesome cover doesn't grab your attention, then the blurb most definitely will and if that still hasn't, then know if you're a grimdark fan, that the book will be more than enough to quench that grimdark thirst and have you wanting more.