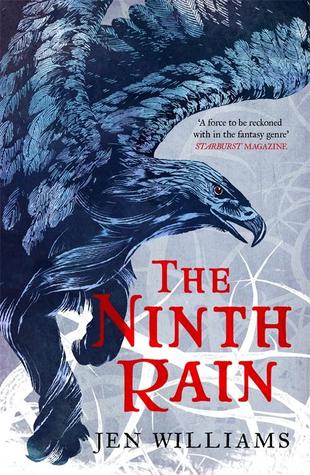 Rating: 8.5/10
Synopsis
The great city of Ebora once glittered with gold. Now its streets are stalked by wolves. Tormalin the Oathless has no taste for sitting around waiting to die while the realm of his storied ancestors falls to pieces – talk about a guilt trip. Better to be amongst the living, where there are taverns full of women and wine.

When eccentric explorer, Lady Vincenza 'Vintage' de Grazon, offers him employment, he sees an easy way out. Even when they are joined by a fugitive witch with a tendency to set things on fire, the prospect of facing down monsters and retrieving ancient artefacts is preferable to the abomination he left behind.

But not everyone is willing to let the Eboran empire collapse, and the adventurers are quickly drawn into a tangled conspiracy of magic and war. For the Jure'lia are coming, and the Ninth Rain must fall… 
Review
This was my first novel by this author and I went into this book not knowing anything about the story, but still having high expectations. I knew this book had won at least one award and I'd heard it talked about a bit online. I'm happy to say, I was not disappointed.
We travel to the world of Sarn, and follow three main characters; Tor, an Eboran warrior, Vintage; a scientist and explorer who gives off lots of female Indiana Jones vibes, and Noon, a witch. The plot and world is very complex and neatly interwoven, so I think it's best to discover things there as you read rather than me trying to give a quick run down.
The world of this story is in many ways quite alien to our own, with many strange things that sometimes even the characters struggle to make sense of. The world building is one aspect that this book really shines in. While being a bit alien, everything feels so unique and original. And in a genre littered with tropes that is a hard thing to do. This world is very imaginative and so uniquely wonderful. History has a big impact on this tale, so it's as if we are following our characters, while at the same time finding out what happened in the past alongside them. It's pulled off expertly. I loved the way William's told the history and the lore throughout the story, with information spread out throughout the book in a way that's interesting, enthralling and not at all overwhelming. Her writing style is simple yet so effective.
The characters are all well set up and easy to develop a liking for very early on. Vintage was my personal favourite, and I just loved reading about an older woman who is still out there having adventures and being badass. Tor and Noon are both also equally enjoyable. All of the characters are flawed, and they play off each other very well. I liked how they are all strong and fierce in their own way, and that humour and lighter moments are sprinkled in throughout the book as well. That's always a plus for me in these epic fantasy stories.
One area this book also does really well is twists and reveals. Throughout the book a lot of information is given, and there are lots of remnants of the past that even the characters don't fully understand. When the pieces all do click into place Williams does it with style and it's oh so fun to read.
I did find that in the middle of the book there is a loss of momentum in terms of the pacing. That's not to say that I was bored at all, because I wasn't. I just lost the urgency to find out what was going to happen for a while. It just definitely felt like there was a bit of a slower patch in the middle, where there are lots of questions asked and it's not until the end of the book that we really get any answers.
However, the end came back with guns blazing at full speed for a great finale, and a fun set up for the next book. While the middle was slow, I absolutely loved how Williams brought everything together in the end. The pieces all fell into place and I could see a lot of care was taken in the crafting of this story.
All in all, the praise this book gets is well deserved. I am going to check out book two for sure. I would recommend this to any fantasy fan, and especially those who want a story and a world that really stands out from the crowd.