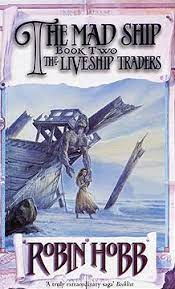 Rating: 10/10
Synopsis
As the ancient tradition of Bingtown's Old Traders slowly erodes under the cold new order of a corrupt ruler, the Vestrits anxiously await the return of their liveship—a rare magic ship carved from sentient wizardwood, which bonds the ships mystically with those who sail them. And Althea Vestrit waits even more avidly, living only to reclaim the ship as her lost inheritance and captain her on the high seas.

But the Vivacia has been seized by the ruthless pirate captain Kennit, who holds Althea's nephew and his father hostage. Althea and her onetime sea mate Brashen resolve to liberate the liveship—but their plan may prove more dangerous than leaving the Vivacia in Kennit's ambitious grasp.
Review
"Open your eyes. This horrible mess is your life. There is no sense in waiting for it to get better. Stop putting it off and live it."
Picking up right where book one leaves off, this entry in the series is equal to the first in every way. I suspected this series would become a favourite of mine after book one, and now I am sure.
As with all of Hobb's books that I have read so far, characters and relationships are at the forefront of the story. The arcs in this one had me totally hooked. Althea and Brashen's story of finding out who they are and where they fit in vs who society expects them to be is entirely wonderful. Vivacia's slow spiral was done so well, especially alongside Etta and Wintrow as they all cope through trying to latch on to Kennit. Kennit is a character who I still can't make up my mind about. His manipulative nature makes him as morally grey as they come. It's a marvel to see him use people for what he wants while making them think that he's giving them what they desire, but at the same time you loath him for his arrogance and selfishness. He does all the right things, but for entirely the wrong reasons. I can't wait to see how his arc concludes in book three.
"Tomorrow owes you the sum of your yesterdays. No more than that. And no less."
One of the things I really appreciate about this trilogy is the strong female characters. The role of women in society is a theme that's touched on, particularly in Althea and Amber's storylines. I loved Althea's journey in particular of finding her place at sea where she belongs. Malta also makes a fairly miraculous transformation, and although I still can't say I love her character compared to others, I do love her arc and how Hobb writes her journey.
The world expands so much in this book, with questions answered and layers added. Hobb's writing is so well done, making you feel all of the emotions on the spectrum as this world is built so realistically around you. Every reveal and tidbit of information is planned and controlled, and the story flows perfectly. The perfect amount of information is fed to the readers, never too much or too little. It's clear there is lots more to come in the concluding books as well.
I found myself absolutely addicted to this sea-faring story. If only all fantasy books were written this well. An incredibly strong sequel in an even stronger trilogy. I'm strapping in for Ship of Destiny and can't wait for the ride.