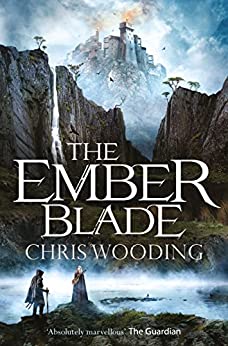 Rating: 10/10
Synopsis
A land under occupation. A legendary sword. A young man's journey to find his destiny.

Aren has lived by the rules all his life. He's never questioned it; that's just the way things are. But then his father is executed for treason, and he and his best friend Cade are thrown into a prison mine, doomed to work until they drop. Unless they can somehow break free . . .

But what lies beyond the prison walls is more terrifying still. Rescued by a man who hates him yet is oath-bound to protect him, pursued by inhuman forces, Aren slowly accepts that everything he knew about his world was a lie. The rules are not there to protect him, or his people, but to enslave them. A revolution is brewing, and Aren is being drawn into it, whether he likes it or not.

The key to the revolution is the Ember Blade. The sword of kings, the Excalibur of his people. Only with the Ember Blade in hand can their people be inspired to rise up . . . but it's locked in an impenetrable vault in the most heavily guarded fortress in the land.

All they have to do now is steal it . . .
Review
The Ember Blade is a book I ordered on a bit of a whim. I don't often do that honestly. I'm generally very selective about which books I buy, especially in physical format. This book was recommended to me by some friends whose bookish-opinions I really trust. They raved and raved about it so when I got my copy I had a feeling this was something special.
I went into this book without even reading the synopsis. I only read the comments on the cover from other reviewers; one of which described this book as the next LOTR. That's a pretty hefty claim to make. If you are going to put that on the cover of a book, then you better back it up in my opinion.
I am delighted to say that after reading this book that the claim makes sense to me. I wasn't disappointed. This book is phenomenal.
We follow the story of two Ossian teenage boys growing up in their country which has been conquered and taken over by the Krodan Empire. Aren is of high status in the community, whereas his sidekick and best friend Cade is not. Never the less, they are happy and have their plans and hopes for the future. Their whole world soon comes crashing down on them when Aren's father is accused and killed, and the two of them are thrown in jail.
The book takes on many well-known elements of fantasy; quests, secret rebellions, exploring dark, hidden ruins, perilous escapes, animal companions, brutish thugs, even a love triangle aspect. All of this has been done before but the way it's done here; walking the perfect line between classic fantasy, epic fantasy and grimdark, elevates it above the rest. All of the actions have consequences, and there are no 'get out of jail free' cards for the characters in this one. The stakes are real, heart felt and kept me engaged the whole way through (and this isn't a short book).
Another aspect that I think really shone out to me about this book is the characters and their interactions with each other. We have such a great cast. My personal favourites were Grub, Vika and Cade. Aren, the main protagonist, is very well written too. But if Aren is the bones of the story, then the side characters are it's heart and soul. Especially Cade; the loveable, slightly goofy, best-friend who dreams of being an actor or storyteller. The author weaves in everyone's back stories throughout the book and everybody has their own distinct voice and role within the group. Definite 'fellowship' vibes given off here and I loved it! Every character has their own arc they go through as well, so it really does feel like an ensemble cast even though Aren is the MC throughout the book.
The writing was really well done too. The variety of points of view we got really helped tell the story in a great way. The story is long, and at times I did feel that things were going slowly. Wooding takes a lot of time to create and set up the world in this one, and perhaps that does add to the feeling that things are slow at times. If world building is not your thing perhaps that something to be aware of. However, at no point was I ever bored. Getting to know more about the religions, cultures and opinions within the world as well as the back stories of the different characters just builds everything up for the ending of this book and the books that I am sure will follow.
The themes of the story help the author to keep a really great balance between an adventure story and something with more of a dark feel to it. There is a big focus on friendship, with lots of different aspects explored within the ensemble of characters. I really loved the relationship between Aren and Garric, and Garric and Keel. The opinions all the characters have about their country and the occupation are revealed throughout the story, and it's soon evident that everybody has complex, nuanced and deeply emotional opinions on the events 30 years past. The themes of colonisation and rebellion are done really well, and I don't often find them so compelling as I did here.
It would be a crime to write this review and not mention the outstanding ending. I could not put the book down for the last 200 or so pages, so make some time in your schedule when you get to that part. Everything comes together wonderfully. Plot twists on top of plot twists are executed so well. I was a bit of an emotional mess by the end of this book. Wooding kept me guessing until the very end and I can't wait for book two. Book two is set for release early next year at this stage.
This is likely one of my top reads this year. A must-read for any fantasy fan, or anyone looking for a good adventure story that sucks you in and tugs on your heart strings.