This is a review in conjunction with the 2023 Self Published Science Fiction Contest (SPSFC2 for short!) The Diamond Device is one of six semi-finalist that the judging team, Team Escapist, is reviewing as they seek a finalist to move forward in the competition.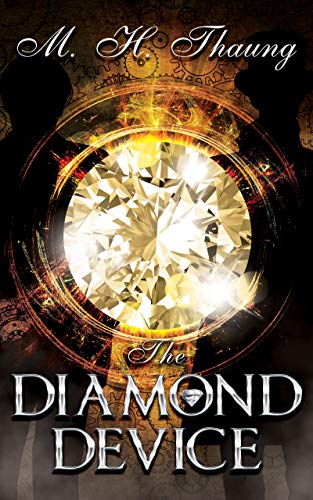 Rating: 7.5/10
Synopsis
After diamond power promises to replace steam, an unemployed labourer and a thieving noble unite to foil an international plot and avert a war.
Alf Wilson resents the new technology that cost him his factory job, especially as his clockwork leg bars him from army enrollment. He daren't confess his unemployment to his overbearing mother. Desperate over the rent, he ends up in a detention cell with a hangover.
Impoverished Lord Richard Hayes maintains his expensive parliamentary seat by a mixture of charm and burglary. During a poorly planned break-in, he inadvertently witnesses a kidnapping. To cap it all, the police arrest him for the crime. At least he's using a fake identity. The real criminals make off with not just the professor who discovered diamond power, but her plans for a diamond-fuelled bomb.
When Rich encounters Alf in the neighboring cell, he sees an opportunity to keep his noble reputation intact. He persuades Alf he's a secret agent who needs an assistant. This chance association will take them to the oddest locations. But law-abiding Alf's first assignment? Break Rich out of jail.
Review
The Diamond Device is a perfect read for those looking for a fun gaslamp mystery set at the beginning of the industrial revolution but in a steampunk inspired world. This is the equivalent of cozy fantasy but for steampunk mysteries. This is a good fit for those wanting a story that has great characters, an interesting world, and a mystery involving a maid, a laid off, disabled factory worker, and a broke and swindling Lord.
There are many things to love about this 250 page steampunk mystery, The Diamond Device. What Thaung has absolutely NAILED with this novel is her characters. I fell in love with each and every one of them from the very beginning. The each have their own unique character arcs and backgrounds that make you want to know what is going to happen to them from the start. My favorite character being Alf, a disabled, laid off factory worker who has a clockwork leg and a mom and sister he is trying to take care of in a changing world that is seemingly needing less and less blue collar workers as new technology begins taking their place. I think you'll like him!
Thaung's world building is just enough steampunk mixed with mid 1800's to have that familiar backdrop but with an exciting twist. Kind of like when you try cherry Sprite for the first time. You know what I'm talking about you Sprite enthusiasts. What makes this story different from other steampunk novels is that steampunk is very new to this world. It is just beginning to cause drastic differences in this world. In my opinion, I would have loved to have seen and experienced more of these pieces of technology. They almost come across as props in the story rather than major elements to the plot. The title of the book is The Diamond Device however, if you are expecting this device to be a big part of the story you will be mistaken. The story is built on character relationships with heist and mystery vibes filling in the rest. I would equate the steampunk to a avatar skin in a video game. While it looks cool, it ultimately does not affect the actual story in many ways.
The writing and plot of this novel are well done. The characters are well written and extremely believable which contributed to my love for them. The plot is a lot of fun. It reminded me of a Robert Downey Jr' Sherlock Holmes style story. Quirky characters who get in all kinds of trouble while trying to improve their lives and solve a kidnapping that has changed their lives. Basically lots of fun!
Some of the major themes in this novel are: as we gain advanced technology in our world, how can we continue to provide opportunities for everyone to continue to thrive?; just because someone may appear to have it all together this does not mean they actually do; loyalty to one's word is important for everyone's sake; if you don't try to make friends with those around you that are different from you, you may be missing out on a great friendship. These are just some of the major themes I found in this novel.
The Diamond Device is a great little novel that I highly recommend you check out if you are new to the steampunk genre and would like to give it a try. I guarantee you'll love it!