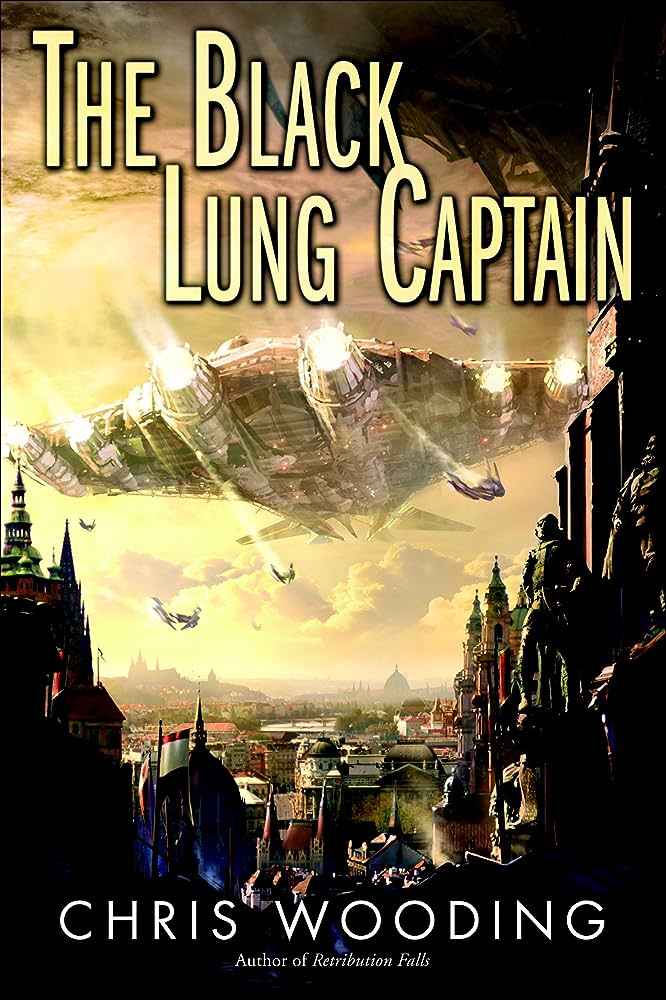 Rating: 9/10
Synopsis
Deep in the heart of the Kurg rainforest lies a long-forgotten wreck. On board, behind a magically protected door, an elusive treasure awaits. Good thing Darian Frey, captain of the airship Ketty Jay, has the daemonist Crake on board. Crake is their best chance of getting that door open—if they can sober him up. For a prize this enticing, Frey is willing to brave the legendary monsters of the forbidding island and to ally himself with a partner who's even less trustworthy than he is.
But what's behind that door is not what any of the fortune hunters expect, any more than they anticipate their fiercest competitor for the treasure—a woman from Frey's past who also happens to be the most feared pirate in the skies
Review
This book follows on from the fantastic first instalment Retribution Falls and brings another fun steampunk, swashbuckling adventure with Darian Frey and his crew of misfits aboard the airship the Ketty Jay. After clearing his name (somewhat) Darian and the crew find themselves broke (again), sort of at the lowest of lows, with an airship that's falling apart. This leads to Darian taking on another dodgy sounding job, against his better judgement (again). As things go deeper he learns that everything is certainly not as it seems, leading the crew on a journey to save their asses once more and to hopefully actually get paid this time.
'You know what's worse than robbing a bunch of defenceless orphans?' Frey said. 'Failing to rob a bunch of defenceless orphans.'
This book is full of the same sense of fun and adventure that book one had. It's got vibes that remind me of strongly of Firefly mixed with a bit of Indiana Jones and Full Metal Alchemist, with a hefty dose of steampunk and some sci-fi on the side. The writing style is also similar to book one, with multiple points of view and a fairly fast paced story.
What Wooding really nails with this series is the characterisation. Following this crew is just such a good time. The great dialogue and banter is really a highlight for me. It's one of those books that reminds me why reading can be so much fun. It's also very heartfelt at times too, which gives a great balance to the tone overall.
"Not for the first time, he wished he commanded a highly trained bunch of soldiers instead of a ragtag mob of rejects in varying stages of alcoholism."
All of the members of the crew are characters I grew to care about. Not all of them are likeable but that's sort of the point. But I certainly cared about them and their backstories. Their arcs are all believable and surprisingly emotional at times. Mostly the whole crew have well fleshed-out stories and development in this book, with the exception of one in particular whom I assume will get more in the next two books. This book is really focusing on their own individual issues and how they deal with those, while seeing how they lean on each other as a team without them realising that's what they are doing, and getting into the difficulties of how to maintain relationships. I loved following all of them and felt the outcomes at the end were really satisfying, despite the fact that some of the story beats for the characters were a tad predictable at times. This book is quite character driven at it's core, so if that's your thing then I think you will enjoy this book.
The story is executed well and keeps at a good pace. I loved the extensions to the world building that we get in this book and the return of certain villains and side characters who made appearances in book one. I do feel that I would like to see the story structure change in the next book though. If the formula of 'Darian takes a job that seems too good to be true and gets in over his head' is used again in book three I feel it might start to get old. I love it in this one and in book one also, but I would need to see it change in the next book.
I picked up this series after reading Wooding's more recent book The Ember Blade (which I loved). I decided to check out his back catalogue and found this gem of a series that I had never heard anyone mention before. So here I am mentioning it to you in the hopes that you will give it a try. It's so underrated and if any of the vibes I mentioned earlier sound like your thing, please check this series out. I'm excited that I still have two more books to go with these characters.