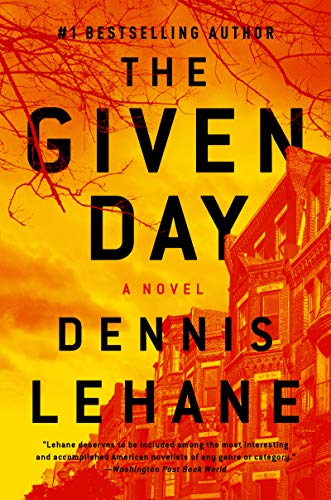 Rating: 10/10
Synopsis:
Set in Boston at the end of the First World War, New York Times best-selling author Dennis Lehane's long-awaited eighth novel unflinchingly captures the political and social unrest of a nation caught at the crossroads between past and future.
The Given Day tells the story of two families—one black, one white—swept up in a maelstrom of revolutionaries and anarchists, immigrants and ward bosses, Brahmins and ordinary citizens, all engaged in a battle for survival and power.
Beat cop Danny Coughlin, the son of one of the city's most beloved and powerful police captains, joins a burgeoning union movement and the hunt for violent radicals.
Luther Laurence, on the run after a deadly confrontation with a crime boss in Tulsa, works for the Coughlin family and tries desperately to find his way home to his pregnant wife.
Here, too, are some of the most influential figures of the era—Babe Ruth; Eugene O'Neill; leftist activist Jack Reed; NAACP founder W. E. B. DuBois; Mitchell Palmer, Woodrow Wilson's ruthless Red-chasing attorney general; cunning Massachusetts governor Calvin Coolidge; and an ambitious young Department of Justice lawyer named John Hoover.
Coursing through some of the pivotal events of the time—including the Spanish Influenza pandemic—and culminating in the Boston Police Strike of 1919, The Given Day explores the crippling violence and irrepressible exuberance of a country at war with, and in the thrall of, itself. As Danny, Luther, and those around them struggle to define themselves in increasingly turbulent times, they gradually find family in one another and, together, ride a rising storm of hardship, deprivation, and hope that will change all their lives.
Review
Krystle Matar: I first read The Given Day years ago (back when I wasn't reading fantasy for a while, because David Gemmell had died and I was sulking) and there was something about this book that seized me by the brain stem and went "Look. Fucking look. This is what you can do with a story, if you figure out how." If Gemmell showed me that I wanted to be a 'real writer' (whatever that meant) it was Lehane who showed how to be ambitious. It also tends to show me how divisive the subject of storytelling can be, but we'll circle back to that. I've read The Given Day easily a dozen times now. The last time was in 2019, and then as I was working on Brick & Bone, I decided it was time to pull this chonk of a histfic out again to study it. To understand it. To know it in the core of my storytelling bones. And lucky me, I convinced Connor to read it, too.
C.M. Caplan: Krystle had been gushing about Dennis Lehane for as long as I've known her, and in all honesty it was picking up Legacy of the Brightwash that convinced me to give him a shot. Any time someone writes the kind of book that rewires my understanding of what storytelling can do, I get a little obsessive with whatever behind-the-scenes details that influenced how the book came to be, so part of the reason I joined in on this was from the standpoint of like, "Damn, if this guy has influenced someone this talented so thoroughly, it really sounds like passing up on this read would be shooting myself in the foot. I really have to do myself a favor and check this thing out."
K: Reader, I bullied him into this. He's saying nice things about me, but the truth is I cajoled him endlessly.
C: YOU BOUGHT ME THE AUDIOBOOK AS A BELATED BIRTHDAY PRESENT. LEGALLY I WAS OBLIGATED TO.
K: SELFISHLY. SO YOU WOULD READ IT.
C: You're my favorite bully. Thank you for cajoling me, this was fantastic.
K: And so now we're here! We're both kinda slow readers so we were well matched for this buddy read. And, listen, for histfic, The Given Day is some epic fantasy sized chonk. It clocks in at 227k (just about 700 pages depending on which version you buy) and it's ambitious. Another writer might have broken it off into a few books, but Lehane is a one-story-one-book kinda guy, and so all his books do stand alone. Start anywhere, and you'll be fine. So my question for you, Connor, is how was it as your first Lehane experience?
C: Honestly, I was on board around the time I got to "The air was woolen with smoke and the stench of butchered cattle." Which was much faster than I expected to get hooked by this thing. The first few paragraphs I remember wondering what the fuck we were doing hanging out with Babe Ruth in this book about Boston Police Riots, but something about that line—it reminded me of my brief stint as a fiction editor, where I had to learn early on in a manuscript, whether or not I was in the hands of someone who knew what they were doing. And I remember getting to that line and going, "Oh, I'm in the hands of someone who's being really careful about his attention to detail." And it never lost me from there.
K: Therein lies the magic of The Given Day, in my humble opinion. Reading it now with all the training that self-editing has pulled into me, I'm in awe of how many storylines this book juggles, and how expertly he pays off things that might seem superfluous. You could have technically cut out all the Babe Ruth interludes (for the word count of course!) but they added something mellow and magical. And the payoff of that brick at the end, and the line "You should… be a baseball player or something." MY GOD. You don't know how good that line hits until you're at the end of the book SOBBING because—well, spoilers.
C: And I think the reason that brick, and the last line works so well is because we've spent the last however many hundreds of pages hyperfocused on the small details of these people's lives. Like—there's a rule I see a lot in storytelling, where you're supposed to start as close to the end as possible. And it's a rule Lehane just gives the middle finger in this book, because so much of its appeal is in how all these tiny moments stack together. There's a number of moments where Lehane will divert from the plot of a chapter for several paragraphs to go into the backstory of the POV character in a way that's tangentially related to what they're doing in a while that, while not strictly necessary to keep the plot moving, it works wonders in adding layers to whatever's happening, and convincing you there's more to these people beyond what's on the page right now.
K: Seaking of stacking, The Given Day seems to juggle genres. He started out in thrillers, and then slipped into histfic with this series. Part family saga, part historical fiction about a very harrowing year for Boston, it's touched by romance, by politics, by sports. We mostly follow Danny Couglin and how he epicly fucks up his life, and Luther Lawrence, whose life is epicly fucked up by someone else's choices. They wander through their own stories for a while, separate, but you can sense them coming together, drawn into each other by storytelling fate.
C: OH SO THAT'S WHERE YOU GET IT FROM.
K: Someone come get this jerk under control, he keeps making me blush.
C: I LOVE YOU. (No but seriously did Lehane influence the way you straddle genres, do you think?)
K: Good question—I think it's more that Lehane AND Gemmell both left their marks on my love for storytelling. Tashué was my ode to Lehane and what he did in the thriller world, and the Dominion was my attempt to break back into fantasy after so long away. And then when I didn't want to spend my career choosing one or the other, I smashed them both together. BUT ABOUT LEHANE—
C: I think he straddles genres for similar reasons you do, cause both of your books are ostensibly about what's been happening in the world lately, it's just getting interrogated via an act of displacement, almost? With you it's a world, but Lehane is going back in time so he can talk about more contemporary issues, I think.
K: That tracks, which leads us to a big content warning for The Given Day. It's an uncomfortable read at times. Danny Coughlin starts off as a beat cop in Boston, circa 1919. Him and his buddy Steve are enlisted to escort some sailors off a transport vessel. And they're sick. And it's bad. Enter, the utter devastation of the Spanish Flu. Steve gets sick, and Danny is left dealing with all of it. The illness, the deaths. And that's only the START of this book.
C: Oh God, and Luther's chapter during the epidemic is like ten times more harrowing than that. It was horrifying, and I think ironically one of my favorite parts of the book. The damn thing could've worked as its own little historical horror novella.
K: Omg you're absolutely right, Luther down in Tulsa is in huge trouble with a crime boss and what he has to do to TRY to get out of trouble… Man. And again, that's just the start of his story. After surviving the flu, Danny gets pulled into politics. He's being sent undercover by the powers-that-be (one of whom is his father, Thomas) to find the usual threats: Bolsheviks, communists, general trouble makers. He makes his rounds at various union meetings looking for any proof that "something big" is gonna happen, but winds up getting himself in trouble by sleeping with ::ahem:: an inappropriate choice of bed partner. Which, if I'm saying it, must be a BAD choice!
C: That whole romance element had such a noir vibe to me, even down to the way she tries to swing things in the climax, and the fact that it fits so seamlessly into everything else that's going on I think really illustrates how many genre's Lehane is playing in, and it's fantastic.
K: Yes, that's what I loved so much. Just when you start to wonder if he's dropped a thread, if he's led you down a dead alley that leads to nothing, suddenly that thread comes back to bite Danny (almost always Danny but sometimes also Luther) in the ass in the worst ways.
C: I think I honestly preferred Luther's storyline, of the two, in this? I mean don't get me wrong they're both tremendously done. He's just such an underdog, and he finds himself almost constantly in danger. Any scene where he has to interact with a white person is like a masterclass in building tension, it's terrifying, and seeing everything he had to do just to get to Boston I think really, really deepens the payoff when he and Danny start interacting, even from the point of view that these two have kind of had parallel themes in their storylines that work as foils for each other, in a way.
K: Something about Luther is more sympathetic, yeah, there's this feeling that all this shit that landed on his shoulders is because of someone else's mistakes. Whereas Danny is in hot fucking water because Danny is a stubborn asshole. (We love him though.)
C: I think the interplay between storylines is part of what makes this book as good as it is, going back to what you said about dropping threads—like there's just so many ways you wonder when or how it will fit together and when you does it's almost dazzling. Like Lehane's performing some kind of sleight of hand trick.
K: Which I think circles back really well to the tease I dropped at the beginning—about how divisive this book is when it sparks conversation about storytelling. Lehane himself will tell you that people are of one of two opinions about The Given Day. Either people say it's some of his best work, or they hate it. HATE IT. Hate it passionately. Reading reviews online, people call it meandering, bloated, boring. Or brilliant. There doesn't seem to be much middle ground with this novel, and it seems to contain an important lesson for us as readers, and writers.
C: IT TOOK ME A FEW MONTHS OF THINKING ABOUT IT BUT I THINK I FINALLY FIGURED OUT WHY THAT DISPARITY EXISTS. I think the people who hate this book go into it expecting the book to be about the police strike, and for that to drive the bulk of the story and inform most of what happens. And when they read it they get this story where the strike is less the plot and more of a thru-line happening in the background while you wait to see how much of a disaster one man can make of his own life, and the ways in which petty family drama can influence the kinds of things that end up in history books. But if you're not prepared for a book about Danny, it kinda makes sense you'll be disappointed, cause you went in wanting striking, goddammit! But that's not what Lehane wants to focus on, and I think that's fantastic, honestly.
K: Yes, I totally agree. Ultimately, Lehane wanted to talk about the human cost of that much civil unrest. He wanted to take you by the hand and drag you into the weight of it all, instead of flashing imagery at you. He wanted you to understand with perfect clarity why Danny made the choices he did. Some of them were even decent choices, but because everything was just so awful, the whole city fell apart. The Flu, the strikes, the molasses tank explosion, union busting, more strikes. The economy, so unstable because of the lasting effects of the First World War. All of it simmered in the pressure cooker of Boston, but it wasn't about that, as you said. It was about the people suffering through it. Surviving it. Barely. Which feels incredibly poignant these days.
C: I think there's also something to be said about the theme of agency in this book, as well, just to underpin what you're saying. In a lot of books you're kind of used to "This character is making a bad decision and that's going to blow up on them" and then later on they'll make the right decisions and things will start to work out, but this book is really concerned with a lack of agency, so sometimes they'll do everything right, and the city still gets completely trashed. It reminds me of a review someone made of a video game where the genre conventions of video games gets turned on their head halfway through and gives you a purposely negative experience as a player, where the review is like "You weren't playing a game about surviving a pandemic with no food and no money, you were playing a game about starving." And I think it's a small distinction some people might not be prepared for, but I think especially now a lot of people are feeling that lack of agency, which adds to the poignancy.
K: So true, what does agency mean when your whole city is rioting?
C: EXACTLY. They're caught up in forces that are so much bigger than them. It's most apparent I think with Luther, but you see echoes of it in everyone, even Babe Ruth!! Where he could be traded at any time and have to pack up and completely change his whole life. Ruth's sections actually sort of embody all of the themes that pervade the book. You start off with him cheating to get a win in on the black baseball players, which mines out a lot of the racial tension at the heart of Luther's story. And then from there you have him interacting with the Bolsheviks, and skirting the periphery of Danny's story, and in every interlude he's in he doesn't technically change much about the book in terms of the plot that happens the page, but thematically his arc serves as a sort of lynchpin tying together everything Lehane is talking about in this book.
K: A funny anecdote about Lehane: I was watching one of his press releases for a different book and someone in the audience asked about Babe Ruth in The Given Day and Lehane admitted he wrote those sections making everything up. Just bullshitting his way through every word. He just wanted the first draft DONE and he promised himself he'd fix it in editing. So he hands the book off to the first edit, and goes off to actually research Babe Ruth to fix everything… but he got most of it right. He hardly had to change those sections at all. His quote, I think, was something along the lines of "I guess as a storyteller I just kind of knew him already."
C: OH THAT'S SO CLEVER. It's really cool when a revision turns out to be less work than you thought there would be. Like you already had parts of it in you, deeper than even you had ever known. On that note—I did wanna circle back to what you said in the beginning, and ask you what you learned deep in your storytelling bones in this read-through.
K: Actually you summed it up really well; some stories are about THINGS happening, and some stories are about the PEOPLE they happen to. And which angle you choose as a storyteller will massively inform how much you include. There are so many moments in The Given Day that could have been trimmed out in order to make it a shorter book, but ultimately it would have lessened the impact of Danny's mistakes… and his victories. These moments squeezed your heart in ways that wouldn't have had so much power if you didn't know how deeply conflicted each character was. How much Luther had to lose, everything that Danny knew he was failing to live up to. These little human details made the book into a study of human suffering, and human joy. It's a book about love in the face of terrible circumstance, and that is my favourite sort of story.
That brings us rather naturally to the end (even though I could talk about this book for hours more. We didn't even touch how his prose balances beauty and the bleakest shit you've ever seen with the lightest touch possible!)
C: OMG IT'S LIKE HE'S LEANING OVER CONSPIRATORIALLY TO LET YOU IN ON A SECRET HE ONLY TRUSTS YOU WITH, IT'S SUCH A PERSONAL VOICE AND IT'S WEIRDLY RELAXING WHILE ALSO BEING AT TIMES UNYIELDINGLY DARK.
K: Weirdly relaxing and then someone gets his face sliced wide open XD

C: RIGHT!!
K: If you've made it all the way to the end of this rambling, dear reader, I thank you. I implore you to give Lehane a chance. He has a sprawling epic feel, and the world he builds is enchanting. And I leave you with this quote, from Babe Ruth's section.
"What a day. What a city. What a time to be alive."