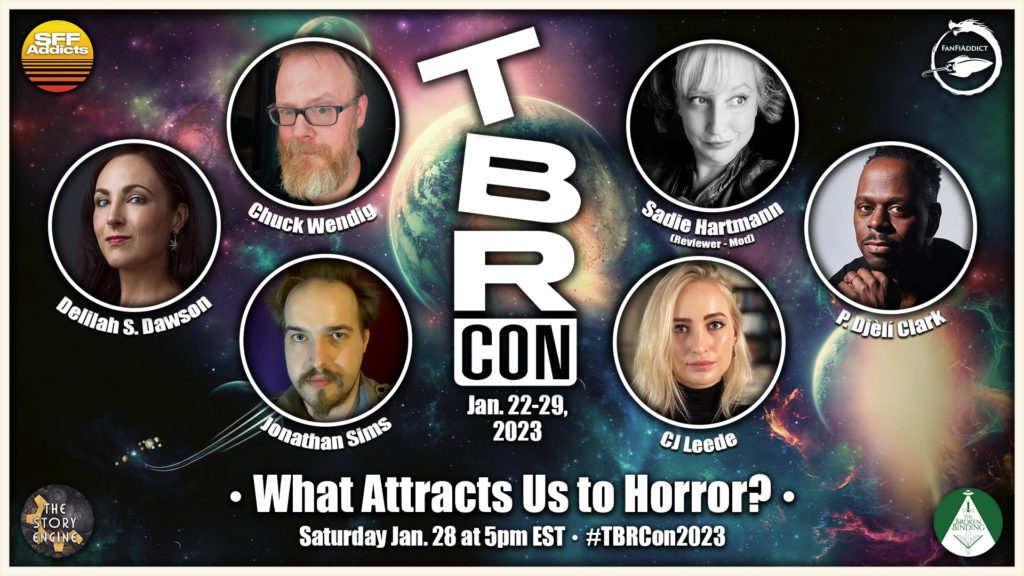 Every week, we will be highlighting a panel from TBRCon2023, looking back on the amazing variety of panels that we had the honor of hosting.
This week, join moderator/editor Sadie Hartmann and authors Chuck Wendig, Delilah S. Dawson, P. Djèlí Clark, Jonathan Sims and CJ Leede for a TBRCon2023 author panel on "What Attracts Us to Horror?".
To check out all of our TBRCon2023 content, click here.
---
ABOUT THE PANELISTS:
Sadie Hartmann is the co-owner of the horror fiction subscription company, Night Worms and the editor in chief of the horror fiction imprint, Dark Hart. Find Sadie on Twitter or at Night Worms.
Chuck Wendig is the bestselling author of The Book of Accidents, Wanderers, Star Wars: Aftermath and more. Find Chuck on Twitter, Amazon or his personal website.
Delilah Dawson is the New York Times bestselling author of The Violence, Star Wars: PHASMA, The Perfect Weapon and more. She and Kevin Hearne co-write The Tales of Pell series together. Find Delilah on Twitter, Amazon or her personal website.
P. Djèlí Clark is the award-winning author of Ring Shout, A Master of Djinn and more. Find Phenderson on Twitter, Amazon or his personal website.
Jonathan Sims is the author of Thirteen Storeys, Family Business and more. He is also the mind and the voice behind the acclaimed horror podcast The Magnus Archives. Find Jonathan on Twitter, Amazon or his personal website.
CJ Leede is the author of Maeve Fly, her debut novel. Find CJ on Amazon.
---
The audio of this panel is available to stream and download on:
Anchor | Apple Podcasts | Spotify | Google Podcasts | Podcast Addict | Stitcher | Amazon Music | Overcast | RadioPublic | Pocket Casts | Breaker | Podbay
You can also watch the panel below via the FanFiAddict YouTube channel or stream the audio via Spotify.